A refugee camp teacher's curiosity inspired him to witness life inside Burma where his students, activists, and inescapable political intrigue led him into the heart of Burma's Democracy movement.
Manuscript
| | |
| --- | --- |
| | Memoirs Non-Fiction, History, Journalism, Memoir, Travel & Adventure |
| | 100,000 words |
| | 75% complete |
| | Yangon Region, Myanmar (Burma) |
| | 8 publishers interested |
Synopsis
The Cultural Impact Studies Club is a memoir/creative non-fiction collection of stories from my time in Burma from 2007 to 2012.
In 2010, the American Center, anchored by an American library with thousands of patrons, was filled with political intrigue, secrets, and drama. Undercover Special Branch Police and Military Intelligence Police, plus an assortment of student spies watched over the Instructors, students, activists, and the library patrons. In Burma, strict rules prevented people from gathering publicly to speak about politics, democracy, or social activism. At the nearby teashop, conversations were discrete. Spies were everywhere ,even saying the name, Aung San Suu Kyi, was a surefire way to attract attention. With most of the famous 1988 Generation activists in prison, the Cultural Impact Studies Clubat the American Center jumpstarted the foundered democracy movement.

The story opens in 2007 with a trip to Mae Sot, Thailand where I interned in the Mae La Refugee Camp. In the camp I heard stories from resident teachers, students, ex-political prisoners, and a former child soldier. At one point I decided to go inside Burma to witness life in Burma under the dictatorship. By 2008,
I made my way to Rangoon working as a consultant for a local private. school. During this time I wandered Burma and made many observations and sought comparisons to what I'd read in the book, Living Silence, By Christina Fink.
Once I joined the American Center School in Rangoon as an Instructor, I won grants for educational project as an English Language Fellow. Due to my political openness, or willingness to speak freely, several activists and ex-political prisoners discretely enlisted me to be their advisor, teacher, and mentor. They formed a student club called The Cultural Impact Studies Club (CISC). Their objective evolved with time, but first they sought to jumpstart the Democracy movement left foundering since the 2007 Saffron Uprising. (The 2007 uprising was made famous by the movie, Burma VJ.)
Most of the founding members when on to remarkable achievements by founding schools such as the Yangon School of Political Science. The North Dagon Center for Politics and an election monitoring foundations. Many others are now members of Parliament, and all are very close allies with Aung San Suu Kyi. However, the members of the Cultural Impact Studies Club refused to live under the cloak of fear and intimidation. The spoke openly about their work and ambitions while teaching citizenship rights and advocating for democratic rule.
The stories in the book revolve around their activities, such as hosting illegal Poetry of Witness readings, Art of Witness shows and concerts, and openly advocating for political and citizenship rights and .
I'd noticed many ex-political prisoners suffered from PTSD. With two members of the club, I founded the Yangon Self-Help Groups for Ex-political Prisoners. It was very discrete, not even the Director of the school knew about the clubs activities. As prisoners were release, the club hosted welcoming parties and offered services and education for newly released political prisoners.

Included in the book are partial stories of three key founding members of the Cultural Impact Studies Club. For example, Ko Bo Bo, the apolitical son of an Army Colonel's, one day wandered outside to watch the student protests at the very moment the military began shooting down protesters in 1988.

Another profile highlights Zin Mar Aung, who spent a decade in in prison for writing a political letter and reading poetry. I co-nominated Zin Mar's selection for the 2012 Woman of Courage Award presented to her by First Lady Michelle Obama and Secretary of State Hillary Clinton.
A third profile is of Myo Aung Htwe, who was awarded a death sentence for his role in the 1988 Uprising at age sixteen. Upon release in 2009, before going home, Myo joined Zin Mar, Bo Bo, and others to create the Cultural Impact Studies Club.
During the two years of non-stop political activity at the American Center, we held the first student council election in Burma since 1962 when at the time, the Dictatorship demolished Yangon Universities Student Council building. The elections were highly divisive and many of the American instructors despised the political students, and myself, since they viewed us a agitators and not in synch with their desires to party a lot and cater to the wealthier students who sought only to have fashions shows and dance competitions.
I was also a Journalism teacher and led a small core of students who successfully published fourteen issues of a monthly publications called The Open Window Journal. The journal was also controversial in that it refused to submit copy to the official censorship office and its existence was repeatedly attacked and obstructed by the American Center Director who was at times more detrimental to openness and freedom at the American Center than were the spies and undercover police.
The book flows with adventure, and it's complete with intrigue and exciting stories from my unique access inside several circles of activists, up to the highest levels of the Democracy movement including accounts with Aung San Suu Kyi. It has historical significance resulting from my many secret interviews with 1988 Generation activists, newly released political activists, and my presence during political gatherings during which I was the only outsider present.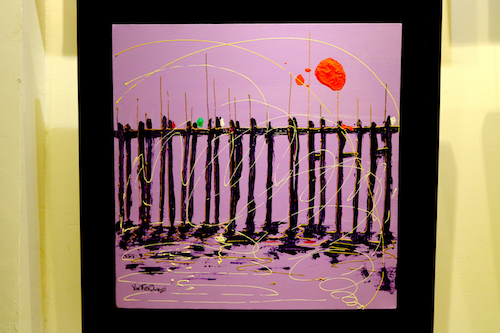 SEE BONUSES TO THE RIGHT >>
Paintings are included in special packages.
Outline
Chapter One
Chapter One
Last Night In Bangkok
The Morning Flight to Burma
Flying as if in a Dream
Before Burma
Travel to Mae Sot
An Earlier Adventure
Change of Plans for Internship
Holiday in Mae Sot
Killing Time in Mae Sot
Boarder Town Realism
A Profit From Misery
There is a Reason
Keeping The Peace
Finding Refuge in a Refugee Camp
Everyday Life in Mae La
The Refugee Lottery
My New Home in Mae La
The Five-Cent Tour of Mae La
When Are the British Coming Back?
Boys Will Be Boys
The Dilemma of Technology in the Refugee Camp
Do You Believe in Ghosts?
Maybe it was Malaria
Loss of Awareness and Time
Holed Up In The Montri Hotel
Chapter 2:
Exploring Rangoon
Life on the Street
Giving Money
The International School
Keeping Busy In Rangoon
Crossing to Dalla
Running a Roadblock on a Slow Motorbike
Thwante Pottery Makers
Noticing Politics as Usual
Where Are You Going?
The Question List Poem
Calling Home
Quick, Ditch The Monk
A Teashop Tango
Take Us To A Disco
Bogyoke Market
Finding The American Center
To Mandalay With CEO
Early Morning Monks And Nuns
The Daily Mandalay Commute
The Best Strawberry On Earth
We Live Like This Because We Have No Guns
Teachers, Backpacks and Drugs
A Call From Home At 2:00 AM
Chapter 3:
Summer With Dad
The Interview
A Promise To My Father
The Burmese Embassy In Bangkok
Welcome To Rangoon, Again
The American Center Visa Quandary
Feel, Taste, Enjoy
Settling In, Getting Along
Whacky Expat Blows A Gasket
A Conference Trip To Phnom Penh
Politics As Unusual At The American Center
Following The Saffron Uprising
The End Of Term Party
Chapter 4:
Journalism Club
A False Start
A Teashop Full of Spies
Journalism Students Chased Off By Undercovers
The Open Window Journal
Dedicated Journalism Students
Submitting Copy For Censorship
The Poetry Of Witness Issue
Chapter 5
Aung San Suu Kyi Appears At The NLD Office
Attacked By Thugs, Chased by Police
Meeting The Cultural Impact Studies Club
The First Student Council Elections
American Teachers Stifle "Politics" During Elections
Will You Help Me To Help My People?
Teacher, Will You Have Breakfast With My Aunty?
The Lady
New Years Eve Holiday In Chaing Mai
The Landmine Incident
An Auspicious Beginning to 2011
Chapter 6
The Cultural Impact Studies Club
They Laughed At The Idea Of Going To Prison
The Nine Lives Of Ko Bo Bo The Colonel's Son
The English Teacher's Daughter
Sixteen Years Old And Sentenced to Death
The Self-Help Group for Ex-Political Prisoners
The Multi-Cultural Water Festival
Thingyan With Rebels And Whiskey
Creating Diversions
The Second Student Council Elections
The Plan To Prevent The Director's Election Cheating
Poetry Of Witness Poetry Contest
The Director Cancelled The Election
Democracy Activists Take Over The American Center
"We Can't Teach English To Poor People For Free!"
The Art Of Witness Event
Chapter 7
Min Ko Naing's Birthday Party at Ashoka
The One Year Anniversary of CISC
Remy Martin Writes Poetry
Happy Birthday Aunty Suu
They Tried To Silence Journalists
A Day With The Lady
Interviewing Ex-Politcal Prisoners
Chapter 8
The First Protester
500 Days In Shackles and Fetters
The Alleged Rape Stories That Ignited A Revolution
Ko Ko Latt's Day With Destiney in 1988
Chapter 9
A Welcoming Party for Newly Released Prisoners
The Second Welcoming Party
The Women's Self-Help Group
You Are Too Political!
The Myitsone Dam Meeting Diversion
More Political Prisoners Released
We Are Flying To Be Free: Burma
Chapter 10
Students Protest American Center Fee Hikes
The AC Challenge
The 2012 Woman Of Courage Award
Saving Thin Thin from Human Traffickers
Evidence That Reforms Are Real, Sort Of
Political Students Leave The American Center
The Quiet American Center
Ghosts And Memories Of Days Past
Freedom Means Never Having To Say "I Surrender"
Yangon Takes A Turn For Better
The Quiet American Left The Stage
Chapter 11
Poetry by Ex-Political Prisoners
Audience
Bamboodazed.com appeals to worldwide readers and Burma watchers. It's currently number 15 out of the top 100 South East Asia Travel blogs.
This book spans several genres that appeal to expatriate readers, including Nonfiction, Politics, History, Memoir, Journalism, and Travel/Adventure.
This book will be translated into Burmese for the Myanmar market, including the Burmese diaspora. I will seek out and promote the book to Burma/Myanmar community groups.
My Facebook page, WE ARE FLYING TO BE FREE: BURMA has over 3100 worldwide followers.
With increased tourism in Myanmar, readership about Myanmar will increase. In 2010 Myanmar issued 795,000 tourist visas. In 2015 there were about 4.7 million visitors (Wikipedia) in Myanmar. The 2020 goal for tourism in Myanmar is 7.5 million (Wikipedia).
This book will earn multiple placings on shelf space in many markets. It includes Memoir, Non-Fiction, Politics, Journalism, History and Travel & Adventure. It will also be as appropriate Current Events.
Author
Daniel served as English Language Fellowship three times in Burma under the sponsorship of Georgetown University's Center for International Education & Development, and the University of Hawaii's East-West Center. Daniel's articles appeared online at The Democratic Voice of Burma and on other sites under pen names.
Promotion
My various contact lists numbers about 2,500.
I will promote the book to booksellers in Asia.
I will arrange readings with booksellers and attend trade fairs and literary events.
In South East and East Asia, many large regional stores such as Monument Books, Asia Books, Kinokuniya, are probable retail points for the book.
With Thailand being the hub in the landed region, Singapore, Indonesia and Bali are also heavily touristed places where it will be promoted and sold.
As a member of a variety of active alumni groups (7), I will promote the book thoroughly within the groups.
Competition
The following list of books is from Goodreads Listopia - The Top 72 books on Burma/Myanmar. (June 2017)
The Cultural Impact Studies Club is different from all of the listed titles since The Cultural Impact Studies Club is a currently relevant non-fiction work. It is a first-hand account of the author, but not entirely focussed on the author.
Burmese Days – George Orwell / 1st World Library (1926) Barnes & Noble – Nook is $9.99 / Ppb. is 10.85
Not Out of Hate – Ma Ma Lay / Ohio University Press (1991)Amazon – Ppb. is $ 24.25
The River of Lost Footsteps – U Thant Myint / Farrar, Straus and Giroux (2006) Amazon – Kindle is $8.83 / Ppb. is 13.19
From the Land of Green Ghosts – Pascal Khoo Thwe – Perennial (2003) Amazon – Ppb. is 10.99
The Glass Palace – Amativ Ghosh – Random House Trade Paperbacks (2000) Amazon – Kindle is $14.05 / Ppb is 11.88 / MP3 is 13.90
Letters From Burma – Aung San Suu Kyi – Penguin Books (1997) Amazon – Ppb. is $11.68
Finding Orwell in Burma – Emma Larkin / Penguin Books (2004) Amazon – Kindle is $7.70 / Ppb. is 11.85
Everything is Broken – Emma Larkin / Penguin Press (2010) Amazon – Hardcover is $4.36 used / Audiobook is 10.75 to 19.99 with or without promotion
The Trouser People (Reprint) – Andrew Marshall / Counterpoint (2012) Amazon – Kindle is $7.29 / Ppb. is 17.50
The Trouser People (Int. Edition) – Andrew Marshall – Counterpoint (2003 Amazon – Ppb. is $19.95
The Rebel of Rangoon: A Tale of Defiance –Delphine Schrank – Nation Books (2015 Amazon – Hardcover is $21.17
Golden Parasol: A daughter's Memoir of Burma - Wendy Law Yone / Chatto & Windus (2013) Amazon – Ppb. is $ 4.12
Burma's Spring: Real Lives in Turbulent Times – Rosalind Russell / Thistle Publishing (2014) Amazon – Kindle is $5.01 / Ppb. is 14.99
Sample
Sample Excerpt from Chapter One
Holiday in Mae Sot
By noon the next day, I began to enjoy Mae Sot as I hobbled around on the Supervisor's broken bicycle. Soon, I met a small assortment of volunteers, teachers, adventurers and other people in town for dubious reasons. I often nursed a beer or two, or usually a fresh lassi, at the Crocodile Tear.
The Crocodile Tear was a lonely roadhouse on a quiet stretch leading out of town to the river and the border with Burma. I'd been to plenty of dives like it in the old mill towns between Worcester, Massachusetts and Providence, Rhode Island. The only difference was the Crocodile Tear had few customers most nights. It was the perfect bar for a border town in the middle of a semi-dangerous jungled nowhere.
Few customers stayed for more than an hour unless there was an occasion to remain. Color wheels prettied the walls and dusty fabrics. The smell of grass sometimes rode on the air from the back room and the pleasant aroma of weed took the edge off smelly pillows and beer soaked into the floor boards. Kids popped in and out from the filthy tapestry hiding the passage to the back room where staff and friends slept. Chilled ambient track added to the charm. In spite of some commotion, it was a quiet place to lean back and pass the time with a laptop game while the wifi churned out a page every few minutes.
One early evening I met a group of Aussies. They were the usual friendly type, as most Aussies seemed to be. I enjoyed talking with a cool woman who seemed keen to meet a fresh-faced American dude without a clue to where he was in the world. We shared stories and descriptions of lives back home over several bottles of Chang and shots of tequila. Later on she introduced me to her writer friend, Phil Thornton, and several more folks outside the bar who made a happy ruckus. Phil just finished his book, Restless Souls, and gladly offered up a copy that I gladly accepted. He was as gracious as I was duly impressed with the Noam Chomsky forward. Phil went back to his friends as everyone welcomed me to join them for another beer. They were a good bunch of people.
A while later a long-time aid worker began cursing out the Burmese government. His drunken screed reached a worrisome level while his pretty wife stared at him. The wild sobs crashed the fun. Happy chatter turned to emotionless whispers. I got a feeling more was going on there than I wanted to know. As the outsider with nothing to add, I bid them a soft goodnight and wobbled off towards the staff house.
Using the bike as a rolling cane, I managed to remain vertical. I wisely discovered the bike's best asset served as a handy shield to repel the onslaught of Mae Sot's hateful dogs. One vicious beast even took a bite of the bike frame as I yelled back at them to console myself. Defiance seemed to anger them and they responded only to kicks and jabs of the bike aimed at their rabid snouts. Each day the evil creatures made a walk or a bike ride through Mae Sot a fright. Luckily, I pushed through the gauntlet of growls and fangs without any damage.
There Is A Reason

Mae Sot draws well-meaning people who feed off the chaos and anxiety in such desperate and isolated places. Eventually, one learns about the refugees, rebel factions, dissidents, assassinations, sweatshops, drugs, poverty, trafficking, corrupt people, and all the sordid secrets lurking in dark alleys or corners and behind closed doors. All of it contributed to the border town's intrigue and urgent madness.
In places on the Thai-Burma border, diaphanous rules choke the life from the firmness of one's morality and values. When confronted with one's helplessness living within the periphery of multiple complex issues, ambiguity and corruption overtake the good intentions of outsiders like thick vines squeezed healthy trees. Those who can't accept the way things are wither off. Others, the truly committed, remain to fight like sole survivors of a jungle plane crash with no clue of which way to turn but no less determined to struggle.
The truly committed, like my Supervisor, stay well beyond a need for any pat on the back. They remain unseen and do serious work. Much of it was so routine that frustration permeated the air as unnoticed as the pained heat and constant sweat. The purpose behind what they do they shared only with brethren in the cause over drinks inside dank bars with torrid names like Crocodile Tear. I admired my Supervisor for this reason, and later on, I emulated his commitment as much as I could.
But sooner or later, most outsiders leave Mae Sot knowing there's not a damn thing they can do to end the misery in the refugee camps. Perhaps doctors, nurses and medical professionals are a few exceptions. But the rest profit from the experience more than the refugees. Paid workers leave no worse for wear in savings and self-satisfaction while volunteers get job experience or a completed internship. The NGO's sponsoring the contracts of workers, volunteers, and interns, get to notch Mae Sot on their "Where We Work" list for their websites and fundraising efforts. Governments claim they are solving problems. And assorted despicable characters find ways to collect dark money from the never-ending misery.
Finally, one day, having made an exit plan to mask what's an escape, everyone leaves exhausted, alcoholic or addicted, or in chase of the next rung on a career ladder. Twenty minutes down the curved and steep mountain road about twenty minutes away from Mae Sot is all it takes to clear one's conscience of guilt for leaving.
Some feel deep sadness, then expel the required heaved exhale of tired breath that gives them absolution for the escape. One must provide self-forgiveness for the planned abandonment of the gentle, hopeful, and desperate refugees that were like family hours earlier.
Back onto the flatland and rolling towards Chaing Mai, tears may fall because realization nails shut the heartbreaking idea that you'll never go back to a place inhabited by some of the worlds most lost, charitable, caring, and sincere people you've ever met. Then you think of a comfortable hotel and a full meal of food you haven't had in a while. Life as usual resumes.
On the other hand, once you see a refugee camp it's impossible to pity the people who make themselves part of the story when it's their job to say something. Such writers, or journalists crying in an article or video about how hard it was for them, how they cried or held back tears, and how heart wrenching it was to see people suffering, are feeble. Any decent person should feel the same way. But their maudlin paeans for attention to themselves using refugees is selfish for the simple reason that they get to return to a better life. I pitied the refugees without a choice. I often wonder what happened to those I knew in Mae La.
Dark Night of Refugees
One night on walkabout, I saw a police compound with over a hundred refugees sitting quietly below canvas tarps off the street near a swine slaughterhouse. The shrieks and squeals of death row animals shocked the air and briefly overtook car horns and loud music from cheap speakers. During a silent moment, a girl's laughter from a nearby KTV stroked my eardrums. Then, more squeals pierced the air.
I stopped walking a moment to observe two caged trucks backed up to the huddled refugees. The refugees got up and crammed themselves into the cages. A few men padlocked the cages from outside. The pigs squealed again as the drivers jammed the trucks into gear. They drove off with their cargo packed in nice and tight. I saw that a couple of trapped men spotted me and stared at me as they rode away. Others squatted to claim some space. Faces were framed between the iron bars. Hands, elbows, and arms poked out high and low between the bars giving the truck a deformed humanoid look as it rumbled down the road.
Their journey toward the blacked out edge of Mae Sot began. It looked like a scene from one of the holocaust movies. Nazi's shipped people in trucks to concentration camps to work or for immediate extermination. Human cargo on trucks. Not much different from televisions, fruit, or car parts, I thought. Human cargo is usually about making money. I assumed the cargo I saw shipped out was destined for work.
In case of a disaster along the journey, governments, NGO's, and others would regurgitate acceptable shock and horror for media. It wouldn't be the first time such tragedy occurred. The display, much the same as policymakers give following mass murders or school shootings in the United States, is grandstanding to appease constituents who abhor such tragedy.
If the cargo dies together in some unusual fashion like drowned off a capsized boat with their bodies washed up on a Greek beach the story could go worldwide depending on the political motive or gain.
Sometimes journalists expose human trafficking and slavery on shrimp boats trawling the Bay of Thailand or the Andaman coast. Rumors of slavery and island death camps get confirmed and mass graves get discovered. Then all of the usual condemnation gets made by government officials and international human rights organizations. Follow-up stories get written and go viral. Mainstream media grabs the banner giving particular attention to expose the horrors of trafficking, and a Pulitzer finds it's way to the entirely deserving investigative journalists. The story pings the globe once or twice. Suddenly, Thailand Tiger Prawns at the Northampton, Massachusetts co-op, where local foods, fair-trade, and organic products litter the shelves for the "buy-local" consumers, get transformed into Indonesian Tiger Prawns.
I know this because one of the journalists who broke such a story, Esther Htun, was a former student when I was at the American Center school in Rangoon. She was awarded a Pulitzer for her work with several others. Like many, I followed the story and I had it fresh in mind when shopping at the Northampton Co-Op a few years ago. I craved fresh shrimp for a salad. The sign in the co-op fish market said, "Indonesia" above the big and expensive Tiger Prawns. It looked too convenient, and I had never seen Indonesia stamped over prawns.
For some reason, I asked, "Where are the Tiger Prawns from?"
The clerk shot back without hesitation, "Thailand." He paused a bit and quickly restated, "No. Indonesia."
I told him, "I think you were right the first time."
Where do Refugees Go?
When watching the trucks rumble off, I considered where the people went. Maybe some wound up in Vietnamese sweatshops or elsewhere in Asia. Possibly some got placed onto fishing vessels where life for them would be dangerous. Or, some would be housemaids locked up in wealthy homes within the giant oasis of Dubai, a place built by slaves and grossly underpaid laborers from South Asia and South East Asia. Or, they'd be traded by labor contractors for a variety of work placements elsewhere in the Middle East, Malaysia, China, possibly to Europe, possibly Saudi Arabia, or all the way to some wealthy persons home in the United States.
Human traffickers, labor suppliers, or Logo'd and Branded Corporations who slyly perfume production with shady sub-contractors make millions, if not billions, from cheaply made products. They disguise the rancid smell of the obscene profit margins they rake in for essentially what is vanity junk goods, made by the hands of small kids and docile women who barely make enough money to feed themselves and their families. If they get caught, they run a public relations campaign with a law firm's Corporate Social Responsibility specialist. The workers on the truck would likely make garments, shoes, or toys that each cost more than the monthly take home of one worker.
I thought about the stories I read over the years about refugees and migrant workers throughout the United States. During the Great Depression, the government organized sanitized labor camps for migrant farmworkers and each day trucks herded workers off, just like the ones I saw, to work the farms. The camps served to reorganize societal chaos when millions of Americans roamed over the suffering American sod to compete for crumbs of money as farm pickers. They housed the compliant types who displayed no outward rebelliousness - meaning, they didn't speak about unions or complain. Tom Joad's were not welcome.
I often saw migrant workers on trucks around Lake Okeechobee in Florida. They too were dark-skinned like the refugees I saw trucked off from Mae Sot. More than a few times I stopped my Ford F-250 on the road in the middle of miles of sugar cane and asked a worker to cut me a stalk of cane for a dollar or two and then to cut it into pieces so I could enjoy the sweet blessing on the ride back to the coast. I always chatted with the black men and found out they were "seasonal workers" imported by contractors from Haiti, Jamaica, or other Islands to cut cane. No one was watching them, and they'd group around as we spoke and were as curious about me as I was about them. They made less than minimum wage. There were also different groupings of men, the like-minded stuck together. Some of them drank booze every night, other's were religious, ate well, and saved all of their money to bring home for families.
Most of the laborers in South Florida's sugar and citrus businesses were from Caribbean Islands while thousands of Central American's worked at the boomtown construction sites erecting cookie cutter shopping plazas with a Wal Mart, Home Depot or a Publix supermarket as its anchor store. On construction sites, it was nearly impossible to find an American laborer of any race working below the level of Lead Foreman or Project Manager, or as a heavy equipment operator. Central Americans, who were called Guats by the American workers and bosses, were all undocumented in the United States. They worked out in the open, and one of the men told me that labor contracting companies brought them to Florida from their home countries. They can't be blamed for wanting to work no matter where they had to go for a job. But there was no surplus of employers who were willing to support American workers by paying them livable wages and miserly health benefits.
Meanwhile, on many side streets off Dixie Highway or State Road One, from Miami to West Palm Beach, unemployed black men gathered at specific locations every morning hoping to get picked for a few hours work, or even a full day of work, by local contractors fixing homes or landscaping.
At one of those locations in Fort Worth, I once hired two elderly black men to help me move things and rearrange a small warehouse. It was light work and I guaranteed five hours pay at ten dollars per hour because I had no idea how long the job would take. I got them a decent meal at lunch time and coffee anytime. We spoke about many things. They described how life was for them as children long ago when South Florida was a sleepy southern backwater kind of place. The also gave me their home numbers hoping I could hire them again. They told me no one ever gave them more than five dollars per hour. Unfortunately for them, I had no extra work.
Stories like Harvest of Shame, The Grapes of Wrath and Matewan, and the many other novels and movies about migrant workers or labor unions and the injustices of poverty in the decades following the Great Depression were the pop culture of my youth. Shows about poor people like Ma and Pa Kettle and Spanky and Our Gang were commonplace. Movies about unions were also popular. And comedians like Red Skelton and Jackie Gleason were cultural exclamation points who gave the poor a pacifying nod that it was normal to be a worker who struggled to make ends meet.

National news programs, as I recall, never talked endlessly about the Dow Jones Industrial Average or stock markets as if it mattered to everyone's happiness and wellbeing. No one sat watching in wait to find out how high Qualcomm rose before lunch or how much money Berkshire Hathaway made for its investors. Coal miners, slaves on plantations, and later blacks avoiding men wearing pointed hoodies, textile, steel and chemical workers, farm workers, truck drivers, garbage haulers from Memphis, and maids, never needed the stock market numbers every fifteen minutes, instead of God, to tell them the world won't end that day. And there's no refugee productivity index to tell people who's profiting most off the abuse of some of the most unfortunate people among us.
Injustice thrives in all manners. At my first factory job at age fifteen in a plastics and chemical company called Coz Chemical, which was a ten-minute walk along the Blackstone River from my bedroom window, I met a Polish man who worked there for over thirty years. He made three-dollars eighty-five cents per hour. I started my third shift job at that rate. I had no heartfelt reason to say anything about it to him.
So in Mae Sot, I was unsurprised with the scene of the refugees packed onto trucks like animals headed to slaughter. It had nothing to do with being in Thailand, it could have been anywhere. What I saw is a normal human condition all over the world, and I knew what I saw for what it was. I watched, then peddled back to my room to sleep. I got up the next day for a delicious breakfast at Canadian Dave's knowing the people in last night's trucks were hungry. What could I do? We all choose to see, to care, to act, to understand, and even to feel helpless - or not. If we are lucky enough to see a tragedy unfold but not be a victim of it, we can talk about it, get involved, or just know it, and go on surviving our way because that's what we do in life.
Life in the Mae La Refugee Camp

Clouds of dust rose around the pattering feet of diverse people on the camp's main road. Dress worn by women, some colorful longyi's, others with varied ethnic designs and jewelry, told stories of the refugees from Burma. The young women held umbrellas for shade against the baking sun far less forgiving than Jesus on chains around the necks of the camp's Christians.
The young men in Mae La wore jeans and tattered shirts. The older men's faces showed concern. They gazed more than they watched. Nothing immediate seemed to matter. The elderly had long thin gray beards. In their eyes, a defiance betrayed their stoic, almost invisible existence.
In spite of apparent strength most showed walking over the rough paths, there was an equal amount of despair on display. In places where the impoverished live, cleanliness seemed a form of order and hope. Many camp residents had less than clean clothes to wear that day.

The Refugee Lottery
People were busy going back and forth to an NGO bulletin board tacked to the outside wall of a tent. They were looking for their name or the names of people they knew. The listed names were of those selected for immigration to one of the western countries taking in trickles of refugees. Back and forth they came and went, an endless parade of people young and old to look at the list in hopes of seeing a name they knew, if not their own.
Inside the tent, a Western aid worker cackled instructions through a cranky bullhorn. I approached the tent, peeked inside, and saw several dozen residents sitting on wooden folding chairs set in rows to simulate the inside of an aircraft. As the European aid worker shouted out accented English words, the residents leaned or tilted sideways to the left. As the aid worker slowly leveled his imaginary aircraft arms back to a center of gravity, the residents returned themselves to the sit upright. The moment the giggling passengers relaxed, the aid worker shouted and the bullhorn cranked out. The pilot moved his tilted arms in the other direction. The passengers all leaned to the right, way over to the right, not stopping until the pilot sent them up and leveled them off to sitting upright, safe and sound. The passengers laughed and commented, no doubt wondering what kind of pilot flies so poorly.
I thought the activity resembled an experience one might have on a carnival ride. I can't imagine what the refugees practicing to sit in an aircraft were thinking. Many had never used plumbing or sat in an automobile. Somehow, they were supposed to learn that sitting inside of an airplane was like getting shoved around like kids on a plastic caterpillar rotary ride at a weekend carnival. Still, they had fun. Days in the camps seemed mundane, so it was not for nothing they played airplane and at the very least, it looked like jolly good entertainment.
My New Home in Mae La
The school's Karen teachers, Guy Moo and Yu Weni, arrived just then and announced they would take care of me. They arranged a wood plank bed for me inside the library. They brought a lamp, mosquito netting, and some rice. When done, they left me alone for an hour with a plan to walk me around the camp and to show me where to find food. A family living in a house attached to the library came to greet me with gifts of rice and a blanket. One of the boys spoke English and relayed my appreciation to the elders.
Once they left, I stretched out on my wood plank. A few minutes later the grandfather, hunched over and using a walking pole, returned. With a huge smile that showed his beetled teeth, he began talking and pointed to a large worn red thermos. I smiled and tried to deny the water since I wasn't sure if it was safe to drink. I'd read the stories warning travelers to drink only bottled water. Then I realized I had no water source.
After grandfather left, he went to his sleeping perch overlooking the library. For a moment I watched him as he watched me. He laughed a little and waved. I think he was happy to have me there to observe and befriend. I was his reality TV program. I smiled at him and waved to him. Then I thought about my water predicament for a while. Out of need, I drank the water grandfather left. I opened the thermos and poured a dose out into a metal cup. I looked up at grandfather, smiled, and gave him a salute with the container.
No sooner did I fall back to rest did Guy Moo and Yu Weni return to walk me around the camp. They showed me to an open-walled hut with several benches and tables that served as a restaurant. There was a line of similar houses along the path that was just wide enough to let a truck pass if the walking people stepped aside. The restaurant was on the outside bend of a leftward turn of the path, and at the bottom of a long slow decline. On one side of the road, there was an open trench about six inches wide and deep enough to slowly guide along a foul-smelling watery black sludge. It cut its way across the path, and it flowed into the restaurant on its downward journey. The black ooze slid between my feet where I sat on the thin bench. While eating rice and talking with my fellow teachers, it presented me with an unusual dilemma. Sitting on small plastic stool, I was shifting my weight back and forth to avoid stepping into the sludge with my sandaled feet. And the smell of the slime didn't add to the taste of fish oil on rice. Though, I wished it had.
We continued on the walk around the camp, which was more like a walking sprint. Saw and Guy Moo moved fast. I was a steady twenty steps behind them trying to keep up. I took in as much as I could while often looking to catch up to my waiting guides. A mosque, a Buddhist shrine, church, clothes on a line, women walking with umbrella's, a dentist sign, I barely had time to notice more. At one point we walked into a market covered with a canvas ceiling. Under the canvas cover, sunlight disappeared, and it was instantly black. I had to stop walking for a moment to let my eyes adjust to the dark.
Within moments I began to see a different camp life. Babies and happy children sheltered from the sun were crawling around or playing with plastic toys and making funny sounds with air-filled balloons. No sooner did I begin to see clearly in the dark market, we were outside under bright sunlight. Sweat that was magically absent in the cooled dark market ran over me in beads called forth by the devilish heat. After a brisk thirty-minute walk past uncountable numbers of light brown bamboo and leaf houses and hundreds of people going about their camp routines, we returned to the library.
Guy Moo fetched me some noodles, and I tried to treat him and Saw. They declined since they were hurried to go home before sundown to be with their families. I saved the noodles for later and reclined on my plank with something to read and dozed off. The comforting sounds of people preparing food and the footsteps of the curious residents walking past, some who'd quickly peek into the library between spaces of the bamboo wall, grew faint. As I closed my eyes my thoughts were of my parents, wondering what they were doing, then of taking long walks along trails in the old quiet hills of Western Massachusetts, then silence.
When Are the British Coming Back?
Not knowing how much time had passed I found myself curled up on my side, feeling adrift as my eyes snapped open. I wasn't sure if I was dreaming. There was no sound. It seemed everyone around me vanished. Sitting up slowly, I listened but heard nothing. Blackness enclosed me as never before. I could not see my hand in front of me. I glanced over to look through spaces of the bamboo wall. There was no wall, and there were no spaces in the blackness.
I heard a slight cough and a shuffle of feet on the earthen floor nearby. Turning behind, I saw three teenaged boys in the next area of the library behind a cloth wall. The sat at a table below a dim light. Somehow I knew they waited for me. I got up and walked over to them as I slid into my sandals.
The light turned brighter as I entered. Two of the boys had the faces of young teenagers but the third, sixteen years old, had the solid look of an experienced young man. He was the leader and spoke carefully and slowly in perfect English. The others spoke limited English and seemed happy to listen. After introductions and brief chitchat about the camp, I fielded the usual curious questions about my family, wife, children, and me. The younger boys queried me in Karen, and the older one translated. They wanted to know about my kids, their ages, if they were in school, and was my wife happy. I wondered if could they possibly understand why I was divorced and had no children. A shot at explaining miscarriages, ectopic pregnancies, depression, guilt, love lost, financial worries, and infidelity would be futile. They showed real concern for my childless circumstance, and we left it at that.
The older boy told me he was teaching Karen history to teenagers in the camp. He presented a Karen history book and began explaining the Karen people's fight for independence. As he spoke, I looked at his hardened face. In turns, the slow swayed bulb showed him under light and shadow. He seemed to be a boy in the light, and a man under shadow. His eyes were large discs, jet black to match his hair. The squared features of his face gave him a severe look. He was no ordinary teenager. Speaking confidently, with purpose, he paused once to ask if I understood his English, which was excellent and I told him so. He asked me to correct his speech, so I once corrected his attempt with an ambiguous word.
When finished I asked him a few questions, he paused and without emotion asked, "When are the British coming to help us?" The question stopped me. I smiled and took the time to consider what he said. He was a smart young man.
Stalling, I asked him, "What do you mean?"
He went on to explain without a reference to time in history how the Karen helped the British defeat the Japanese. I thought, in his mind, World War II may have been a short period ago. He continued to explain, in exchange for the Karen helping the British fight the Japanese, the British promised to return to help the Karen gain independence.
"When are the British coming back?" he asked again.
Before I knew what to say he explained how he asked Westerners before but none would tell him. I considered his words carefully. I imagined the Westerners he spoke to and possibly, how evasive they might have been with him. Perhaps they were as surprised as I and were unsure how to answer the young man. Some may have been dismissive due to his age, and others maybe were unwilling to speak the truth perhaps thinking he was naïve or too inexperienced to understand.
He explained that at age thirteen he left the camp with some men from the Karen National Liberation Army. He fought the Burmese Tatmadaw armies and even other ethnic nationalist groups rivaling his own. He saw the bodies of dead Karen children and women and the results of atrocities committed against his people. He helped to kill Burmese soldiers.
At times he would return to Mae La, sneaking in under cover of night to cuddle with his sisters and mother. Without dishonor, he said he pressed against the bodies of his sleeping family, and he would cry all night long. The first time he was home was the worst. When his comrades gathered up, he left quietly with them to return to his war. He was unable to face his mother, or listen to his grandmother's pleadings for him stay home. There was no goodbye.
He explained, during his last visit home his grandmother's cries, and her begging him not to leave, telling him his family needed him, got to him. He had grown strong, she said to him. She didn't want to lose him. He desperately missed his family, and he finally gave in to his real desire to stay home. He became a leader in his camp, and he was teaching other young boys while hoping to prevent them from being soldiers.
Unfortunately aged far beyond his years, the former child soldier was trying to save other children from a sad fate fighting a war without end. He led them to the church and willfully practiced his Christian faith before them. His idea was for them to follow without saying they should do so.
He asked a third time about the return of the British. I wished to avoid being like other visitors to Mae La, like the ones who wouldn't tell him the truth.
"When are the British coming back to help you?" I asked.
I carefully explained to him why the British would never return to help the Karen with a war to gain independence. I told him about the British embassy in Rangoon, a city he knew nothing of in a land conceivably far beyond the limits of his imagination. I explained how the British made peace with the Burmese, as did the Americans and the Australians. I also told him there could only be a negotiated and peaceful path to independence without revealing I was unconvinced with what I said.
After the seriousness of the discussion, he expressed satisfaction and thanked me for being honest. His shoulders relaxed as he explained briefly in his Karen language to his friends what I told him. His friends looked at me and quickly, catching me by surprise since I expected more discussion or questions. The former child warrior accepted what I explained. I was relieved he took it so well. By then I believed he knew the truth anyway but kept some hope alive just the same.
With the discussion completed, I took out my notebook computer and offered some photos of my home life. The boy's smile lit the sky when they saw my parents whom they admired for looking so old and happy. They enjoyed scenes of Blackstone River wildlife, and of water surrounding my home during the spring floods. Their eyes and smiles and chatter burst forth with glee, and they laughed and pointed at new images. They were full of curiosity and wonderment.
The video clips of snowfall captivated them, and they asked what it felt like on one's skin. I taught them how to play a simple game like Galaga, which amused them to no end. And they took to the computer and keyboard naturally. It was easy then to picture them at a table somewhere else in the world as any typical kids having fun and messing around with computer games. I think Grandfather overlooking from his bed perch had as much fun as the students. I invited him to join us, but he smiled and waved off the invitation. We followed this late evening routine each day and precisely at 7:45 each night they would return to their homes in the camp.
The Dilemma of Technology in the Refugee Camp
Showing camp residents the world beyond the camp and playing video games was a subject of conversation back in my Master's program at SIT, and with experienced aid workers whom I met in Mae Sot. The common belief was that camp residents shown technology would get a false hope for their future. It was said that the victims, seeing things like a computer game and pictures of snow falling, would be emotionally harmed and could be made to become depressed. That such carelessness by a westerner such as myself, visiting their camp for a brief time, would devalue their sense of identity and enforce in them a feeling of disadvantage and rejection – make them wonder to themselves and each other about why their lives were so miserable. Also, several aid workers in Mae Sot told me not to use my computer to teach because it built unreal expectations in those that may be undecided about relocating.
My belief was different but not emanated from experience or training in Psychology. As far as I was concerned those kids seeing my hometown, my family, snow falling, world maps, and photo's of the world's famous landmarks, and the world's famous cities, saw what was a million times better for them than what the teenagers in the United States saw in media. I wasn't about to hide reality from them as if I was a master over their lives. They enjoyed being kids, learned a video game and learned a word puzzle game they could share with other people. Plus, they got some visual concept of the world beyond forests, and the bamboo homes lined up on dusty or muddy paths with open sewers at their feet. Those children, like many their age and much older than they, had been born inside of Mae La. The conditions in the camp possibly caused depression. But the refugee camp was their home, that's all they knew. Open trench sewers, occasional gunfire, and explosions, foreign aid workers, stories of atrocities and more. It was difficult for me to understand how a working computer could make them depressed.
Do You Believe in Ghosts?
During my fifth day in the camp, I noticed I was feeling chills yet sweating more than usual. The air was oven hot, and I felt weary and cold. Dehydration was a danger so I downed some water and went to rest on my plank in the library. When I sat my body fell over and the comfort of the plank drew me down quick to sleep
I awoke as several people around me added mosquito netting to my bed. I was shivering and noticed my clothes were soaked as if I'd stood in the rain. Yu Weni shook my shoulders and turned me to look at him. I heard only his voice, his face was blurred, his black hair was shoe polish shiny and his skin soft and wavy. He wiped the sweat from my face and eyes, then appeared clear. I wobbled a bit, forcing myself to hold my torso upright on the wooden plank. The others, a young woman, and a man looked on.
"Do you believe in ghosts?" Yu Weni said.
Yu Weni was one of many of the camp's resident animists. Animists lived as a part the natural world and shared a unique relationship with the forest and all sentient life forms. There was no particular God for them to pray to, and relocation would elude them unless they first accepted Jesus into their hearts. An aid worker explained to me that most Christian organizations shunned Animists
I looked at Yu Weni and without hesitation said, "Yes. I believe in ghosts. Why?"
Yu Weni explained to me that ghosts would watch over me. He said I would see fires and men's faces in the fire. I looked at him and nodded I'd understood. I felt as if I were on fire at the top of my head. But I was burning one moment and freezing the next.
Suddenly, as Yu Weni's hand lifted away from my shoulders, I leaned over and sank onto the wood plank yet again. Yu Weni was holding me up. The last thing I saw was three people near my plank, watching me, and speaking in Karen. Their voices streamed into my ears like unknown instruments playing distorted melodies on a far-off radio.
That night was a hellish journey into a world I'd never known. I was feverish hot as I'd never been and then shivering cold but still sweating like rainfall all night. I covered myself with blankets to beat the cold. Soon after the sharp cold left, I'd remove the blankets to let the heat escape from within. My body quaked and shivered then was lissome. I could barely move at times.
The fever's intensity shimmered down over me starting at the top of my head. Lying twisted in a lump on the plank, I searched with one hand for a bottle of water and splashed what I could over my head to stop the fire. I could feel my heart punching me from inside. My breathing at times heaved, and I felt I exhaled flames and ice at the same time. Downpours of sweat ran over my face, hot or cold, tickling me as if bugs crawled over me. I wiped my face and lips free from the rolling beads of sweat by rubbing my face against the plank or my arms.
I was in and out of consciousness. At one time or another, I managed to prop myself up a bit to search for strange voices I heard. Instead, I saw flames rising and arching around me. The men Yu Weni told me I'd see were standing in or behind the fire surrounding me, staring.
Their contorted mouths and lips made deep and unfamiliar sounds. With flames around me and with sweat all over me, I made a significant effort one time to clearly see them. I forced my head up and spread my eyelids apart until I saw what looked like faces. As they watched me I felt I was their apparition, as if I nothing more than a hallucination in their minds, existing for a flash of time and then gone. The heat and the liquid that ran down my face entombed me. I had no more strength to control my body. I gave up the effort to see more of the faces and dropped to the plank onto wetness, heat, and shivering cold. That was all. I was unconscious.
Sample Excerpt from Chapter Two
Flying To Rangoon
On the daily flight from Bangkok to Rangoon, I had no expectations of what was to come. Morning light poked at the forest below, and the shadows gave way to sunlit canopies stretching down from hilltops. I felt time slowing as I packed away a mind full of urgencies or constraints related to a life filled with distractions and burdens. I'd learn soon enough to understand acceptance and patience, how to live without cluttered management; forgot to buy more coffee, need gas, get the mail, or any one of a thousand insignificant acts and routines that fenced daily life back home.
I also felt alone on the aircraft and I was glad there was no turning back. Still, for a moment I felt trapped, almost unable to breathe. I imagined it might be the same feeling someone got the second or two after a jump from the Golden Gate Bridge, or any height. Whether remorse, regret, or fear, it didn't matter. Just submit.
The green hills below joined the soft lowlands and the stylish meandering rivers. It was dry season. An ongoing drought baked bare the paddy fields and dust flowed on the low breeze. There were few dwellings or people to see, or movement of any kind. White and gold pagodas grew from the ground like chessboard pawns. I searched in vain for the majestic Shwe Dagon Pagoda among the countless many spread out to the horizon.
Landing In Rangoon
In February 2009, landing at Yangon International Airport was amusing. Bamboo homes sat inside the airport perimeter, some a few dozen yards away from the runway. Chickens scratched and dogs slept on the parched soil between the two barely used runways. In a garage, an old faded red fire truck stood by for some reason. Many old thatched or wood houses crowded with wild vegetation, and dirt paths between them, encircled the airport. Tall thin coconut trees and other clustered palm trees gave off an impression of a postcard existence. The villages looked as if the calendar played an insignificant role in the pace of life on the ground. It could easily have been 1950 instead of 2009.
At the moment the craft stopped, passengers rocketed out of their seats and grabbed their bags from the overhead compartments. There were no seat assignments then and also no restrictions on cabin luggage or oversized bags. Some people kept bags on vacant seats, and it seemed only a handful of passengers bothered to check bags at all. It was a luggage-hauling jamboree complete with several people getting knocked around by careless others slinging on backpacks as if they were alone in an open field. Common courtesies and social order were absent as people scrambled off the plane.
On the portable and shaky metal stairs to the tarmac, I saw there was a long walk to reach the terminal. Few people stood by, and only one other jet sat parked nearby. Four old mangled looking jet fighters sat at the far edge of the small building. I thought any pilot willing to fly one of them was an adventurous soul.
The terminal was brief at best. Walking inside and through a corridor between panes of glass left an impression of being inspected by bored terminal agents instead of welcomed.
Opposite the glass there were a handful of passengers in seats looking on as we trampled past on the moldy red carpet. The terminal was decayed and begging for paint. The fluorescent lighting was dim enough to make one wonder if lights were working at all. Following the plate glass catwalk, escalators greeted us as we turned a corner.
Oops. The electric stairs were not working. None but I dared scurry down the useless escalator and I quickly moved to the head of the crowd to the customs counters. From then on not a word was spoken by visitors and eagle-eyed men stood by checking out the entering souls as we fidgeted in wait for the moment of glory at the customs counter. The terminal was empty of any activity.
The agent for duty I got was a pleasant looking woman, pretty too, and she smiled and said,
"You are American?"
I wondered why she asked me that when she saw on my passport. Instead, I was apparently an "American." With a smile at the curious question, I said I was American.
"From Boston," I said. I thought it mattered not I was't from Boston.
While she was doing her bit with the stamp, she said kindly while looking at me eye to eye, "I like Americans."
I replied in a friendly tone, but also in a poorly uttered Burmese, "Jayzutinbaday."
Her charming smile told me I muffed it. She corrected me and said it melodiously, pleasantly, with happiness in her eyes, softly lingering on the final sincere syllable with rising intonation.
"Jesu thin ba dehhhh." It sounded romantic the way she repeated it for me.
I mimic her, repeating to her the correct way to say thank you in Burmese. And smiling, she said, "Yes."
Banned Books

I hastened over to the baggage claim area just as the greaseless cranky baggage carousel jerked awake. Several others waited around with me, probably also wondering if the damn thing was going to break down or not.
One woman about my age confessed to me quietly she was hoping they didn't x-ray her bags. I didn't bother asking why. Inside of airports there are some conversations better left unsaid. I wanted no part of another's drama. Even though we were anxious to leave, there apparently was no rush by the ground crew to get our bags off the first of only several inbound planes that day.
Finally, with my big Osprey backpack in hand, I ambled over to the bag scanner and showed my customs slip with nothing to declare. Much of the information about traveling to Burma was about what not to bring, not do, not say, not act like – and political books about the dictatorship were prohibited. My pack was full of too many books, and I wondered if it might cause suspicion.
As soon as the bag emerged from the scanner, a severe-looking customs woman standing near the scanner asked me slowly in English as to what I had inside of my backpack.
I realized just then, sitting atop all of my clothes and goods were my books. At the last second when packing, I added two copies of the banned book, Living Silence. Its author, Christina Fink, was blacklisted, as far as I knew. I planned to give them to someone who would share them.
I answered her question softly with a casual comment, "Just my things, clothes, and teaching books." She asked me to open my bag. I glanced around; people were waiting behind the scanner for a turn but I held them up so they watched me fidget. The taxi drivers and touts were crowded into the open double doors several feet away, also curiously watching. No one moved. I was the entertainment of the moment. A few smartly dressed men, who I assumed were police, stood inside the terminal a few feet away looking at me.
I repeated politely, "It's just my stuff."
She repeated softly almost as if trying to comprehend, "my stuff," then she gave me a stern look and ordered, "Open your bag.,"
I said, "No. It's just my stuff. My stuff." I added a hard emphasis on the extra, "my stuff," hoping to change the order of authority.
Firmly, again but with a smile, I repeated easily on a final "my stuff" and touched my clothes as if I thought she didn't understand me. She paused. I turned briefly to the crowd and instantly saw my name on a card held by a young man with a worried look on his face. I pointed to him, she saw him and he nodded in return.
Then she calmly said twice, "My stuff. My stuff." And after a brief pause said, "Ok." Her face went soft and cheery.
I smiled and said thank to her in English and Burmese. She smiled and our eyes locked, no doubt we were both glad that was over.
The school's driver, Din Din, was a happy, quick moving young man. After our greetings, he said to me, "You're lucky."
He insisted on taking my bag and without effort yanked it over his shoulder. We hopped into the van parked at the curbside near the exit, and we moved fast down the little hill from the terminal then towards downtown. The first thing I noticed was the absence of cars. In 2009 a traffic jam outside of the heart of the city in Rangoon consisted of several cars waiting for a light to turn green. Most drivers didn't wait for red lights but merely slowed for them and drove through. That was it. Our drive down Pyay Road, then over to Kharbar Aye Pagoda Road to the Park Royal Hotel, about a ten-mile trip, took just over twenty minutes.
Along the way, at one point there were lot's of armed and skinny police lining both sides of the roads and some on the center divider line. I wondered aloud why they were there. Din Din mentioned there must have been a Bosszy, or a General, or someone famous nearby, maybe in a restaurant. He repeated the word "Bosszy" a couple of times and laughed a little. I asked what it meant, and he said it meant something such as, a wealthy man or rich person.