The new way to work: choose how you spend your time, enjoy what you're doing and get paid for the impact you make.
| | |
| --- | --- |
| | Business Travel + Entrepreneurs |
| | Toronto, Canada |
| | 40,000 words |
| | 25% complete |
| | 19 publishers interested |
Synopsis
This book is the reference guide that you'll pull out before making career decisions or going into high stakes work scenarios like interviews or signing a new client.
It starts out by questioning the way we traditionally think about work and expands the possibilities of how to construct a career that you enjoy building.
This is different from the "follow your passion" careers book because it gives a breakdown of how to make decisions you're going to be happy with during the key events that shape your career often without you consciously realizing it.
This is the difference between starting your own company and staying in a job you hate for the entirety of your twenties, and maybe thirties. It's about making the decision to apply to that new manager role instead of just leaving the company because you feel unfulfilled. We'll discuss how to sign up a new client or price your services.
Our careers are shaped by a series of micro-decisions that cumulatively dictate where you end up. With that knowing, this book helps you build your own success trifecta through deciding what micro-decisions are right for you.
First we define what a success trifecta is, and then move into how to build your own step by step through answering key questions that come up along the way to building it for yourself.
What is a Success Trifecta?
The new way to build your career is using a foundation of choice, enjoyment and impact.
This new model has emerged because we're all starting to demand the freedom to choose how we spend our time which is the first pillar.
Selling our lives to passionless work until retirement doesn't cut it anymore and once the reader is shown that work is better (and more productive) using enjoyment, we move onto the third pillar, impact.
Connecting to impact is important in all that we do, but many dissociate from this idea when it comes to their work. It's so easy to focus on the raise or job title, and forget the reason we're working in the first place.
Impact is about consciously deciding what impact you want to have on the planet. We consider the age old question of what you want to be remembered by on your death bed and then move onto the new territory of actually eliciting how a career can be formed from our personal insights about what we care about.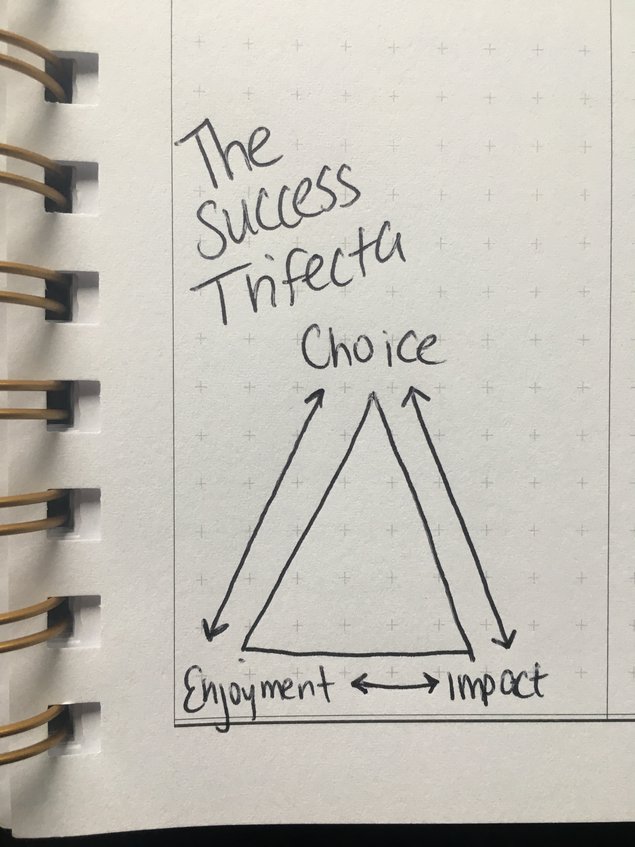 A free agent is an individual who has merged their desire for freedom at work with the commitment to independently create their own version of The Success Trifecta. They work in order to fulfill their personal mission of making a meaningful impact in the world through what they do every day, not just for a pay check.
The reader will now create their own version of the emerging success trifecta: designing their ideal work experience, defining what they enjoy doing daily and deciding on what they want to contribute to the world over the span of their careers.

So how do you bring your success trifecta to life?
This is the scenario based part of the book where readers will return again and again depending on the current career decision they're facing.
We'll look at strategies to:
1) Define What's Great About You
2) Communicate That Greatness to Others
3) Attract the Right People and Projects to You
4) Share About Your Unique Way of Creating Solutions in Your Work
5) Get Paid What You're Worth
6) Deliver On Your Promises
After reading this section, the person whether employee, student or entrepreneur will have identified:
- Key Positioning Pieces (Personally and Professionally)
- How to Market Those Services to Get a Job or Client
- How to Convey Value in Their Skillset Offering and Service that They Provide
- The Ways to Deliver Successfully to Their Recipient without Burnout or Compromising Who They Are
- How to Define Success Metrics that Make Them and Their Recipient Happy
Outline
Part One:
Intro: What is a Success Trifecta and Why You Need to Build One

- Choice
- Enjoyment
- Impact
- Why Should I Read This and Make Changes in My Work?
Step 1: Designing Your Personal Success Trifecta at Work
- 1 Million Ways to Make $1 Million
- Ask a 4 Year Old
- The Choice is Yours
- How to Know What You Like Enough to Spend Your Entire Life On It
- Remember: Deep Down You Care About Others
- The #1 Key to Making a Career Decision You're Proud Of
Part 2: Scenarios to Help You Make Authentic Career Decisions
Step 2: How to Talk About What You Do

- What do you stand for?
- How to Talk About What You Bring to The Table Without Sounding Like An Arrogant Asshole
- Why Your Mom's Best Cookies Will Help You Market Yourself
- How to Answer the Question "What Do You Do?" (At a Party or Meeting)
- Ways to Show Up as Yourself at An Interview or Meeting
- How to Talk About What You Offer to Potential Clients or Employers
- The Keys to Writing Emails that People Will Reply to
Step 3: How to Choose Who You Work With
- Know What You Stand For
- Communicate Your Blue Chips
- Speak the Other Person's Language

- Say No, and...
Step 4: How to Convey Value in What You Provide
- Define Your Services Based on What You Want to Contribute
- How to Set the Price You Charge
- How to Negotiate Your Salary or a Raise
- Formatting That Simply Conveys Your Message
- Talking With Corporations (Hint: It's Just a Group of People)
- Do I Need a Website?
Step 5: Delivering to Others on Your Promises
- How to Deliver Services that Produce Solutions
- Numbers That Show Valuable Results
- Running Effective Meetings That Aren't a Waste of Time

- How to Handle Concerns from Anyone
- How to Put Yourself First and the Client Benefits
- What to Do When You Mess Up
- Quality Assurance: Think of Your Grandma to Know What to Do
Audience
This book is for 3 main target audiences. Broadly it benefits anyone who is working and wants to take control of how they build their career going forward.
Firstly the book will benefit aspiring or current entrepreneurs who are looking to build their businesses within the current gig economy.

The emerging trends in the freelance economy show that:
The first focus is aspiring entrepreneurs but a secondary target audience is anyone who is a corporate employee and wants to build their personal career trifecta. The book talks about how to position yourself and your services which is a necessary skill for job acquisition. Employees benefit from this step-by-step guide because the book shows them how to define what each pillar of the trifecta is for them in their career and teaches how to implement enjoyment and impact into their new way of approaching their work.
The working audience of the United States alone is roughly 129.6 million.
Lastly, this guide is beneficial for educators at the college and high school level who would like to deliver a structured approach to learning and navigating a new way of career design within the currently developing gig economy. The existing careers curriculum is limited in schools around the world. The goal with this audience is to initially pilot the book in careers classes as a supplement to standardized assessments. This is a customized approach to career design that students will benefit from being exposed to. The Canadian and US audience for high school students are cumulatively around 5 million students.
Author
Kalyna is the Founder of Kickstart Your Work, an onstage storyteller and global explorer. She has dedicated her life to helping women love the work they do. Kalyna has coached over 1,500 hours with clients in 20 countries around the world. She specifically supports women to take their work online so they can work from anywhere while delivering value to clients.
Kalyna started her first business at 19 years of age, doing digital strategy in her dad's backyard by the pool. She loves storytelling both on and off stage and most recently spoke at UCLA and TEDxWLU about how to navigate career building while focusing on what feels good.
She's been traveling full time since 2014, visiting over 25 countries so far and living in Aruba, Brazil, the US and of course Canada her home. Kalyna has a blast running a completely location independent business and believes feeling good while at work needs to be the new normal for everyone. In her free time she loves yoga, Brazilian dance, trying all sorts of foods and searching for the world's best hammock on the beach.
Kalyna is passionate about mentoring and giving back to young girls. She remembers the experience of feeling like she didn't belong at school and knows that supporting a grassroots initiative near home is the start to impacting young girls globally. She donates her time and a percentage of Kickstart Your Work's sales to Girls Inc., to support girls having the positive role models that she believes make all the difference for youth.
Kalyna's mission is to spread the message that we can choose to enjoy our work and our lives while endeavouring to make a meaningful impact on those around us.
Promotion
The power of word-of-mouth is that it will fuel the initial momentum needed to launch this book. People who have a level of personal connection with Kalyna will passionately share how dedicated she is to leading by example. Kalyna defines the life of a free agent herself, as she works to help women achieve similar heights in their careers.
1) Personal Network
Kalyna is committed to personally reaching out to 20 people per day to share about the campaign, the concept of the Success Trifecta and spreading the message of the importance of this concept.
Personal Facebook: 3050 Friends
LinkedIn Network: 930
Kalyna Miletic Facebook Page: 5718 Likes
Instagram: 1576 Followers
2) Friends Willing to Share (Professional Affiliates + Personal Network)
Cumulatively an audience of ~150,000 people
3) Organizations
Outreach to the administration of 10 schools in the Greater Toronto Area to discuss the potential for adding to careers education programming, and 5 schools in the San Francisco Bay Area
Marketing plan to Post-Secondary Institutions in Canada (18) and the United States (30) to pitch the book as a supplement to careers curriculum
Contact with five Co-working Spaces for Potential Feature
Girls Who Travel Outreach (Online Community of 20,000 Women)
Sharing with 10 organizations with the intention of running a half day workshop on the Success Trifecta in conjunction with pre-sales of the book
4) PR + Speaking Engagements
Media for the book to be sent out to local news channels and shows
Recent TEDx Talk at WLU and a second TEDx talk coming up in February 2019
Online PR Plan to feature the book in 400+ Articles through an SEO firm
Speaking engagements throughout the year at schools, organizations and charities (roughly 10-15)
Competition
1. The Suitcase Entrepreneur
By: Natalie Sisson. Published by North Star Way. (2017)
Sisson's book covers the tactical elements of being a digital nomad in a way that shares the author's step by step process to running an online business to minimize work hours. The Trifecta is different because it focuses on finding the subject matter and business model that will transform your work into your global contribution. The Trifecta's focus shows readers how to make the change from "working to live" into "working to contribute" and that is what makes it unique.
2. The $100 Startup: Reinvent The Way You Make A Living, Do What You Love, And Create A New Future
By: Chris Guillebeau. Published by The Crown Publishing Group. (2002)
Chris expertly defines making a living with enjoyment. His model is about "finding the intersection between your "expertise" – and what other people will pay for." The Trifecta defines and teaches how to create a trifecta of intersection between what you love doing, your expertise and impacting the world (which leads people to pay you extremely well.)
3. The Freelancer's Bible: Everything You Need to Know to Have the Career of Your Dreams - On Your Terms
By: Sara Horowitz. Published by Workman Publishing Co. (2012)
This book highlights the steps to being a freelancer that have to do with the nitty gritty: taxes, retirement savings and setting up your office. The Success Trifecta is unique because it defines a new way of approaching work that transcends a job title and focuses on staying in alignment with one's bigger contribution to the world at every step of the client attraction and business building process.
4. The 4-Hour Workweek: Escape 9-5, Live Anywhere, and Join the New Rich
By: Tim Ferriss. Published by Potter/Ten Speed/Harmony/Rodale. (2009)
This book inspires readers to look beyond corporate to building their own business. The Success Trifecta goes beyond corporate or business and defines how to take control to maximize your work opportunities no matter what the formal work format. The free agent builds their work life to incorporate elements of themselves rather than building a business to make money to live a lifestyle that is enjoyed outside of "work hours." The Success Trifecta is a manual that asserts that an hour is an hour and one should spend each one intentionally - work shouldn't be minimized to four hours per week. Free agent's know that work means contribution and that's a meaningful way to spend their time to deliver value in the world.
5. Escape from Cubicle Nation: From Corporate Prisoner to Thriving Entrepreneur
By: Pamela Slim. Published by Penguin Publishing Group. (2010)
This book shares practical insights and is about becoming independent through a great escape from the big bad corporate wolf into the promised land of entrepreneurship. A common theme amongst freelancers and entrepreneurs, corporations have gotten a bad rap. The Success Trifecta doesn't vilify corporations, and rather sheds light on how to choose to interact with them (or not) in a way that makes sure you take care of yourself as an individual first.
Sample
People started telling me when I was 12 years old that there was no way the success trifecta was possible. Choosing what we do at work every day, making money, enjoying our time and impacting the world all just seemed too good to be true. That's why I set out on a mission to see how I could create it, live it and show others how to do it too.

People ask:
Can I make money AND like what I do?
Yes.
Can I do this if I've never worked for myself?
Yes.
What about if I don't have a degree or professional experience in what I love doing?
Yes.
What if I have kids, bills, debt, aging parents, no money, lots of money, lots of time, no time, responsibilities, stress, struggle, no drive, lots of drive...
YES.
Choose this new paradigm and it's yours.
It's that simple and requires you to claim it for yourself in your life.
Choosing is the only difference from people who like what they do and those who don't. It's the only thing standing in between the focus on finding 100 pieces of evidence as to why you can't instead of finding 100 ways to figure out how to make what you want a reality.
If you choose to proceed, the only requirements are these:
1) You must decide that from this moment forward, it is entirely your responsibility to build your life the way you want it to be. You are in control of choosing what you do, say and think every single moment of every day.
Once you commit to this and start acting from this place, your life will change forever.
[Fortunately, this means gossip, blaming and scapegoating others is no longer a viable justification.]
2) You must focus on finding solutions.
If you want to complain about why this won't work, find reasons why you are the one person who isn't _________ enough so you can't do it, then I'm sure you can think of many people who will hear you out, but this book isn't going to play into that.
This manual is about solutions and bringing your wildest dreams into reality. There is no goal of impact that is too big or too much to handle when using this model.
Step 1: Designing Your Personal Success Trifecta at Work
The beginning.
It's about choice, enjoyment and impact.
We define: 1) what you love doing 2) what you are great at doing 3) what impact you want to make in the world.
Who cares?
Without this knowledge you are aimlessly wandering in a sea of jobs and tasks with little to no fulfillment or purpose (hint: joyful purpose will change your life and transcends your current job title of employee, freelancer or CEO).
Wandering isn't the issue, it's the complaining and negative attitude throughout the journey of wandering that's going to make the 100,000 hours you get to contribute to the world totally miserable. You don't get that time back, so let's wander joyfully whether you're just starting out, or you're the big cheese in the corner office.
Once you define the trifecta, you can begin contributing to the world at large and living a purposeful life while being successful from a financial perspective.
Brilliant, right?
It's time to choose fun AND success.
Step 2: How to Talk About What You Do
You're great at the things you have defined above. Things that are "work related" and things that aren't. You're multi-faceted. This is the step where you learn how to talk about yourself without arrogance and with pride for what you bring to the table (in a way that doesn't make people want to leave the room.)
Once you know how to share about yourself personally, it's time to learn how to explain the services you provide in the same way. Doing business is the same as dealing with a friend, or your cousin Susan. Talk about your services like they're your mom's best cookies that you actually enjoy eating.
This step will help you define:
1) How to talk about your strengths as an individual
2) How to share about what solutions you can provide as a free agent
3) Choosing your positioning within your industry: Are you the Gucci or Walmart of Your Niche?
Step 3: Define Who You Want to Work With and Attract Them
You = your work. Your work = you.
The faster you realize this point, the better for all of us.
Why?
When you start admitting that you care about the stuff you're doing it becomes a lot easier to decide what to do with your time and who to do it with.
This isn't a section about ad strategy, or the right time to send a marketing email (which is Tuesday at 10am research shows.)
Attracting aligned opportunities starts with knowing what you stand for and being willing to share what your values are.
In this section we'll define your values so that you have your own personal operating standards identified. This matters whether you're going to build a business or help grow someone else's because it's how you show up in the world.
Don't know what you really care about yet?
Perfect.
We'll start with answering the question:
What really pisses you off about the world?
You're well on your way to deciding how you want to change the world. It may seem like a big thing to have to sort out and it is.
Glad we got that out of the way.
What you do matters and changes the lives of those directly around you.
I'm not saying that to be nice, it's just true that every time you cut someone off or choose to open the door, you're changing lives.
I know, sort of scary, we can't hide behind the guise that no one sees us or that we don't matter.
This step outlines:
1) Setting out what your personal values are like a credo
2) How to use them in your marketing (personal or business) to show who you are and bring in work that aligns with you
3) How to talk to others in a way that shows your values and helps them to know if they're a match
4) How to weed out the opportunities that aren't a good fit for you before you say yes to them
Step 4: How to Convey the Value of Your Offer to Others
Ah the moment where you lay your business heart out on the table and have to share what services you're going to provide.
Even more daunting, answering the question what do I charge them?!
If you've priced services or products before then I assure you this isn't the standard cost + margin formula.
That just isn't good enough anymore.
We're talking about value based pricing here.
What does that client walk away with given the knowledge you've shared, service you've provided or product you've sold?
The funny thing is, someone may say you're crazy for charging $100 for a box of chocolates and yet, a Parisian chocolatier might say anything less is robbery.
It's completely subjective, right?
Exactly.
That's the whole point. Clients are going to pay you what they believe your offer is worth, and that worthiness starts from you.
You = your work, remember?
How much do you think your contribution is worth?
How much value is delivered by providing what you're contributing to the world?
The whole point of being a free agent here is saying, I get to choose where I stand within the industry. You're the one that positions yourself within the world.
In this section you'll learn:
1) The elements of a killer proposal to get you hired
2) How to price your services so that you're happy with what you earn while making the recipient feel like they scored a deal
3) How to take your positioning from step 2 and convey it in a resume or client proposal
4) The 5 biggest pitfalls to pitches (meetings or interviews) and how to avoid them
5) How to develop your own personal system for delivering results that makes you unique and ups your value factor to others
Step 5: Make an Impact and Go Beyond Expectations
You have someone who believes in your mission, agrees with what you stand for and wants to work with you to create a solution they need.
Congrats!
My work here is done...
Ok, I know, not so fast. The work is just beginning. Now you get to deliver on all of the great ideas you have and use those skills you've been talking about.
Stage fright, imposter syndrome or just general apathy are all totally possible here so you're completely normal if you feel like this is the biggest leap of all, in some ways it is.
Let's label this feeling as excitement from now on.
You get to show to the world exactly why you've committed to building your success trifecta.
So, think back to the reason why you started all of this in the first place.
Why are you hoping to help this person or provide a solution?
What motivated you to open up to living your trifecta?
In this final step we'll identify how you can deliver your personal contribution in a way that makes the difference you want to make and goes above and beyond everyone's expectations (while making you super happy in the process!)
You'll learn:
1) Setting up your personal timeline so that you exceed expectations and stay sane along the way
2) Ways to communicate about your process throughout the project so that your contribution is recognized and you deliver on your promises
3) The way to identify the five key metrics to track for yourself and the recipient of your services so that you're on the same page about progress and goals
4) How to handle the inevitable slip ups, mistakes or unexpected items that come up