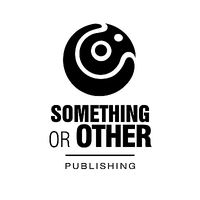 Something or Other Publishing
Welcome to SOOP, a new concept in publishing and features a groundbreaking model to connect authors and readers. The traditional publishing industry was suited to serve the few, the talented, and the fortunate. But the internet revolution turned that market on its head, introducing e-books and print-on-demand technology—and with them came a self-publishing explosion. In fact, the world of self-publishing has become such a crowded field that many great ideas are simply going unheard among the clamor. And readers are suffering for it, too, with few tools and little power to sort the wheat from the chaff.

Enter SOOP. To bridge the gap created between traditional publishing and self-publishing, we identify what readers want and publish the authors who can deliver. We are NOT a Vanity Publisher. Our revenues come from selling books to readers.

Here's how it works: Authors submit their book ideas and solicit feedback, while readers pledge support and vote for their favorites. As authors achieve various voting milestones on the path toward 2,000 votes (and publishing contract eligibility), they receive guidance and benefits and complete related check-in activities. Our process focuses on educating and empowering authors to master what we call the three P's: platform, promotion, and product, even before their books are finished. This approach also helps SOOP to make the right investment choice with every author we publish.
Traditional publisher
Children Fiction, Christian Fiction, Commercial Fiction, Contemporary Fiction, Historical Fiction, LGBT Fiction, Literary Essay, Literary Fiction, Mystery, Thriller, Horror & Suspense, Mind & Body, Mythology & Folk Tales, Poetry, Romantic Fiction, Science Fiction & Fantasy, Women's Fiction, YA Fiction, Art & Photography, Biography & Memoir, Business & Money, Career & Success, Children Non-Fiction, Christian Non-Fiction, Cookbooks, Food & Wine, Communication Skills, Corporate Culture, Crafts & Hobbies, Creativity, Current Affairs, Economics, Education, Entrepreneurship & Small Business, Health, Fitness & Dieting, History, Humor & Entertainment, Illustrated Books, Journalism, LGBT Non-Fiction, Management & Leadership, Marketing & Sales, Mindfulness & Happiness, Money & Investment, Motivation & Inspiration, Nature & Environment, Parenting, Personal Growth & Self-Improvement, Philosophy, Politics & Social Sciences, Popular Science, Productivity & Time Management, Psychology, Reference, Religion & Spirituality, Science, Sex & Relationships, Society & Culture, Sports & Outdoors, Technology & the Future, Travel, YA Non-Fiction
Worldwide

eBooks2go
eBooks2go, Inc., was founded in 2011 to provide the missing link for all your publishing needs. Our end-to-end solutions provide the guidance and support that enable publishers and independent authors to pursue their passions. To date, we have helped more than 750 authors and 100 publishers worldwide.

Our Mission
eBooks2go is where dreams get published! We are devoted to grooming authors and publishers for long-term success. We strive to deliver high-quality products, sustainable marketing strategies, and a positive customer experience throughout the entire publishing process. Our experienced staff will directly work with you to help your books enthrall and entertain readers.

We Are the Catalyst for Your Writing Career
eBooks2go offers an array of simple and affordable solutions to assist self-publishing authors at every stage of the book publishing process. Our comprehensive service offering includes editing, print and eBook production, book marketing, cover designs, ISBN registration, and even website designs. We are the single source for all of your publishing needs.

Profit from Your Passion
eBooks2go is invested in your publishing goals! Follow your ambitions and contact us today to learn more about the personalized publishing experience we offer!
Hybrid publisher
Children Fiction, Literary Fiction, Mind & Body, Mystery, Thriller, Horror & Suspense, Romantic Fiction, Science Fiction & Fantasy, YA Fiction, Biography & Memoir, Business & Money, Career & Success, Cookbooks, Food & Wine, Health, Fitness & Dieting, History, Journalism, Personal Growth & Self-Improvement, Politics & Social Sciences, Religion & Spirituality, Science, Society & Culture, Sports & Outdoors, Technology & the Future, Travel
Worldwide