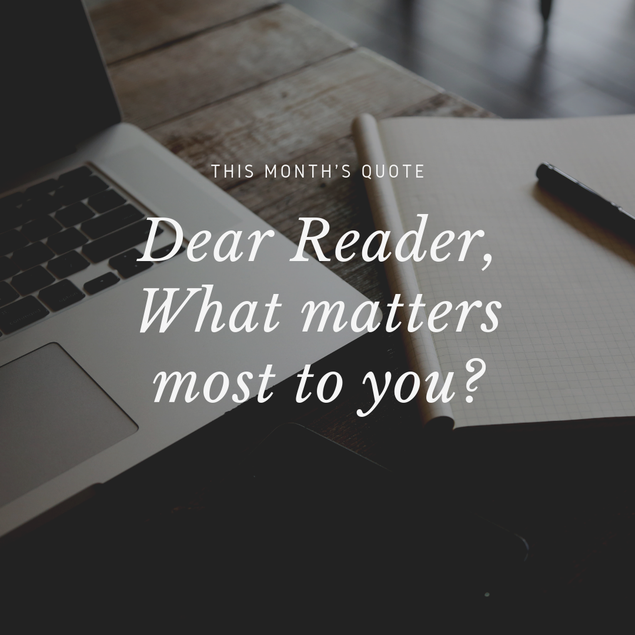 It hardly feels like a month since I've wrapped up my Publishizer campaign and yet it feels like years. I consistently feel like the days are long, but the months are short. I think it's because each day I have the opportunity to learn and accomplish so much.
If I had to summarize the theme of this past month it would this quote:
"Dear Reader: What matters most to you?"
Last week, I was fortunate to talk with a publisher who reminded me of this central question. They have an exercise their authors walk through called "Dear Reader" where authors write to their readers and summarize why their book matters.
In my past and current life designing training and development, this simple design thinking principle rules the world for me. Start with empathy. Understand what your users want. If you don't, you could be designing meaningless content.
After my call with that publisher, I wondered how I missed this simple yet profound tool I use all the time. I assure you I forgot it. So, in an effort to resolve this critical miss-I started crafting reader personas (in the design thinking world, personas simply describe a consumer).
I started asking people in my target market what change topics matter most to them. I'm continuously inspired by what I hear:
-What are the disadvantages of change?
-How do I let go of the old to make room for the new?
-How do I build a support system while I'm transitioning?
-How do I transform desire into action?
I'd love to hear from you on the change topics that matter most to you. Shoot me an e-mail at changedeviants@gmail.com
Grateful for all the change inspiration you've provided me,
Liesl