Synopsis
Every day thousands of: women, youth and children have their human rights violated in Africa, Asia, Europe, America and the Middle East. Innocent and defenseless people are abused, raped, enslaved, tortured, beaten, injured or killed. What do you think about that? You agree that it is time to end this forever
Cruelly Abused Women, By Morris Ferrari
Nations commanded by bloody dictators, their territories divided and dominated by local warlords, and their dehumanizing militias carry devastating weapons to mutilate, extort, and enslave all citizens., Demanding by any means a share of the extorted people's properties.
Those ones who don't pay in cash, pay with flesh.
Young people, instead of sowing the soil to produce food and stop the hunger, become mercenaries, propagating hate, death, and destruction. They lose their humanity creating their own branches of the inferno.
Women and children are most vulnerable. Abused continuously. Paying with their bodies. They are enslaved, raped, barbarized and beaten. They are the endless and silent victims forced to serve the shameful warlords and militias. Isolated and abandoned.
David, an American, in a dream or vision, is led to this Inferno, a dry and desolate land, an immense desert, lawless, where the control comes from dictators and the warlords.
He finds a young lady, dying of dehydration and starvation. Her body and soul devastated from the abuse of the her captors, a local warlord and his mercenary militia.
She escaped after an aerial attack from allied forces, only to perish in a sizzling desert. A dead end of one of the many branches of inferno.
David and Sofia's epic story has begun with their first encounter. He makes an unbelievable effort to save Sofia, however, in order to do so he needs a miracle, water and food. Otherwise Sara may die.
Carrying Sofia in his arms, he crosses the barren land, climbs mountains and dunes, crosses a savannah, only to find no food and not a single drop of water.
"Cruelly Abused Women" is both a fantastic and shocking story, which leads to a startling conclusion. Inferno is right here on Earth. A quick read with life altering truths exposed, your life will not be the same!
Outline
Cruelly Abused Women is a tale, so it is not formally structured in chapters, but intuitively the following structure can be observed:
Presentation of the storyteller - narrator:
- Image of the storyteller and definition of the context of the narrative - first, nuances of the story of the tale are shown and where it is left to the reader's imagination if this narrative can be a dream, a vision and even a preconception. The answer will only be known at the end of the story.
David arrives at the "Valley of Death":

- David finds himself in a hell on earth, an incandescent furnace. Adults and children dying of hunger and thirst, mothers looking like zombies crawling back and forth with children in their arms. Everyone with a high degree of malnutrition, thirsty, like skeletons: fragile bones and skin only, with a known future - the slow and cruel death of hunger and thirst.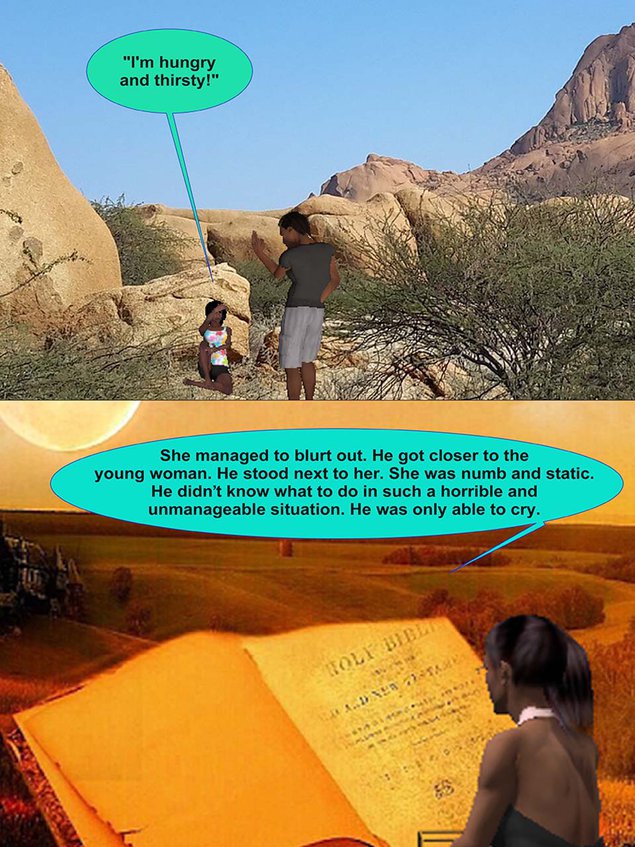 The meeting:

- David finds the young woman dying, leaning on the rock completely bandaged and forgotten by all. He sympathizes with her degrading state and decides to save her anyway, even if the price of this desperate rescue was his own life. The saga of David in hell on earth begins.
Knowing Yourself:

- In a short pause to rest on a shade in the middle of the savanna, the young woman awoke for a few minutes. Both introduced themselves and he asked her to tell her story and was terrified by the saga of the young Sofia, a refugee from the Lebanese. Sofia had been enslaved, barbarized and abused continuously by dozens of militiamen, who were drug and arms traffickers, women and children explorers, a bunch of vipers who lived from cave to cave in search of their victims. The victims had to pay for "protection," and those who could not pay in cash had to pay with their bodies and their slavery.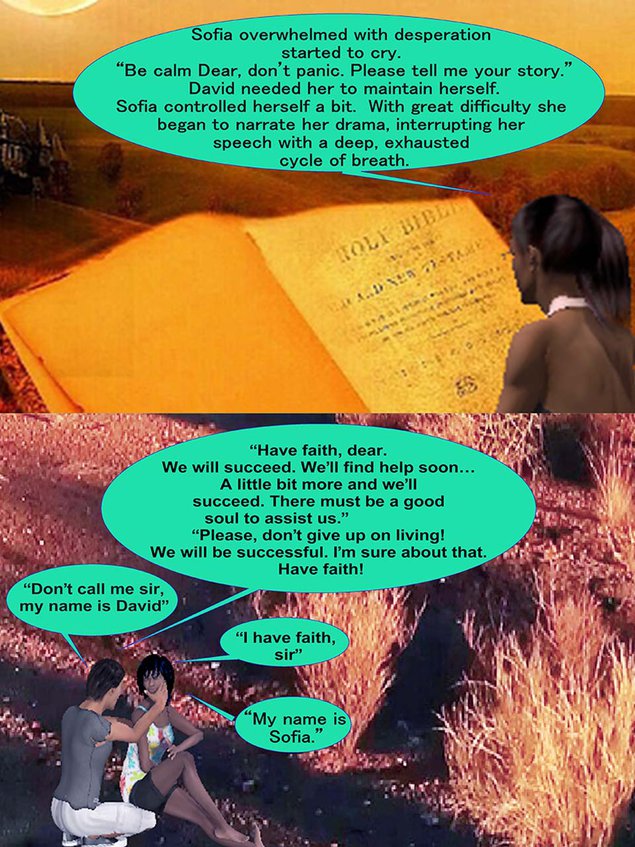 The Rain Dance:

- A mighty lightning cut through the sky., David is sure that the rain was finally coming to soften the heat that dominated that savanna and that he had succeeded in saving Sofia. She seemed to be fainting, being gently carried by him in his arms. Finally, his saga in the branch of hell on earth was over.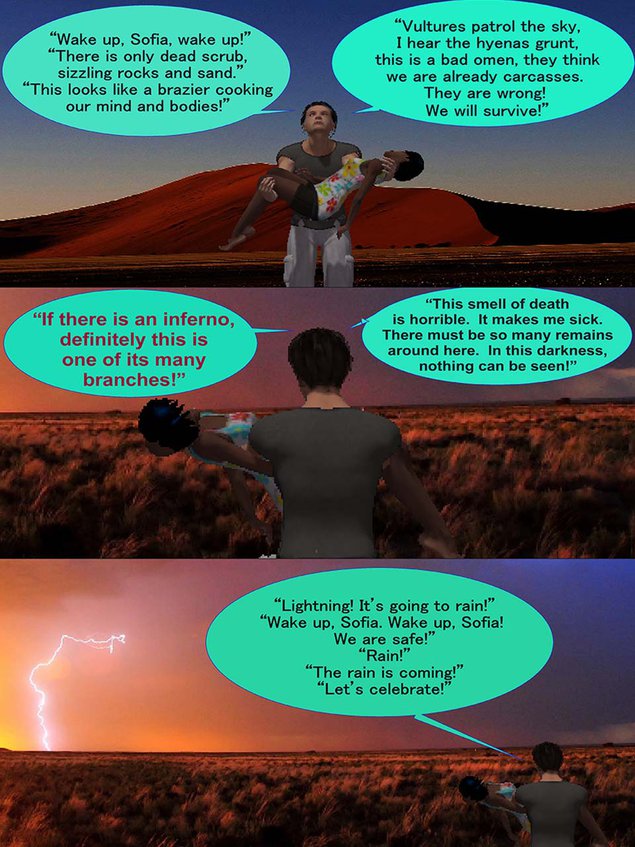 Audience
The target audience of the tale "Cruelly Abused Women" is fantastic and gigantic covering diverse interests such as:
- Abuse against women and children;
- Refugees and Immigration;
- Wars and genocides;
- Droughts, devastation, degradation of the environment;
- Clean and renewable energies (Wind and Solar); and,
- Religious conflicts.
Very easily, this tale can be disseminated in various groups (woman and child protection groups, environment protection groups, etc.) since this tale raises topics such as social, human and ecological degradation, clean energy generation and renewable alternatives. This tale also discusses religious topics, political and migratory conflicts.
Morris Ferrari also hopes, in view of the social/educational nature of his work, to sell the tale in financially favored countries and do a free distribution in regions where the conflicts are occurring, and where abuses and cruelties are being committed.
This tale has great social and economic/commercial potential, difficult to be measured due to its incredible educational aspect. A powerful social marketing tool for any group.
Promotion
Undoubtedly the greatest current tool for the promotion of an author and his books is through Social Media, even more with the Organic Social Media - not paid, which is the most important. But to enjoy the benefits of social networks, much work and considerable investment is necessary to obtain good visibility for the author.
Our ability to invest in social marketing is intrinsically linked to the amount collected with the pre-orders, and future investments coming from a possible publishing contract with willing publishers, which in addition to producing printed books, invest in promoting them, as well as in the image of the author.
To succeed with social media, it is necessary to hire companies and specialized professionals, because without a doubt, it is not a job for amateurs. The return comes, but at the expense of: a lot of work, competence and financial investments, of course, besides a personal work of the author, which in the case of Morris Ferrari will be as intense and dedicated as possible.
Competition
Cruelly Abused Women is a short story about religious persecution against ethical minorities and human rights abuses , reaching directly women and children (always the most vulnerable in any situation whether it be wars or violent and cruel ethnic cleansing or religious). These cruelties have been carried out against various peoples in recent decades, and in the last two decades are happening especially in the Middle East and Africa and has killed, mutilated and displaced millions of innocents.
In the 1930s and 1940s the most barbarized people were the Jews, during the Holocaust: the Nazi's "ethnic cleansing" annihilation of some 6 million European Jews. Very little was done to stop the genocide perpetuated by the Nazis, millions of Jews were executed in the gas chambers in concentration camps, summarily shot, displaced from their countries and stacked like garbage and held prisoners in ghettos disgusting or even used as guinea pigs in crazy and senseless scientific experiments. Until almost the end of World War II the world watched the Nazis insensibly carrying out their evil plan of genocide to extinguish once and for all the face of the Earth the Jewish People.
Another difficult period of humanity happened more than two thousand years ago, was the relentless persecution of the Roman empire to new Christians, just after the crucifixion of Jesus Christ and the rise of Christianity. Thousands of Christians were executed in cruelest possible ways or served as actors forced to perform in sinister spectacles in the arenas, being torn apart by beasts or gladiators, to amuse insane audiences.
Today other holocausts are also being carried out, and as in the 1930s and 1940s, very little is done to prevent them. Millions of refugees from Africa and the Middle East spreading around the world, have been fleeing from cruel executioner, which wants to kill them, barbarize them, enslave them, exploit them. Women and children continue to be cruelly abused because they are always the most vulnerable and the easiest to achieve.
Cruelly abused women shows a saga of a young woman named Sofia, a Christian minority Lebanese woman who with her family runs away from her homeland, seeking shelter in the distant mountains. She and her family are captured by militiamen traffickers of weapons and humans. They had to pay for "protection", but when the money ends, they tried to escape. Unfortunately, there were easily reach by them, and then they had to pay with their "flesh." Sofia's family was slaughtered and killed in front of her. Sofia was a sex slave of the gang leader and had to serve also all the other militiamen, suffering repeated collective rapes.
Since the Jewish "ethnic cleansing" in World War II, it is possible to highlight many books showing some aspects of the Holocaust, like: The Diary of Anne Frank and Tales from Secret Annex both by Anne Frank; Number the Stars by Lois Lowry; A Girl Called Renee by Ruth Uzrad and The Boy in the Striped Pajamas by John Boyne.
Equally, Cruelly Abused Women discuss: bravery, friendship, fears and determination of young people in a situation of relentless persecution, cruelty, enslavement and terrible abuses perpetuated by mad leaders and executed by merciless and irrational arms.
As differences, besides the time of the happened, would be the literary style, the way of telling the story of Cruelly Abused Women, that is a small fable - few text and many images. Cruelly Abused Women is based on the concept that an image counts much more of history that a thousand words.
Another story about the period of persecution of the new Christians that can highlighted is in the Ben-Hur book: A Tale of Christ by Lew Wallace, which shows among other things the divine intervention in certain moments of history that people are subjected to great scourges. Cruelly Abused Women also show this, the sky interacting with an everyday life of the people of the Earth.