Synopsis
It's no secret that cooking at home and creating meals from scratch is often healthier than dining out or reheating pre-made food. What might come as a surprise, though, is that doing so with your partner has its own set of health benefits. From refining communication skills, increasing feelings of support, creating quality bonding time, and stimulating sex drive, cooking a meal together is the new and improved date night.

All of our recipes in Kitchen Chemistry will be whole-food based, using the most pure ingredients possible. Because our eating philosophy is based on both pleasure and performance, there will be no lists of forbidden foods. Our recipes will not leave you feeling hungry and deprived. Chocolate chip cookies, cauliflower fried rice, lavender reishi lattes, and maple glazed donuts—your taste buds, brain and your belly will be happy. Half of the cookbook will feature low sugar, gluten-/grain-free, paleo-inspired desserts. The other half will be savory, creative, and nourishing meals for two.
You can learn a lot about a couple by how they show up together in the kitchen. This cookbook is not just about making and eating healthier food, but about gaining tools of conscious communication and deepened intimacy so that you can grow together through (and beyond) the kitchen.
From food sourcing, food preparation, and cleaning up the kitchen, authors TJ Anderson and Amanda Gyuran will highlight each step of the creation process. TJ and Amanda will also focus on helping couples develop rituals in and out of the kitchen—preparing food, energetic clearing, emotional intimacy practices, and creating a sacred eating sanctuary—to name a few. By incorporating these rituals, each meal made in Kitchen Chemistry will leave you feeling fully nourished, on a physical, emotional, and relational level.
Outline
Foreword: Written by Hay House Author and Celebrated Podcast Host, Katie Dalebout.
Introduction: Who is TJ? Who is Amanda? Why did they create this cookbook?
History of Couples in the Kitchen
In the 1950s, a woman's job was to shop, cook, and clean. The man provided the money. This is no longer the case for many couples.
We explore why this is changing and how co-creating in the kitchen creates a healthy relationship dynamic. We talk about typical masculine and feminine roles surrounding food preparation and how to play with these energies to both find balance and increase attraction in your relationship.
Our Ingredients & Recommended Brands
List of ingredients (superfoods, oils, herbs, grain-free flours, etc.), their benefits, how to use them in creating your own recipes and where to find them. This is also where we outline specific brands that we love and have partnered with.
Sparking Kitchen Chemistry
Pre-cooking rituals: We discuss the importance of creating a loving, healthy environment in which to cook (and play). We share exactly how to make your kitchen a Sacred Eating Sanctuary through environmental health hacks, state changers, and energetic cleansing.
Post-cooking rituals: We share practices to help deepen emotional intimacy such as eye gazing, food blessing, and authentic relating tools for quality conversation.
The Power of Pleasure
In this chapter, we share the science and energy behind receiving pleasure from food. We will discuss the importance of removing the "guilt" from eating and how your relationship with food ultimately affects your relationship with your partner.
100% Paleo & Gluten-Free Homemade Recipes
Desserts (Brownies, Cookies, Ice Cream, Pies, Donuts, Truffles, Cakes)
Breakfast (Waffles, Pancakes, Zucchini Fritters, Omelets, Breakfast Burritos)
Snacks (Granola Mix, Protein Bars, Chips + Guac)
Drinks (Smoothies, Cold Green Juices, Hot Tonics, Coffees)
Poultry (BBQ Chicken Wings, Hemp Crusted Chicken Tenders)
Breads (Avocado Chocolate Bread, Poppyseed Bread, Garlic Bread)
Beef (100% Grass-Fed Bison Bowls, 100% Grass Fed Beef Chili)
Pork (Roasted Bacon Sweet Potatoes, Apple Cinnamon Glazed Pork Chops)
Seafood (Walnut Crusted Wild Alaskan Salmon, Fish Tacos)
Veggies ("Cheezy" Roasted Root Veggies, Cauliflower Fried Rice)
Aphrodisiacs (Maca Butter Cups, The Hot Bedroom Tonic, Rose Chocolates)
Intuition: Learning how to cook without recipes to use your intuition as a guide.
Conclusion
Acknowledgments
Recipe Index
Tools & Resources
Audience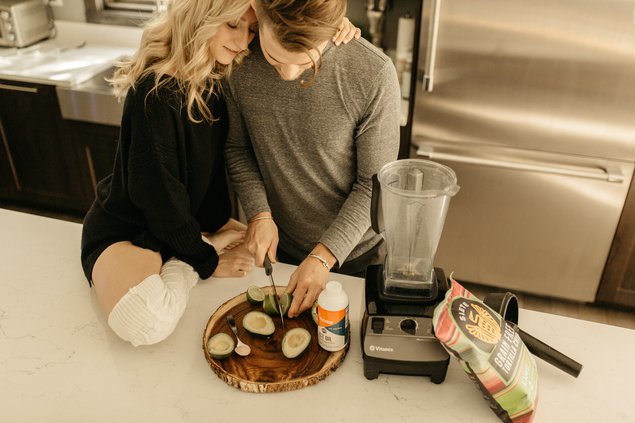 Our primary audience is couples—anyone in a relationship with another person. Studies show that couples who cook together, stay together. In a recent study by Light Speed GMI, 87 percent of those surveyed believed that cooking was one of the best activities couples could do to strengthen their relationship.

Our focus will be on women ranging from 25-55 years old. Research shows women in this age range tend to make at least 80% of the buying decisions for their household. If we can empower those who make purchasing decisions to make healthier shopping lists and try out more creative recipes, it can have a trickle down effect in their relationships and entire family.
The younger side of this age range (the millennials) are more informed on health trends, but less equipped to convert this knowledge into the skill of food preparation at home. This is not to say that the millennials don't want to learn how to cook. They do, but in more healthful, fun ways (such as cooking with your partner).
The middle and latter part of this age range are couples who may have a family. Kitchen Chemistry will provide simple, healthy, and delicious recipes for parents that they, and their children, will enjoy. This provides an opportunity to help support the next generation to cultivate a better relationship with food, more skills in the kitchen, and improved health.
Studies show that children who grow up being involved with the food sourcing and preparation process tend to have less disordered eating tendencies and an overall better relationship with food as adults. Disordered eating often negatively affects romantic relationships.
Our secondary audience are singles who want to improve their skills in the kitchen as a form of self-love and self-care.
If they do end up in a relationship in the future, they will have a better overall approach to food, nutrition, and partnership.
Promotion
Valentines Day Strategy
Our campaign will launch on February 4th and go through early March. Because we are focused on selling our cookbook to couples, we will have a strong promotional push around Valentine's Day to inspire couples to pre-order the cookbook.
We will do an '11 Days of Love' social media series starting February 4th until Valentine's Day. Each day leading up to Valentine's Day, we will share a free recipe from the Kitchen Chemistry cookbook or a how-to exercise for couples to grow together beyond the kitchen.
Cookbook Strategic Partner Companies
Within the cookbook, we plan to feature our favorite healthy, organic, paleo-friendly brands that we use to create our recipes. We are partnering with many of these top brands to promote the cookbook during the crowdfunding launch—arranging social media posts, guest blog posts, and more—in an effort to help their communities learn about us, get involved with the Kitchen Chemistry movement, and pre-order the cookbook.
Our partner brands include, but are not limited to:
In total, our partners have over 2 million followers on Instagram alone, and have agreed to share our recipes and cookbook via email newsletter, blog, and social media (Instagram, Facebook, etc.) during our key launch weeks.
Health Influencer Partners

We have also partnered up with select health influencer couples who plan to submit a recipe inside of our cookbook! A lot of these health influencers have agreed to share our cookbook with their audience when the book formerly launches.
So far these influencers include, but are not limited to:
Ben Greenfield and his wife
JJ Virgin and her husband
Dr. Tom O'Bryan and his wife
Dr. Katherine Zagone and her partner
Dr. Grace Liu and her partner
And several others
Our Existing Communities
The authors also plan to launch the Kitchen Chemistry cookbook campaign within their existing communities:
TJ's Elevate Your State, health hacking podcast community (1,000 followers) and social media following on Instagram and Facebook (6,800 followers).

TJ's Art of Health Hacking book community (TJ pre-sold 255 books in his first campaign on Publishizer for his book, The Art of Health Hacking, 2016).
Amanda's Eating Psychology and Pilates community (2,500 on email list) and Instagram (5,200 followers).
Competition
Culinary Reactions, The Everyday Chemistry of Cooking, by Simon Quellen Field. Published by Chicago Review Press (November 1, 2011)

How we're different? We explain the chemistry of cooking and baking, but also the chemistry of relationships—both through and beyond the kitchen! Plus, all of our recipes will be using the most pure ingredients possible, focusing on both pleasure and performance foods.
Two In The Kitchen, A Cookbook for Newlyweds, by Jordan Mackay and Christie Default. Published by Weldon Owen (November 6, 2012)

How we're different? Our cookbook is not just for newlyweds, but for ALL couples—no matter what age or stage—and also those interested in finding a healthy relationship in the future.
Let's Stay In, More than 120 Recipes to Nourish the People You Love, by Ashley Rodriguez. Published by Running Press Adult (October 9, 2018)

How we're different? Our cookbook focuses on supporting loved ones, but specifically romantic partners. Plus, we show our readers how you can trade up to make traditionally unhealthy items (e.g., pizza, ice cream, and cake) healthy, while still tasting amazing!
One Pan, Two Plates, More Than 70 Complete Weeknight Meals for Two, by Carla Snyder. Published by Chronicle Books (March 5, 2013)

How we're different? Our cookbook is not just for savory meals, but also has a big focus on healthy desserts, smoothies, and tonics.