Synopsis
Sample chapter of the book is available here.
THE ART OF WARDROBE is the answer to the problem of having closets full of clothes, but nothing to wear. In this helpful guide, Olessya Assimova offers practical solutions for developing your own unique style, plus a wardrobe evaluation for organizing your clothes for maximum functionality. Going a step beyond most fashion books that simply promote style and beauty, this book also offers a step-by-step plan for looking your best without breaking the bank or cluttering your closets. Olessya focuses on how to choose essential items that show off your unique style, flatter your figure, and promote sustainability.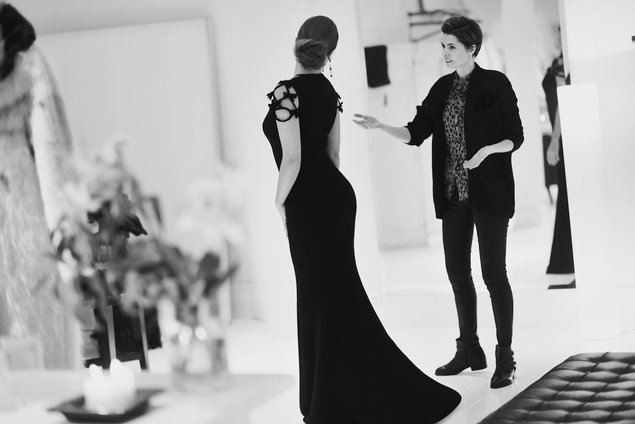 Olessya brings her extensive experience as a personal stylist and image consultant to this helpful guide for women of all ages and every background. Find tips on how to clear closets of clothes that no longer suit you, use practical and environmentally-friendly suggestions for passing on unwanted items, and take the mystery out of shopping for the right clothes for your style, coloring, and body shape. Stop cluttering your closets with impulse buys that don't fit in with the rest of your clothes and leave you with many articles of clothing, yet still "nothing to wear," and embrace the durability and timelessness of a well-crafted wardrobe.
Olessya will guide you seamlessly through every step of building and organizing a stellar ensemble that you will love to browse every morning as you get dressed. As you learn how to lay the foundation for an organized, purposeful, and beautiful wardrobe, you will gain freedom and power over your fashion choices and purchases.
Use this handy guide as a reference as needed, keeping it on-hand for when it's time to add to your wardrobe, or time to get control of your crowded closet. But you may also use Olessya's practical tips for shopping and beyond. Training ourselves to question what we need versus what we want, letting go of things that no longer serve us, and surrounding ourselves with things that bring us joy is not just a shopping skill, it's a life skill.
Outline
INTRODUCTION

Part 1. CLOSET
I begin with the practical matter of assessing and organizing your closet.
Imagine your ideal lifestyle
I walk readers through the process of developing "wardrobe capsules" for organizing and developing a functional wardrobe that suits every activity, season, and occupation.
The power of goodbye
I help readers sort through their current clothing to free their wardrobe of unnecessary items, using clearly outlined criteria, and offering environmentally-friendly solutions for giving unwanted items new life.
A wardrobe system for enjoyable dressing
I offer practical steps for storing and preserving clothes.
Part 2. IDENTITY
I discuss the elements of developing your own personal style.
A phenomenon worth investigating
I take a look at four personal characteristics that contribute to image-making.
The art of playing with a color palette
I show readers how to asses their skin "temperatures" to find the best color palette.
How to present your figure in the best light
I demonstrate how readers can use horizontal balance to determine their body shape.
Part 3. SHOPPING
I discuss a practical approach to shopping.
Online, offline, or both?
I consider the pros and cons of online shopping versus shopping in brick-and-mortar stores.
What do you need?
I discuss how to develop a shopping list, a budget, and a plan for a successful and stress-free outing.
Rest, relax, and have fun
I offer practical tips for enjoying the shopping trip to its fullest.
My story
I offer background on my work as a personal stylist and image consultant, and my desire to help women develop their own personal style and optimize their wardrobes.
Workbook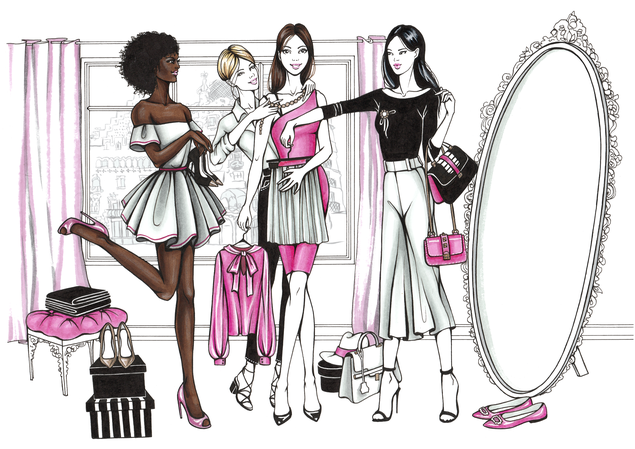 Which colors are best for your skin tone?
I offer tips and tests for determining skin tone, and finding the most flattering colors for each.
I offer visuals to help readers determine their body shape.
Audience
The target reader for THE ART OF WARDROBE is a woman of any age and is primarily English-speaking. This international readership loves fashion and is open to experimenting as they look for their own style.
This practical guide will help them successfully set up their wardrobe, planning clothing shopping, choosing clothes that flatter their figure and creating outfits for any occasion that life may send their way.
Promotion
THE ART OF WARDROBE promotion has already started. It is based on building a community of like-minded people, who are interested in style and fashion.
I'm new at writing, yet have worked in the fashion industry for more than 10 years. I've packed wardrobes in Paris, Dubai, and Barcelona, worked for prestigious fashion media, was a personal image consultant for dozens of women, launched my own image studio and even an e-magazine. Thanks to it I now have a rarely rich experience, a vast clients' base and an access to many useful information sources. I love public events and I've already started a workshop series to warm up an interest in the book. When it will be published, I'll set off for a publicity tour with my "THE ART OF WARDROBE" workshops. Also, soon I am going to become a curator for a young student's group who wish to make their future in the fashion industry.
The main marketing advantage we are going to develop is an online support service for our readers based on Facebook and Instagram. This service will provide them with a free chance to communicate with an author and get personal styling advice. It's a unique offer that NO other book on style has ever made.
Besides, the book has profiles on social media to use as a promotion platform, including Facebook, Twitter, Instagram. YouTube is not the exception: I'm starting my own YouTube channel with a special video course based on the book. We collaborate with bloggers and influencers with the same target audience to spread the ideas worldwide and expand our reach.
I started promotion two month ago, and I am so happy with the result. It's more than I expected! :D
Competition
These five published works have several general differences with THE ART OF WARDROBE, including the following:
1. They are targeted toward an older audience than "THE ART OF WARDROBE."
2. THE ART OF WARDROBE emphasizes the sustainable approach to shopping and fashion.
3. THE ART OF WARDROBE is created according to modern trends. It illuminates topics of current interest and gives tips and advice useful for today.
4. THE ART OF WARDROBE has an original design and illustrations created by a professional artist.
5. Last but not least, THE ART OF WARDROBE offers its readers a unique opportunity to be in touch with a professional stylist and get help on every topic they face while reading.
The five main competitors of THE ART OF WARDROBE are:
1. "The Pocket Stylist: Behind-the-Scenes Expertise from a Fashion Pro on Creating Your Own Look" by Kendall Farr
Publication year: 2004
Published by: Penguin Group (USA) Inc.
Description: A celebrity fashion stylist reveals the tricks of her trade and shows women of all sizes how to pull together their own polished, individual look.
Differences: "THE ART OF WARDROBE" was written 13 years after "The Pocket Stylist…," so it's much more timely as a shopping and wardrobe guide today. "THE ART OF WARDROBE" includes similar sections on figure types and dressing them, but it broadens personal recommendations with face types and ways to complement them, offers practical tips on choosing a personal color palette, offers a detailed scheme of cleaning up the wardrobe and organizing it, and focuses on sustainable shopping.
2. "The Curated Closet: A Simple System for Discovering Your Personal Style and Building Your Dream Wardrobe" by Anuschka Rees
Publication year: 2016
Published by: Ten Speed Press
Description: With so many style and shopping options, it can be difficult to create a streamlined closet of pieces that can be worn easily and confidently. In The Curated Closet, style writer Anuschka Rees presents a fascinatingly strategic approach to identifying, refining, and expressing personal style and building the ideal wardrobe to match it, with style and shopping strategies that women can use every day. Including useful infographics, charts, and activities, as well as beautiful fashion photography, The Curated Closet is the ultimate practical guide to authentic and unique style.
Differences: Anuschka Rees is a writer, as she says herself, while Olessya Assimova is a professional stylist who gives her recommendations based on her vast experience of working with different people. "THE ART OF WARDROBE" is illustrated with drawings, not photographs. "THE ART OF WARDROBE" has a strong successive structure of chapters that lead a reader through the steps of building her own personal style: from discovering personal features through cleaning out a current wardrobe to shopping and pulling out completed outfits for a living.
3. "The Book of Styling: An Insider's Guide to Creating Your Own Look" by Somer Flaherty
Publication year: 2012
Published by: Zest Books LLC
Description: This guide explains the what's, why's, and how's of styling; so whether you're looking to update your wardrobe or curate your closet, this book has the answer. Accomplished stylist Somer Flaherty helps readers figure out what their look is (or ought to be), and how to tailor that look to their own particular body type. Also, for all of the future Rachel Zoe's out there, Flaherty helps readers understand the skills that are necessary to style others, and to even turn styling into a real career.
Differences: The main difference is that "THE ART OF WARDROBE" has sections like "Wardrobe organizing" and "Shopping" that give practical advice and detailed instructions on the topics. "The Book of Styling" says nothing about these areas, and fails to address the idea of sustainable consumption and sustainable fashion.
4. "The Little Black Book of Style" by Nina Garcia
Publication year: 2007
Published by: HarperCollins Publishers
Description: From Nina Garcia—fashion judge on Bravo's hit Project Runway and author of Style Strategy and The One Hundred—comes her wildly popular New York Times bestseller The Little Black Book of Style. Here, in one indispensable volume, are Nina's ultimate rules of style to help you uncover your own signature look.
Differences: "The Little Black Book of Style" content is based more on the author's thoughts, insights and experience on the phenomena of style, while "THE ART OF WARDROBE" is more about practice and is structured according to the practical use of information for the reader. "THE ART OF WARDROBE" gives a lot of tips for choosing the best look for your figure and face type. "The Little Black book of Style" also has no information about sustainable fashion.
5. "The One Hundred" by Nina Garcia
Publication year: 2010
Published by: HarperCollins Publishers
Description: From Nina Garcia—fashion judge on Bravo's hit Project Runway and the New York Times bestselling author of Style Strategy—comes The One Hundred, the companion edition to her wildly popular The Little Black Book of Style. A must-own list of all the items every fashion-conscious woman should have as a solid, stylish foundation, The One Hundred features gorgeous illustrations by Ruben Toledo.
Differences: "The One Hundred" represents a list of items essential for every wardrobe, mixed with facts and advice on wearing each item. "THE ART OF WARDROBE" is a complex successive guide to building personal style, from detailed analysis of appearance to wardrobe transformation, from planning a shopping day to creating outfits for every situation and occasion.