OVERVIEW
America, the greatest nation in the world! (Or to be made great again!) After eight years of Democratic President Barack (Hussein!) Obama and his Affordable Care Act (Obamacare, aka Government-Run Death Panels!), only one thing is made clear: America is a nation fractured along party lines and ideals... and never was this more obvious than the race to replace Obama in 2016.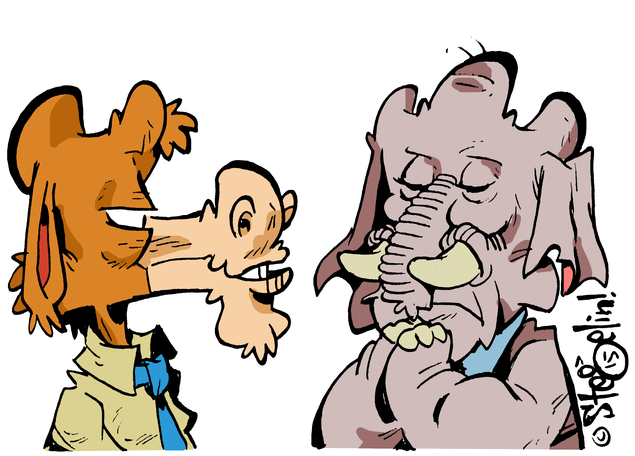 The questionable authenticity and email habits of Hillary Clinton!
The bombastic vocals of the political outsider with 30 years experience on Capitol Hill, Bernie Sanders!
The revisionist history of the soft-spoken Dr. Ben Carson!
The absurd fear-mongering of Ted Cruz!
The dynastic politics of Jeb! Bush!
The robotic repetition and mudslinging of Marco Rubio!
The narcissistic rants and hate speech of the titular party-crasher Donald Trump!
And rest of the characters and candidates that made 2016 memorable!
CHAPTER OUTLINE (TENTATIVE)
Thanks, Obama.
Republicans and Can'ts.
Coronation of Clinton, Interrupted.
Cruz for Prime Minister
Jeb!, Bushwhacked
Trumped!
Make America Hate Again
Mudslingers and Bedfellows
Signs of Electile Dysfunction
Implosion
November Reign
Future, Tense
ABOUT THE AUTHOR
Steve Stegelin is the award-winning editorial cartoonist for CHARLESTON CITY PAPER. A published cartoonist for 20+ years, starting with his satirical and social commentary-tinged college paper comic strip-turned-indie comic book BOONDOGGLE, Stegelin's biting humor and "deceptively cute" style has appeared in publications around the world. Stegelin currently lives in Charleston, SC but is considering International locales depending on how the nation's political climate evolves.
AUDIENCE
This book is ideal for fans of political humor, social commentary, intelligent and satirical whimsy, fun illustrations, and sequential art that make you think. Also good for those looking to laugh at political figures expecting your respect.
MARKETING AND PROMOTION
Social media, across multiple platforms including Facebook, Twitter, Tumblr, and Instagram.
Press releases to online comic book news sources
Coverage in Charleston City Paper and other regional publications
Creator appearances at comic book conventions across multiple states