eBooks2go
eBooks2go, Inc., was founded in 2011 to provide the missing link for all your publishing needs. Our end-to-end solutions provide the guidance and support that enable publishers and independent authors to pursue their passions. To date, we have helped more than 750 authors and 100 publishers worldwide.

Our Mission
eBooks2go is where dreams get published! We are devoted to grooming authors and publishers for long-term success. We strive to deliver high-quality products, sustainable marketing strategies, and a positive customer experience throughout the entire publishing process. Our experienced staff will directly work with you to help your books enthrall and entertain readers.

We Are the Catalyst for Your Writing Career
eBooks2go offers an array of simple and affordable solutions to assist self-publishing authors at every stage of the book publishing process. Our comprehensive service offering includes editing, print and eBook production, book marketing, cover designs, ISBN registration, and even website designs. We are the single source for all of your publishing needs.

Profit from Your Passion
eBooks2go is invested in your publishing goals! Follow your ambitions and contact us today to learn more about the personalized publishing experience we offer!
Hybrid publisher
Children Fiction, Literary Fiction, Mind & Body, Mystery, Thriller, Horror & Suspense, Romantic Fiction, Science Fiction & Fantasy, YA Fiction, Biography & Memoir, Business & Money, Career & Success, Cookbooks, Food & Wine, Health, Fitness & Dieting, History, Journalism, Personal Growth & Self-Improvement, Politics & Social Sciences, Religion & Spirituality, Science, Society & Culture, Sports & Outdoors, Technology & the Future, Travel
Worldwide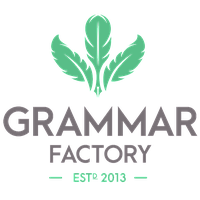 Grammar Factory Publishing
Grammar Factory is known for helping entrepreneurs, business leaders, and subject matter experts become first-time authors of world-class nonfiction books that build their authority at scale.

Over the past 6 years, we've helped more than 200 business owners write and publish books that grow their business, and when surveyed, here's what they told us:
• 34% said that since publishing their book, they've doubled their rates.
• 72% said they got speaking gigs.
• And a full 86% said that they grew their income.

Entrepreneurial authors come to us when:
1. They need to differentiate themselves from their competition;
2. They want to generate qualified leads who know, like, and trust them;
3. They want to scale up without burning out.

We offer integrated services including editing, publishing, and ghostwriting delivered through the 5 pillars of our Entrepreneur to Author STEPS method. STEPS helps even the most inexperienced writer to publish a professional calibre book that gets results:
[S] - STRATEGY -- Get things right from the beginning.
[T] - TRANSFER of KNOWLEDGE -- Get ideas out of your head as I.P on the page.
[E] - EDITING EXCELLENCE -- Refine to bring out the magic and cut what's in the way.
[P] - PRESENTATION -- Package and present to be discovered, differentiated, and described.
[S] - SALES CONVERSION -- Use the right monetization strategy to deliver value for you and your business.

We're passionate about what we do because we believe in the power of entrepreneurs to solve problems and serve their customers. When you overlay that with the amplifying power of long-form media, there's no limit to what can be accomplished.

Writing and publishing can be both exciting and intimidating, but we hold ourselves accountable to leave our clients feeling wholly confident in the quality of their book, confident in its ability to grow their business, and also to feeling 100% supported as an author.

We'd love to do the same for you.
Service publisher
Mind & Body, Biography & Memoir, Business & Money, Career & Success, Cookbooks, Food & Wine, Communication Skills, Corporate Culture, Creativity, Current Affairs, Economics, Education, Entrepreneurship & Small Business, Health, Fitness & Dieting, History, Journalism, Management & Leadership, Marketing & Sales, Mindfulness & Happiness, Money & Investment, Motivation & Inspiration, Nature & Environment, Parenting, Personal Growth & Self-Improvement, Philosophy, Politics & Social Sciences, Popular Science, Productivity & Time Management, Psychology, Religion & Spirituality, Science, Sex & Relationships, Society & Culture, Technology & the Future, Travel
Canada, United States, Australia