Synopsis
Growing up as a plus size in Malaysia is tough! Whenever or wherever I go, I become the topic due to my size. I'm "classified" as unacceptable compared to other normal-looking girls.
The unacceptable circumstance lies from micro to macro levels:
At home, if you are a bigger size than your other siblings, you'll always be picked as a joke.
At school, easily picked on by teachers or teased by classmates for being fat.
In society, people boxed you as fat and start calling you names related to "fat" instead of your name.
In the country level, being fat is unacceptable!
These are common encounters for most of plus size people because we somehow have been brainwashed that slim is equal to healthy. Slim is beautiful and fat is ugly. Slim is more capable compared to plus size. Slim will be lovable and fat will not able to find love. Blah blah blah . . . the list goes on.
Find out what I encountered and what I do about my body in this lovely graphical book.
Outline
This book is to share my personal experience as a plus size and offer encouragement for those who are having the same experience. It's a graphic novel.

This book is structured into 3 sections:
I learned................(The Ugly side)

So, I learned to do ………. (The Action side)
Because, I learned that ………. (The Discovery side)
I learned....The Ugly Side
It showcases the ugly side of me through the journey of self-discovery. I learned how much negativity I've stuffed myself into. The anger, frustration, confusion, loss, and humiliation that stuck me in the cycle of "fat" and gave me a very low self-esteem.
So, I learned to do......The Action Side
After analyzing all the negativity, I had a choice. A choice between sitting there and doing nothing or doing something. I choose the latter. DO SOMETHING! I learned to slowly kick off negativity. I learned to love my body, appreciate, and be grateful for things around me.
Because, I learned that.......The Discovery Side
There is always a WHY behind the action. Through the ugly side and action, I learned more about life. I discovered the accusations, statements, self-beliefs which are untrue about being a plus size.


Samples: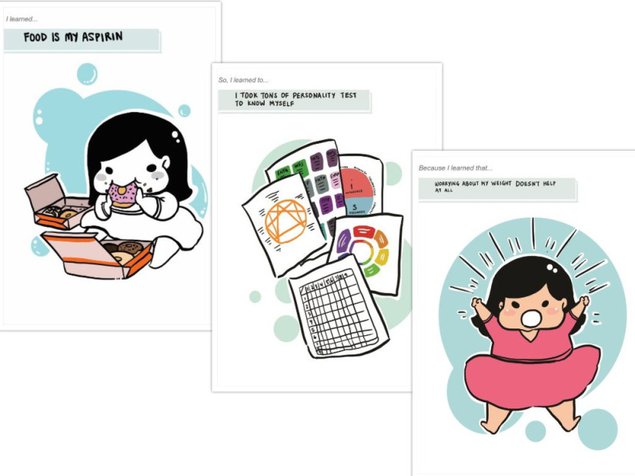 Audience
Being a plus size is like a taboo in an Asian context. For society, fat shaming seems to be alright. For example "You are so fat! Go diet!", "Eat less, then you'll be thin", "How are you going to get a boyfriend when you're this fat?!" That's the daily routine of a plus size and it normally leads to more negativity than positivity.
This book is targeted to female adolescents in the age range of 10 - 19 years old, especially in Asia, who may be facing the same situation -- self-hatred, low self-esteem, and ashamed of being who they are due to their body size. Find out how I break through and live my desired life.
This book is also dedicated to those who not a plus size, who learn what our perspectives are and bring awareness to oneself. Fat shaming is not all right. Be more compassionate to people who are plus size and befriend them before making a judgement.

Promotion
Fat shaming has become a norm and most bullying, physical or cyber-bullying, is not talked about especially in Asia.
I created a Meet Up Group Singapore (www.meetup.com): Outlive Plus Size where plus size could come together for a chit chat or do some activities together. It's a group where there are not awkward moments because we are all the same size.
I also created a Closed Facebook Group: Outlive Plus Size. It is daily dose of motivation for members. Its topics range from time management to self-love.
Additionally, I made a website & blog: www.outliveplussize.com. It helps audience get to know self-discovery tools available on the market (to know themselves better) and some self-experience tools.

Competition
This is a self-help book. It's a unique book consisting of my story of growing up in Asia and experiencing so much bullying about my size. Yet people my size don't talk much about it.
It is a shame and humiliation, and it's a fact that we end up hiding one side of ourselves to appear to be happy externally while being hurt internally.
There may be books on bullying, cyber-bullying, the environment, business, how to be a millionaire, and many curvy romance books. My book is special, with short descriptions, easy reading, and attractive illustrations to help adolescents to cope with their self-esteem issues.