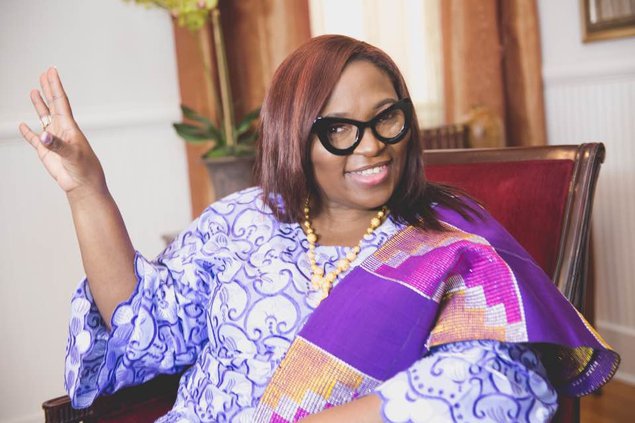 A media-genic life strategist and media expert called Your Global Vision Midwife™ & Dream Weaver™ to mentees and colleagues across the social media platform, Dr. Princess Fumi Stephanie Hancock is a Behavioral Transformationist with a DNP (Doctor of Nurse Practice) specializing in Psychiatric-Mental Health. She also holds a Ph.D. in Strategic Communications which is an Advanced degree in Writing for the Media Arts (TV/Films). She is often called an influencer across social media platforms: Twitter, Facebook, YouTube, Periscope.

Dr. Hancock with her love for the literary arts and behavioral health sciences has managed to strike a balance between her two lovers. She has done that through her popular Online TV show – I Am Princess of Suburbia®, her podcast, I am A Master Storyteller™, her newly released digital magazine, which is an extension of her company, THE STORYTELLER BISTRO™, a Princess of Suburbia® Company.
To date, she has written 20 books, 9 of which have become Amazon bestsellers in several categories and one, the Billion Dollar Dreamer™, which will be released in 2018. Two of her fiction work have stayed on the bestseller's list for over 2 years! She just recently released YOUR VISION TORCH™ series as well as HOW TO QUIT YOUR JOB IN 90 Days!, books mirroring her established webinar presentations. She is a contributor for Huffington Post / Thrive Global and is seen several times weekly on Periscope @1PrincessofSub! She is also active on Facebook Live as well as her YouTube channels. Besides being a social media influencer, she has been featured in several newspapers both nationally and internationally.
Fumi Hancock has been featured in several newspapers such as the Tennessean, Tennessean Tribune and several International Newspapers and Magazines. Just recently, she was deemed "child advocate" by over 8 newspapers: Tribune, This Day, Punch, Vanguard, Guardian, The Sun, The Nation in Africa, because of the work she does in Africa. Her accolades span from Africa to the US, as the NAFCA African Oscar Peoples' Choice Award Winner~ as Favorite Screenwriter, Indiefest & Accolade Global Films Merit Award Winner, and Depth of Field International Film Festival, Woman of Excellence in Films Award Winner. On the heels of her recently released award winning movie, Of Sentimental Value, she was the first person to receive the prestigious Nollywood, African Oscar Award as the recipient of the 1st Literary Arts Award. Nollywood is the second largest Film Industry in the world.
In January 2016, she was nominated for the STAR AWARD, by an International Organization called Lift Effects, in UK, as one of the 100 Women making a difference globally. In addition, she was nominated for Literary Arts Excellence by Women of Essence, an organization impacting the world, on achiever at a time. Her Brand, the Princess of Suburbia® recently signed a licensing contract with an International Fashion Designer to create: The Princess of Suburbia® Collection. This collection hit the market (US, UK, Africa, and other parts of Europe) in April 2017.
She continues to provide cutting edge solutions & exposés (through her Books, Online TV Show, Podcast – Spreaker, ITunes, Retreats…. Master Your Millions™ - Tours, Documentaries- Fearless Visionaries Tear the Veil/Feature Films – Of Sentimental Value & Masterclasses) caring for those with mental illness. But more importantly, she has been able to find a middle ground between her love of writing, making films, and her expertise in mental health.
Notable Awards:
NAFCA "African Oscar" Winning Screenwriter
NAFCA "African Oscar" 1st Literary Arts Award Recipient
NAFCA "African Oscar" Directorial Debut Award Winner, Documentary, Fearless Visionaries Tear the Veil.
Women of Essence Award, Literary Arts Award Winner
Indiefest Films Merit Award Winner~ Women in Films
Accolade Global Films Merit Award Winner ~ Women in Films
Dept. of Field International Films Award~ Excellence in Films
African Heritage Award Winner~ Leadership, Writing, & Philanthropic Work
State of Tennessee, Ambassador of Goodwill- conferred by Governor
Dove Foundation regarded her latest movie, Of Sentimental Value~ Family approved and recommended for all ages to watch: http://www.ofsentimentalvaluemovie.com
Dr. Princess Fumi Hancock teaches and appeals to both Secular and Christian audiences worldwide, skillfully connecting psychiatry to emotional, spiritual, transformative intelligence. She presents mental health & social issues in practical ways mainly through her camera lens and often invites her audience to share in the stories presented at her conferences. She speaks on diverse topics relating to Psychiatric-Mental Health, Personal Development, Entrepreneurship, Writing for the Media: TV/Films.