"Rai, jeera, huldi…" my mother would whisper under her breath whilst counting out the ingredients on her fingers. Cooking came naturally to her, but occasionally she would open the pantry door and out would come this huge ledger book, whereupon she would leaf through the pages until she found the recipe she was looking for. Hidden high in the pantry, this unglamorous-looking book, with its ochre, faded pages bespattered with sundry sauces and flavourings, revealed handwritten copperplate recipes dating back to 1850.
Turning the pages of the book, one can see the handwriting style change over time, showing evidence of over five generations as each of my grandmothers have passed this on to the next generation. As a result, these pages offer us a glimpse into a fascinating time in history known as "the days of the Raj", when India was under British rule.
We know the very first pages of the book have been written by my great great great grandmother Wilhelmina Hardy, who was born in 1828. For a memsahib, it was an overwhelming and exciting adventure for those settling in India. It's quite possible that Wilhelmina felt it good sense to write all her recipes in one book which could then be given to the cook to follow. The book provides us with so many clues as to my family's lifestyle that it can almost be considered a time capsule.
Generations of writing have not only chronicled events, but inadvertently thrown hints to us. When catering for large numbers, proportions of ingredients are upscaled and reveal to us a picture of entertaining on a huge scale; perhaps an open house party for neighbours, an
elegant tea party, a special birthday event or, of course, the largest event, Christmas.
To bring it all to life, alongside recipes are original extracts of their writing from the book, together with a photograph of the grandmother who wrote that recipe. Unknowingly, each one of my grandmothers have given me so much more than recipes – they have allowed me an insight into their lives, where they lived, how they entertained, what kind of food they regularly ate, but more importantly, why there were changes in their recipes and how they came about. It's as if the pages of their recipe book reveals chapters in their lives.
Life for them in India all started with an ancestor of theirs, Benjamin Hardy, a Yorkshire-born British Army soldier who went out to fight in India in 1799, fell in love with India and ended up settling there for the rest of his life. Benjamin and his wife Frances bore a son, named Joseph Hardy, in 1816. In 1844, at the age of twenty eight, Joseph married fifteen year old Wilhelmina Sausman in St. Mark's Church in Bangalore. Born on the 12th September 1829, records suggest that Wilhelmina was Anglo-Portuguese as her mother's name was Louisa Dias, a common Portuguese name used in the Portuguese colonies of Goa and the west coast of India. Her family came from Vellore, a city one hundred and thirty miles east of Bangalore. During their marriage, Wilhelmina gave birth to eight children, but as was the often case in those days, only three survived, sadly the other children died as babies and infants to the widespread pandemic of cholera. Their three daughters were named Ophelia, Florence and Topsy. Ophelia, their eldest child was born in 1855 and is my great, great grandmother. Here is the oldest photograph in my family collection, it shows schoolmaster Joseph and his wife Wilhelmina who are now in their mid forties/early thirties respectively.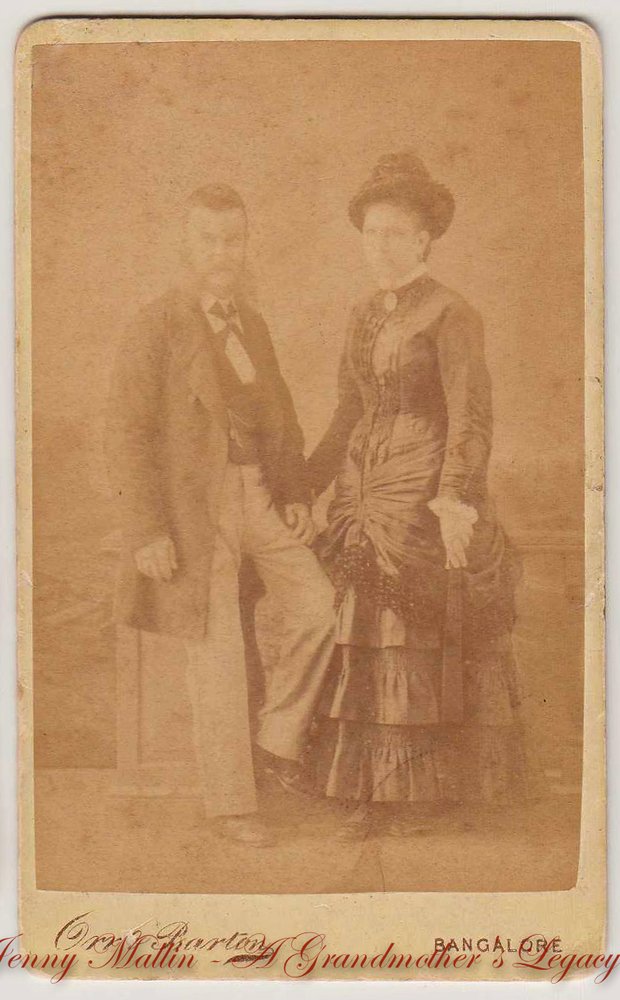 It is thanks to Wilhelmina's great foresight that we have this book. Her recipe for a Christmas Cake is shown here, and details exactly how the ingredients should be "butter perfectly free of water" and "raisins cleaned, stoned picked and dried". Interestingly, you can see how Wilhelmina's generations of daughters and grand-daughters have written alongside her recipe, adding little comments here and there, and in some areas the actual cost of these ingredients - but the really fascinating insight we gain here in Wilhelmina's recipe is the fact that one of my grandmothers definitely had a Hindu cook as a quarter of the way down the left side of the page are two recognisable Hindu symbols. The first one is "Om" a symbol of the Absolute – as the cross is to Christians, and the second is a Hindu swastika – an ancient symbol of good luck and auspiciousness.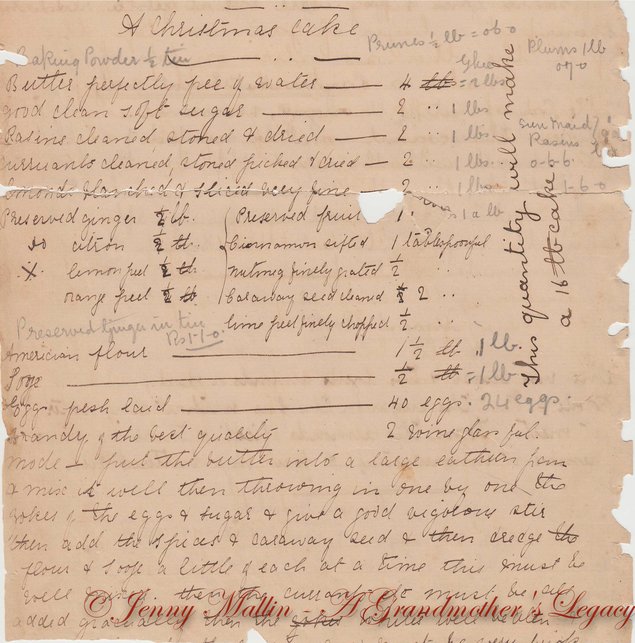 Each of my grandmothers experienced life-changing events during their lifetimes. Starting with my great great great grandmother Wilhelmina, whose schoolmaster husband was there at the threshold of the opening of the first English School in Mysore. In 1854, the East India Company promulgated the Halifax Dispatch, which suggested organising education in Mysore based on the western model. This establishment grew in status and became known as the Maharaja's College – now regarded as one of the oldest universities in India.
During great great grandmother Ophelia's childhood, the rule of the East Indian Company was transferred to the first Empress of India, Queen Victoria, following the Indian Rebellion in 1857.
Great grandma Maud and her family enjoyed a privileged status (because of her husband's job as a Permanent Way Inspector on the railways) which allowed them to explore and travel around India in their own railway carriage, on the newly created railway which covered a vast network of 9,000 miles.
My grandmother Irene came from a comfortable middle-class background. She began married life as the wife of a prison warden on the Andaman Islands at Port Blair, living in close quarters to the infamous cellular jail which held notorious criminals.
For my mother Cynthia, she would be experiencing perhaps the most major upheaval since my great great great great grandmother Frances Hardy's days - leaving behind the country she was born in to start a new life half way across the globe to emigrate to Great Britain after India gained their independence, a motherland with all its familiarity and yet in another sense totally alien to her.
Great Grandma Maud's recipes are a fascinating read, she describes so many of them using different types of measurement terms, that I must admit to being distracted by the actual words she chooses when describing the quantity of ingredients required instead of the actual ingredients. Her first entry in the book is for "Mrs Hemley's Plum Sauce" and under the ingredients she writes "5 pollum plums, 5 pollum dry chillies, 2 ½ ginger, 1 pollum garlic".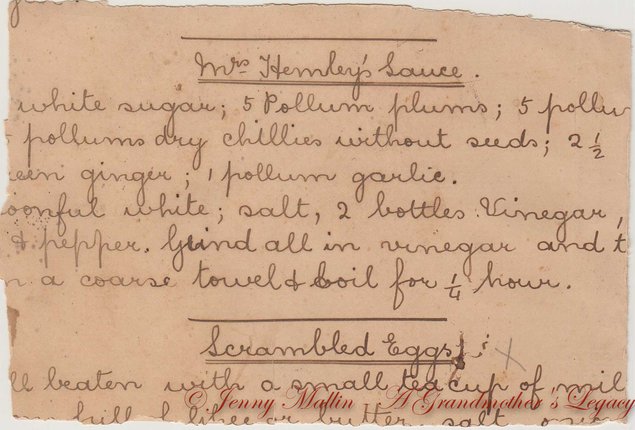 Hours of research later I was still nowhere near finding out what a pollum is. Google internet service told me that a pollum was hashish – surely not, Maud! It would be months later when I happened to mention my curiosity with this word to a friend of mine from India and through making enquiries himself he eventually found out that a pollum was a word no longer used in India for the actual weighing scale dish found in the markets and bazaars! So began a journey of exploration for me on Maud's choices of measurements throughout the book.
Book Contents Page

: The Grandmothers
: The Family Tree
: Grandmothers' handwriting
: Wilhelmina
: Ophelia

: Maud
: Irene
: Cynthia
: Family snippets
: Travel snippets
: Grandmother's wisdom
This book has great all-round appeal... We learn about the kind of food that Anglo Indians like to eat, so inside the book there's a great selection of curries, rice dishes, chutneys and appetisers which have been carefully converted to metric, we discover more about each grandmother and their own families and see in the Family Tree how in one particular generation decisions were made to have first cousins marrying their first cousins. We see how the Railways have influenced a great change in India with the opportunity of travelling made easier and how Jenny's grandfathers all worked on the railway. With over 400 images in this book, we are treated to the original grandmothers' recipe manuscripts and their finished dishes to give you an idea of how they should look, some wonderful family sepia photographs that feature in the Family Tree Gallery as well as informal family snaps together with Jenny's personal travel stories which are accompanied by her own travel photographs.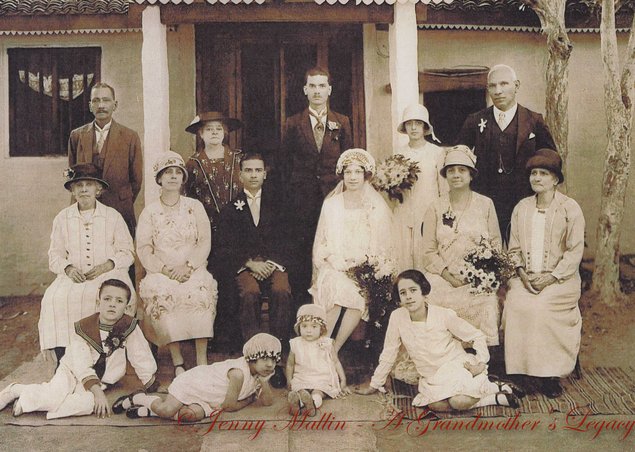 This glossy colour book will hold interest to anyone who enjoys reminiscing back to those days gone by...
Jenny Mallin, 23rd June 2015