Hi supporters,
My book, Rescued - The poodle's story has been published on Kindle Amazon for 5 weeks now, and sales are dribbling along.
You all supported me with the Publishizer campaign back in April and May, and so this is the update.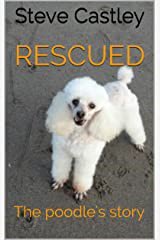 1. On the 26th and 27th of July ( in a few day's time) the e-book is being offered free as an Amazon promotion. To get your e-book please click on the link below and you will be able to down load your copy. You can pass this link along to friends so they too can down load a copy. (These are the dates in America, so it will vary slightly where you live in the world. This sounds crazy, but I trust you know what I mean regarding these time differences.)
2. Here's the information about delivery of your paperback copies.
CANADA AND USA - If you ordered for delivery in Canada or America, you paperback books have been ordered, paid for and dispatched. I know some of you have received your copies and for the rest of you, your books are on their way.
AUSTRALIA - If you ordered for delivery in Australia, your book should arrive sometime in August. They are currently being printed in Melbourne and should be dispatched in the next couple of weeks.
INDONESIA AND ASIA - If you ordered for delivery in Indonesia or other Asian countries, I expect your paper books to be printed in August and so you will get your copies in late August and September.
Thanks for your patience.
3. After reading my book, please post a review on Goodreads or Amazon. The more reviews I get, the more sales it generates.
Thanks you for your support and the reviews that have already been posted.
Stay safe and well,
Fondest regards,
Steve