All Things Halloween is an all-encompassing resource for everything Halloween including the history and evolution of the holiday, along with DIY guides and ideas for decorating, costumes, crafts and recipes.
| | |
| --- | --- |
| | Reference Holidays |
| | Flint, Michigan |
| | 50,000 words |
| | 25% complete |
| | 1 publisher interested |
Synopsis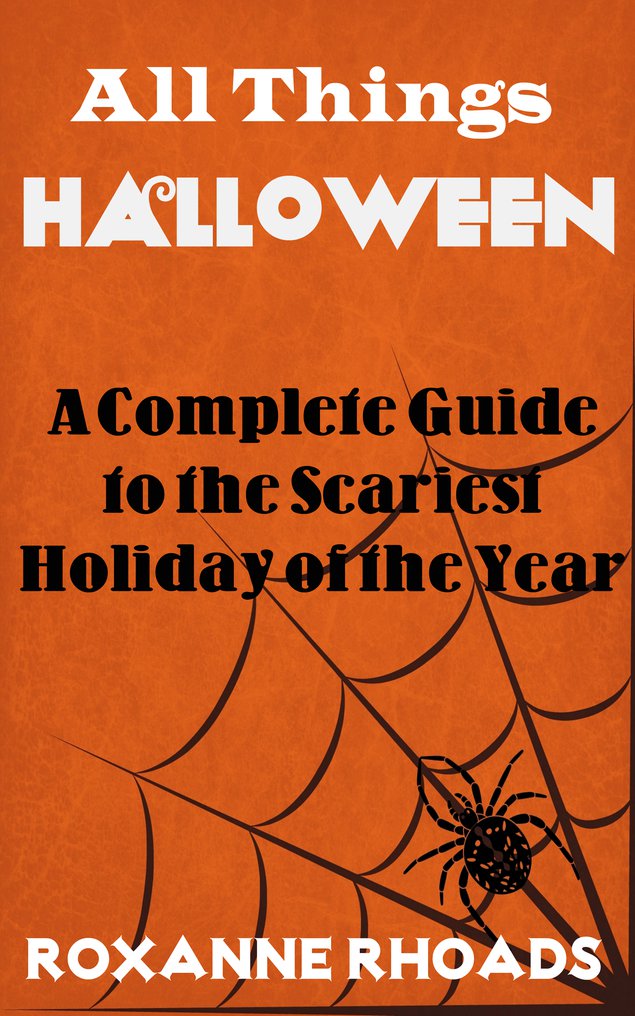 I envision All Things Halloween to be an all-encompassing resource for everything Halloween from the origins of Halloween, to its introduction to the United States, through the evolution of the holiday and it becoming a popular part of American culture with an in depth look at modern parties, themes, and events. I also plan to include decorating, costume and craft ideas along with fun Halloween recipes.
In addition to the 20 chapters on Halloween topics I will also include two appendices: one for Halloween resources and one that is a Halloween Party Planning Checklist.
The book will be written in a light hearted and fun voice while still conveying a knowledgeable tone about everything Halloween.
The book will be packed with not just facts, stats and basic Halloween information but also crafty ways to make Halloween the most spooktacular holiday of the year with costume ideas, decorating DIY, crafts and recipes. Throughout the book sidebar materials will include trivia, facts, statistics and warnings.
Outline
All Things Halloween
By Roxanne Rhoads
Introduction

Chapter 1: The History of Halloween
Tracing the Origins
The Celtic Celebration
Roman Customs
Christian Absorption of Pagan Practices
Death Holidays Around the World
Chapter 2: Halloween Comes to the United States
Colonial Celebrations
Post Revolution America
Irish Immigrants
Halloween in the 19th and 20th Centuries
Halloween Dominants Twenty-first Century America
Chapter 3: Halloween Symbols and Meanings

The Jack-O-Lantern
Witches and Black Cats
Orange and Black
Bats and Spiders
Ghosts and Skeletons

Chapter 4: Halloween Customs and Traditions

Haunted Places
Honoring the Dead
Spiritualism- Séances
Costumes
Trick or Treating

Chapter 5: Halloween in the US
Halloween Stores
Candy
Décor
Costumes
Parties

Chapter 6: Halloween Haunts and Terrortainment

Real Haunted Places
Halloween Destinations
The Best Halloween Attractions
Events Throughout the US
Halloween Events Around the World
Chapter 7: Halloween in Pop-Culture
Movies
Books
TV Shows
Comics
Music
Chapter 8: Halloween Collectibles
Books
Greeting and Post Cards
Ephemera
Decorations
Toys
Chapter 9: Halloween Costumes
Kids
Adults
Pets
DIY Ideas
No Sew- Closets and Thrift Stores
Chapter 10: Halloween Decorations
Party Décor
Haunt Your House
Outdoor Hauntings
Halloween Themes
Pumpkins
Chapter 11: DIY Décor
Spooky Images
Easy Hauntings
Crafty Ideas
Fog and Dry Ice
Light it Up
Chapter 12: Crafty Creations
Bottle Lamps
Creepy Dolls
Spooky Mirror
The Forest Has Eyes
Coffin Crafts
Chapter 13: Planning Your Party
Invitations
Party Theme
Party Decorations
DIY Ideas
Menu
Chapter 14: During the Party
Games
Haunting
Fortune Telling
Music Playlist
Other Ideas

Chapter 15: Halloween Recipes
What to Serve?
Appetizers
Non- Alcoholic Drinks
Main Dishes
All About Presentation
Chapter 16: Halloween Cocktails
A Cauldron Full of Spiked Punch
Martinis
Vampire Cocktails
Brain Food for Zombies
Witchy Brews
Chapter 17: Devilish Desserts

Candy
Chocolate Creations
Delightfully Frightening
Elegant
Freakishly Fantastic
Chapter 18: Just for Kids

Party Themes
Games
Movie Night
Trick or Treating Safety
Kid Friendly Events
Chapter 19: Eco-Green Halloween
Organic Candy
Recycled and Eco Supplies
Repurposed Fun
Used Costumes
Reusable Decor
Chapter 20: Halloween All Year Long
The Fun in Fear
Horror Conventions
A Haunting We Will Go
For the Love of Halloween
Halloween on the Web


Appendix A: Halloween Resources
Appendix B: Party Planning Checklist
Audience
Halloween has become a major part of American culture; the holiday is second only to Christmas when it comes to popularity and consumer sales. In 2015 an estimated $6.9 Billion was spent on Halloween in America.
This book will be the perfect tome for both Halloween lovers and those wishing to learn more about the fun filled holiday.
Author
Roxanne Rhoads is an author, book publicist, crafter, and lover of all things Halloween.
When not fulfilling one the many roles being a wife and mother of three require, Roxanne's world revolves around words...reading them, writing them, editing them, and talking about them. In addition to writing her own stories she loves to read, promote and review what others write.
Roxanne is the owner of Bewitching Book Tours and operates Fang-tastic Books, a book blog dedicated to paranormal and urban fantasy books. She also owns Bewitching Creations- a crafty enterprise where she sells her haunting handmade jewelry, mini hats, home decor and more.
When not reading, writing, or crafting Roxanne loves to hang out with her family, garden, plan Halloween adventures and search for unique vintage finds.
Promotion
To help promote All Things Halloween the author will:
· Feature the book on her Web sites and blogs
· Create a media kit
· Send out press releases and media kits to all organizations, clubs, groups, and publications that she has ties to (Halloween, paranormal, and supernatural) as well as to local publications
· Use her network of Halloween loving associates to help promote the book on their Web sites, blogs, and forums
· Do a virtual book tour
· Submit feature articles to national and local magazines
· Hold contests and free book giveaways
· Promote online in social media, forums, chat rooms, bulletin boards, and discussion sites, as well as send out free articles and promotional materials to many Web sites and web based publications.
· Hold book signings, especially during the Halloween season. She has ties to many local Halloween events including the Flint Zombie Walk and Michigan Witches Ball.
· Attend Halloween events
· Get interviewed by Web sites, radio shows and participate in podcasts and live chat forums
· Advertise on Halloween oriented sites and in Halloween publications
Competition
There are many books on the topic of Halloween though most are either dry reference materials or basic decorating and party advice. I see All Things Halloween being a go to guide for all things Halloween.
Similar books include:
The Halloween Encyclopedia by Lisa Morton
First published by McFarland in 2003, The Halloween Encyclopedia (described by Booklist as "a worthy addition to public and school libraries as well as the reference shelves of journalists and leaders of community events") was the first encyclopedic reference on the cultural phenomenon known as Halloween. The book also deals with such related holidays as Britain's Guy Fawkes Day, Mexico's Dia de los Muertos (Day of the Dead) and the Celtic celebration Samhain. Now updated to 2010, this second edition includes more than 50 new entries, covering subjects ranging from Folk Art to African American legends. Many existing entries have been expanded and revised, with new entries ("Chronology of Halloween" and "Halloween in Literature and the Arts") in both appendices. Also featured are more than a dozen new illustrations, and an expanded bibliography.

Publisher: McFarland; 2 edition (April 27, 2011)
Halloween Nation: Behind the Scenes of America's Fright Night Paperback – April 5, 2011
by Lesley Bannatyne
America's leading authority on Halloween presents interviews with spooky rock groups, amateur vampires, haunted house creators, champion pumpkin carvers, and more, all in the quest of explaining the nation's unique love affair with this holiday. The collection of essays and interviews explores the pop culture phenomenon that is Halloween, and why we celebrate it the way we do today.

Publisher: Pelican Publishing (April 5, 2011)
Halloween: An American Holiday, an American History Paperback – August 31, 1998
by Lesley Bannatyne
Halloween has evolved from the Celtic celebrations of 2,000 years ago to become today the fastest-growing holiday in the country. This, the only book to completely cover All Hallow's Eve, from its beginnings to the present, examines the ancient origins as well as its traditions and celebrations, from costuming to bobbing for apples. Jack-o-lanterns, black cats, and witches are explained. Ghosts, ghouls, and goblins lurk behind every page.
The book traces the contributions of America's immigrants to the holiday, documenting the beliefs each ethnic group has added to the mix. Related recipes, poems, songs, and photos perfectly complement the meticulously documented text. The result is the most educational and entertaining examination of Halloween, its myths, and its truths.
Publisher: Pelican Publishing; 1st Pelican ed edition (August 31, 1998)
Halloween: From Pagan Ritual to Party Night Paperback – October 31, 2003
by Nicholas Rogers
Boasting a rich, complex history rooted in Celtic and Christian ritual, Halloween has evolved from ethnic celebration to a blend of street festival, fright night, and vast commercial enterprise. In this colorful history, Nicholas Rogers takes a lively, entertaining look at the cultural origins and development of one of the most popular holidays of the year.

Drawing on a fascinating array of sources, from classical history to Hollywood films, Rogers traces Halloween as it emerged from the Celtic festival of Samhain (summer's end), picked up elements of the Christian Hallowtide (All Saint's Day and All Soul's Day), arrived in North America as an Irish and Scottish festival, and evolved into an unofficial but large-scale holiday by the early 20th century. He examines the 1970s and '80s phenomena of Halloween sadism (razor blades in apples) and inner-city violence (arson in Detroit), as well as the immense influence of the horror film genre on the reinvention of Halloween as a terror-fest. Throughout his vivid account, Rogers shows how Halloween remains, at its core, a night of inversion, when social norms are turned upside down, and a temporary freedom of expression reigns supreme. He examines how this very license has prompted censure by the religious Right, occasional outrage from law enforcement officials, and appropriation by Left-leaning political groups.
Engagingly written and based on extensive research, Halloween is the definitive history of the most bewitching day of the year, illuminating the intricate history and shifting cultural forces behind this enduring trick-or-treat holiday.
Publisher: Oxford University Press (October 31, 2003)
Trick or Treat: A History of Halloween Hardcover – October 15, 2012
by Lisa Morton
Every year, children and adults alike take to the streets dressed as witches, demons, animals, celebrities, and more. They carve pumpkins and play pranks, and the braver ones watch scary movies and go on ghost tours. There are parades, fireworks displays, cornfield mazes, and haunted houses—and, most important, copious amounts of bite-sized candy. The popularity of Halloween has spread around the globe to places as diverse as Russia, China, and Japan, but its association with death and the supernatural and its inevitable commercialization has made it one of our most misunderstood holidays. How did it become what it is today?

In Trick or Treat, Halloween aficionado Lisa Morton provides a thorough history of this spooky day. She begins by looking at how holidays like the Celtic Samhain, a Gaelic harvest festival, have blended with the British Guy Fawkes Day and the Catholic All Souls' Day to produce the modern Halloween, and she explains how the holiday was reborn in America, where costumes and trick-or-treat rituals have become new customs. Morton takes into account the influence of related but independent holidays, especially the Mexican Day of the Dead, as well as the explosion in popularity of haunted attractions and the impact of such events as 9/11 and the economic recession on the celebration today. Trick or Treat also examines the effect Halloween has had on popular culture through the literary works of Washington Irving and Ray Bradbury, films like Halloween and The Nightmare Before Christmas, and television shows such as Buffy the Vampire Slayer and The Simpsons.

Considering the holiday in the context of its worldwide popularity for the first time, this book will be a treat for any Halloween lover.
Publisher: Reaktion Books; First Edition edition (October 15, 2012)

Sample
Introduction
Halloween has a special kind of magic no other holiday has.
It teaches us that fear can be fun. The heart-pounding, spine-tingling, thrills and chills that spook us during the Halloween season get our blood pumping and act as memento mori- a reminder that death is ever present and that we should live life to the fullest enjoying each moment while we can.
Halloween offers us just that as we trek into the darkness of night to go trick or treating as a child or visiting haunted houses and trails as an adult. Halloween offers us a moment to indulge in the decadence of too many sweets or alcohol filled drinks. It is a time of dark enjoyment. Blood-curdling screams often dissolve into laughter as we realize the fear is just make believe. Fear, fantasy, and revelry mingle making us feel more alive than ever.
Halloween is often a child's first taste of the forbidden fruit. It is a night children often get to stay up late, they get to stay out after dark knocking on doors asking strangers for candy…things that on any other day is expressly forbidden.
Halloween also offers children a true taste of the make-believe, of pretending to be anything they want through their Halloween costume. When else can we dress up in costumes, hide behind masks and pretend to be something we aren't? It is our first taste of something magical.
As we get older that magic stays with us and sometimes it's not about pretending to be something we aren't on Halloween but it's the ability to finally show who we really are. On Halloween, we can show our hidden selves, the scary, beautiful, sexy slutty, powerful, goofy, silly, crazy self that we are afraid to show off any other day. On Halloween, we can be anything we want to be for one day. And sometimes we decide our true self.
I have always loved Halloween. I felt the magic from an early age and grew up craving that magic every day of the year. I surround myself with things that many save just for the Halloween season: pumpkins, witches, skulls, vampire fangs…these dark beauties adorn my walls and shelves keeping Halloween in my heart every day.
All Things Halloween showcases my love of Halloween and explores the holiday in depth from its origins to modern day celebration.
All Things Halloween is filled with history, trivia, fun, and facts along with party and decorating ideas, recipes, and spooky DIY tutorials for Halloween haunts and décor.
I hope you enjoy reading All Things Halloween as much as I enjoyed writing it.
The Ultimate Halloween Playlist
Nothing sets a mood quite like music, so I've been putting together the ultimate Halloween playlist for quite some time.
This playlist contains everything from fun Halloween party classics like Monster Mash to moody songs from TV and movie soundtracks, to Goth and Metal songs that will make you feel the darkness of the season down into the depths of your soul.
I think this will always be a work in progress as I discover songs that are perfect for the list, as new songs are released and as friends suggest amazing additions.
My ever growing list can be found on Spotify if you'd like to stay up to date.
Fun Songs and Halloween Classics
Monster Mash – Bobby "Boris" Pickett
Ghostbusters - Ray Parker Jr
Thriller- Michael Jackson
Superstition - Stevie Wonder
People Are Strange - The Doors
Love Potion No. 9 - The Searchers
Hocus Pocus – Focus
Werewolves of London – Warren Zevon
This is Halloween –Marilyn Manson
Somebody's Watching Me - Rockwell
A Nightmare On My Street - DJ Jazzy Jeff & The Fresh Prince
Witchy Woman – Eagles (I also love Kristin Chenoweth's version)
I Put a Spell on You –Annie Lennox
Season of the Witch – Donovan
The Vampire Club- Voltaire
Brains – Voltaire
When You're Evil – Voltaire
Haunting and Moody Songs
Seven Devils – Florence and the Machine
The Devil Within – Digital Daggers
The Garden – Mirah
E.T. – Katy Perry
Sweet Dreams (Are Made of This)– Marilyn Manson
The Dope Show- Marilyn Manson
Beautiful People – Marilyn Manson
Bring Me to Life – Evanescense
Save Tonight – Zayde Wolf
Control – Halsey
Breathe – Fleurie
Don't' Fear the Reaper – Denmark + Winter
Haunted – Maty Noyes
Gasoline – Halsey
Control – Halsey
Self Control – Laura Branigan
Black No. 1 – Type of Negative (and if you're going for moody goth- just play anything by Type O Negative or Bella Morte)
Strange World - Iron Maiden
Ghost Town - The Specials
Vampyre Erotica - Inkubus Sukkubus
Samhain - Inkubus Sukkubus
Bloodletting (The Vampire Song) - Concrete Blonde
All Souls Night - Loreena McKennitt
Kecharitomene - Loreena McKennitt
The Vampire Masquerade - Peter Gundry
Salem's Secret- Peter Gundry
I Bleed For You – Peter Gundry (if you love Gothic, haunting music check his songs out on Spotify)
Transylvania - Derek Fiechter & Brandon Fiechter (these guys also have tons of moody, spooky music on Spotify)
Count Dracula - Derek Fiechter & Brandon Fiechter
Night of the Werewolf - Brandon Fiechter
Pumpkin King - Derek Fiechter
Vampire Bite - Derek Fiechter
Perv - Gitane DeMone
A Lyke Wake Dirge - Matt Berniger
Pop and Rock Songs
Monster – Rihanna and Eminem
Disturbia- Rihanna
Before I'm Dead – Kidneythieves
Transylvania – Astrovamps
Everyday is Halloween – Astrovamps
Radioactive – Imagine Dragons
Living Dead Girl – Rob Zombie
Dragula – Rob Zombie
Voodoo – Godsmack
Black Magic Woman – Santana
Zombie – The Cranberries
She Wolf – Shakira
Howl – Florence and the Machine
Monster – Lady Gaga
Love At First Bite – Girlschool
Annabel Lee – Lords of October
October 31 – Lords of October
TV and Movie Theme Songs
Cry Litter Sister (The Lost Boys) – Gerard McMann
Bad Things – Jace Everett (True Blood Theme Song)
Buffy the Vampire Slayer Theme Song
Halloween Theme Song
The Murder (from 'Psycho')
X-Files Theme Song
Twilight Zone Theme Song
Trouble in Woodsboro (from 'Scream')
Hedwig's Theme (from 'Harry Potter')
Welcome to Crystal Lake (from 'Friday the 13th)
Jaws Theme
Tales From the Crypt Theme
Candyman Theme Song
Beetlejuice Theme
Exorcist Theme/Tubular Bells
American Horror Story Theme
The Walking Dead Theme (Remix)
A Nightmare on Elm Street Theme
Tell That Devil – Jill Andrews (Wynonna Earp theme song)
Princes of the Universe – Queen (Highlander Theme)
Thriller/Heads will Roll – Remix from Glee
Eyes of the Night – Starlight Mints (Demons TV show on BBC)
Angel TV Show Theme
How Soon Is Now? – Love Spit Love (Charmed TV Show Theme also featured in the movie The Craft)
Change (In the House of Flies) – Deftones (from the Queen of the Damned soundtrack)
Slept So Long – Jay Gordon (from the Queen of the Damned soundtrack)
The Ultimate Halloween Playlist is available on Spotify
https://open.spotify.com/user/1246305249/playlist/6XpYG7IK0VHgP13fTxkI52