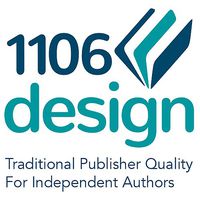 1106 Design, LLC
Dear Author,

Congratulations on finishing your book!

The choices available to authors in today's publishing world can be overwhelming. It's often difficult to tell the difference between traditional publishers, hybrid publishers, subsidy publishers, and self-publishing companies.

From manuscript to market, 1106 Design provides book design, production and publishing services for independent authors who seek all the quality of traditional publishing without forfeiting their rights and royalties in return.

Like traditional publishers, our team of senior publishing industry professionals manages your project from first draft all the way to a beautifully finished book in all media. At completion, your book will be available for sale in the online and retail outlets you choose.

Unlike traditional publishers, we don't share your revenue. 100% of the net proceeds from retail sales will be paid directly to you, never to us first. You'll retain complete control of the creative process, your design files, and your distribution options.

Our most popular package for non-fiction books, 50,000 words and under, including copyediting, cover design, interior layout, proofreading, and eBook formatting is just $7,353. (Fiction titles, $6,488) Additional budget-friendly options are also available. Need a different solution? Let's talk! We'll customize our services to your exact needs.

Complete information can be found at https://1106design.com.

At 1106 Design, we love helping authors create great books! We hope to hear from you soon.

Sincerely,
Michele DeFilippo
Owner
Service publisher
Children Fiction, Christian Fiction, Commercial Fiction, Contemporary Fiction, Historical Fiction, Literary Essay, Literary Fiction, Mind & Body, Mystery, Thriller, Horror & Suspense, Mythology & Folk Tales, Poetry, Science Fiction & Fantasy, Women's Fiction, YA Fiction, Biography & Memoir, Business & Money, Career & Success, Children Non-Fiction, Christian Non-Fiction, Cookbooks, Food & Wine, Communication Skills, Corporate Culture, Current Affairs, Economics, Education, Entrepreneurship & Small Business, Health, Fitness & Dieting, History, Humor & Entertainment, Journalism, Management & Leadership, Marketing & Sales, Mindfulness & Happiness, Money & Investment, Motivation & Inspiration, Nature & Environment, Parenting, Personal Growth & Self-Improvement, Philosophy, Politics & Social Sciences, Popular Science, Productivity & Time Management, Psychology, Reference, Religion & Spirituality, Science, Sex & Relationships, Society & Culture, Sports & Outdoors, Technology & the Future, Travel, YA Non-Fiction, Science Fiction & Humour
Worldwide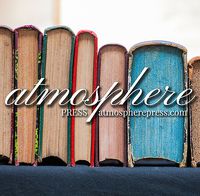 Atmosphere Press
Atmosphere Press is an independent full-service publisher for books in genres ranging from non-fiction to fiction to poetry to children's picturebooks, with a special emphasis on being an author-friendly approach to getting a book into the world. We're professional, honest, and kind.

Here's what we stand for:

Honesty: because our mission is to be author-friendly, that means always giving honest advice about the ins and outs of the authorial life. We are dedicated to sticking by one of our founding precepts: "if I were the author, what would I want to know?"

Transparency: publishing is rife with dodgy behavior, from predatory vanity presses who promise the moon to traditional presses who make book changes without the author's permission. We're dedicated to letting you see the wizard behind the curtain, so you can rest easy that everything's on the up and up.

Professionalism: with decades of combined years of writing, editing, designing, and publishing experience, our staff knows the ins and outs of the industry, and will be responsive and helpful. And of course, we will only publish books that truly contribute something wonderful to the world.

Kindness: as an author-friendly press, we take the word "friendly" seriously. A good publisher shouldn't be just a business partner, but should be full of people you'd want to invite to dinner. Whether it be making a good joke or allaying your worries about being an author, kindness is our hallmark.

Making Your Book Awesome: we really can't settle for anything less. We want our authors and their readers to be blown away when they first hold that book in their hands. It needs to look good inside and out, and feel good to the touch. And, of course, the words need to be top-notch, and our editors are devoted to making that the case.
Service publisher
Children Fiction, Literary Fiction, Mind & Body, Mystery, Thriller, Horror & Suspense, Romantic Fiction, Science Fiction & Fantasy, YA Fiction, Biography & Memoir, Business & Money, Career & Success, Cookbooks, Food & Wine, Health, Fitness & Dieting, History, Journalism, Personal Growth & Self-Improvement, Politics & Social Sciences, Religion & Spirituality, Science, Society & Culture, Sports & Outdoors, Technology & the Future, Travel
Worldwide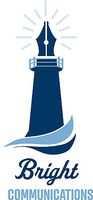 Bright Communications LLC
Bright Communications LLC is a woman- and veteran-owned custom publisher in Hellertown, PA. Founder and CEO Jennifer Bright is a Book Doula, whose passion is helping authors bring their books to life.

We specialize in fiction, business books, cookbooks, and children's books. Our sister company, Momosa Publishing LLC, specializes in health, parenting, inspiration, and children's books.

Why Publish with Us?
• We're an efficient, effective, excellent team of editorial, design, and marketing pros.
• We have a proven track record of adhering to budgets and schedules.
• We love our work, we have fun—and you will too!

What Benefits Do We Offer?
To help you share your ideas, vision, and story, we offer:
• 100% of profits paid directly to you.
• You retain all rights.
• Quicker route to publication than traditional or self-publishing
• Increased chance to make greater profits than traditional publishing
• Less-expensive route to publication than self-publishing
• More control over the book than traditional publishing
• Experienced coaching to guide you from idea to finished book
• One liaison between you and our team—sole point of contact to keep your book on budget and schedule
• Print, eBook, and audiobook creation
• Printing on demand
• Inclusion in our Bright Communications catalog and website
• Extensive menu of Bright Communications Promotion Tools, including bookmarks, flyers,
and postcards
• Foreign rights sales to sell the rights to international companies to publish your
book

What Does It Cost?
Our four Exclusive Publishizer packages are customizable, and we can work a la carte.
• Children's picture books/board books: up to 24 pages: $3,900
• Mini books: 25 to 64 pages: $6,900
• Focused books: 65-160 pages: $10,900
• Main books: 161-320 pages: $19,900

We also offer a self-publishing assist program for $1,900.
Thank you for your consideration! Best wishes on finding the best "home" for your book!
Service publisher
Children Fiction, Christian Fiction, Commercial Fiction, Contemporary Fiction, Historical Fiction, Literary Essay, Mystery, Thriller, Horror & Suspense, Mind & Body, Mythology & Folk Tales, Romantic Fiction, Science Fiction & Fantasy, Women's Fiction, YA Fiction, Biography & Memoir, Business & Money, Career & Success, Children Non-Fiction, Christian Non-Fiction, Coloring Books for Grown-Ups, Cookbooks, Food & Wine, Communication Skills, Corporate Culture, Crafts & Hobbies, Creativity, Current Affairs, Economics, Education, Entrepreneurship & Small Business, Health, Fitness & Dieting, History, Humor & Entertainment, Illustrated Books, Journalism, Management & Leadership, Marketing & Sales, Mindfulness & Happiness, Money & Investment, Motivation & Inspiration, Nature & Environment, Parenting, Personal Growth & Self-Improvement, Philosophy, Politics & Social Sciences, Popular Science, Productivity & Time Management, Psychology, Reference, Religion & Spirituality, Science, Sex & Relationships, Society & Culture, Sports & Outdoors, Technology & the Future, Travel, YA Non-Fiction, Science Fiction & Humour
Worldwide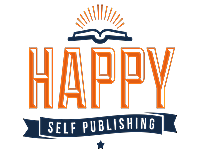 Happy Self Publishing
We have helped 250+ authors to get their books self-published, hit the #1 position in the Amazon bestseller charts and also establish their author website & brand to grow their business. And the best thing is, we do all this without taking away your rights and royalties. Our publishing packages start at $699! Let's schedule a call to discuss the next steps in your book project: www.happyselfpublishing.com/scheduler
Service publisher
Children Fiction, Literary Fiction, Mind & Body, Mystery, Thriller, Horror & Suspense, Romantic Fiction, Science Fiction & Fantasy, YA Fiction, Biography & Memoir, Business & Money, Career & Success, Cookbooks, Food & Wine, Health, Fitness & Dieting, History, Journalism, Personal Growth & Self-Improvement, Politics & Social Sciences, Religion & Spirituality, Science, Society & Culture, Sports & Outdoors, Technology & the Future, Travel
Worldwide