***Success! Beyond the Picket Fence reached it's pre-order goal, and I'm now busy getting the pieces of the book pulled together. Expect a public launch on Amazon and beyond in September, 2016.***
---
The picket fence has splintered. The image of "ideal" has expanded.
As a society, we've moved beyond the iconic image of the "white picket fence" as the sole definition of fully realized success. We no longer toil under the illusion of "one size fits all" for what life should be and, as a result, are suddenly faced with the responsibility of defining – and then creating - our own version of success… whether we're ready or not.
Beyond the Picket Fence celebrates the people among us who are living deliberate lives, and provides a wake up call to those who aren't. It's a study of the impact of deliberate choice on happiness, and a guidebook for integrating more proactive lifestyle design into our days.
Through the pages of this inspiring, entertaining and enlightening book, author Chris Taylor shares his own story of deliberate lifestyle design that led him from 8 months in a cave in Spain to a tree house in Panama, all the while growing an international business. He'll introduce you to people from all walks of life; people who aren't accepting the "way things should be done", and are instead taking real action to craft the life they imagine for themselves. They're not necessarily living fairytale lives, but they are living life on their own terms, and they're happier for it.
---
Chapter Summary
INTRODUCTION: Four Ways to Live Like a Nomad
At last count (which is hard to do, with Nomadic peoples), there were over 35 million people deliberately living transient lives around the globe. That's the entire state of California, (or the population of Canada) deliberately living without a permanent address. This is not a book about nomads, nor is it encouragement to sell everything and buy a one-way plane ticket. But when it comes to living deliberately, there's a lot we can learn from this unique mindset, so let's dive in.
SECTION 1: EXAMINING YOUR FENCE
Taking stock of our current situation ~ both personally and globally. A lot's changed in the last 20 years, and we'd do well to acknowledge that.
CHAPTER 1: The Picket Fence is Splintered
There's nothing wrong with pursuing the American Dream. There's nothing broken about wanting the house in the suburbs and the stable 9-5 job. This book is not a judgment on your choices, but rather a call to action to make a choice. We've entered a world that demands (and rewards) proactivity. This chapter pulls in interview content from conversations with Seth Godin, Dan Pink & Sir Ken Robinson.
CHAPTER 2: The Art of Choosing
When we went to school, we weren't taught how to make hard choices. We weren't taught to prioritize, limit certain influences or expand others. When it came to homework we were told to "do it". All of it. We learned rote repetition and how to get really good at providing answers to problems that the teacher had already solved. There is an art to making decisions confidently, and it's time we learned it. This chapter references interviews with Roger Martin, Sheena Iyengar and Dan Heath.
SECTION 2: MOVING BEYOND
Assuming that you do, in fact want to carve out your own unique life path, and that said path deviates (at least a little) from the expected route, there's a couple factors that are likely to try and get in your way. Section 2 is about appreciating those factors and overcoming them gracefully.
CHAPTER 3: Luck, Gratitude & the ROI of Curiosity
"You're so lucky!" is an expression that sets my teeth on edge. I know it's well intentioned, but it radiates a victim mindset - the belief that certain lives are bestowed on certain people by a force we can't possibly comprehend. Do certain people catch certain breaks? Of course they do. It's been my experience, however, that more often than not they create the opportunities for those breaks and then capitalize on them quickly. We'll explore several examples of seemingly "lucky breaks" and the factors that went into their creation.
CHAPTER 4: FOMO
Here's the other side of "You're so lucky"; the paralyzing "fear of missing out" on an unknown that stops someone from making a decision and committing to anything. The reality is that choices mean walking away from one thing to pursue another. And some people have real challenges making those sorts of tradeoffs. So let's talk about that... and explore whether "either-or" is really the only option.
CHAPTER 5: When Others Fence You In
"You can't do that, that's crazy!" Nonsense. Just because someone else hasn't done something doesn't mean you can't. We can't let other people's fears or preconceived notions of what's possible dictate our own path. Influence, sure. But not dictate. You dictate your own path. Which can, at times, be easier said than done. We'll leave this section with some practical and proven guidance on how to have "the conversations" with those in your life who may not be ready for you to step off the path of normalcy (whatever that means to them).
SECTION 3: 21ST CENTURY CAREERS
The days of working 35 years for the same company and collecting the gold watch are all but gone. Many people don't even wear watches anymore. A new world and a new sense of life purpose requires a new mindset towards our careers.
CHAPTER 6: Thinking in Projects
Entrepreneurs, artists and freelancers think in projects. There's something to be said for that, regardless of your compensation structure. The goal here is to shift your mindset out of the "rut" of days blending into weeks into months, and choosing instead to focus on outcome-specific, time-frame defined projects. We'll explore how to do this (even if you want to keep your 9-5), and the fascinating insight into how project structuring can increase happiness & employee engagement. Leveraging insights from Pam Slim, Michael Bungay Stainer and Steve Farber.
CHAPTER 7: Embrace the Squiggle
In a conversation with Mitch Joel last year, I was introduced to the concept of the "Squiggly Career"; one that doesn't (at least superficially) make sense. Mitch himself has jumped through three industries, and it's only when you look beneath the surface that you start to see the trends and elegant logic of the various career changes. We're going to examine the advantages of embracing the squiggle, and the practical exercises to help you clarify what yours could look like.
CHAPTER 8: That Question
"What do you want to be when you grow up?" is potentially the most damaging question we can be asking our kids. Let's take a look at why.
CHAPTER 9: Delusions of Grandeur
In work, as at home, doing something different will often awake the critics. Sometimes the worst critic is our own voice in the back of our brain. "Who do you think you are to deserve _______??", can be a daunting question regardless of where it comes from. We're going to tackle it anyway.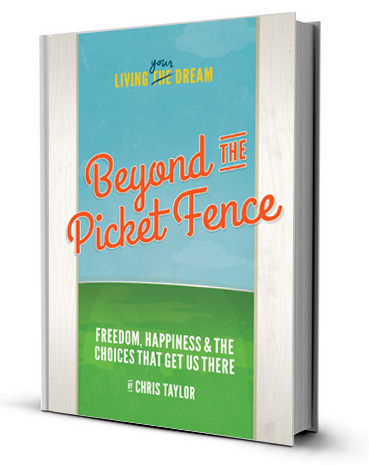 SECTION 4: THE PURSUIT OF HAPPINESS
At the end of the day, all this talk of taking deliberate choice is aimed towards one simple outcome - your increased happiness.
CHAPTER 10: A.M.P. & H.U.A.
The simple secret around our happiness and the two acronyms that drive it home.
CHAPTER 11: Paging Dr. Maslow
Looking at Maslow's Hierarchy of Need through a 21st century lens. How our focus has shifted, why that is, and how it impacts our choices.
CHAPTER 12: Find the Fellow Weird
We are social creatures and, sooner or later, most of us ache for companionship on our journeys. Taking a road less travelled can mean fewer travelling partners, but it doesn't have to. We'll take a look at the tools, platforms and communities available to connect with your tribe.
CHAPTER 13: Building Your Own Fence
Jason Fried may have expressed it best when he said, "Freedom is the new luxury." We're busy. We're all busy. There hardly ever seems to be enough hours in the day and we never quite seem to get to that list of "someday/maybe" things we'd love to try. I'm not against busyness. I think life is most fulfilling when it's full. The question is, Are you crafting something that means something to you? Or are you just, well, busy?
I believe the secret to a fulfilling life is found in deliberate action. On tuning into that which truly matters to you and, should you so choose, to your life partner. In crafting a life that resonates with who you are, and in enjoying the moment while planning for the future. As human beings, we've always craved a sense of independence and individuality. From the stories in this book, the insights from our thought leaders, and my own shared experiences, my hope is that you close this book with the understanding that, in all of human history, there has never been a better time for taking ownership of that independence, and crafting your own unique version of the White Picket Fence.
---
Corporate Discounts & Bulk Purchasing Options are available.
Contact chris (at) actionablebooks (dot) com for a quote.