UPDATE - 7 December 2014
Just wanted to update everyone on the progress of Collaborate's crowdfunding campaign.
As of today we're at 145% funded (closing in on $11,000).

To everyone who has supported the campaign and pre-ordered Collaborate - THANK YOU.
I couldn't have done this without you.
Also...
In the past few weeks, I've consolidated everything I've learned from launching this crowdfunding campaign, including lots of analysis of other crowdfunding campaigns that successfully funded, what about them led to that success, and much more (including a behind-the-scenes look at my campaign, how I leveraged my newsletter and social media to hit 100% funding in two weeks, how much money I raised, what the expenses look like, and more)
If you want to read more, check it out:
The Complete Guide to Crowdfunding Your Next Book
*note: this digital resource is completley free and over 10,000 words (size of a small book). You're welcome :)
Thanks again everyone for the help and support - means the world to me.
Can't wait to get this book finished and shipped in early 2015!
Any questions reach out to me at www.tommorkes.com
Until next time, keep creating.
- Tom Morkes
---
In less than 6 months, I generated over $77,000 in sales from part-time collaborative projects. In the past 12 months, I have cleared over six figures in sales, and I've been able to travel the world while working on these part-time projects. Sure, I'm no millionaire, but I am supporting myself and seeing the world at the same time.
Just over one year ago, I got discharged from active duty with the U.S. Army. I spent over 5 years as a commissioned officer, deployed to Iraq as a convoy security platoon leader, and ended up a Commander of a Headquarters Detachment in an Airborne unit (where I got paid to jump out of helicopters).
When I got out, I had no idea what I was going to do next. I knew no one, had no formal training in business, and had no funding.
Then I started studying and interviewing hundreds of entrepreneurs, writers, and artists built successful online businesses. I discovered two important things:
Those who successfully launch an online business follow a formula.
Those who create the greatest impact are working collaboratively with other experts, linchpins, and go-getters so they can multiply their results.
After a year of relentless research and experimentation, I developed a system for collaborative project launches, one that can be reproduced over and over again with colleagues to create and launch 5 figure products (or services) in less than 30 days.
In Collaborate: The New Rules for Launching a Business Online, I'll show you the exact framework, blueprint, and strategy I and many others have used to successfully launch businesses online through the power of collaboration, from step one to step done...
Collaboration isn't just about the money
Generating thousands from a launch is great, but it's not the only benefit. Collaboration allows us to:
Learn from the best in the world by working alongside them
Create a bigger impact in less time and effort than by going it alone
Attract lucrative opportunities that would otherwise be unavailable to a solopreneur
Jon Nastor built the software product Velocitypage.com from scratch, with no debt, no financing, and as he would say: "zero technical skill." How did he do this? By collaborating with Mark Jacquith, one of the best in the world when it comes to Wordpress software development. Velocitypage.com is now a 6-figure business that's quickly on it's way to 7-figures, all from a collaborative side-project.
When Kira Slye first started selling her art online, she managed her own blog and sold on Etsy as a solo artist. She made a few sales, but nothing substantial. This past year, she started collaborating on a new art project. In less than 2 months they've been able to sell over 500 memberships to a $99 program, and have doubled their subscriber count in the process.
When I first started building a business online, I worked as a solopreneur. For more than 12 months I did everything myself because I thought that's what you're supposed to do. In those 12 months, I was a relative unknown and made little to no progress.
It wasn't until I shifted my focus outward that I finally broke out of obscurity.
In the past year, I've been able to rapidly build relationships with some of the best entrepreneurs in the world by working on collaborative business projects together.
Do you think it could help your career if you were able to say you've worked with the best names in your industry?
Collaboration is NOT easy
While collaboration is a powerful way to rapidly increase your reach, impact, and sales, it's by no means easy. Then again, doing great work is never easy.
But if you break down the overwhelming complexity of launching a business into a clear process with defined goals and objectives, your chances of success improve dramatically.
Every collaborative project I start begins with a Lean Canvas, developed by Ash Maurya of Running Lean. The Lean Canvas is a one page business model that we can use to build and launch our business.
The next step is to thrash our project until we know exactly what we want to build. Too many entrepreneurs fail because they try building the perfect version of their idea when they should be focusing on version 1.0. The goal of version 1.0 is to unabashedly remove everything but the essential.
After we thrash, we need to develop a timeline. This is where we apply the process of chunking and backward planning.
At this point, the only thing that's left is to cooperatively build and launch our project. This requires a system for communicating with your collaborators, guidelines for what to create, a process for tracking progress, and a platform to manage it all.
In Collaborate: The New Rules for Launching a Business Online, I'll show you how to do all of this.
"But I don't have experience managing people or projects…"
Neither did I when I started. At least no formal training.
The beauty of collaboration is that it's not like managing virtual assistants or minimum wage employees; those type of hierarchical systems require comprehensive operating procedures, constant supervision, and lots of overhead.
But when you collaborate, you don't need any of that. When you collaborate you're working with experts, linchpins, and people who want success as much as you do. They have skin in the game. They care.
This means you don't have to manage - you just have to guide and track progress.
With the framework I provide in Collaborate, I'll show you exactly how to guide and track progress, best practices for creatively collaborating with experts and linchpins, and how to make sure that every project you launch is a success.
"What if I don't have any skills?"
Neither do I.
I don't know programming, or graphic design, and I had zero experience in sales when I started collaborating.
But what I lacked in hard skills, I made up for in hustle.
Hustle is desire + action.
So if you have the desire to build a successful business, and you are willing to take action to make that happen, you can lead a collaborative project.
"But I don't have money, or an audience, or connections…"
You don't need them.
Jon Nastor started with nothing yet built a 6-figure company in a year through collaboration.
I was a complete unknown with a tiny blog when I started, but through the power of collaboration, I was able to build an audience, create new connections, and launch multiple 5-figure products and services.
Anyone can collaborate successfully. It just takes the right framework, blueprint, and strategy...
Follow a Proven Framework
It's easy to say: go collaborate.
It's a much different thing to do it successfully.
I've spent the last year working on and in multiple collaborative projects, from books to blogs to business incubator programs to exclusive premium masterminds. Working with multiple collaborators on multiple projects forced me to develop, organize, and systematize the process of collaboration.
But I didn't stop there: I've spent months interviewing and researching collaboration from the standpoint of entrepreneurship.
What makes a successful collaborative project?
How should we organize our team?
What are the best tools and resources to use to ensure success?
All that and more will be covered in Collaborate: The New Rules for Launching a Business Online.
Why go through the pain of solopreneurship, or dredge through the steep learning curve of assembling and leading a collaborative project when you have access to a proven framework, blueprint, and strategy right here?
Start from Scratch and Launch from Nothing
I started with nothing - no connections, no funding, and no technical skills to speak of. But by leveraging the strengths of other entrepreneurs, experts, and linchpins, I didn't need any of that stuff.
The great power of collaboration is this: we are multitudes better together than separately.
Why spend years building a platform when you could multiply yours overnight with the right team around you?
Why struggle for months acting as every part of your business (sales, marketing, research and development, social media manager, writer, editor, designer…), when you could focus solely on what you're good at, and let those with strengths in areas where you're weak take control?
Why spend thousands a month to outsource to VAs that you then have to manage and supervise daily, when you could lean into a small group of go-getters who can work autonomously and without supervision, and who are capable of figuring things out even when there's no established guidelines in place?
Wouldn't your work (and life) be a lot more enjoyable, meaningful and impactful?...
Who is this book for?
solopreneurs

In reality, no business is a solo endeavor. Even the most successful "solopreneurs" ultimately leverage the power of others to build, grow, and scale their businesses. Just a few case studies we examine in more depth in the book: Danny Iny of FirepoleMarketing.com, Chris Guillebeau of The World Domination Summit, Corbett Barr of Fizzle.co, and many more.

artists

Too many artists try to go it alone and struggle to get their art seen by the world. But people like Kira Slye have leveraged the power of collaboration to increase the reach and impact of their art (not to mention, dramatically increased the profitability of her art business).

writers

Successful publishing is not done in a bubble. The most successful writers always leverage a team - not necessarily to help with the writing (although there are many examples of crowdsourced books succeeding in the marketplace), but to help with the marketing, sales, and promotion.

engineers and developers

Are you an engineer or developer who wants to start your own side project or business? Collaborate: The New Rules for Launching a Business Online is for you. By reading this book, you'll have the tools and knowledge you need to assemble a collaborative team and launch your software business or side project, so you can focus on what you're an expert at (and let someone else focus on the marketing and sales)
What will you learn?
How to assemble and lead a collaborative project
The Profitable Idea Framework (or how to find ideas that can actually sell, before you spend months or years building something no one wants)
How to find experts, linchpins, and go-getters even if you have no connections to start with
Best practices for managing your collaborative project so you ship on time and create the biggest impact
Which tools to use and how to use them to cut your workload in half while multiplying your results
How to create a one page business model that will give your project a defined purpose and ship date
The Lean Launch Framework (or how to ship your project in 30 days or less)
The Upside Down Sales Funnel (or how to maximize your launch for greatest impact and revenue)
The basics of collaborative business structures (what kind of contracts you need, what's necessary and what's unnecessary, etc.)
Collaborative tools you will learn to use:
While the majority of the content in Collaborate will be focused on big picture, strategic thinking, it helps to know how to use specific tools when it comes to executing.
These are just a few of the tools you'll learn how to use to collaboratively launch your project:

About the Author
Hey, I'm Tom Morkes, West Point graduate, Iraq War veteran, and founder of Insurgent Publishing.
In the past year, I've collaborated on multiple projects, including TheFlightFormula.com and HighSpeedLowDrag.org.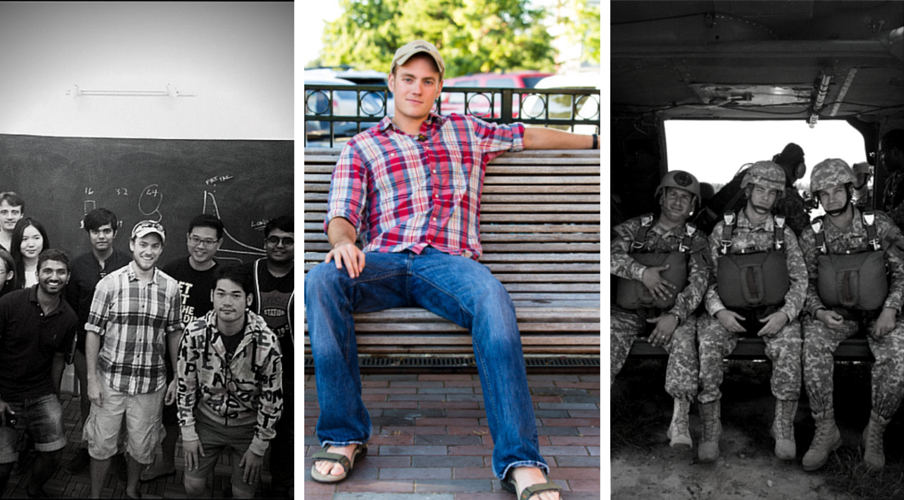 Through collaboratively launching these projects, as well as researching and studying other successful collaborative projects in various industries, I developed the framework, blueprint, and strategy you find in Collaborate: The New Rules for Launching a Business Online.
Originally from the Chicagoland area, I currently have no "home base" because my wife and I travel around the world (just another benefit of collaboration and launching online businesses). So reach out to me @tmorkes on Twitter or www.tommorkes.com if you'd like to meet up when I'm in town (I'm a lover of all things coffee and craft brew).
---
Why Publishizer?
Simple: there are no more gatekeepers. Anyone who wants to write, create, design, break, and ship can. We don't have to wait for someone else to say "go" anymore...
But just because anyone has the freedom to create doesn't mean every creator will succeed.
Now more than ever creators need the support of their Tribe, their readers, their biggest fans, to successfully ship great work.
That's why I'm using Publishizer: because it allows me to go directly to you and humbly ask for your support…
And at the same time, Publishizer let's me dish out some awesome rewards EXCLUSIVELY for those of you who support me during this crowdfunding campaign.
---
Insane Rewards (EXCLUSIVELY for campaign supporters)
That's right. You didn't think I would ask for your support without attempting to give back ten times the value, did you?
Below, you'll find a list of all the pricing tiers and corresponding rewards for Collaborate: The New Rules for Launching a Business Online.
Some of these are time sensitive and EXTREMELY limited, so grab it now if you want it, or forever hold your peace.

Rewards Explained
For those who want more information about each reward and what it means, I explained them a bit more here.
p.s. I don't want to be presumptuous so I didn't plan on signing these books, but if you'd like yours autographed, just leave a comment below to let me know. It would be my pleasure :)
$13 - digital copy of Collaborate: The New Rules for Launching a Business Online (PDF & Kindle)
$34 - all of the above + limited edition hardcover book (the hardcover book is EXCLUSIVE through Publishizer and will never be for sale again in this format and style again. My intention is to make this a collectors item that will be worth a lot more in the years to come. So if you want Collaborate: The New Rules for Launching a Business Onlinein hardcover, buy now or forever hold your peace)
$47 - all of the above + 3 part live, online training workshop series. I'll host 3 live webinars over the course of the month (probably in December) to teach you, your team, and/or classroom how to start, finish, and ship a collaborative project
$72 -The No Brainer Package - all of the above + 4 week, 20+ HD video training course. This course will cover everything in the book, but in video format with more step-by-step instructions, examples, bonus swipe files, copy and paste scripts, additional workbooks, and case studies. This course + exclusive community is being built for the person who wants everything at his or her fingertips as they start, finish, and launch a new project. The video training course will launch in January 2015 and will retail at $197.
$107 - THE 3 PACK - all of the above times 3 (3 membership passes to the video training course, 3 copies of the limited edition hardcover book, 3 copies of the digital version, 3 copies of the audio book). Great for small collaborative teams.
$172 - THE 5 PACK - like The 3 Pack, but times 5 (5 membership passes to the video training course, 5 copies of the limited edition hardcover book, 5 copies of the digital version, 5 copies of the audio book). Great for teams and classrooms.
$287 - The Featured Interview Package - I'll interview you personally about your collaborative project and feature you in the book, as well as provide the audio version of the interview as a bonus in the video training course. Your website and project will be linked to in the digital book and the ecourse. Includes THE 3 PACK.
$492 - 1 Month Consulting Package - I'll personally consult you or your team over the course of an entire month. Minimum of 4 x 1 hour consulting calls + unlimited email access (although I'm generally flexible and happy to do more calls if necessary) - I'll walk you through ideating, thrashing, chunking, organizing, leading and shipping your collaborative project (value: $1,000). Includes THE 3 PACK.
$1,374 - 2 Days With Tom (travel + lodging not included). You pick the place (coworking space, office, classroom, apartment - whatever) and I'll help you and your team (group, class, whatever) on your project launch. You get my undivided attention for two full days. This means about 12 hours a day, but more if you have the stamina and can supply the coffee and beer (value: $3,000+). Includes THE 3 PACK.
$2,992 -The Let's Ship It Package. Do you feel like you have great ideas but don't know where to start? The Let's Ship It Package is for you. I'll team up with you (50/50) to turn your idea into a product (book, software, service, teaching program, whatever), and help you launch that product into the world in 30 days. I'll share our journey with my platform (2,000+ subscribers; 5,000+ visitors per month) and connect you with my network where it's appropriate. The last two collaborative projects I worked on and launched brought in 5 figures, averaging over $30,000 in revenue. This bonus can begin no earlier than January 2015 and must be redeemed (started) by June 2015. Why? Because my time is extremely limited and I only have enough bandwidth to facilitate this process (it will take me at least 60 - 80 hours to successfully build and launch with you, so I need to clear my calendar). This is an extremely limited and insane offer. I will most likely never offer something like this again. You will also get a full page spread in my book (digital and physical) as a sponsor, and will be included in the eCourse as a case study after we ship. Includes The 3 Pack.
---
What's in the Collaboration eCourse and community?
Some people have asked for more details about "The No Brainer Package" and what exactly is included in the Collaboration eCourse.
First and foremost: everything you need to learn about collaboration you'll find in the book itself.
That said, there are many things that benefit from video instruction, like how to set up a digital project management board, how to use collabortive tools to coordinate product development, swipe files you can use in your contracts, and much more.
This bonus material is what you will find in the Collaboration eCourse.
Bonus Interviews available in the Collaboration eCourse
These are just a few of the people I've interviewed. I plan to interview even more experts over the next couple months.
Portions of these interviews will make it into the book, but for the full audio, you'll need to select the "No Brainer" Package
Danny Iny of FirepoleMarketing.com
Chris Guillebeau, creator of The World Domination Summit
Corbett Barr of Fizzle.co
Jason Spencer of TheFlightFormula.com
Nathan Barry, author of Authority and creator of the app: Commit
Matthew Helbig, founder of Crowdlaborate.com
Sean Ogle of Location 180
AJ Leon of Misfit-Inc
Jon Nastor of VelocityPage
Kira Slye of Polymer Clay Adventure
---
Succeed or Fail - You Decide
"This might not work."
That's one of my favorite quotes from Seth Godin (the person who has inspired a large part of my work and continues to surprise me every day with his writing).
In just 4 words, it captures everything that entrepreneurship, creativity, and art ought to be about.
If we're doing stuff that will work, there's nothing unique being done; no creative leaps being made; no daring, boldness, or courage required.
But when we set out to do something that might not work, everything changes.It's at this point that we're capable of doing truly creative, important work.
I want Collaborate to fund successfully. But I can't do it without you. Nor would I.
So thank you in advance for your support.
I couldn't and wouldn't do this without you.
Even if you decide not to back this, you can help.
The only way to spread a meaningful idea is through word of mouth.
If you decide not to back this book but still want to see it made, please share this project with someone who needs it. I promise you they're out there. And I know they'll be thankful to you for sharing it with them.
If you'd like to help even more, please share on Twitter, Facebook, and on any other social network / platform that you use.
The simplest share makes a big difference.
Thank you.
---
Table of Contents
p.s. here's my working table of contents for those that want a sneak peak at what I'm creating.
Nothing here is final, but it should give you a good indication of where I want to take this book and corresponding content.
Section 0: Intro to Collaboration
What is Collaboration: The Psychology and Impact Behind Collaboration
Why Does Collaboration Matter?
Who Should Collaborate (and who shouldn't)
The Challenges of Collaboration and How to Overcome Them
Section 1: Assemble
Identify Your Superpower
Finding and Building Your Team of Experts
Developing Your Lean Business Model
The Successful Idea Framework
The Progressive Idea Validation Technique
Section 2: Lead
Mission, Roles, and Timelines
Essential Tools for Collaboration
Backward Planning 101
Setting up Your Project Management Board
Managing and Leading Linchpins and Experts (parameters, not path)
Section 3: Launch
Developing Your Minimal Viable Idea
The Upside Down Sales Funnel
The 80/20 Principle and Collaborative Launches
The Pitch and PreSale
Section 4: Repeat
Start > Finish > Ship > AAR
Maximizing Impact and Maintaining Momentum
Version 2.0
Next Steps
---
Timeline
The general outline and wireframe of Collaborate is complete, along with about 30,000 words (give or take). But there are a few things left to do before you get the book in your mailbox.
Here's the timeline of events I'm planning to hit a March ship date:
November: Publishizer Campaign
December: Write, write, write
January: Edit
February: Design, formatting, and final proofing; eCourse + live webinars go live
March: Ship!
---
Breakdown of Expenses
If you're like me, you're probably wondering why crowdfunding campaigns set the funding goals that they do.
I'm setting my minimum crowdfunding goal based on expenses to have the book professionally designed, edited, and printed. If I reach my minimum funding goal, I'll pocket about $0.00 as all the funds will go to those I'm hiring to make this book a reality.
Here are the breakdown of expenses:
Cover Design: $1,000
Editing: $600
Interior Design and Formatting: $500
Printing (100 copies): $4,359
Base Shipping (from printer to me to proof - estimate): $150
15% Flex Funds for Misc Expenses and surprise costs (there are always surprises): $893.25
TOTAL (just to break even): $7,497.25