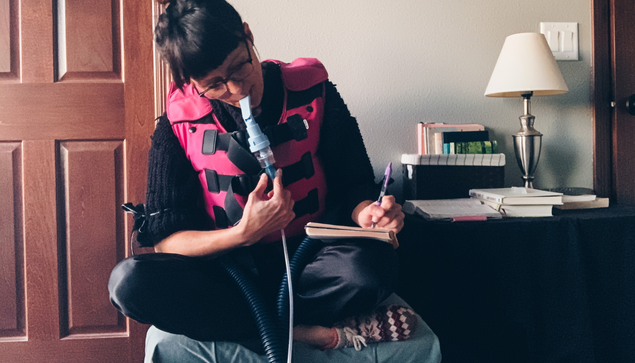 The year was 1955. Doris Tulcin was the mother of a two-year-old daughter named Annie. Annie had Cystic Fibrosis and was given one year to live.
Determined to save the life of her child, Doris did what moms do. She partnered with 3 other CF Moms to find a solution. Together, they formed a support group and called it the Cystic Fibrosis Foundation.
Now, they didn't have the answers to their children's health problems. But what they did have was a DANGEROUS HOPE that they could make a difference in a big way.
Over the course of 65 years, they went from a small group of parents with a mission to find a cure, to a global movement that helped bring a groundbreaking medication into the world. A medication that has brought #hope and #health to the #cysticfibrosis community!
People are going OFF of lung transplant lists because of this medication. All because of a Dangerous Hope that Doris and a handful of people stayed committed to for over six decades!
Decades later, her Dangerous Hope impacted my life. I've made big mistakes in my life; yet, because of the medical advancements in the Cystic Fibrosis Community, I've been given a second chance at a healthy life. I use my voice and my story to speak up about what I experienced, and how important it is to stay on medication for this disease. I've chosen to make it matter.
That is the strength of Dangerous Hope! It is the only thing stronger than fear!
The message of Dangerous Hope needs to reach the masses. People need to hear stories like Doris's. They need to hear my story of rising up from the ashes of my circumstances. We all need to be reminded of stories like these, because hope can be fickle until you learn how to keep it growing.
I'm in the last twenty-four hours of my Dangerous Hope Book pre-order campaign. It's been a wild ride, and honestly, it's just beginning. Please visit this link - www.DangerousHopeBook.com to pre-order your copies of my book, Dangerous Hope, today.
When you pre-order 5 or more copies, you'll get access to the Build Hope Library – an online training area with videos and downloads that you can start implementing this week!
And if you need to bring hope and leadership skills to your team and community, the Corporate Sponsorship Bonuses of 25+ copies give you the best value available to get books and training at the same time!

Thank you so much for your support. I can't wait to get it into your hands!
Much love,
~Mandy B. Anderson
P.S. If you already pre-ordered, THANK YOU! Please share this story and the link with your friends, family, and colleagues to help get this message into the world.