Dear ardent supporters of my writing,
The Kindle edition of my upcoming book Health Tech is #2 on Amazon Hot New Releases and currently a Top #17 on Amazon's 'Best Seller in Healthcare Industry' list --even though it is still in pre-order. Tremendously exciting!
I wanted to offer more of you the chance to join my Book Launch Team (see below), an opportunity to keep supporting my work together with a group of 30 outstanding peers. There are 8 slots left! I will promote you as you are promoting me. I will also promote your next book or major announcement. (I'm getting a bit better at it, after some practice).
You would be asked to a) post about the book on social media on launch week and b) write a 2-sentence Amazon Review. You could either buy the physical book for $32.95 on Nov 10th when it comes out or I can send you a watermarked PDF review copy so you can still read it and post reviews at your convenience (or both so you can submit the review instantly).
I would be immensely grateful if you could let me know by replying to this email.
Best regards,
Trond
---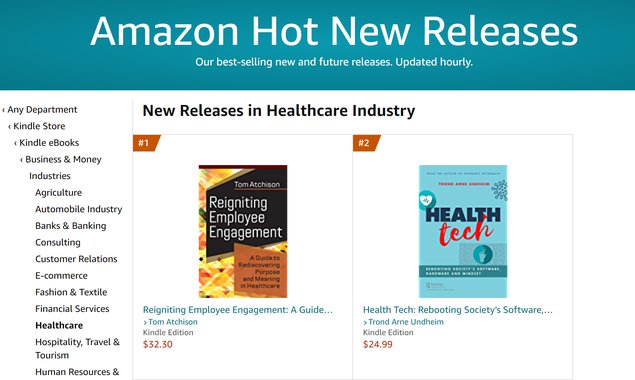 Amazon Hot New Releases: New Releases in Healthcare Industry:

https://www.amazon.com/.../18623111011/ref=zg_bs_tab_t_bsnr
Amazon Best Sellers in Healthcare Industry: https://www.amazon.com/gp/new-...
Health Tech: Rebooting Society's Software, Hardware and Mindset (book website): http://healthtechbook.com/
Health Tech: Rebooting Society's Software, Hardware and Mindset (Amazon Kindle edition): https://www.amazon.com/Health-Tech.../dp/B09GJT17CG/
Thanks for Advance Praise (appearing on Amazon and in the book) from these amazing thought leaders: Thomas Clozel | Jeff Karp | Joseph Kvedar | Bertalan Meskó, MD, PhD | Scott E Burgess
Thanks to my amazing, newly recruited book launch team (really: can you perform magic in 24h?): Will Bachman, Afarin Bellisario, Truls Berg, Christian Carbonnaux, Soumitra Dutta, Otkrist Gupta, Sam Jaffe, Natan Linder, James Mawson, Alasdair McLean-Foreman, Ramesh Kumar, Ankit Mahadevia, Kristi Shalla, Ed Simnett, George Tolomiczenko, Bryant Vernon, and Irving Wladawsky-Berger.
Best,
Trond