Synopsis
Early this year I joined a startup that operates at the cutting edge of semantic technologies. There I had the chance to be exposed to the brightest minds in the industry. As a side project, I also write for my blog FourWeekMBA.com
At that time I started to see that DuckDuckGo was bringing organic traffic to my site. That is how I began to investigate more. From that research, I found out many interesting facts and an incredible entrepreneurial story.
From that story, I built a long post of over 5,000 words. The post went viral, and about a hundred thousand people loved it. That is how the articles stayed on the top page for a day on Hacker News,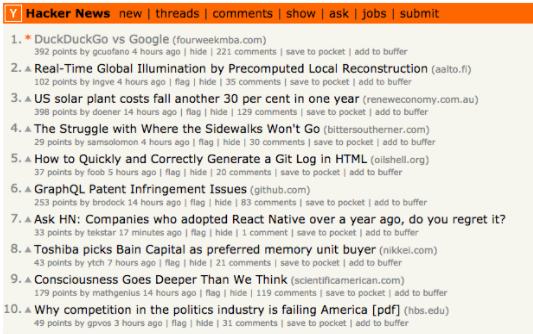 From there I understood the time was right to create an extended version of that post, which could become an inspiring book for anyone that believes that a better web is possible.
Today when searching the web most people use Google, which is the dominant player in the industry. That also made us used to the way it works and less imaginative about alternative scenarios.
I asked myself why do people prefer Google over DuckDuckGo?
Initially, I thought it was mainly due to the superior results Google gave. But the more I dived into the workings of DuckDuckGo, the more I found out that the difference wasn't such to justify Google's dominance.
Why then do people still prefer Google? I figured that one of the biggest challenges a startup faces when launching - in a market already dominated by others - is to convince people to switch to your product or service.
Therefore, one of the reasons why other players have not been successful yet to take over the market may be due to how Google got wired into our brains. Yet things may change faster than we think.
DDG managed to survive and thrive after almost ten years in the business. Part of its success was due to the ability to create supportive communities that made it grow steadily.

The book will cover one of the most compelling stories of our time. A story that intersects the future of the web; the entrepreneurial vision of a former solopreneur, and the many other ordinary yet extraordinary people that are helping to build a better web.
We are all protagonists of this story. Through this book, my wish for you is to gain awareness around a theme which will influence the future of humanity in the centuries to come.
Outline
Keep in mind that the outline is temporary and may be extended to cover also other compelling topics of interest to you
Why DuckDuckGo?
What is DuckDuckGo?
DuckDuckGo at the time of this writing
Before DuckDuckGo: Who is Gabriel Weinberg?
The Solopreneur's Way
Time for some more tinkering: what did Gabriel Weinberg do after selling his first successful startup?
Flipping the switch: The Solo-launch
Challenge the Status Quo: How do you make people switch to your service when you're the last to enter the market?
How did DuckDuckGo grow
The 19 Channels of Growth: how did DuckDuckGo start to get traction?
What is the Bullseye Framework?
DuckDuckGo Growth, Explained
Myths about search engines
How do you make money if you don't track users?
Why our privacy is your most important asset
Stories of DuckDuckGo users
A set of interviews to the people that contributed to DDG success
Inside DuckDuckGo:
How does DuckDuckGo make money?
Search Leakage: How does DuckDuckGo work?
Search: DuckDuckGo vs. Google
Instant Answers vs. Featured Snippets
Google vs. DuckDuckGo: Who's the winner?
Can you optimize for DuckDuckGo?
How will the web look like in fifty years?
How leading experts will see the web evolving
Audience
Alex-Alexandra is in his/her 30s. A startup founder, which created a venture operating on the internet. He/she is a digital entrepreneur, passionate about technology and how it can affect the future of humanity.
Although he/she makes a living through the web, he/she also cares about building a better web. In fact, he/she's concerned about his/her privacy.
At the same time being passionate about entrepreneurship he/she looks for inspiring stories and role models that can help him/her find a compass through daily life.
My book will speak to Alex and Alexandra
Promotion
The marketing activity will be based on the following channels:
Email marketing: Sequence of emails to about a thousand targeted people
Three articles on FourWeekMBA.com related to DuckDuckGo or SEO, which will be notified to over 800 users
One guest post on a big websites which covers topics related to SEO and digital marketing
Answering related questions on Quora
Repurposing on Medium, beBee, Quora Blog, LinkedIn
Publish a related article for a major publication on Medium
Share it to Facebook, Twitter page which overall have over six thousand followers
Outreach: let 50 people from close circle about the book launch
Competition
- How Google Works, by Eric Schmidt and Jonathan Rosenberg, 2014
Seasoned Google execs Eric Schmidt and Jonathan Rosenberg provide an insider's guide to Google-from the business history and corporate strategy to developing a new management philosophy and creating a workplace culture where innovation and creativity thrive.

My book is different from "How Google Works" because it describes the web from another angle. This time we look at things from DuckDuckGo perspective.

- DuckDuckGo by João Dinaldo Kzam Gama: o Ganso vestido de pato - uma Experiência Coletiva! (Portuguese Edition)

This book is a portuguese edition, which focuses more on how DDG works. My book focuses on the entrepreneurial story, the community that contributed to its growth and how the web will evolve.

- Traction, by Gabriel Weinberg, Justin Mares (Author): How Any Startup Can Achieve Explosive Customer Growth: Most startups don't fail because they can't build a product. Most startups fail because they can't get traction

Fascinating read focused on the growth and commercial side of getting traction for a startup. My book will be about the stories behind it, by interviewing the protagonists of this story.

- David and Goliath, by Malcolm Gladwell: Underdogs, Misfits, and the Art of Battling Giants Kindle Edition

In some ways, the theme of the book is similar to mine. The main difference is that this is focused on search engines, the web and how they evolved.

- The Inevitable, by Kevin Kelly: Understanding the 12 Technological Forces That Will Shape Our Future

In some ways, my book will get inspiration by Kevin Kelly's style and writings. It will be way more focused though. It will be all about search engines and more in particular from how the web will evolve through the lenses of DDG
Extract from the book:

Why DuckDuckGo?
It all started when one day I was checking the referral traffic of my blog. This is something I do often to see what are the channels beyond Google that are bringing qualified traffic to my website. Yet that day it was different. Down the list, I saw something I've never seen before.
A website called duckduckgo.com brought me some traffic. By investigating into the issue, I found out a compelling story that it is worth knowing for anyone interested in Startups, Entrepreneurship, Solopreneurship, SEO, Growth Hacking and much more.
In fact, the story of DuckDuckGo is inspiring from several perspectives. That is why I decided to cover it in its utmost details.

What is DuckDuckGo?
DuckDuckGo
is a general purpose search engine, which focuses on privacy. Although I will call it a search engine DuckDuckGo is more of a hybrid engine. In short, it uses proprietary crawlers on the one hand. And APIs from other websites on the other hand. The mission is clear, DuckDuckGo doesn't store your personal information. Therefore, your personal details won't be shared either. In short, they address a felt issue, which is privacy.
However this was not DuckDuckGo primary mission at the beginning but an adjustment made along the way, which made it get traction (we'll see that down the road). As a general purpose engine DuckDuckGo mission is to provide instant answers to as many questions a user has. Before we dive into technical matters, let's answer a question that I had as soon as I started to find out more: How did it all start?
DuckDuckGo at the time of this writing
DuckDuckGo is far from being a top player in the search engine industry. In fact, just to give you some raw data, the major player in the sector is still Google. If I had to use a metaphor, Google would be an elephant while DuckDuckGo is a mosquito (this is not to emphasize; I'm actually making things better for DuckDuckGo).
Google is number one. However, we tend to forget that search engines are
de facto
websites. Their main purpose is to make us find other websites, pages or in any case anything we're looking for!
As we know history is written by the victors and so far Google is shaping the future of the web, therefore, of humankind. Yet if there's one thing that history teaches us and that technology reinforced is that often what seems unexpected happen.
Thus, a question that popped into my mind as soon as I started to dive into the DuckDuckGo story was "what if instead of Google, DuckDuckGo conquered the web? How would have the net looked like?"
My romantic side tries to make me believe that another web was possible. That we weren't supposed to have the internet where ads took over, fake news spread at the speed of light and social media went mainstream!
On the other hand, my rational side kicks in with a few interesting points. First, who said we were supposed to have the web after all? So why don't look with amazement what we managed to build? And even if social media was a creation of the web so it was blogging.
If blogging didn't exist I wouldn't be here telling you my side of the story (it all started from my blog FourWeekMBA.com). So after all things don't look as bad as my romantic side wants me to believe. That is why I'm going to treat this story as it is, trying to be as neutral as possible.
In short, let's begin by saying this is a story of a company that is trying to build a different web. A story of a businessman that mastered the art of traction. The story of a shrewd solopreneur that challenged the status quo. If ancient people got inspired by the accounts of mythological characters, like Ulysses or Aeneas.
We moderns like to hear the lives of people like Ford, Buffett, and Jobs. We like to listen to their courage and willingness to take risks. Yet Gabriel Weinberg's story is more than that. It is the account of a 27 years old man, sitting in his room, alone. Figuring out what to do next. A man freed from financial needs left with boredom, the mother of all inventions!
Before DuckDuckGo: Who is Gabriel Weinberg?
Born in 1979, Gabriel Weinberg studied at the MIT. As soon as out from MIT (it was in 2000) he started an educational software company called Learnection. The aim was to make parents more involved in their kids' school life. In other words, a proto-social network. As Gabriel Weinberg himself reports in an
interview with Forbes
,
I finished school in three years. But I was lucky and my grandmother had left me tuition money for four years of college. I used that and I raised some friends and family money. I lost all of it, between $30,000 and $45,000.
The beginnings as an entrepreneur weren't very bright. Asked what caused that failure, Gabriel Weinberg stressed he did many things wrong, comprised hiring his friends, which turned out not to be the best choice.
What did he do next? From
Forbes interview
he replied,
I started another four to six companies of various kinds. One was a success. It was an early social networking company. The product was called NamesDatabase. It was a way to find old classmates and friends. It's a completely anachronistic concept now, given Facebook, but this was between 2003 and 2006. I sold it to classmates.com in 2006 for $10 million.
According to Gabriel Weinberg what made NamesDatabase – the company that would set the stage for DuckDuckGo – successful, was the focus on getting users before he even had a product! He likes to call it traction. In short, to make an enterprise successful you have to split half of your time on product and the other half on getting customers. From the combination of business and product development, there's traction.
Although NamesDatabase was a successful enterprise there was something missing. Gabriel Weinberg as he admitted was
not a social networker
. In short, he was short of passion for what he was doing. Therefore, the next question that came naturally to him was "what can I do that would keep me passionate for at least ten years?" In fact, that is the minimum amount of time Gabriel Weinberg believes an enterprise will take to be successful and gain the right amount of traction to scale up. The answer to this question came shortly.
The Solopreneur's Way
Gabriel Weinberg was sitting alone in his new home in Philadelphia, doing nothing for the first time in his life. In March 2006 he had sold a company he had co-founded, called Opobox (dba The Names Database.) It was a social networking service sold for $10 million dollars to Classmates.com.
At the time of the successful exit, Gabriel and his wife were moving from an 865-square-foot apartment near Boston to a country house outside Philadelphia. At that time still 27 years old, Gabriel Weinberg was too young to retire. Alone, with nothing to do and no one he knew for hundreds of miles of radius from his house he started to tinker.
What to do next with all that money? He had nothing to lose so he started a bunch of side-projects. From crawling Wikipedia to finding answers to any question; to identifying spam and classification analyses to community building.
As Gabriel Weinberg also recalls in the preface of his book, Traction and a series of interviews for FounderFilms he reached the point where he would undertake dozens of side-projects simultaneously. His objective was quite simple: identify the projects he didn't like, while keep going with the ones he felt passionate about. That is how he ended up starting thousands of side-projects. The side projects that he found most interesting were those that revolved on search.
His point of view on search was peculiar. In fact, in the era in which AI was at its embryonic stage, Gabriel Weinberg took an unusual view. He always believed that the most interesting information was in people's heads. Algorithms' job was to identify that information and give the answer that other humans were looking for.
What today Google calls featured snippet, as an attempt to find users' questions, DuckDuckGo called them instant answers since day one. In other words, one of the primary mission from which DuckDuckGo started was the attempt to answer as many questions as possible. Rather than having an algorithm manufacture the answer, the search engine would be the intermediary bridging the gap from people's minds to share what they knew.
Two other things are peculiar I believe in this story. First, DuckDuckGo didn't start as a nerd attempt to find the ultimate algorithm. Instead, he just wanted to make search less spammy, more focused on privacy and able to find more instant answers. Second, even though Gabriel Weinberg was not a lover of social networks (though he became financially free through the sale of a social network) he understood the value of communities. In fact, an online community called Hacker News will be the first to see DuckDuckGo in action and help it gain some traction.
Time for some more tinkering: what did Gabriel Weinberg do after selling his first successful startup?
After all that tinkering Gabriel Weinberg had noticed two things.
First, Google was often giving back sites with a bunch of spammy ads. Let's not forget that Google is an advertising company, and most of its revenues are coming from advertising.
In 2016, 79 billion of dollars of Google's earnings come from advertising. It represents almost 88% of the total revenues. Even though the revenues coming from ads in 2014 were higher (over 90%), Google is definitely an advertising company and nothing makes us believe things will change in the next future. Why am I telling you this? As a company that makes most of its money from advertising Google might be biased toward maximising the profits coming from ads independently from users' interests
What about DuckDuckGo Business Model? How does DuckDuckGo make money? We'll see it more in detail later on.Second, when looking for something, Google did not provide answers. Which made Gabriel Weinberg go on the main sites like Wikipedia and IMDb to look for answers. Those two things alone made him realize there was still space to create a search engine able to provide what he would later call
instant answers
based on the information provided by communities around the web. That is how a year and a half later he realized he was on to something. That something was about to become a search engine with a duck as a logo.
Flipping the switch: The Solo-launch
One day when Gabriel Weinberg was walking with his wife had a name
popping in his head
. Almost like those things that get incepted into your mind Gabriel Weinberg could hear "DuckDuckGo."That is how he decided that whatever would his next company be he would have called it DuckDuckGo!
Then the year 2008 arrived. He had put together the pieces of the puzzle to create a viable version of the search engine he had in mind. Ready to launch Gabriel Weinberg started to talk about the project he was about to launch. Rather than getting excited, most people that heard him talk about that project found him crazy.
How could a young man in his 30s compete against a giant like Google? At the time Google was already worth about a hundred billion dollars. Why would anyone switch to other search engines when Google was proving quite reliable. Not only its algorithms gave to users what they were looking for (or least what they thought they were looking for) but there was also the rise of an entire industry based on the fight between Google and online marketers trying to figure out how Google's algorithms worked: the SEO industry. Would a new search engine bring the attention of that industry? It probably wouldn't and in fact, it didn't.
Gabriel Weinberg solo-launched on September 25th, 2008. On the international newspapers, there wasn't a trace of DuckDuckGo's launch. That didn't happen because it was not what Gabriel Weinberg was looking for. He just wanted to know whether he was on the right track to building the kind of search engine he had in mind.
That is how that day he launched DuckDuckGo on a forum called Hacker New. Feedbacks arrived quite soon. From the "horrible name" to people blown away by how effective DuckDuckGo was for a solo-development and launch; after all Gabriel Weinberg understood he was into something. It was time to start focusing on getting traction