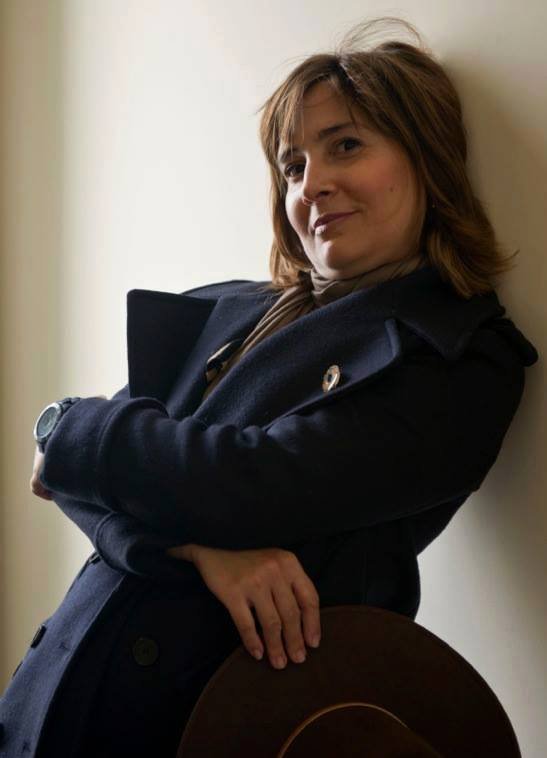 I am not an expert on marketing, but I am an expert on writing for I had already published a couple of books in Spanish, my mother language, gathered good critics, achieved prestige and reached a bunch of faithful readers. To my own amazement, I decided some months ago to write a memoir in a foreign language. I suffer from ADHD, so reading was impossible for me for almost twenty years. One day I picked up an English book, a Graham Greene's novel. Deciphering the few lines of the first paragraph took me one agonizing hour and gave me a headache, thus I gave up. Yet next day I could not help opening the same volume stubbornly. I had decided to read in English even if I was only capable of understanding a few words. Using a dictionary for every single word, as I had done the day before, was not going to be my modus operandi. I only allowed myself to look up in the dictionary when a word was often repeated. It was better to become familiar with grammar structures than understanding vocabulary. I kept turning pages without a clear idea of what the characters were doing or saying; there were hints but not facts.
Graham Greene's novel was the beginning of my obsession with English and was followed by hundreds of books. At first, I just read bestsellers because they were easier to understand, but after a couple of years I was ready for better staff. I read the complete novels of Jane Austen among other authors and became acquainted with the best British and American writers. Reading in English was such a source of pleasure that I just could not stop devouring books. To justify my peculiar fixation, I must confess that I usually despise easy tasks and fall in love with difficult jobs; my mind demands a range of challenging and extravagant works to function properly, regardless of exertion and exhaustion. Slavering over laborious details carries with it a great deal of joy and satisfaction. Since I decided that writing in English could be a possibility, despite of being discouraged by friends, family and acquaintance, I only permitted me to read in English. I was determined to go beyond common sense and let insanity lead my way.
Several American and British friends have already read an excerpt of my manuscript and have encouraged me to embark on this audacious adventure. In their opinion, my experience could help others to face adversities, to confront the upheavals of life. Regarding the quality of the text, a friend of mine told me that some of my descriptions were not far from the ones of well-known authors. He compared my depictions of winter, poverty and loneliness with the ones of Hemingway, Bolaño and Bulgakov for my words, in his opinion, described images that were as strong as theirs.
I do love challenges and writing in English is undeniably more difficult, but also more thrilling than writing in my mother language. As a matter of fact, I have tried to translate a few paragraphs into Spanish without success. The translation was deprived of beauty and strength. Spanish is a beautiful and rich language, but English sonority is softer and heavenly for it always transports me to a breezy summer evening. And, who would not love being caressed by gentle breezes? I am a very passionate woman and writing without ardor would seem like a burden, like a nightmare with no bliss or spangle.
You probably want to know what my book is about. It is a memoir that I have been considering for a long time. I have been postponing it for too long on account of my fears. Doubtless, this book will have grave consequences for my life. If this manuscript comes to light, I will have to move to New Zealand to feel safe. I am not afraid of the effects that this story will inevitably have on my life. I had already been through a lot and I really need to tell my story to free myself from the past, from all those demons that smothered my spirit to make me feel as an villain who only deserved to be punished. However, dark influences did not prevailed and one day I decided to enter into a paradise of impossible possibilities for I believed in miracles.
This book is intended to reach as many readers as possible. However, I have learned that people between 40 and 68 are my potential readers. I am planning to improve my author platform. Aside from my Spanish blog, I opened an English blog a year ago. I have almost 600 suscriptors. If I post more often, I will probably get more readers. So, updating my English blog will be a priority from now on to build a community and a larger mailing list. My Twitter followers are mostly Anglo-Saxon for I usually tweet in English. My Facebook followers are mostly Spanish. I have already used mailing lists for my former books very successfully. The video will also help, even if my spoken English might sound a little weird. More of all, I am stubborn, I am persuasive and I am anything but a quitter.

Searching for beauty and excellence has always been my motto. Regarding words, I am a wordsmith. Since I started to think of this project, my English has dramatically improved. I have reasons to believe that at the end of this adventure, my English will be incredibly good. Believe or not, I am finding hard to write in Spanish because my mind has become English in just a couple of months. So far, I have only written 35 pages and they are just part of the first draft. Things have lately been a little complicated. I lost my home last November and I lost my father a few weeks ago. These losses have provided me with incredible experiences which will also be part of "February". Despite the pain, I am at peace and in good spirits. I know for sure I will write an amazing and breathtaking book. If I could not do it, I would not be a writer in the first place and I could not be here asking for your financial support. It would be against my principles. Behind excellence, there are always long hours of hard work as well as a meticulous attention to detail. Nothing matters to me more than work. And "February" is the result of years of efforts, and the accomplishment of my most vital hopes.

I am not fond of following rigid patterns. In fact, I tend to improvise without thinking too much in advance. Nevertheless my apparent disorganization, all my texts are outstandingly rational for my heart and my mind work in unison to achieve a harmonious balance. The book will be structured in three parts:
First book spans from childhood to college years.
Second book describes my twenties and thirties.
Third Book attaches to all the happenings that took place during my forties.
Benefits from reading "February".

1. Learning to live a life of details, caring only about the here and now for past and future only exist in our imagination, for we can recreate them as much as we wish. Learning likewise to be who we really are; there is always a best version of ourselves hidden somewhere that, curiously, coincide with our inner selves.

2. Looking at your flaws and other's flaws with tenderness. Feeling fondness for people.
3. Thinking big since only hope and faith in us can save us and, consequently, save the world.
4. Letting goodness guide your life is a wise option for the ultimate price we pay for attaching to lies and hatred is too high for being taken into consideration. Dreams that are built on fear or selflessness are not worthy and only bring trouble.
5. Dreams come true even if you cling to your principles. Once you become determined to get enough faith to achieve your hopes, nothing will stop you. Nothing at all.
6. We are stronger than we think and can endure anything. Acceptance turns sufferings into enriched experiences that make us more valuable and more interesting. Leading an interesting life demands joys, but also sorrows.
7. Wisdom only comes with humbleness.
8. There is no trouble that love cannot solve.
9. Happiness means also freedom and freedom requires courage.

10. Enjoying a compelling and poignant story full of honesty, beauty and compassion while surprising at the unexpected capacities of language to mold love, life and survival.
In 1956, Harper Lee's friend Michael Brown and a number of other friends clubbed together and gave her a year's wages for Christmas: 'You have one year off from your job to write whatever you please. Merry Christmas.' She used the year off work to write "To Kill a Mockingbird". If you support me and help me to face my hateful bills, I will give "February" all my attention and effort. Considering that I am very perfectionist, that I am writing in a foreign language and living in a foreign country, I think that two years will be enough. I will keep you updated and post videos now and then. As you can see, I make minor mistakes, but nothing serious to impede the flow of my writing and to make myself understood. In fact, I could have edited this very text, but I wanted to show you who I am and what I am capable of despite my errors. Anyway, all writers need an editor. You can work on a paragraph for hours and make a silly mistake over and over again. Therefore an editor is not a luxury, but a necessity. After the editing process or maybe before, I will find a publishing house; I have a couple of publishers in mind. Literary contests could also be a good alternative. In any case, I can always publish "February" in Amazon and have a digital and a paperback version of the book. I am choosy about covers and if you take a look at my web page, you will see what I am talking about. I have always been involved in the design of the cover. So far, my books have been blue, but my "Blue Period", which was beautiful but also full of melancholy and blue tones, is over and this new phase of my life and work requires a different hue, a pale pinkish shade. Likewise Picasso, "February" will signal a new period, my "Rose Period". And I promise I will not succumb to the temptation of Cubism.
I need to sustain myself for two years and get urgently a new computer since mine is dying and it will not probably survive this summer. I need both a laptop and a desktop computer. For a large part of my day is spent staring at my screen and I usually keep several windows open on my screen, I need a good and big monitor. Apart from being farsighted, presbyopia is killing me and I am not getting any younger. On the other hand, I love working everywhere. Therefore, I also need a laptop, a very light one since I have two slipped disks. Now I am using a very old laptop whose screen blacked out a few months ago. In order to keep on working, I borrowed a keyboard and a monitor which had been connected to my dreadful and heavy laptop. This is a temporary solution and I desperately need a permanent one. Writing with this slow and trying machine is quite exasperating. Wasting my energy in fighting against an old and silly HP is senseless. All the troubles I had been suffering with my laptop have made me detest Windows. Mac will be the answer to my prayers and to all my technical inconveniences. I have been checking prices and Mac is even cheaper than the PC and laptop I would need in case I decided to remain faithful to Windows. Without your support, I could never buy new devices and write the book I had always dreamed of. I badly need you!!!!!!!!!!
Since I have reasons to be optimistic, "February" will be a great success and I will have no choice but traveling to different countries to attend presentations and give lectures on how this amazing book was once forged thanks to the generosity of a handful of visionary enthusiasts who believed in me, in my book, in my ability for creating something different. I will do my best to meet you. If you were a thousand, I could not name all of you in every conference, but I would thank you anyhow. I will always be grateful to you. Always. We all deserve honors and, trust me, I will find the way to honor you, to make you feel proud of yourself. You will never regret your support.

Thanks a million!!!!!!!!!!!!!