Synopsis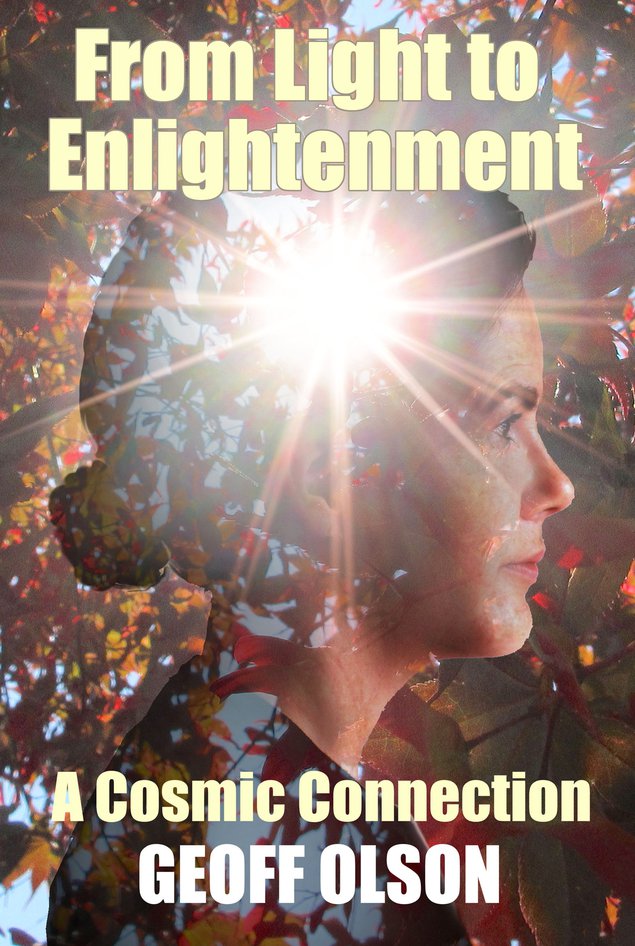 As a boy, Albert Einstein wondered how the world would appear to him if he hitched a ride on a beam of light - a thought experiment that ushered in the 20th century revolution in physics. Toward the end of his life the frizzy-haired physicist declared, "all the fifty years of conscious brooding have brought me no closer to the answer to the question, 'What are light quanta?' Of course today every rascal thinks he knows the answer, but he is deluding himself."

What is the mysterious, massless "thing" called light that vibrates in empty space? What is this elusive state of mind called "enlightenment?" From Light to Enlightenment addresses light in its many guises, from wave/particle puzzle to poetic metaphor for awareness.

We often link light to consciousness in everyday speech. We "see the light," or a "light dawns on us." Sometimes "a light bulb goes on." We talk of "illumination" and "enlightenment." Clever people are "bright," and the cleverest among us are "brilliant." Thinking itself is referred to as "reflection." We speak of the "light of the spirit," and its inversion, a "dark night of the soul."

This book traces the connection between the physical light studied by physicists and the "inner light" described by poets, philosophers, and mystics. The story ranges from the mystery cults of Ancient Greece to Plato's "parable of the cave" to the memoirs of a blind leader of the French Resistance to the radical ideas of the inventor of the Bell helicopter.

From Light to Enlightenment features a cast of eccentric characters: a Quaker mystic who proved Einstein's theory of relativity by measuring how light bends around the sun; a Yosemite camper and YouTuber whose ecstatic, sobbing response to a double rainbow netted millions of hits online (along with mass media ridicule); a cueball-headed Scottish comic book writer who experienced both global fame and personal chaos after retooling Batman for the big screen, and whose descent was checked by a transformative vision of light.

This book traces the historical, psychological, and literary contours of an inner light that is much more than mere metaphor. It ranges from the fire-lit caves of Paleolithic people to the antiseptic labs of modern brain researchers to the lyric sheets of musical performers.

Yet "enlightenment" can be a messy business. We can't forget the messy historical record of religious leaders and cultists who, believing they were in league with the forces of light and righteousness, unleashed witch-hunts and wars.

My intention is to present this material in an appealing, "light-hearted" way. I delivered a multimedia presentation, From Light to Enlightenment, to a sold-out crowd at the Vancouver Public Library. The talk was based on a magazine article of mine on light published the previous month. I have since traveled to Wales to research the world's largest database of spiritual experiences at the University of St. David, and attended the 25th anniversary Tucson conference on Consciousness, conducting interviews and gathering notes.
Outline
PREFACE:
Thoughts about light and life at twilight.
INTRODUCTION: A BURIED TREASURE
Why I am writing this book. A brief summary of my investigations and contents.
PART 1: INNER LIGHT

CHAPTER 1: A GLIMPSE THROUGH THE CURTAIN

Some mystical experiences are precipitated by an external trigger of glimpsed light. Anecdotal tales involving the Canadian writer Ekhart Tolle, American journalist Barbara Ehrenreich, and American science fiction writer Philip K. Dick.
CHAPTER 2: A LIGHTNING STRIKE TO THE HEAD

The 19th century Danish explorer Knud Rasmussen was first to document the claims of a transformative light in the heads of Northern Canadians shamans, called "quanameg."

CHAPTER 3: THOU ART THAT

The 5,000 year old Vedic tradition encodes the inner light experience into the mythological tales of Krishna, Vishnu and other mythological characters. In Buddhism, the "clear light of the void" is both the underlying reality of the world and a primary, though elusive, target in advanced meditation practices.
CHAPTER 4: ANCIENT SOULS ABLAZE

The Gnostic tradition, an early and abbreviated branch of Christianity, held that the human soul is constituted of light trapped in matter, and that it was the duty of human beings to liberate this light.
CHAPTER 5: LIT FROM WITHIN

The story of the blind French WW2 French resistance fighter Jacques Lusseyran, who claimed guidance from an inner light.
CHAPTER 6: THE HARDY QUESTION

In the late sixties, the retired marine biologist Sir Alister Hardy put a question to the British public, circulated in newspapers of the time: "Have you ever been aware of or influenced by a presence or power, whether you call it God or not, which is different from your everyday self?" I travel to the UK to investigate this, the world's largest database of spiritual experiences, held at the University of Trinity St. David in Wales.
CHAPTER 7: A LITTLE LIGHT READING
What do the stories of inner light from the Hardy archives tell us? The attempt to classify and understand the tales involving inner light.

CHAPTER 8: A LUMINOUS TRANSFORMATION
Other light experiences of note: the UK music writer Nick Kent, Scottish rock musician Mike Scott, American comic book writer Grant Morrison, pharmacologist Albert Hoffmann, and others.

CHAPTER 9: TO FATHOM HELL OR SOAR ANGELIC
Plato's famous parable of the cave. Profound light experiences precipitated by altered neurochemistry.
CHAPTER 10: OROC'S TOAD AND HUXLEY'S REDUCING VALVE
An Australian-born writer and adventurer found himself shot into a realm of light each time he consumed a potent psychedelic substance. His experiences are extraordinary, and his conclusions dramatic. Aldous Huxley's reducing valve model for consciousness.
CHAPTER 11: THE ASYMPTOTE OF CONSCIOUSNESS
Are transformative light experiences among the healthy the trailer for the end-of-life movie?
CHAPTER 12: WHEN LIGHT GOES WRONG
Kundalini episodes can be disturbing, jarring episodes in which energies are released into the body, and the mind is flooded with light.
CHAPTER 13: LIGHT AS DARKNESS
The problem with identifying light with goodness and spirituality: the game of black and white in which evil must be defeated! Light references have has been employed for dark purposes throughout history, from Lucifer as a literal "light giver" to Nazi searchlight spectacles.
PART 2: OUTER LIGHT
CHAPTER 14: THE SWORD OF LIGHT AND DOUBLE RAINBOW GUY.
What could be more beautiful than a rainbow? This deceptively simple prismatic phenomenon give us hints into the subjective/objective nature of light.
CHAPTER 15: A BRIEF MYSTERY OF LIGHT

The scientific understanding of light, from the Ancient Greeks to the 20th century. What is a photon?
CHAPTER 16: EINSTEIN'S WILD RIDE
As a boy, Einstein wondered what the world would look like if he rode on a beam of light. This simple thought experiment kicked off the revolution in 20th century physics, in which the bizarre properties of light were the centerpiece.
CHAPTER 17: SHUT UP AND CALCULATE
"Shut up and calculate" was the implicit dictum in American physics for decades: do not try to figure out what quantum weirdness means: just do the numbers. Laboratory experiments have now demonstrated that consciousness informs not just the present, but inexplicably, the past as well.
PART 3: INNER AND OUTER LIGHT
CHAPTER 18: SGT. PEPPER'S LUMINOUS HEARTS CLUB BAND
My visit to the 25th Anniversary Conference on Consciousness in Tucson. Do "microtubules" in neurons supply a clue to a connection between quanta and consciousness?
CHAPTER 19: LIFE, LIGHT AND DNA
Research into so-called biophotons indicate that living organisms emit extremely weak light. Is DNA implicated?
CHAPTER 20: SOUL AS UFO
The insights of one religious studies professor, who insists that light is fundamental to the structure of the human soul. The light forms studied by Mark Fox at the University of St. David, and how it connects to the mysterious light phenomenon of plasma.
CHAPTER 21: BERNARD'S PRISM
Nothingness, Taoism and mysteries of the photon. Physicist Bernard Haisch's heuristic model for creation, in which the 'white light' of perfect symmetry is broken down into its component colours of manifest existence.
CHAPTER 22: DESCENT AND ASCENT
The American engineer Arthur M. Young invented the Bell helicopter. He also conceived an extraordinary process philosophy of creation, in which light is at the base of an inverted pyramid.
CHAPTER 23: MIND AT LARGE
Dilbert cartoonist Scott Adam's notion of "God's Debris," and the theory that the universe is a "unitary conscious entity." How the light gets through the cracks in everything.
CHAPTER 24: COSMIC COINCIDENCES
Certain numbers crop up again and again in the calculations of theoretical physicists, apparently indicating we exist in a privileged position and time in the universe. What do these 'magic numbers' tell us about light and the human condition?
CHAPTER 25: THE EFFING INEFFABLE
The problem of the existence pain, the death of my father, and the difficulty/impossibility of final explanations, given our own observing minds are part of the very picture we are trying to paint.
CHAPTER 26: THE SIMURGH
Closing with the ancient Persian tale, The Conference of the Birds.
Audience
"From Light to Enlightenment" should appeal to two different but sometimes overlapping groups of readers. The first are spiritual seekers, sometimes referred to as New Agers, interested in the intersection of body, mind and spirit. The second are followers of popular science including such topics as quantum physics, cosmology and consciousness studies.


The Religious/Spirituality readership may practice yoga, meditation or tai chi, and be familiar with Shamanism, Christian parables or Eastern traditions. Readers of popular science may be keen on the nature of time, subatomic particles, the brain or selfish genes. And either may be curious about the physics and metaphysics of near death experience, the paranormal, altered states of mind and human potential.


The overlap arises in their shared attention to leading-edge theories regarding the natural world (human and cosmic) and currently unexplained or poorly understood phenomena. "From Light to Enlightenment" attempts to bridge the spiritual and scientific realms and posits a profound relationship between them. Readers from both sides of the aisle will be intrigued and surprised by the conclusion.
Promotion
I've had hundreds of articles and political cartoons published over 20 years in a number of newspapers and magazines in my hometown of Vancouver. Consequently I have significant "personal brand recognition" here which will act as a spearhead for an extended cross-country promotion.
Vancouver (Canada's 3rd largest city) and nearby areas have a population of 3.5M+. I will pull in editorial favours with the journals I've appeared in regularly (and won awards for) including (circulation in parentheses) the Vancouver Courier (265K), Common Ground (200K), Georgia Strait (600K), and The Tyee (175K) which reach more than a third of the population (1.2M) and have even larger online followings.
These book reviews and interviews will be coordinated with live multimedia presentations at both Greater Victoria and Vancouver public libraries (where I previously spoke to a sold out crowd of 300+), appearances on local radio/TV stations and larger colleges and universities. Subsequently I will repeat this initiative for the Toronto-Ottawa area (pop. 7.2M) where I also have significant media contacts (CBC, Maclean's magazine, Globe and Mail).
Real-world promotion will be thoroughly supported with an on-going online ad strategy and author platform. I will build a dedicated Wordpress site (I have years of experience, see my archive at geoffolson.com) and a Facebook page specifically for the book to engage with readers and host a high production value book trailer. This video will be used as the lead magnet for a FB ad campaign, first synchronized with the push in Vancouver, where we obtain audience analytics that will then be used in a broader national ad campaign micro-targeted to popular science and spiritual seeking book lovers.
Lastly, I will conduct an extended "online tour" of blogs, websites and FB groups - offering voice or video interviews, live streamed or recorded - for dozens of the top online communities (reaching potentially millions) of our target audience.
Competition
THE POWER OF NOW
Eckhart Tolle, Namaste Publishing 2004
In his book The Power of Now, Ekhart Tolle focused on a specific element of expanded awareness - the "timeless now." In an interview, Tolle said his book might well have been titled the "The Power of Light" given the transformative personal experience that launched his manuscript. In essence, I am writing the book Tolle may well have written, but didn't!

CATCHING THE LIGHT: THE ENTWINED HISTORY OF LIGHT AND THE MIND
Arthur Zajonc, Oxford University Press, 1995
Zajonc's excellent book focuses primarily on the understanding of light's physical properties. He does not venture into the territory of expanded awareness and spiritual experiences. I am making a more explicit connection between consciousness and light.

THE INNER REACHES OF OUTER SPACE
Joseph Campbell, Harper Perennial 1993
In his last book, the well-known mythologist examined the deepest depths of the psyche and how it connects to the universe at large. My book cites Campbell in a number of places, but it differs from his in the sense that mythology is only one strand in the tapestry I've chosen to weave.

THE GOD THEORY: UNIVERSES, ZERO-POINT FIELDS, AND WHAT'S ALL BEHIND IT
Bernard Haisch, 2009, Weiser Books
Physicist Bernard Haisch's intriguing concept of how the 'white light' of perfect symmetry is broken down into its component colours of manifest existence. My book differs from his in the sense that I draw a connection between this white light and the ground state in Buddhist thought, Near Death Experiences, and the light experiences granted as unsolicited 'graces' to people from all walks of life.

A WAVEWATCHER'S COMPANION
Gavin Pretor-Pinney Bloomsbury, 2010
The author examines waves of all varieties - from sea to land (earthquakes) to sky (light) and from all angles: literary, artistic and scientific. My book extends beyond the physical properties of waves to the mystery of wave-particle duality and its relevance to consciousness.