Praise
"Equal parts artist and mad scientist, Asher Yaron is taking the coffee world by storm with his important, disruptive innovations. In an era in which pretension and hipster nonsense too often dominate our coffee narrative and threaten to spoil the brew, Asher introduces a substantive, historical, medicinal take on coffee that returns us to the bean's true significance, delivering a fresh new perspective that's as rich, uplifting and revelatory as the most aromatic morning roast. His exciting new coffee manifesto, 'Get Your Fix', will help you do just that."
- Daniel Ziv, Award-winning filmmaker ('JALANAN'), author, co-curator / host TEDxUbud, Bali, Indonesia
"Asher Yaron provides not only a degree of knowledge that most roast companies cannot offer, but a level of experience, passion and intimacy with the bean and process, plus an understanding of the body and how a true food can affect it –both positively and negatively."
- Mimi Chatwood, Crested Butte, Colorado
"I have since started ordering Asher's coffee to supply our boutique villas in the south of Bali since I couldn't allow myself or our guests drink any other muck that was sold as 'coffee' when this 'gold' was grown, roasted, prepared with love only a short drive away."
- Misha Golowyn, Cape St. Francis, South Africa
Overview
In this book, we explore coffee as a potent, powerful, legal drug, and how to create the best medicinal coffee you have ever experienced -- from the cherry to the cup.

Asher Yaron is leading a resurgence of home roasting in modern times as consumers are becoming more aware of the importance of food as energy and medicine for the human brain and body. The past 35 years has created a commercial coffee culture focused on taste alone through the promotion of rating systems, roasting guidelines, and barista competitions. These distractions have kept the focus on economical aspects while the original medicinal uses and health benefits of coffee have been largely ignored.
Focus and productivity as an after-effect of great coffee has been pushed aside. Asher Yaron brings that back to the forefront with his contemporary home roasting techniques. He shares his vision of the future and how the current ideas about coffee roasting and consumption will be turned upside down and inside out!
Who is this book for?
This book is for coffee drinkers and people who are passionate about their daily "cuppa Joe".
The Coffee Drinker just wants coffee for his daily dose of caffeine and is not yet aware of, or never tried, coffee that has been roasted fresh. He has not yet discovered or experienced coffee as a potent and powerful drug for human consciousness. By understanding the simple and logical concepts in this book, The Coffee Drinker will increase his awareness of what coffee is and how good it can be. He will also be able to use the techniques described and begin creating the most potent cuppa Joe, while at the same time saving money in the process!
The Coffee Enthusiast cares about what is in her daily "cuppa". She is more aware of the source of the beans, how and when they were roasted, and the extraction technique used. She is concerned with what she puts into her body and notices what coffee tastes and feels like every time she takes a sip.
She's looking for an experience with her coffee that is uplifting and enlightening........she's looking for a rare, flavorful, relaxing, and energy-inducing cuppa Joe that will spur her ideas, creativity, and inspiration to conquer the moment.
Experience the fresh roasted coffee revolution
"I roast my own beans. Roasting your own beans is more important than any other thing you can do if you want to make good coffee." Seth Godin

My coffee story begins in 2003 when my wife and I decided to move from Los Angeles to the pristine Little Applegate Valley in southern Oregon. We had just purchased a house on 20 acres in a forested paradise...a dream come true. I was eager to outfit this new home with a professional espresso machine and grinder which I acquired on eBay.
I had not owned an espresso machine before and thought that it would be the answer to my ongoing search for excellent coffee. I had always been disappointed with the coffee I was making at home and even dissatisfied with the coffee I occasionally bought at Starbucks or other Cafe's. Now, finally, here was my chance to optimize my coffee making and drinking experience. At the time I thought that great coffee was all about the quality of the equipment you were using. I didn't know anything about the actual coffee beans, where they came from or when they were roasted. I, like many others, would buy my coffee in bulk at Costco, and there seemed little difference between the competing brands of Starbucks, Green Mountain, Peet's, etc., so I mistakenly thought great coffee was made with better espresso equipment and training as a skilled barista.

Excited and now finally armed with the proper equipment, I passionately began honing my barista skills.....until, a few years later on a visit from a relative whom I had a coffee making rivalry with, I presented my best result. His reaction was, "Eh..." Crestfallen, confused and depressed, I gave up trying to make and drink that elusive "perfect cuppa," the holy grail of coffee.

The next morning as I routinely prepared my daily morning cup of coffee, I realized I was out of my usual Starbuck's coffee beans, but remembered a gift from the previous evening, a bag of home roasted fresh coffee beans. Having no other choice, I loaded up my burr grinder and proceeded with my barista routine.
As I took the first sip, I stood in stunned disbelief. I felt an energy, an aliveness that was present that I had never ever experienced before. I instantly knew this was the taste and feeling I had been searching for the last several years. I had found a pot of gold at the end of this caffeinated coffee flavored rainbow. I was ecstatic and knew that the focus and direction of my life had just changed dramatically.
I immediately started researching and focusing on home roasting. I discovered a niche segment of the coffee market that I never knew existed. Do-it-yourselfers who used ordinary household appliances to roast coffee: heat guns, hair dryers, hot air popcorn poppers, BBQ grills. I had a BBQ grill, a big 4 burner one that was sitting outside on my porch and not being used very much. I quickly outfitted my grill with a small drum that would roast 1 pound of coffee at a time. I attached a chicken rotisserie skewer and a motor that turned the drum 3 revolutions per minute and started roasting my own coffee. My first several roasts were very inconsistent and uneven, however, it still made the best coffee I had ever had because I was consuming it freshly roasted! Soon after I upgraded to a 5 lb. drum and bigger motor that now turned the drum 60 rpm and gave me better more consistent results.
A couple of months later, a friend and I were in his workshop bending stainless steel and creating my first commercial coffee roaster. I started sharing my roasted coffee with as many of my friends as possible, who, like me, were amazed at how good the coffee was! My coffee roasting revolution was beginning.
At the time I was roasting only once every week or so and noticed how the coffee seemed to not be as good as each day went by. There was definitely a degradation taking place with the best coffee being the closest to when it was roasted. I knew that if I could sell enough coffee in order to roast every day I would maximize and optimize the quality. My frequency of roasting went from once a week to once every 3 days to every day, to multiple times every day! This took several months to happen and I needed it to happen naturally and organically. I was roasting more often as my demand was increasing so that every day I was sold out of coffee. This, I knew, was the only way I could guarantee the highest quality, and to this day I have made it a cornerstone of my business model.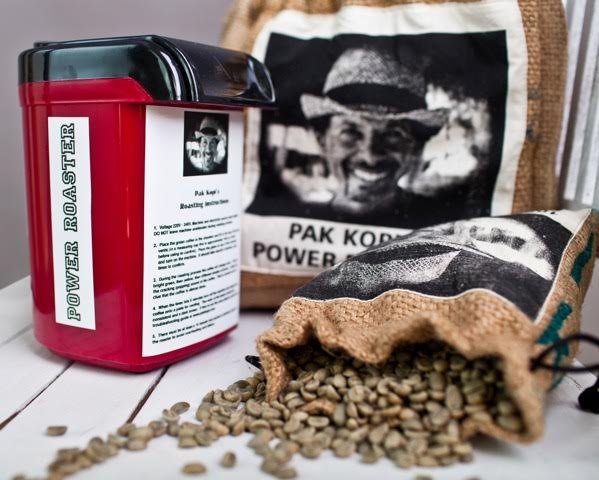 Coffee Early History. My interest and discoveries about coffee led me to some surprising and re-evolutionary ideas. I say re-evolutionary because I first went back into history to understand what the early discoverers and users of this mystical and magical substance were doing.

"They were literally getting high off the stuff. I started to wonder about how they were preparing their coffee." - Asher Yaron
Coffee was helping Monks and Sufi's to attain higher levels of consciousness. A coffee ceremony is a ritualized form of making and drinking coffee. The coffee ceremony is one of the most recognizable parts of Ethiopian culture. I realized that if they have been doing it this way for the past 1,000 years, it must create the best and most potent form of this drug and sacred substance.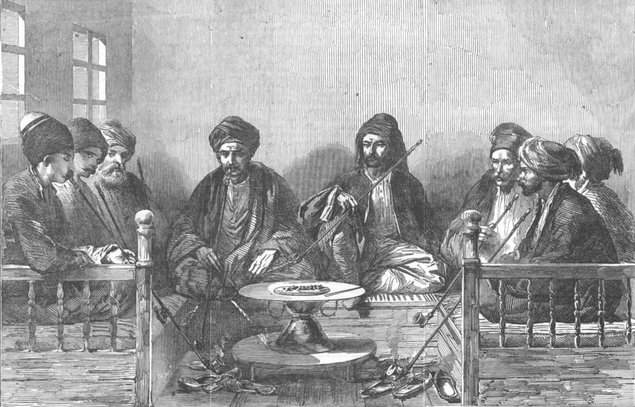 Industrialization of Coffee. As early as 100+ years ago, most people in Europe and in the U.S. roasted their own coffee at home. Small hand turned drums held the coffee while the heat source was usually a gas burner. However, in the early 20th century, instant coffee was invented and the convenience overshadowed the loss of quality. This was the start of the commoditization and commercialization that was dominated by large corporations.
Starbucks and the 3rd Wave. In the mid 1960's and early 1970's specialty coffee was making an appearance on the West Coast as Peet's Coffee, and later Starbuck's was created. These pioneering companies were using Italian Espresso machines and roasting their coffee in large quantities and then using newly created vacuum sealed packaging to distribute their "fresh" coffee. Peet's freshness guarantee of 90 days was an improvement over the 2 year forward "best before" date that many coffee companies were using.
The biggest advantage that these specialty coffee cafe's had over the competition was their use of the highest quality Italian Espresso machines and grinders that extracted a higher quality espresso shot. The coffee they were using was still old as compared to the indigenous Ethiopian coffee ceremony. Still, they have been remarkably successful at duplicating Italian methods for the American market and beyond.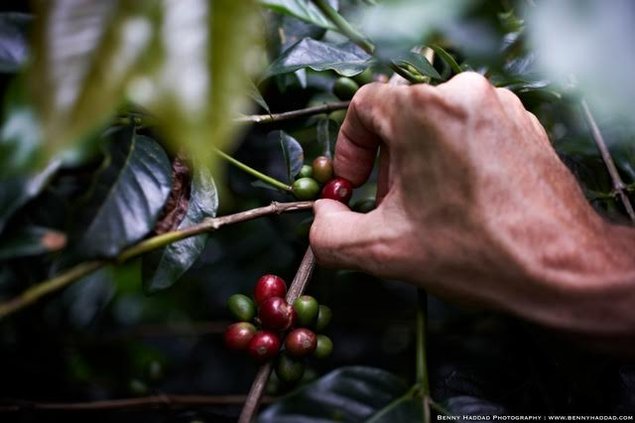 "Just Roasted" and the 4th Wave. As coffee connoisseurs are becoming more knowledgeable about the importance of roasting, more and more roasters are putting the roast dates on their packaging. This is forcing the large specialty coffee companies to disclose their own roast dates or to use the disclaimer on the vacuum sealed packaging as Starbuck's now does, "use within 7 days of opening".
Although the time between roasting and consuming is shortening, it is still far from the optimal "Ethiopian Method" of using right after roasting. However, there are a growing number of home roasters that are essentially duplicating the "Ethiopian Method" by buying green coffee and roasting at home like most people were doing 120 years ago! Consumers are realizing that "fresh is best" and, are now, not only able to re-create the Ethiopian Coffee Ceremony in their own home, but can surpass the quality by using up-to-date superior roasting, grinding, and brewing machines.
This is the future of coffee for the next generation and it will not only be possible to make the best quality and most potent coffee in history, but the consumer can also save money in the process!
Chapter Outline
Introduction and Synopsis - Facts, Figures, and quick helpful information about coffee, "From the Cherry to the Cup!".
1. The History of Coffee, Getting High and Attaining Spiritual Enlightenment -Let's begin with the legends about how coffee was first discovered back in the 6th Century A.D., to the opening of the first coffee shop in Paris in 1672. How coffee was originally used as a powerful medicinal drug that helped usher in "The Age of Enlightenment."
2. Expansion Throughout the World - The rapid expansion of Coffee's popularity throughout the world and the rise of Coffee-Houses as the central meeting place for intellectuals and artists.
3. The Evolution of Commercial Coffee Roasting - History and evolution of commercial roasting techniques and machinery.
4. My Personal Coffee Roasting Journey - A detailed description of the discovery and invention process of the author.
5. The Different Species of Coffee, Arabica, Robusta, and Liberica - These different types of coffee have very different characteristics and effects. The climate in which each species grows, their caffeine content, acidity, taste, and effect on the human nervous system.

6. Invention of Instant Coffee and Industrialization - How the invention of instant coffee and packaging helped spread coffee's accessibility throughout the world while simultaneously decreasing its effectiveness as a useful medicinal quality beverage.
7. Professional Espresso Equipment - The Italians contribution to the coffee brewing process. The invention of the espresso machine and grinders, it's evolution, and the benefits of concentrated coffee extraction.
8. Coffee Cupping, Tasting, and the Focus of the Specialty Coffee Association - For decades coffee has been associated with two distinctive features: taste and caffeine content. Rating systems, roasting guidelines, and barista competitions have all focused on these two aspects while the original medicinal uses and health benefits have been largely ignored.
9. The Best of Both Worlds, Combining Indigenous Knowledge with Technology - The largest coffee companies have not wanted to explore what the indigenous cultures know and have been practicing because they do not believe it is in their economic interest to do so. They have promoted and relied on technology as the sole component of delivering a better product. The indigenous coffee cultures have not had access to the state-of-the-art equipment used today around the world. We explore how it can be extremely profitable to create the best medicinal coffee, reap enormous profits, and save the customer money at the same time, by using indigenous knowledge combined with technologically advanced yet affordable equipment.
10. The Raw Food Connection - The raw food movement has been growing fast as many peoples lives are being positively affected by their choice of consuming fresh, whole, uncooked and unprocessed natural foods. More and more people are understanding that food is imbued with energy and the purer the form of that energy, the healthier it is. It is the same with coffee. Once coffee is roasted, it is like a fresh whole food that is packed with energy and nutrients. Immediately after roasting these chemical compounds start decomposing and disappearing which is why when it comes to coffee, fresh is best!
11. Green Coffee and the Theory of Aging - Most commercial green (unroasted) coffee distributors offer discounts for "old crop" coffee. "Old Crop" refers to coffee that has been harvested and processed prior to the current, newest, or most recent crop. Why? It is believed that there is some deterioration that occurs. This is a fallacy! It is the belief of the author that green coffee actually improves with age. Examples of successful companies that purposefully age their green coffee for years before roasting will be explored. An entirely new segment of the market can be created that is similar to wine and vintage years.
12. The Cafe of the Future - What will the cafe of the future look like 10, 15, 20 years from now? The author will describe his vision of the future and how the current ideas about coffee will be turned upside down and inside out!
Competing and complementary books
Born To Run by Christopher McDougall - A look at the running boom of the 1970's and how faulty science created an entire industry that made billions of dollars on the sale of running shoes.
Start Something That Matters by Blake Mycoskie - An inspiring example of how wealth and success can be created through a desire and focus on giving, sharing, and helping others.
The Gabriel Method by Jon Gabriel - Understanding how human consciousness affects the human bodies' natural functions, and how to effectively train your thoughts and focus to produce the physical body that you desire.
Marketing and how funds will be used
This concept has a large and growing follower base. TEDx viewers are a strong community of coffee drinkers and enthusiasts who share my passion for better coffee and utilizing the benefits of roasting for a better and more focused high.
Funds obtained from your preorder sales will go towards fulfillment and running first batch printing (with Special Acknowledgements section). Funds obtained will also go towards finding a publisher who can provide resources to scale this message to the furthest corners of the world.
Press
The Jakarta Post, Exquisite Taste Magazine, Jetstar Magazine, Espresso Magazine - Moluca Beleza!, Hong Kong Magazine, Coffee University
"A truly ethical cup of great coffee can now be had in the heart of Bali."
- Matt Mackay, Jestar Magazine, "Freaking Good Coffee."
Thank you!
If you like what you see, please join me on this journey and pledge to help me make this fresh coffee revolution a reality in more corners of the world. Thank you!
Please share this page on your Facebook page, Instagram account, Twitter, or via Email. We hope to get the word out to coffee drinkers and enthusiasts like yourself, who want to enjoy and have access to the best coffee in the world!
Bottoms Up!
- Asher Yaron