As everyone knows, life can surprise you with great things and difficult challenges that can push you to be even better. This project has surprised us with more emotional challenges by bringing up memories we didn't think would effect us as much as it has. As we describe in one of the chapters, we've worked on our emotional stability for many years and successfully managed to find the silver lining in most situations.
As we have been completing chapters 1,2, and 6 of Joe's illustrated side, we decided to push through chapter 5. This is the most emotionally challenging chapter showing the worst of my many hospital visits. Our goal has been to finish illustrating one chapter a month, but we did not anticipate the difficulties we would have with this chapter. It has taken much longer. Not only does Joe feel every detail and portrays it as he draws, I am currently going through another health challenge. Again, in our current situation, we are preparing for me to have yet another surgery. This is my second surgery in less than 2 years for endometriosis which is causing severe abdominal pain and other health issues. So not only are we currently going through more hospital visits, we are reminded daily of the previous hospital visits as we draw these memories.
We are both steadily pushing through the physical pain (for Amy) and the emotional stress (for both of us). This book is truly a passion project that must be completed.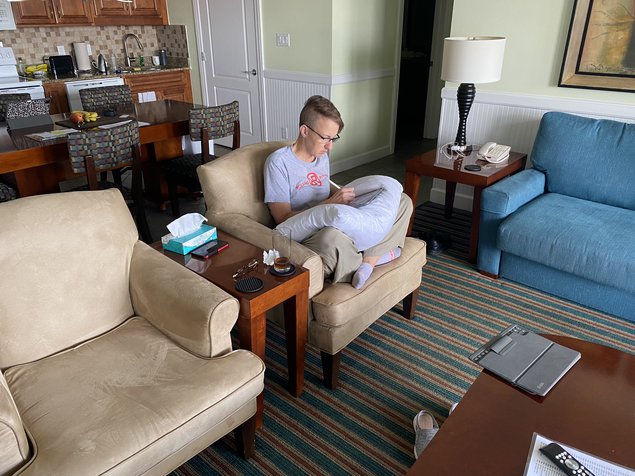 Today I worked on cleaning up page 83 of Joe's side. It surprised me how I had to hold back the tears as I worked. I had to convince myself to just focus on the lines and shapes, not the repeat hospital visits. This page also reminded me of the dedication Joe still has for me and our relationship, even after all these years, to stick with me through everything.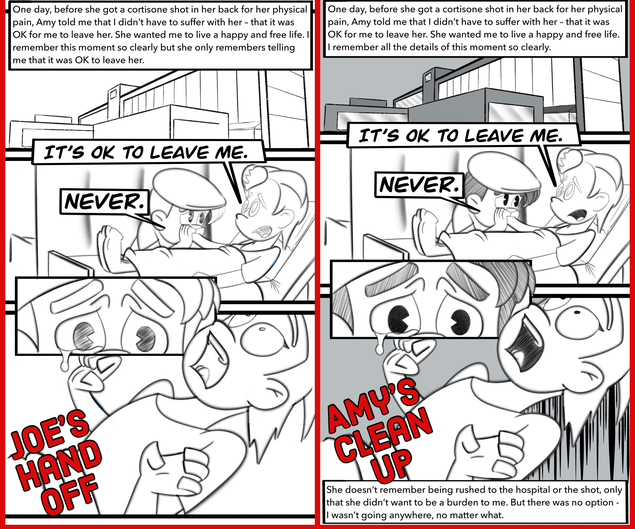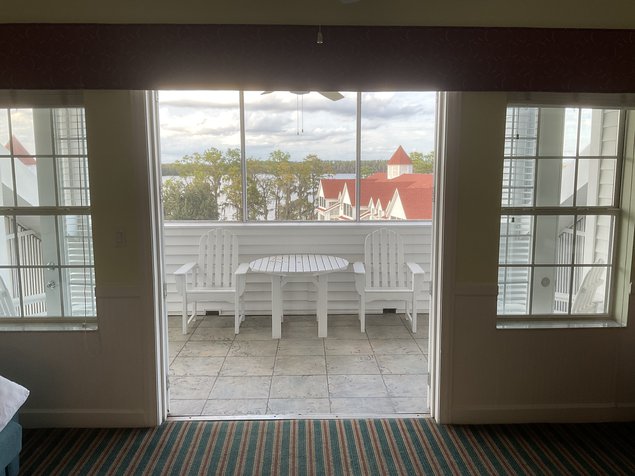 The next chapter we will be working on is chapter 3 with 21 pages, one of the largest chapters. This one will be a welcomed change, the beautiful journey of how we fell in love and got married. After chapter 3 is complete, Joe's side will have 5 of the 10 chapters with completed illustrations. The rest of the chapters have 13 or 11 pages and we anticipate moving through them fairly quickly after my surgery at the end of November. Luckily, sitting in bed recovering from major abdominal surgery works fairly well with sitting quietly and drawing for hours. Although this still may not be the last surgery we have to go through, focusing on our book has been a welcomed distraction from the current situation.

This project has turned out to be so much more than telling some stories about our past. It is helping us through our present moments. Please share the link with anyone you feel may benefit or enjoy reading our book. Thank you all for your support and looking forward to the completion and release of this book in 2023.