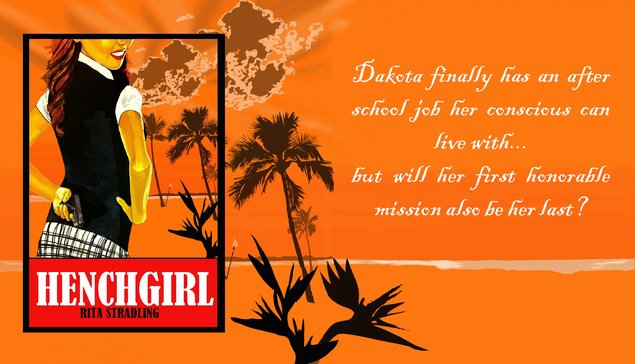 Henchgirl
Henchgirl is a Young Adult Urban Fantasy Novel. This is a complete novel that has already been set for publication on January 12, 2016. This novel is both contemporary and high fantasy.


Target Market
While Henchgirl was written intended for ages fourteen to nineteen, it has romantic elements and an emotional complexity that would appeal to an older audience. According to Bowker Market research, 55% of young adult books are bought by adults and the vast majority buy them for themselves. Of that adult audience, 28% are between the ages of thirty and their mid forties. With such a divided audience, Henchgirl has specific elements that have shown to appeal to each age group within this market.
The main character, Dakota, has a supernatural power that is unique and strong, she finds herself in a Cinderella-type romance and deals with day-to-day teenage problems such as high school and a crush on a boy, all elements that appeal to teens. At the same time, Henchgirl has many facets that appeal to adult readers; due to unfortunate circumstances, Dakota is the sole provider for her sisters and mother with her job as an enforcer for her draconic mafia family. Much of the novel is devoted to Dakota's work along with her complicated and emotional family situation. The romantic interest in the novel is overbearing and controlling, while the main character's reaction to him is to be defiant and rejecting, this creates an angst filled romance which has proven to appeal to older young adult, new adult and adult markets, alike.
Blurb:
The children of dragons and humans, the dracons, control eighty percent of the world's governments. Humans worldwide are either subservient or prey. On the small vacation island of Mabi, humans call for war.

Sixteen year old Dakota Kekoa lives a double life. By day, she pretends to be a human to infiltrate Mabi Academy, a 'human's only' high-school. At night, she works as a henchman for her draconic mafia family, utilizing her ability to steal and manipulate emotions.

When Dakota's human friend is kidnapped, she takes on the mission to find her. This is not just any mission though; she is diving head first into the escalating conflict between humans and dracons. As more girls disappear and some are discovered dead, Dakota realizes her first honorable mission may also be her last.
Trailer:


Marketing Plan:
Along with using my blog and twitter accounts for social networking, I have several marketing strategies in place for Henchgirl.
Henchgirl has a month long blog tour running through Enchanted Book Promotions with interviews, excerpts, giveaways and reviews on various blogs. There will also be a release day party arranged through Enchanted Book Promotions.
The novel is on NetGalley and is steadily receiving reviews from early reviewers, many of them plan to post on various retail websites on the release day.
Henchgirl is available through Ingram and will be listed on their catalogue to bookstores. Henchgirl will be available to the majority of online book and e-book sellers.
An "on-sale" promotion will be attempted through Bookbub in January.
A five chapter "sneak peek" has been published for free through most online e-book sellers.
Continuous ads have been running on Goodreads for two months.
Link to the blog tour going on now: interviews, excerpts, giveaways and more
http://www.enchantedbookpromotions.com/th_gallery/...
The release day party:
http://www.enchantedbookpromotions.com/scheduling-...
Reviews on Goodreads:
https://www.goodreads.com/book/show/27181052-hench...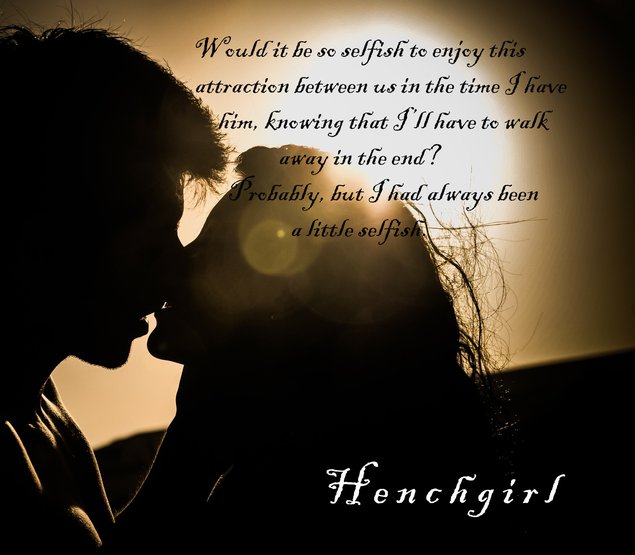 Teaser:
Wyvern dodged a head on collision with a quick turn of the wheel, almost side swiping
the car beside us.

"You purchased rental car insurance, right?" I asked when I could unclench my jaw.
"Why?" he asked.

"I'm just thinking that you will probably survive when we go off the cliff but I have some
serious doubts about whether I or the car will."

"I doubt the car has insurance," he said, not slowing down, "Whoever rented this spared
every expense."

If his voice was not so serious I'd be suspicious that he just made a joke. Then the
meaning of his words sunk in. "This isn't your rental car?" I asked.

He leveled a look on me like he thought I could count my IQ points on my fingers and
toes. "My car was blocked in," he said as if it was the most logical thing in the world.

I opened the glove-compartment to find the rental contract; but within the compartment
was a solid wall of candy wrappers and fast food bags, as if someone tried to clean the car but
had not discovered the wonders of a trash receptacle yet. I peeled the contract off the very
bottom of the trash brick, it was covered in ketchup. "Figures. It's my aunt Milda's car," I said.
"And yeah, she did not get insurance. Ok, so, let me make sure I'm getting this right...you stole
this car from my aunt Milda because you did not want to wait for the valet to get yours out?"
He did not answer.

"I wonder if they make drake-serpent-leather straitjackets," I mumbled.


Teaser:
"You got me suspended," I said.

"I'm sure it wasn't all my doing," Wyvern said with a smirk.

"You jerk," I said while smiling and attempting to smack his shoulder but he caught my
hand.

Now, he held both my arms and he did not let go of them either when I pulled. He just
gave me a wicked grin.

"Second," I said, "You show up at another assignment and ruined my chances of going
back to Keanu's house with him."

"I don't feel bad at all about that one," he said, still smiling roguishly.
"You should," I said, pulling hard to free my arms but he only moved out of the chair,
leaning forward with one leg on the bed.

"Third," I said, "You tricked me into a contract with you."

"I definitely don't feel bad about that one," he said as he climbed entirely on the bed still
restraining my hands between us. "Anything else?"

"You keep trying to push me around," I said, my voice unsteady as he leaned closer to

"I only do it because you make it so much fun," he said.

"You're a bit of a jerk," I said.

"You like it," he said, he leaned in so close his lips brushed mine ever so gently.

"You're going to kiss me," I whispered.

"Yes," he whispered back and then he closed that little bit of distance and his lips pushed
into mine.