Today, an organization's survival ultimately rests on how well (and fast!) it creates value. That's why decision-makers consistently rate business intelligence as one of their top investment priorities. They depend on information to help them compete in a world where disruption is a constant and speed an obsession. But recognizing the need for BI is one thing. Effectively using it to create value is an entirely different matter.

Hyper is the essential quick-read guide for busy business and IT professionals struggling to
make BI work. Packed with pragmatic advice, proven methods, and real-world tools, this book provides straight talk on how to finally deliver BI in a hyper-responsive, hyper-agile, and
hyper-flexible way. Inside you will discover:
Ways to overcome the 4 primary challenges associated with BI planning and execution
Methods to create, validate, and communicate requirements that accelerate decision-making
How to deliver quick wins that drive end-user adoption and long-lasting solutions
Plus, you'll find practical tips from years of hands-on field work. Hyper will change the way you think about, plan, and execute BI. For real results, real fast!
---
What well-known and well-respected industry leaders are saying about Hyper:
"A must-read guide for any self-respecting BI professional"- Wayne Eckerson, Founder and Principal Consultant, Eckerson Group
"...the dream of high-quality business intelligence has remained tantalizingly out of reach for most. Hyper provides straightfoward, business-oriented insights about how to make that dream a reality. Experience is the best teacher, and Steffine clearly has a lot of it." - Thomas H. Davenport, Distinguished Professor, Babson College, and author of Competing on Analytics
"Look to Hyper...to kick-start and reenergize your effort at building a responsive, agile, and flexible BI competency." - Foreword by Boris Evelson, Vice President and Principal Analyst, Forrester Research, Inc.
---
What practitioners are saying about Hyper:
"Hyper leads you down an intelligent path to accelerateddecision-making with simple, yet powerful methods that quickly align the business, establish priorities, gather requirements, and deliver results. It covers important concepts and strategies necessary for BI success and providesthe kind of relevant and practical insight that only comes from years of experience." -Sri Hari Naidu Seepana, Analytics Manager, eBay Inc.
"A clear, insightful, and to-the-point strategy for making BI work. This is a must read for every BI professional." - Jeremy Jackson, Chief Executive Officer, simpleBI
"I finished a major BI requirements elicitation session just before reading Hyper. I thought that the process and rigor behind the book was compelling enough that I'm going to call key players back and redo it, this time using Greg's methodology. I realized that I made some serious misses without it. Really happy to get some clarity around this area of responsibility." - Roland Hess, Senior Technical Solutions Consultant, Google, Inc.
"We all know the principle, 'You can only manage what you can measure.' We also know that, for speed and responsiveness, we need to push decision-making down in the organization. Somehow, though, we tend to overcomplicate the solution and waste a lot of time, energy, and opportunity in the process. Hyper brings us back to an important reality: to keep it simple, involve the whole team, and have the flexibility to iterate through a solution that delivers real value incrementally." - Kevin Deacon, International Marketing and Business Strategy, Siemens Industry, Inc.
"Data fuels business, and only those firms able to quickly extract and utilize intelligence from their data assets will win in the 21st century. In Hyper, Steffine condenses decades of experience and lessons learned into a guide of tips and techniques business leaders can use to drive value from information." - Jay Zaidi, Managing Partner, AlyData
"While everyone talks about 'big data' and 'predictive analytics,' Hyper cuts through all of the unproductive 'hype' by providing a simple and effective framework to align, define, and deliver business intelligence in a quick and agile manner. Steffine's powerful set of guidelines on how to perform accelerated planning and execution are invaluable in helping any executive who needs actionable insight to support ongoing business transformation and change in today's global environment." - Tom De Winne, Vice President of Business Transformation, Pcubed
"When it comes to business intelligence, business and technical leaders often struggle to keep pace with and adapt to the ever-changing and complex business landscape in which they operate. Hyper helps by presenting a better approach to BI planning and execution—one that effectively addresses fundamental issues and yields impactful outcomes as a result. Well-written and well done." - Karan Talwar, Advisor, Pharmacy Analytics Center of Excellence, CVS Health
"I don't want 'data' at my fingertips. I want data that's transformed into relevant, timely, and easily accessible 'information' so I'm empowered to make faster and smarter business decisions. Hyper is a pragmatic guide that challenges business and IT to move beyond simply managing data to a place where they can quickly and routinely deliver actionable insight. This book is a must read for executives who want to use business intelligence as a competitive differentiator." - Gary Smelko, EVP Transportation and Terminals, Guttman Energy, Inc.
"For many people, business intelligence is all about technology. What I appreciate most about Hyper is its focus on business and the practical use of information for solving business problems. Steffine moves his readers methodically through a planning and execution process that ultimately delivers the capability an organization needs for quick, dynamic interpretation of information." - David Hanna, Senior Informatics Lead - Data Science, Informatics, Aetna
"Hyper provides an insightful, thought-provoking look into the world of business intelligence, and it's sure to challenge many of the pre-conceived notions practitioners have about how to make BI work. In keeping with its name, Hyper is a fast-paced quick read that presents a cutting-edge BI planning and execution model." - Scott Cesare, BI Data Architect, Fortune 500 Regional Bank
"Now more than ever the C-Suite turns first to their BI experts to guide them through their most complex and important business decisions. Hyper is an exceptional, practical guide written for BI professionals who want to position themselves out in front of their organizations armed with real-time data, smart analytic processes, and ways to communicate complex information simply." - Blake R. Zenger, Chief Informatics Officer, Equity Healthcare (Blackstone)
---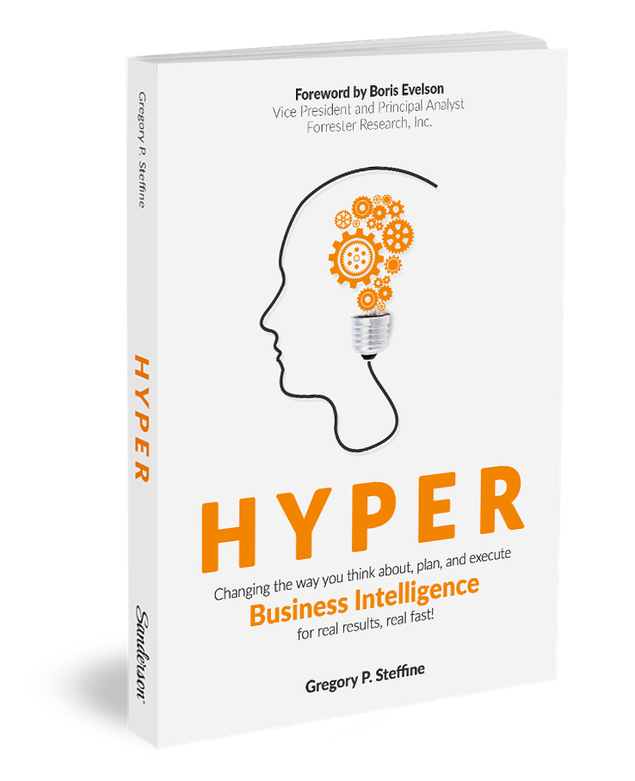 For far too many organizations, information remains an untapped resource. It was that way when I began my career in 1986, and it's still that way today—despite our desire to be "smarter" about how we conduct business, despite massive investments we've made over the years in technological advancements around data, and despite the knowledge that (as Thornton May puts it in his book, The New know) "business analytics is the critical competency of the new age."

As a long-time consultant, I've had the privilege of working with companies both big and small—from the Fortune 500 to mid-market growth organizations. One thing I've consistently noticed is that, regardless of company size or industry, organizations struggle to leverage information for
competitive advantage because of the way they think about, plan, and execute their BI initiatives. My former colleagues at Deloitte call it the "inertia of good intentions"—personal behavior created by "institutional routines, obligations, and pressures" that actually hold many back (unsuspectingly) from delivering the kind of value their organizations need when they need it.
The vision of every organization is to create value. Hyper is intended to help you think about, plan, and execute BI differently so you can close the gap between that vision and the
reality most companies face. Hyper is all about "speed-to-information"—providing business leaders with the insight they need to take action before their decision windows close.
This book is an extension of my work, so in it you'll find the same ideas, methods, and tools I've developed and effectively used over the course of my career to help build smarter organizations. Hyper is not a technical resource on how to architect, deploy, or govern a BI solution. It
assumes you already know how to do that. Rather, it shows you how you can accelerate the value of business intelligence through organizational alignment, right requirements, and the identification of quick wins.
Hyper is organized into 5 sections comprising 29 chapters and an appendix of valuable resources I reference on a routine basis. Here's an overview.
---
SECTION 1 - UNDERSTANDING BI
Information is the one thing an organization creates that its competitors can't replicate. In this section, you'll learn that value creation is the primary role of every organization. I introduce you to the BI Value Chain and the Value Enablers that support the creation of value. And I describe the very problem most organizations encounter when they try to make BI work.
Chapter 1 – Value Creation
An organization's survival ultimately rests on how well it creates and maximizes value for its stakeholder groups, and business intelligence plays an instrumental role.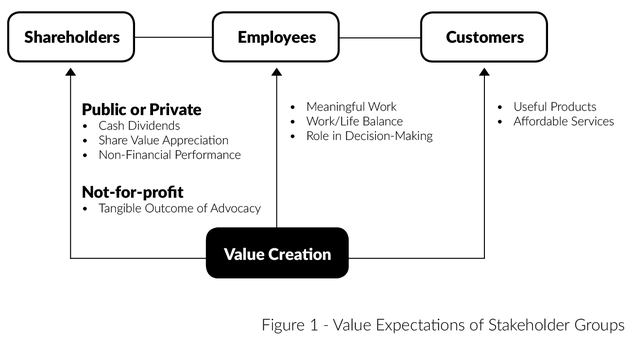 Chapter 2 – The BI Value Chain
The BI Value Chain is a series of business principles that, when properly linked, enables business leaders (and all knowledge workers for that matter) to harness the power of information to create and maximize value.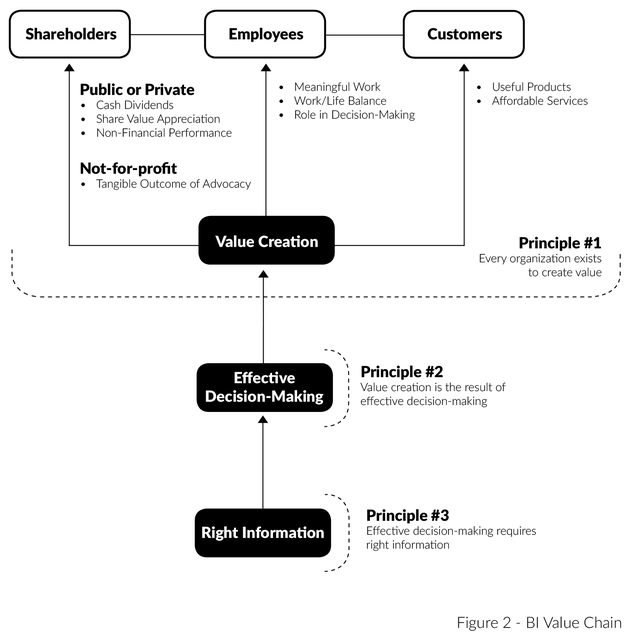 Chapter 3 – Value Enablers
Value Enablers underpin an organization's decision support system. The extent to which these enablers interrelate ultimately determines how well an organization uses information to manage, optimize, and innovate.
Chapter 4 – The Problem with BI
Too many organizations today live in what futurist and author Thornton May calls the "analytical dark ages." Executives are simply unable to capitalize on BI's promise of turning actionable insight into real business value because information they need is either limited or missing entirely from the decision-making process. But why?
---
SECTION 2 - THE IMPERATIVES FOR SUCCESS
The challenges organizations face when they attempt to build an effective BI competency must be addressed because they battle against the organizational alignment, collaboration, and trust that's ultimately required for success. In this section, I introduce you to actionable steps you can take to overcome the challenges with BI.
Chapter 5 – Addressing the Problem with BI
The Imperatives for Success represent four actionable steps you can take to effectively address the challenges associated with BI planning and execution. I cover them here.
Chapter 6 – Unify
What we believe influences how we behave, so unifying your organization begins with aligning many unique and often divergent perspectives on business intelligence.
Chapter 7 – Simplify
Complexity is wreaking havoc on business. In this chapter I discuss the top 5 priorities for keeping BI simple in order to make BI work.
Chapter 8 – Amplify
Left unattended, the culture of most organizations will marginalize a BI initiative to the point of limited and unacceptable return. Here I discuss the importance of socializing, marketing, and selling your initiative.
Chapter 9 – Qualify
Studies continue to illustrate broad dissatisfaction with business intelligence. The real problem with BI adoption is that few organizations qualify success, and fewer still proactively monitor and measure BI performance against evolving end-user expectations.
Chapter 10 – The Importance of Collaboration
BI only works when business and IT work together. In this chapter I discuss the importance of bridging something I call The Understanding Gap.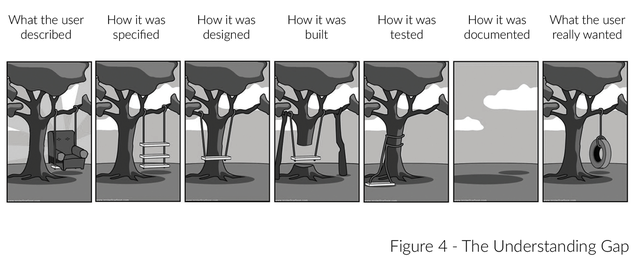 ---
SECTION 3 - METHODS TO ACCELERATE PLANNING
Planning is preparation for action. Delivering data that is relevant, information that is meaningful, and insight that is actionable requires planning that's both fast and effective. In this section, I introduce a unique 8-step process that helps you to quickly create, validate, and communicate requirements that prepare you for action--in days, not weeks or months.
Chapter 11 – Building Requirements for Quick Wins and Beyond
Truth be told, creating requirements for business intelligence can be tough business. In this chapter, you'll learn a new approach centered around something I call the Quick Wins Model.
Chapter 12 – Painting the Big Picture
"Painting the big picture" is the cornerstone of an effective and sustainable business intelligence competency and the first step in the requirements-gathering process. Here you'll learn how to use a tool I developed called the Aspirational Model.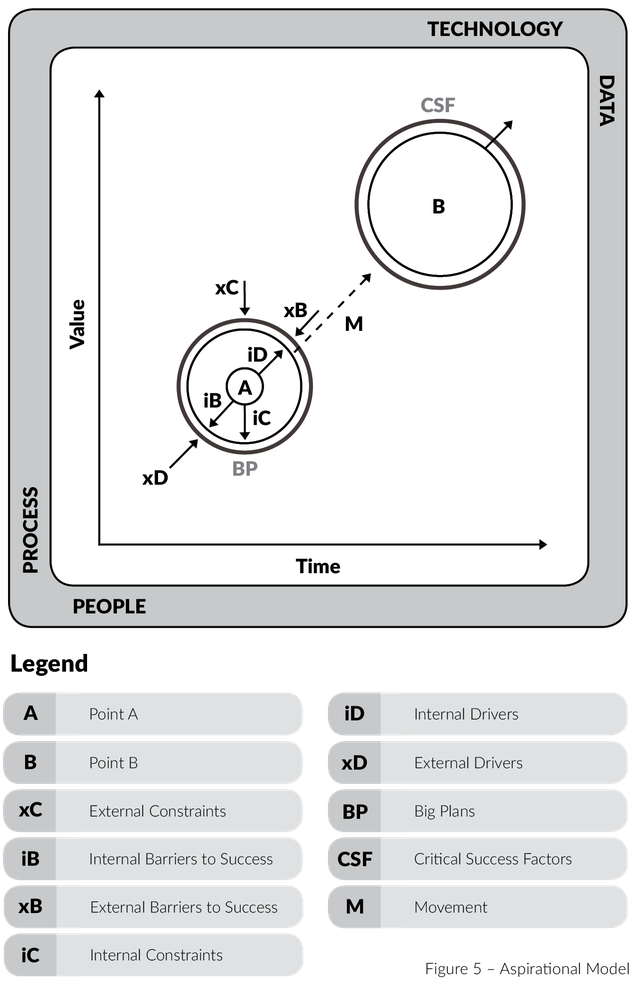 Chapter 13 – Prioritizing Mission-Critical Information Needs
Your ability to deliver insight that's relevant, timely, and actionable requires a fundamental understanding of the key strategic, tactical, and operational questions decision-makers attempt to answer on a routine basis. Here I discuss a method called Key Question Analysis.
Chapter 14 – Building the Information Universe
The Information Universe is a logical representation of the information decision-makers need to effectively monitor and measure business performance. In this chapter I describe a method of gathering and graphically-depicting stakeholder requirements as a Spider Diagram using a method called Information Modeling.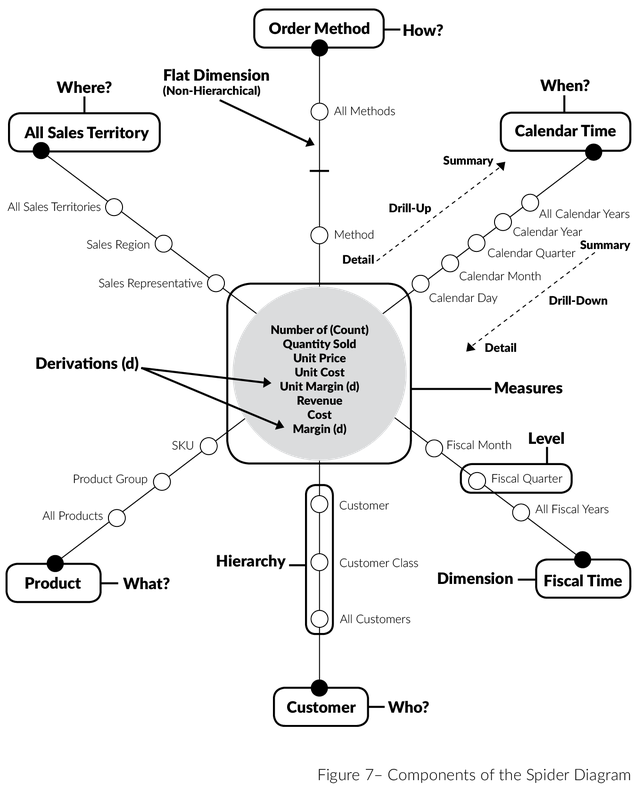 Chapter 15 – Validating the Information Model
Report Decomposition is a requirements validation technique used to ensure the Information universe is as accuUate and complete as possible. This chapter discusses the process to validate the information model.
Chapter 16 – Bridging the Gap Between Business and IT
The Spider Diagram is an effective technique for eliciting and documenting information requirements because it mimics the way business users think. Its format, though, does very little to foster understanding for practitioners in IT responsible for specifying, building, and delivering on those needs. Here I discuss the process of Model Transformation to help bridge-the-gap between business and IT.
Chapter 17 – Mapping the Data
In this chapter I discuss the method to identify relevant, required data to support stakeholder needs and present three important questions you need to answer in order to be successful.
Chapter 18 – Creating the Execution Plan
To prepare for accelerated execution, it's important to distill all of the requirements you've captured into a strategically-aligned execution plan you can deliver with a high-probability of success. The method I present here is called Action Planning supported by the Input-Evaluate-Recommend Model.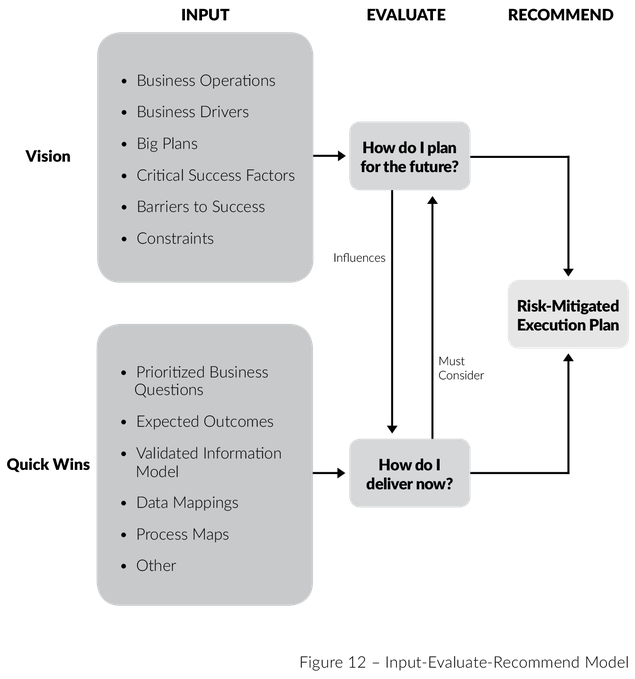 Chapter 19 – Documenting Your Findings
The final step in the Quick Wins Model is the creation of a complete and thorough findings and recommendations document. It is the primary vehicle you use to cement stakeholder commitment and to educate and inform those business and IT professionals who didn't participate in the requirements-gathering process.
---
SECTION 4 - WAYS TO ACCELERATE EXECUTION
In this section I cover three important topics that are vital to ensuring your execution goes off without a hitch: speed, promotion, and continuous improvement.
Chapter 20 – Be Quick and Nimble
In business today, it is imperative that organizations find a way to capitalize on opportunities that surface from market disruption. Organizations have to be quick and nimble, and in this chapter I present the top 10 tips for ensuring you operate that way.
Chapter 21 – Socialize, Market and Sell
Here I present the top 5 things you can do to build momentum and excitement and, as a result, avoid the negative impact of skeptics and naysayers.
Chapter 22 – Monitor, Evaluate and Evolve
Building a BI competency is an evolutionary process. Unfortunately, many organizations forget that and pay the price as a result. In this chapter, I discuss the importance of "failing fast" and why you need to proactively monitor, evaluate, and evolve your BI capability in order to make it work.
Chapter 23 – Bringing It All Together
This book presents a number of methods and tips to help you accelerate BI planning and execution. I developed the Hyper Framework to help you visually organize these elements into one cohesive and easy-to-understand reference model.
---
SECTION 5 - BEYOND QUICK WINS
Delivering BI that really works is tough and often requires a level of know-how that only comes with years of practical experience. This book is designed to help accelerate your understanding of proven practices and field-tested methods to help increase the likelihood of success. In this section, I present some thoughts and offer-up some tips on additional items that are just as important but are rarely addressed.
Chapter 24 – Effective Group Facilitation
What's it take to be a great facilitator? My top 5 tips are here.
Chapter 25 – Thoughts On Information Delivery
Too many practitioners think 3D pie charts are cool, and they love traffic lights, meters, and cute little gauges. This chapter presents my perspective on information delivery and the importance of education and discipline to prevent falling flat on end-user expectations.
Chapter 26 – Another Perspective on Big Data
Don't get distracted. In my view, big data should only be a big deal for organizations already experienced in using the information they have to better manage and optimize the enterprise. I discuss it here.
Chapter 27 – Working With Consultants
When it comes to working with consultants, I find that perception, fear, tradition, or ignorance often clouds the attitude, behavior, thinking, or judgment of client personnel. It's unproductive and an unnecessary waste of energy. In this chapter I present 4 tips for building a strong, healthy consulting relationship.
Chapter 28 – Characteristics of a Hyper Mindset
A Hyper mindset is a unique type of mindset. In fact, I often consider someone who does exhibit it as a sort of business superhero--an ordinary person with an extraordinary attitude. Someone with a passion for the possible and an unrelenting will to do transformative work. Here you'll discover the 10 characteristics that best represent a Hyper mindset.
Chapter 29 – A Final Word
I am a firm believer in the synergistic power of the group and the value of the intellectual capital that results from effective collaboration. In this chapter I discuss the importance of feedback and hearing your thoughts and ideas.
---
APPENDIX - RECOMMENDED RESOURCES
The appendix lists a series of books that offers various perspectives on business, business intelligence, and value creation; relevant websites; links to the research community for unbiased perspectives on business intelligence, analytics, and big data; and specialists that often provide the thought-leadership, innovative ideas, and best practices you need to be successful.
---
---
You'll also find throughout this book a liberal use of graphics to help highlight and deepen your understanding of key concepts. Some of the concepts will be new to you. Others will be familiar. Build on the ideas presented in this book and make them your own. Customize them to suit your
needs and the needs of your organization.
Lastly, it's always tough naming a book. I picked the prefix "Hyper" because it most accurately denotes the energy and action every business requires from the people, processes, and technology that underpin an effective BI competency. In my experience, BI works best when people are Hyper-responsive, processes are Hyper-agile, and technology is Hyper-flexible.