1. We've hit 100% - yes, thanks to Hardi Bramantio backing us as a Patron, we've made it through our target and going for our stretch goal. We've an exclusive opportunity for Patrons only to get upclose with a CEO of his/her choice and also, win a copy of the INSPIRIT book with the autographs of all 12 CEOs so check out this link
2. Books Production - the books will be printed and delivered to our office by mid to late March and in late March (planned), we'll hold our official book launch. At that time, if you have pre-ordered a physical soft-copy of the book, you are cordially invited to join us in our community book launch. Don't worry if you can't make it as the soft-copy book will also be delivered to your given address but please give us 1-2 weeks processing time. E-book versions will also be sent out sometime mid to late March too.
UPDATE - As of 24 Dec 2014 (Yes, Christmas Eve :))
1. We are funded at 94%!! - after weeks of negotiation with a sponsor and a couple new clients (and you know how tough it is in the month of December!), we have finally aggregated enough funds to set us up for a joyous success on the Eve of Christmas! BUT, we still have 10 days more go so if you know of a friend or closed one who can benefit from becoming a better speaker in 2015 - get a pre-order of INSPIRIT book for them!
2. Soft-cover book - we are apologetic for this after having our Publisher point out that the books we'll be printing are soft cover books, instead of hard covers ones. This is primarily due to the book length we are expecting - 160 - 180 pages for a standard full-length non-fiction title. With such dimensions, a hard-cover will not be realistic production and finances wise and we don't want to pass on unnecessary costs to our beloved readers (read: you!)
---
Discover How 12 Leading Asian CEOs Build Their Personal and Professional Brand, Grow Their Businesses and Inspire Action From Their Audience
Story of INSPIRIT (Why I Write This Book?)
After coaching corporate executives to be "stage-ready" over the past 6 years, I realize that public speaking, or the fear of it, can be managed!
When that can be handled on the psychological level, the next steps are really methodically handling the content design and delivery legs of a presentation. Yet after reading over 20 public speaking books myself, I realize sometimes, the content may not comprehensively contained in one title. And if it is, it takes considerable time to work through the complliterature before one can apply content! Also, the examples and references may be too distant for us in Asia.
I intend for this book to work around all these issues! When you read this book, you will be taken through in a step-by-step fashion from speech conceptualization all the way to evaluating your own speech so you get closer to become a better speaker and presenter in public! This book also contains invaluable insights on public speaking, entrepreneurship, career development from 12 brilliant Asian CEOs.
To augment the learning experience, worksheets, frameworks and other speech delivery resources will also be released as free downloads for readers to use in their preparation for their next speech or presentation.
So if becoming a better speaker in 2015 is on your "to-do list", then the INSPIRIT book is for you.
Reader's Benefit (What Will I Learn?)
This book is especially written for you if you want to find out:
How you can think and speak like a CEO and be a source of inspiration for your audience, staff and followers
What it takes for you to constantly stay in peak performance on stage and off
Who are the inspirational figures and models of leadership for CEOs from leading companies like LinkedIn, Bain & Company, Mondelez International (formerly Kraft Foods), Maxus Global (Part of GroupM), ONG&ONG, Propnex, 77th Street, O&L Consultancy, RecruitPlus, ONE Fighting Championship, FLY Entertainment, Red Dot Ventures
How you can communicate good news and negative agendas in an authentic and effective manner that expresses empathy and galvanizes action
How you can communicate powerfully and effectively to senior executives, heads of companies and people of authority and power and get a strong 'buy-in'
And many more prized advice from our 12 CEO Contributors and author's 6 years of coaching experience...
What sets INSPIRIT apart from other books
While many books on public speaking are readily available in the market, they are usually highly influenced by Western contexts and references. INSPIRIT seeks to fill this gap by providing fresh perspectives, case studies and examples from 12 Asian CEOs and produced through the lens of an Asian writer.
Target Audience
The intended readers of 'INSPIRIT' are professionals and executives aged 25-50 years old who are aspiring business leaders and entrepreneurs with a huge appetite for growth and personal development.
Profile of Interviewees
(find out more about our CEO profiles, visit our INSPIRIT Book Website)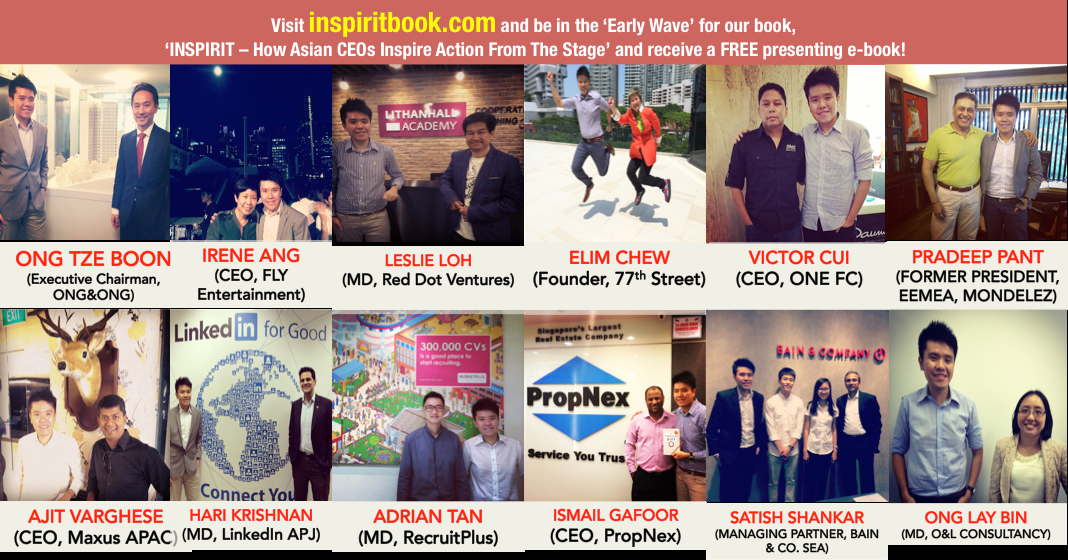 The 12 Asian CEO-level personalities shown above are thought leaders and pioneers in their respective industries. They belong to a wide array of industries, such as management consulting, property, architecture, technology, sports, FMCG, fashion, entertainment, marketing and education. Collectively, the companies they represent are located in more than 50 countries across the globe and they manage over 100,000 employees globally.
INSPIRIT Pre-order Tiers - Illustrated


Praises For The Author

"Although I only had one session with Benjamin it was immediately clear that he was very knowledgable on public speaking and straight away added value with his input. I would definitely look to work with him again in the future."
Ken Sielecki, CEO, Olivia Mia
"Benjamin takes time to understand his client's needs and deliver on the brief. This makes it easy to work with him. He is also able to create tailored programmes and has interesting ideas. He is professional and understands his field well. Also, he is energetic, eloquent and comfortable on camera."
Say Xiang Yu, Producer at Channel NewsAsia (CNA)
"My biggest tangible takeaway from Benjamin's coaching?
An immediate closing of a USD$40,000 deal with a client who initially said she wouldn't invest anymore but decided otherwise, after listening to my closing story that led to her taking action."
Fenny Maynard, Sales Director, Walton International Group (Singapore)
"It was a pleasure to have you speak at our recent Town Hall in order to break up what could otherwise for staff be a monotonous session. (...) Being able to properly engage our Generation Y workforce will ensure that we have a dynamic and viable business into the future.
Look forward to engaging you in the future."
Karl Hamann, Chief Executive Officer at QBE Insurance (International) Limited
"Benjamin possesses high integrity and deep knowledge in his area of expertise on public speaking. I sought Benjamin out in preparation for my keynote speech with the hopes that he would offer 'speedy coaching sessions' in anticipation of my upcoming speech. (...)
Benjamin has clarity of his specialization and how he could offer sustainable value. I would recommend him to those who would like a coach for public speaking with deep integrity and results.
Elfarina Zaid, CPCC, ACC, Leadership & Executive Coach, Facilitator and Speaker
INSPIRIT Scholarship (Value of US$1,371)
When you back us as a 'Patron' or for higher tiers, you not only get to enjoy the rewards of being recognized in our 'Our Patrons' section with your full name, you also get to enjoy our partners' offers relating to career search, global English pronunciation, entrepreneurship, marketing and executive image.
Our partners have generously put together a limited-time offer on a complimentary basis only for supporters for the INSPIRIT book who are 'Patron' level and above supporters. They are:
1) Imran Md Ali – Industry Celebrity Online Program of 5 videos (Valued at US$460)
2) Yasmine Khater - Fearless Business Therapy (valued at US$97)
3) Heather Hansen – Speak Clearly & Confidently (valued at US$297)
4) Chan Ngee Key – 30 Days Online Dream Job Search Program (Valued at US$247)
5) Maninder Krishan – 'Appearance matters' – Image Management for Successful Personal Branding (Valued at US$270)
The INSPIRIT Scholarship will be made available to our 'Patron' level and above supporters after the successful closure of the Crowdfunding Campaign.
INSPIRIT Gives Back to MINDS

It's Christmas in a couple of weeks and we know someone out there likewise deserves a gift of education. In the spirit of giving back, for every book you pre-order, 10% of our net proceeds will be pledged to the Movement for the Intellectually Disabled of Singapore (MINDS).
This way, you make a child's life better when you invest in the gift of knowledge for yourself, too.
Key Events
a. Book Launch
To commemorate the launch of "INSPIRIT", a book launch involving some 150-200 attendees will be held in March 2015. Benjamin will be sharing about what inspired him to write this book, and what he has learnt in the process. Furthermore, you will have an exclusive opportunity to have your copy of INSPIRIT signed by Benjamin himself and speak to him on that day.
b. CEO Fireside Chats
From April 2015 onwards, there will be 1 CEO Fireside chat each month which will revolve around pre-selected themes. During the chat, 2 CEOs will be delivering keynote addresses and a Q&A session will be hosted. This is a great opportunity for you to get up close and personal with these CEOs, and ask them questions that you may have in mind.