A young Jack Russel dog follows the circus when it comes to town and joins it when he can't find his way home and becomes world famous performer/singer and bandleader.
| | |
| --- | --- |
| | Children's Adventure |
| | Bali, Indonesia |
| | 18,000 words |
| | 75% complete |
| | 4 publishers interested |
Synopsis
This is an entertaining and quite humorous story of a young Jack Russell dog who follows a circus when it comes to town. He can't find his way home ( where he has been maltreated by a terrible pair of twins) and is adopted by a clown and quickly becomes good friends with a great collection of circus characters and performers, both human and animal, and through tenacity and sheer will power he progresses from a small novelty act with his tricks the other dogs have taught him to the star performer at the circus with other unique tricks that he has developed himself. But he doesn't stop there.He keeps extending himself and progresses to learning to play musical instruments and actually learns to sing by listening to the radio every night . He meets another 'individual ', a young punk who is part of the circus band and together they create the Li'l Fella Big Band. They become the circuses most popular act . A famous record producer takes his children to the circus and "discovers" Li'l Fella and after trying to lure Li'l Fella away as a solo artist recognises the he can't divorce him from everyone who has been so supportive and takes the whole band into a recording studio, where they record a song which quickly becomes a world wide hit.
Which is where we leave them till Book two as we follow their meteoric success until something entirely unexpected happens ..but thats a whole new story!
It is a colourful story which also illustrates the rewards of following your passion powered by commitment to working hard enough to making it happen.
Outline
chapter 0ne: HERE COMES TWUBBLE
Mr Twubble finds a young Jack Russell dog and takes it home for his twin children, known as the "Double Twubbles", to play with. Unfortunately they are in fact The Tewibble Twosome and use L'il Fella like a ball and throw him around between them causing him much pain.He becomes very lonely and sad. .
Chapter Two CIRCUS COME TO TOWN AND "HEY YOU" GOES TO THE CIRCUS
One day the circus comes to town and L'il Fella hears an incredible cacophony of sound and peering through a whole in the fence sees a group of people in bright uniforms marching and playing bright shiny "things" followed by a .procession of animals following them of all shapes and sizes He couldn't help himself and squeezes through the hole in the fence to follow them.
Chapter three
OH NO! HE DOESN'T KNOW HIS WAY HOME
After being caught up in all the excitement and seeing so many animals he'd never seen before Li'L Fella realises he can't remember the way home and with all the different animal scents, he's confused. He's lost in the circus! And then through his tears he hears a warm friendly voice and looks up to see a funny face with a big red nose and meets his new friend.
Chapter four
LI'L FELLA JOINS A BIG NEW COLOURFUL FAMILY
After a good sleep"Hey you" spends the day meeting more new friends and what a colourful collection they are! Nearly all spontaneously call him "Li'l Fella" so "Li'l Fella" becomes his new name. He spends the day being shown around the circus and watching the circus dogs practise their routines.
He meets the Alpha dog who forms an instant liking to him and tells him he will give him an apprenticeship. 'Li'l Fella' spends the rest of the day wondering what an "apprenticeship" is.
Chapter five.

A NEW DAY , A NEW LIFE.
'Li'l Fella' is introduced to more of the human members of the circus, including the Ringmaster, the strongman and the magician. He actually jumps in the air and shows how he can somersault as a result of being thrown around by the Twubbles and makes a great impression , what once created pain now is a source of joy as straight away it was decided he had a role in the circus.
Chapter six

TEACHING A NEW DOG NEW TRICKS.
'Li'l Fella' soon learns what an 'apprenticeship' is as the Alpha dog starts to teach him the tricks that all the circus dogs perform.He takes to the tricks as if they were second nature and being a smart and cheeky Jack Russell already starts to add his own unique touches, making a big impression on everyone who sees him 'performing'.
Chapter seven
LI'L FELLA'S SCHOOL OF THOUGHT: NEVER STOP TRYING AND LEARNING
We explore Li'l Fella's philosophy about putting in the extra hours necessary to progress and achieve success no matter how talented or gifted you are. He spends a large part of his spare time practising not just learning the tricks but improving them and soon becomes one of the most popular attractions at the circus.
Chapter eight
GRADUATING TO BIGGER AND BETTER THINGS
Li'l Fell's quest for improvement and desire to be the best version of himself takes him to the next level of developing his act and being more involved with the human stars of the circus. His potential continues 'unfolding ' and his popularity keeps spreading.
Chapter nine
MARCHING TO A DIFFERENT DRUM
One day when he was relaxing after a heavy day practising he hears the circus band rehearsing and it brings back strong memories of the first time he heard them marching along the street which had attracted him to follow them leading them to his new life in the circus.
After spending all his spare time listening to and watching the band , he is struck by a new idea...he could learn an instrument! A first for a circus dog!!!
He learns both the bass drum and the trumpet and once the band leader happens on him during one of his secret practises he is invited to join the band!
Chapter 10
Li'L FINDS HIS OWN VOICE
After starting to play with the band Li'l Fella and one of the young band members make friends, it turns out he is the son of the Ring Master, an individual in his own right with his punk haircut and clothing and together they spend more time practising together. One day spontaneously, Li'L Fella bursts into song taking himself and his young friend completely by surprise...not only is a dog singing...he is fantastically good...like he was born for this very moment!
Chapter 11
THE LI'L FELLA BIG BAND
Once he reveals this surprising talent he starts to encourage all the other animals to learn an instrument and as they all overcome their own doubts a big band starts to form.They totally surprise all their circus friends and with their encouragement are soon headlining and performing in the circus.
A famous record producer takes his children to the circus and is astounded at what he sees and hears..and starts to manage the band and their fame starts to spread world wide.
He produces a cd and they release it to world acclaim.
Here the story fades to black and you will have to see in the next book in the series whether fame spoils Li'l Fella or whether he will discover even more of his potential!
Audience
I believe the 'readership' is between 4 to 8 years old with parents , or older siblings, who are looking for an entertaining tale they can either read to their children or even teach the children to read themselves. It is an enjoyable story to read which can be quite animated for parents to play their role in it.It also has the underlying inspiration for children that if they love something and try hard enough they have every chance of success..another aspect I am sure parents will appreciate.
Author
PHILIP GJEDSTED: Writer
From the offal room in an abattoirs to Creative Director in successful Australian Advertising Agencies, From Creative Director in Advertising Agencies to independent Branding Consultant and writer/ creative director of corporate films throughout South East Asia, Philip has made his life story telling in one form or other. His work in advertising was awarded highly and just before he left the Agency world to become a consultant and travel the 'real' world on a life long adventure he was voted in the top twenty of Australian Advertising writers. Philip lives in Bali and is using his writing experience to tell stories he loves to write both fiction and non fiction,.

CHRIS GROSZ-Art Director /Illustrator and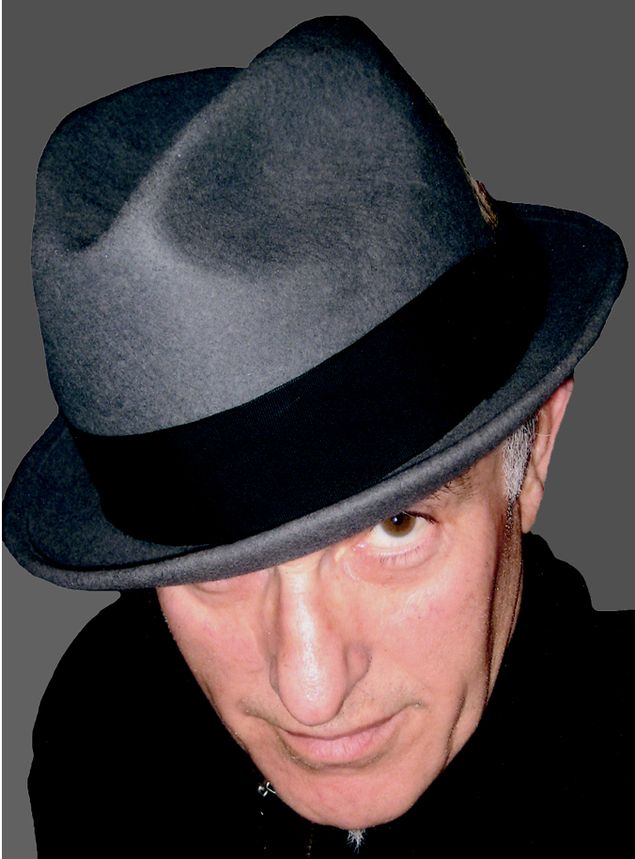 cartoonist
Chris started out as an editorial cartoonist then soon became a print art director. He has worked in Greece , Hong Kong ,Indonesia and Australia and New Zealand and worked on magazines , news papers ,Television and in advertising. Chris and Philip worked as a team in some of Australia's most successful Advertising Agencies. Along with a successful advertising career Chris has also been a poster designer for the music industry and famous international bands and acts including Bob Dylan and Randy Newman. Not content with that diverse list of accomplishments Chris also learnt animation and is currently researching and preparing art for two historically based graphic novels.He had his first Graphic novel 'Kimble bent Malcontent ' published in 2014. An Animated series was created for the ABC in Australia based on an illustrated column Chris did for the Monthly- a current affairs , cultural and political magazine published in Australia.He has illustrated twenty books including children's books , cartoon andSatire.Chris is now a Graphic designer and political cartoonist based in New Zealand and in his spare time is a popular a performing musician and recognised fine artist.
Promotion
Create a whole Li'l Fella culture and "fan Club" and ongoing interactive story via use of social platforms
First is to create the Website, featuring a more detailed background of the "star" simple, selected excerpts from the book, "interviews" with people and animals who have met him on his journey to stardom. Also occasional faux interviews in famous magazines from music , travel, lifestyle and even cooking.

Instagram lends itself to great Li'lFella quotes and simple animated 'giffs' and cut down versions of interviews from website
After a succesful book launch digitally and at selected schools we would then look at actually producing a music track CD or Create a Youtube channel featuring the song, and interviews etc.
Create a blog and newsletter "following " Li'l Fella's adventures .
Do a limited production of T-shirts as give aways and for gifts etc
Production of pp.
Emails to selected interest groups...dog owners, jack russell clubs etc, schools
Create the new story in the series
Competition
The Little Lost Hen by Enid Blyton
The giving tree
Tootle
Peppa Pig.
Paddington Bear.
Dog Man
Captain Underpants
Sample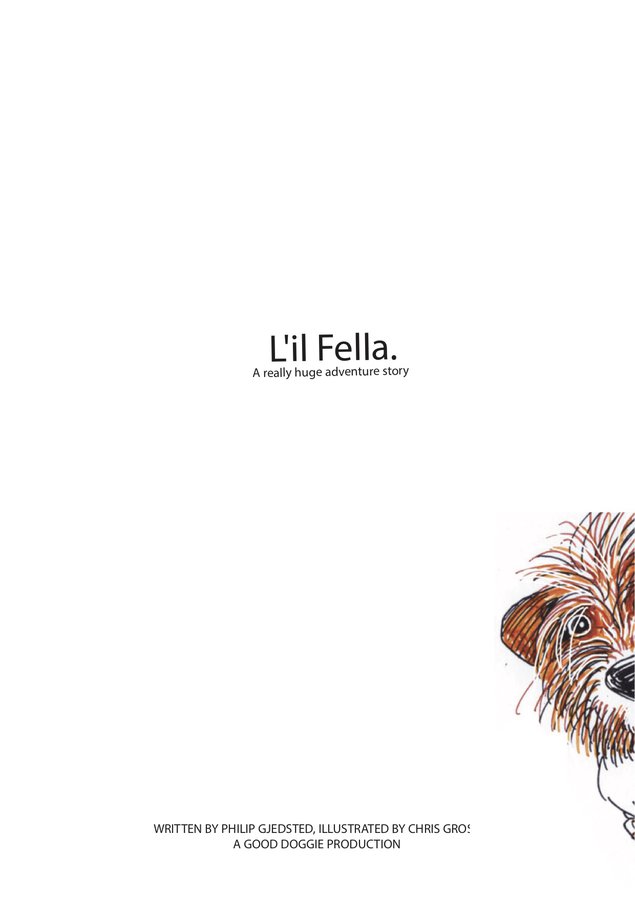 CHAPTER ONE
HERE"S TWUBBLE
Once upon a time there was a family whose name was Twubble.
They were a big family squeezed into a tiny little house.
There was Mum and Dad Twubble and their twin children who everyone called " The Double Twubbles".
One-day big Daddy Twubble found a cute little puppy and thought he'd take it home for the Double Twubbles to play with, hoping that would keep them quiet because they were very noisy children.
The Double Twubbles thought he was a great toy and threw him around like a ball and he would somersault through the air as one Twubble threw him to the next Twubble while they laughed and shrieked.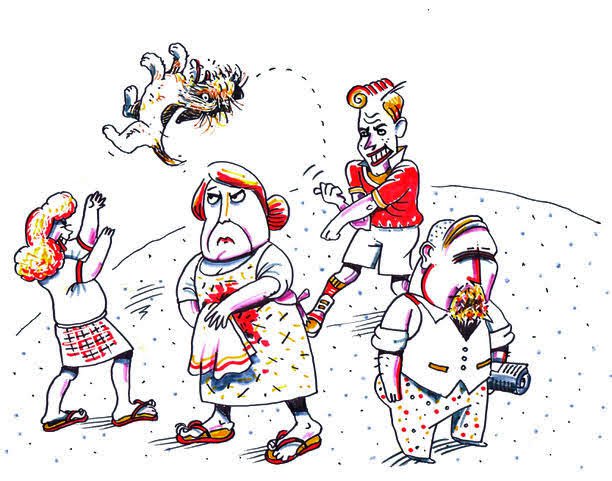 They had great fun pulling his ears and pushing him around and were always calling him "Hey you."
They were always yelling in very loud voices:
" Hey you come here, Hey you get over there Hey you"
And so "Hey You" became his name.
But while the Twubbles were having fun with him, "Hey You" certainly wasn't having fun with them.
He was very sad and thought if he could be more like them they might like him more, and not be so rough and stop hurting him.
"I'll show them" he thought "and then they'll like me."
He'd also been playing with an old ball he'd found, but the Twubbles wouldn't throw it for him to fetch- they'd throw it at him and that really hurt.
The ball was too old for the Twubbles to care about but late at night
when his sadness wouldn't let him sleep he'd play with the ball all by himself,
throwing it up in the air and catching it with his mouth, each time was a
little higher than the last time.
As the novelty of the new dog wore off the Twubbles started to ignore "Hey You" and he got lonelier and lonelier and even lonelier.
He'd try and get some attention by pulling at their coats or their pants
but they would just shoo him away.
He'd dance around on his back legs and throw the ball up in the air with his mouth and catch it.
But nothing about Li'l Fella seemed to interest the Twubbles any more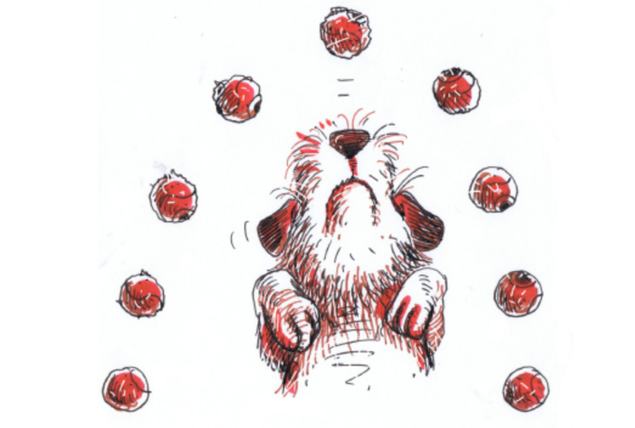 Note: Illustrations similar to above would be turned into simple sequences that would be at the bottom of a number of pages that would animate when the corner of the page is 'flicked'.
CHAPTER 2
THE CIRCUS COMES TO TOWN AND 'HEY YOU' GOES TO THE CIRCUS
Then one day just as he was thinking things couldn't get much worse he heard a lot of noise, happy noise.
And peeping through the hole in the fence
saw a whole group of people in funny bright clothes that were like nothing he had ever seen before.
Some were blowing on shiny things that made big noises; others were hitting big round things that went BOOM! BOOM! and although the noise was a bit scary "Hey You" didn't really care.
This was really exciting and something he had never seen ... or felt ... before.
And then following the humans came all sorts of creatures, giant ones with long, long noses that almost dragged along the ground, and other ones with humps on their backs, and yet others that looked like they had been painted in black and white stripes .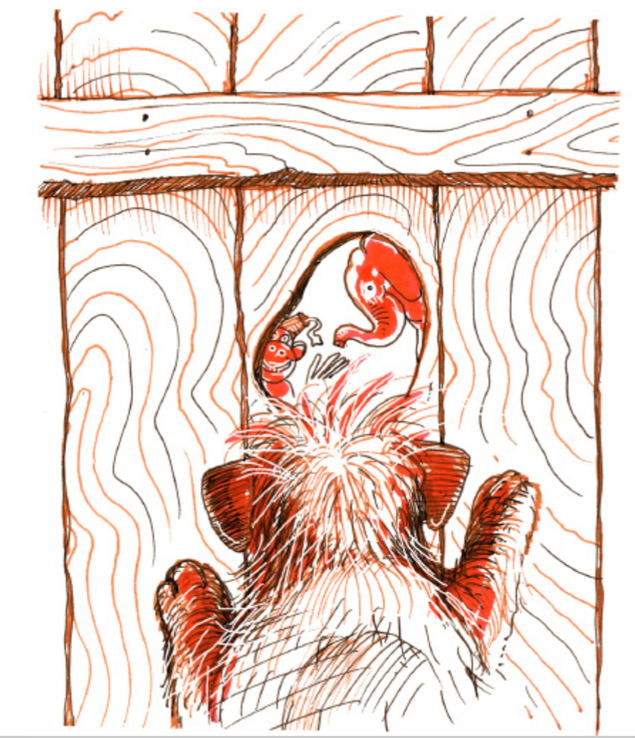 In some cages were some hugely enormous cats that made "Hey You" feel just that little bit shaky when you're that little bit scared of something.
Then came dogs, more kinds than he thought possible and they were having so much fun walking on their back legs, doing somersaults.
He couldn't resist he had to follow.
He squeezed himself through the hole in the wall, just like he was in a sausage maker and started following... at a discreet distance of course.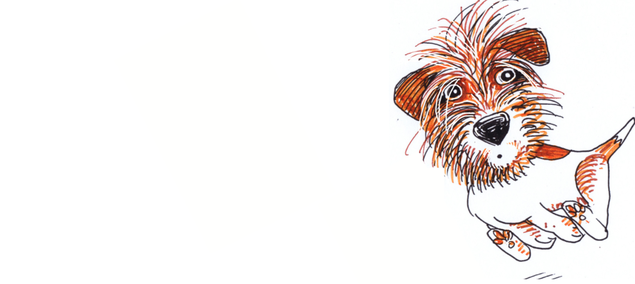 They went all the way through the middle of town to the far side of town. Along the way lots of big people and
lots and lots of children joined in and followed... and "Hey You" got caught up in the fun and excitement of it all .
They came to a big field where there were huge brightly coloured tents with flags flying on top of them.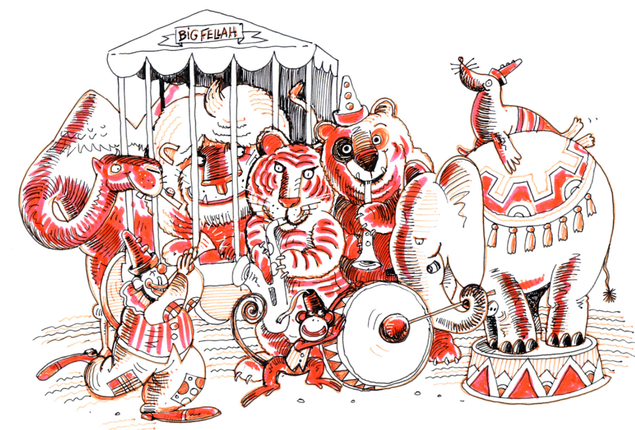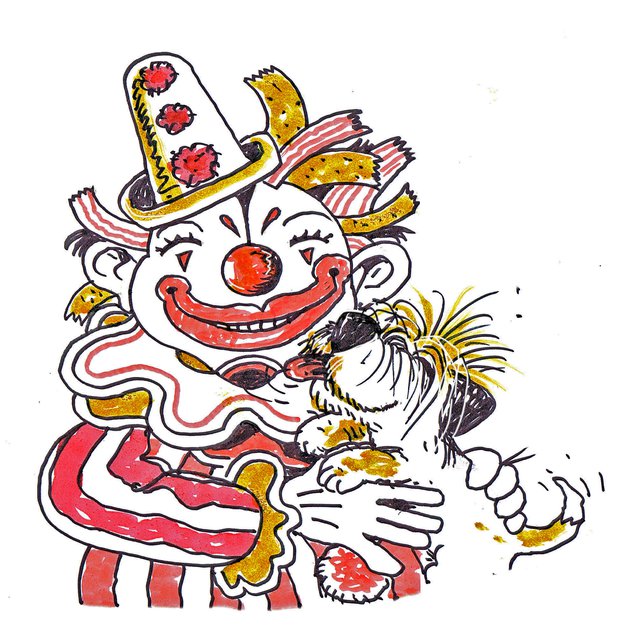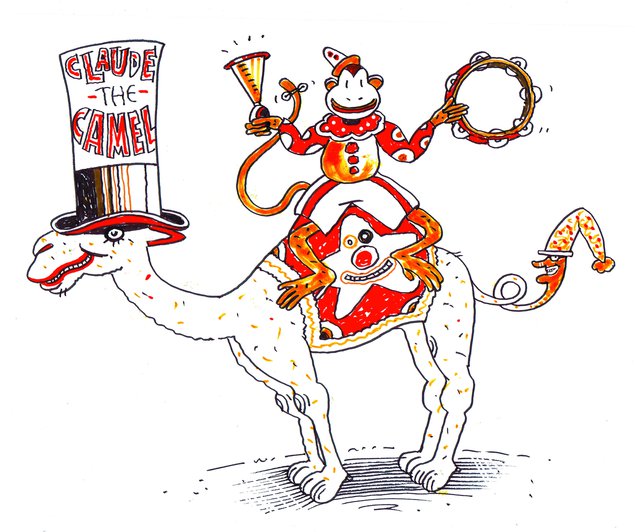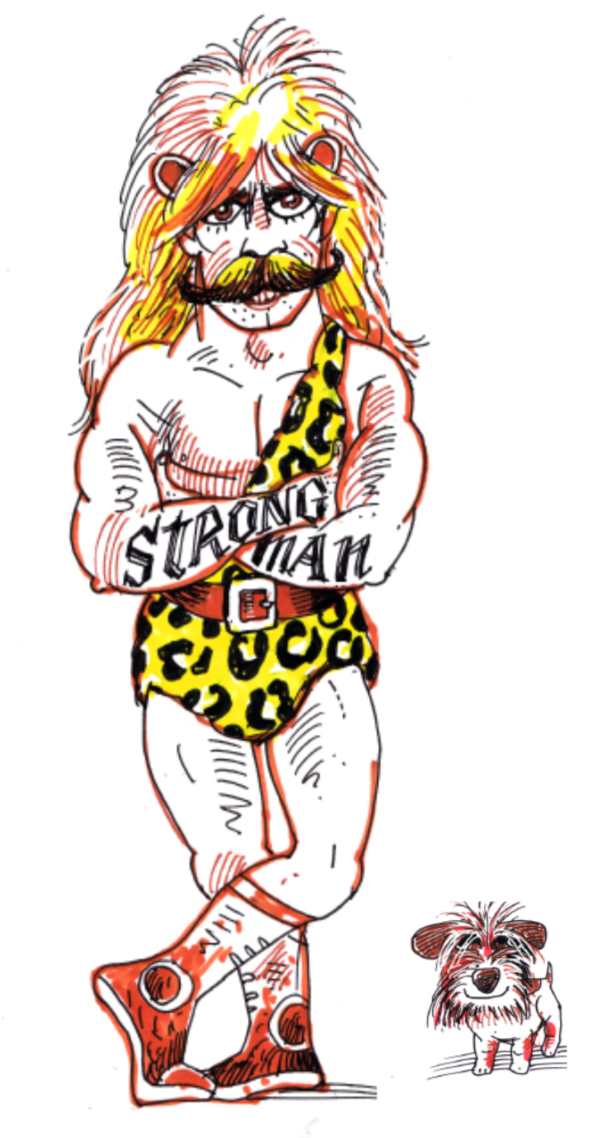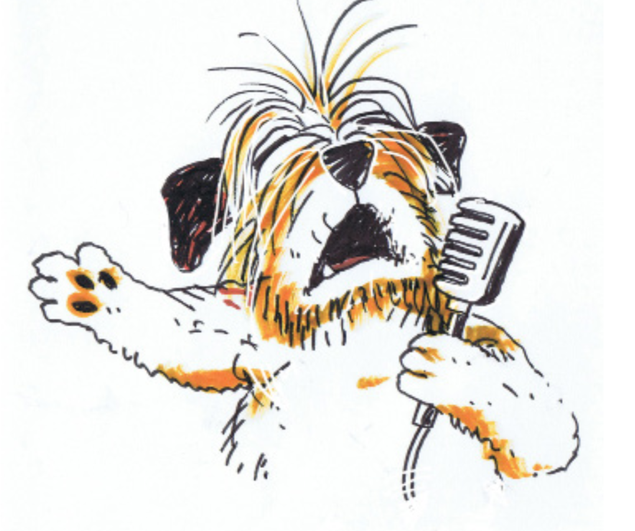 A very very rough 'animatic" to give insight into potential! We would not use this track due to copy right but create something entirely fresh and Li'l Fellarish!