Life is full of surprises . . . oh yes!
Having grown up and lived most of my life as a "city boy", I never imagined I'd be living out in farm country. Certainly, not in Japan!
Is life boring here? How about excitement?
Anything exciting going on?
Well, there aren't any drive-by shootings, no terrorist attacks, no gang wars, no bank robberies, or road rage. Not even tractor rage. There are no hostage situations, bomb scares, no celebrity sightings, no political marches.
But we do have . . .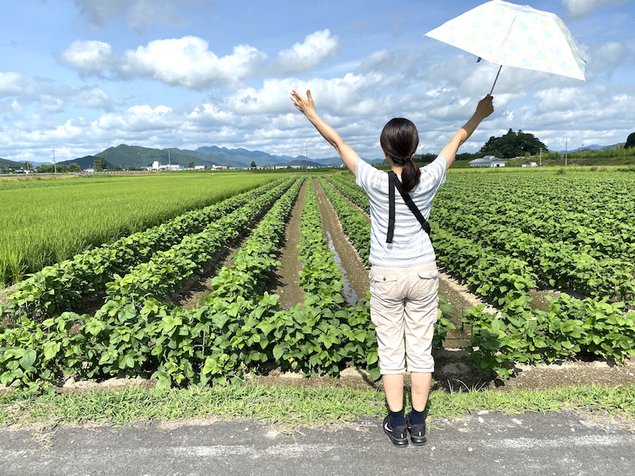 Every morning I take a walk for at least an hour. The rice and soybean fields turn the entire area into absolutely beautiful landscape paintings, with every possible shade of green. The farmers here work so hard, even in the heat of the sun, to create such perfection and raise the best soybeans and rice in Japan. This photo was taken five minutes walking from my house. Because she has a holiday from teaching, my wife joined me this weekend.
We may not have a lot of big city "excitiement" but life is sure interesting. That's what my book Live From Japan! is all about, life here in a traditional rural town, out in the country, 1 1/2 hours from Osaka and about an hour from Kyoto.
PLEASE NOTE: Live From Japan! — in English — is on sale at Amazon in the US, more than 33% off the list price . . .
Deluxe paperback around $18.00 . . . click HERE.
Kindle ebook only $6.65 . . . click HERE.
You can check out some of the reviews . . . HERE!
Yes, folks, living in Japan is like "living in a fairy tale".
This is your chance to personally experience this very exciting, very enriching adventure.