Synopsis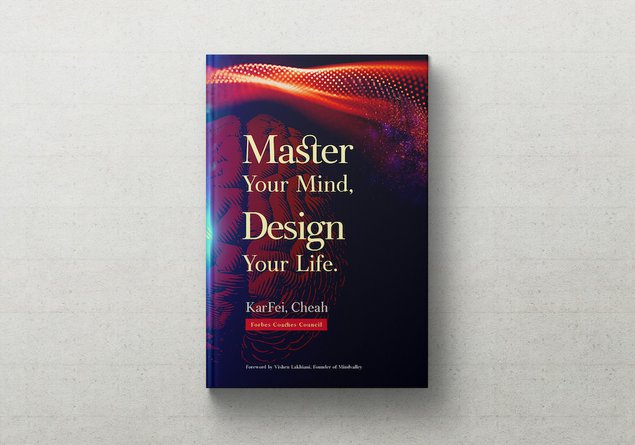 Study well, get into a great university, get a high paying job, get married, have kids, raise up the kids, retire well, and you will be successful. That has been the general concept for living a successful life from our parents' generation. This is not likely a good path for our current and future generations.
According to KarFei Cheah, a world-renowned performance coach, and teacher, we have all been conditioned to live our lives in a specific way. Our parents, our environment growing up, "successful" peers, your boss in the workplace, the magazines with all Silicon Valley's entrepreneurs as the cover page, and news of massive acquisition or funds raised by unicorns all over the world are all a form of conditioning in our lives, to name just a few.
With all these happening around us, it becomes easy for us to forget to take time off, to pause and reflect on our lives, and decide what is actually right for us.
There is no quick fix for this phenomenon that is happening in us. Each of us is at a different stage of life, and what we need is not a one-size-fits-all solution. Rather, we need to be equipped with ways to identify our conditioning so that we can work around them.
Master Your Mind, Design Your Life is about creating a passionate, purposeful, and abundant life starts from our mind and our psychology.
The first part of this book (Master Your Mind) is aimed at helping you to build confidence by creating awareness and understanding your programming in your life.
The second part of this book (Design Your Life) will help you to gain absolute clarity with what you want to do in your life.
Think about it - we can read and figure out what we need to do to achieve our goals. But how many of us are actually achieving what we want?
It is not your fault, but your conditioning which is stopping you from getting to where you want.
Over the years of coaching, mentoring, and training more than 20,000 diverse groups of people from around the world including corporations such as American Express, Citibank, KPMG, Accenture, IBM, and many more to transform the way workplaces are functioning and how employees' happiness and productivity are correlated, KarFei has curated and tested these 2 key elements which are missing in individuals who want to pursue success in their lives and live with passion, purpose, and abundance.
Why support this book?
-Gallup Studies have found that 65% of the people in the workforce is disengaged and unhappy at work.
-You deserve to work and improve your life so that you can live with passion, purpose, and abundance.
-Having a goal and vision for life gives us a purpose to wake up every day. It has been linked to living longer in life.
-I have worked with more than ten thousands people, and these are the psychology and strategies you can adopt in every day life.
-Most people chose to believe that life happens to us, but we can decide to make life exciting and purposeful, FOR us.
Outline
Key topics addressed in the book:
Part 1: Introduction
Part 2: What gets you here will not get you there
- Understanding your inner GPS
- Life Assessment
- Understanding the dogma and social conditioning
- Your limiting beliefs and environment
Part 3: What sets you and success apart?
- Psychology of high performance
- Mindset of highly successful people
- Human motivation and what drives you
Part 4: Achieving a Powerful Life Vision
- Identifying your passion and purpose
- Turning your passion into abundance and profit
- Making your life vision stick
- Creating a compelling life vision
Part 5: Taking Massive Action
- Why most goal settings doesn't work?
- Goal setting for success
- 90-day success plan
- How to stick to your goals and plans even if you are demotivated
- Managing change and creating positive change
Part 6: Closing
The foreword for this book will be written by the Founder of Mindvalley, Vishen Lakhiani.
Audience
1. Young professionals below 35 years old who are in the startup or corporate world wanting to understand themselves better to live confidently in alignment to their goals, aspirations, and purpose.
2. Business owners/managers/leaders of teams in organizations who want to understand more on the psychology surrounding their team members and how they can play a part in help their team members to thrive.
3. Entrepreneurs who want to build a sustainable business and vision for their startup so that they do not end up burning out.
Promotion
The foreword for this book will be written by the Founder of Mindvalley, Vishen Lakhiani.
Overall a great experience, a came out feeling more confident in being able to achieve my goals and I was happy to see my brother's spirit being lifted and he became more focused on achieving his goals as well. I liked how it unlock certain confidence in me… believing that I can really achieve my goals if I set my mind to it… a shift in mindset and perspective about things. Right after working with KarFei, I got the job I wanted with the increment that I asked for - and it happened so quickly that I personally cannot believe it. This was a big milestone for me as I've been thinking about career change for the past 2 years.
KarFei allows me to take some time off to reflect back on what really matters. I came back with better clarity of my own personal values and how I would want each area of my life to grow. The most impactful thing I learned about myself is the difference between my passion and career. I used to push my passion as a career, but I wasn't progressing much due to lack of focus and wrong strategies. One of the session with KarFei helps me to see it from different angle and come out with actionable steps to progress further in each area.
Before I worked with KarFei, I felt so lost and less of confident & motivation in achieving my goal or dreams that I had make in the beginning of this year. After working with KarFZei, the guiding questions in the workbook really helped me in making decisions and gain clarity in different areas of my life. I realized that we have always known what we want to do but we feel lost as we didn't have the clarity and confidence that guide us to bringing out all the ideas that we have in our mind and KarFei really helped me to do so.
I feel glad that I choose to sign up for this seminar as it's really help me a lot by guiding me and made my clear about the life I wanted to have in future.
A coach who makes me delve into my deepest and darkest questions that I've been avoiding or I'm not aware of. Before working with KarFei, I know roughly what I want to do in my life, but I didn't do anything. KarFei challenged me to face myself (which I don't want to before) and find answers within. I know what to do but what's holding me back? Coach KarFei helped me to face my fears and start moving. Now, I have started writing as a side-income. What I'm earning is meager but I am one step closer. I am moving thanks to working with KarFei.
Competition
-Awaken the Giant Within
-The Passion Paradox: A Guide to Going All In, Finding Success, and Discovering the Benefits of an Unbalanced Life
-The Happiness of Pursuit: Finding the Quest That Will Bring Purpose to Your Life