Synopsis
What do we truly believe?
What have we been programmed to believe?
What are we ready to let go of?
What are we ready to take responsibility for?
Our emotions and desires influence our goals and perspectives. Our self-awareness and self-discipline however, build our life experiences.
POTENTIALLY HUMAN is a book that takes you on a journey of human potential with the author as she explores our secret vulnerabilities, and our deepest desires to love, to be loved, to find success, strength, and fulfillment as a species.
This book does not intend to fix us, it simply shows us how to find the beauty and pride in the pieces that we perceive as broken. Only then, can we work towards the repairing and healing required in order to grow. We must face the fear of finding out who we are so that we can become who we are meant to be.
What you'll get out of this book


Discover hidden perceptions and beliefs as you explore your own human potential: emotionally, intellectually, physically, professionally, romantically, and spiritually.
A new perspective on how we react to traumas, revelations and experiences.
Participation in your own self-reflection, vulnerabilities and capabilities.
Insight on how to turn your pain into power.
A journey of self discovery through the fusion of ancient (spiritual/akashic records) knowledge and modern (social/scientific) information.
Outline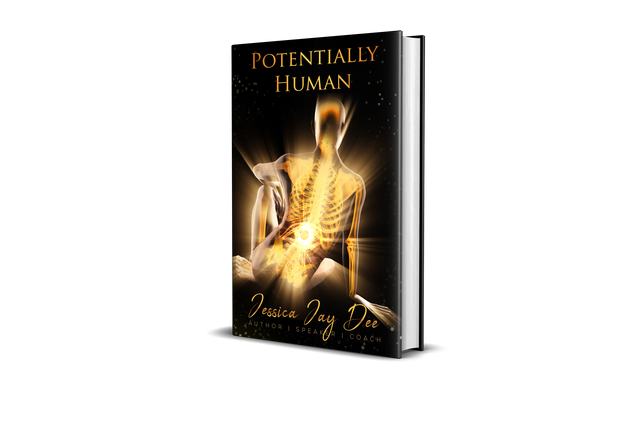 POTENTIALLY HUMAN
By Jessica Jay Dee
Dedication
Dedicated to the author's mentor, Marine Corps First Sergeant, Angelo Joseph Serrone, and her father, Jimmy Dwight Bruden.
Prologue: The Final Ascension
The beginning and the end. Our arrival to and departure from this earth has great meaning, but we do not often draw as much attention to the moments in between.
Introduction
No amount of reading, self-help, seminars, or coaching sessions will achieve actionable results until we can understand ourselves, our mindset, desires, triggers and motivations. Self exploration and worldly perception is the key to lasting positive change in our lives.
Chapter 1: Earthling (Earth)
Birth
Memories, Thoughts and Perceptions
Environmental Conditioning
Personality Development
Identity and Independence
Chapter 2: Taking Flight (Air)
Self Exploration
Puberty and Sexual Curiosity
Goal Setting and Dreams
Journey to Adulthood
Chapter 3: Fortitude (Fire)
Developing Character & Courage
Trauma, Tribulation and Victimization
Strength and Solitude
Breaking Through Barriers
Chapter 4: Flow (Water)
Forgiveness
Releasing Fears (Insecurities/Self Doubt/Subconscious Trauma)
Identifying Vulnerabilities
Exploration of Deeper Self (Sex, Intimacy, Interpersonal Communication, Relationships)
Chapter 5: Human Creation (Ether)
Who Am I? --- Why Am I?
The Law of Attraction Simplified
Key to Manifesting Our Reality Explained
Doing The Work
More Than Human
Audience
Article: (LifeHack) Adela Belin, December, 2018
The Importance of Self Improvement No Matter How Old You Are
[We must] strive to go beyond [our] preconceived notions that might be limiting [us] and this can only be achieved with constant self-improvement.
So, whether you are a retired 65-year old or a 26-year old who is just starting off his/her career – remember that you will always be a work in progress and there can never be an end to learning about yourself. That is what makes life purposeful and fun.
_____________________________________________________________
Self-Help Market Faces Demographic Challenges
Traditionally, the Baby Boomers have been the main consumers of self-improvement services. While they remain an important group, the tide is shifting.
Millennials are the future for this market, but there are few young experts with the experience to serve them.
________________________________________________________________
Article (Forbes): Jules Schroeder, January 2018
You'd be hard pressed to find a millennial who isn't involved with self-improvement in some way.
According to one survey, 94% of millennials reported making personal improvement commitments and said they'd be willing to spend nearly $300 a month on self-improvement.
__________________________________________________________
Millennials/Generation Y'ers are the future of the self help industry, yet Generation X and Boomers are still seeking self development and voices of inspiration. Subject matter experts are not catering to a universal audience that is just as applicable to Millennials.
Generation Y.1 = 25-29 (31 million people in U.S.)
Generation Y.2 = 29-39 (42 million people in U.S.)
Generation X = 40-54 (82 million people in U.S.)
Baby Boomers = 55-75 (76 million in U.S.)
Female 60% | Male 40%
Interests:
Self Development
Entrepreneurship
Self-Discovery
Spiritual Awakening
Health/Fitness
Mindfulness
Hobbies:
Reading/Podcasts/YouTube Influencer Videos
Physical Fitness (Gym, Hiking, Yoga)
Seminars, Conferences, Mastermind Groups, Vision Boarding
Meditation
Public Speaking, Vlogging, Content Creation, Networking
____________________________________________________________
Promotion
Social Media Platform
Groups | Communities | Mastermind Collectives
Women Helping Women Entrepreneurs: 188K Members
Raise The Vibe: 124K Members
The Rising Tide Society: 76.5K Members
Millennial Entrepreneur Community: 75.8K Members
Manifestation Babes: 55.4K Members
Entrepreneurial Leaders: 23.1K Members
Healers and Empaths: 22.7K Members
VAYNERNATION (Gary Vaynerchuck): 22.4K Members
The Intentional Entrepreneur: 19.9K Members
Creative Healing Community: 14K Members
Marine Corp SNCOs: 13K Members
Female Marines: 12.7K Members
The Warrior Code: 3.6K Members
Random Acts of Kindness (RAOK): 2.4K Members
Cashflow and Connections Community: 897 Members
Creative Confluence: 581 Members
Global Speakers Network: 461 Members
Promotion
During the promotion and marketing of pre-orders, Jessica will rely heavily on her network of friends, family, and social/professional connections to not only support, but share the POTENTIALLY HUMAN campaign. She is partnering with social media influencers, celebrities and companies to share the book with their audience/following.
Jessica will host and attend Los Angeles, Denver and New York City live events to promote her book through speaking engagements, seminars and workshops.
POWERFUL U CONVENTION, May 15 - 17, Los Angeles, CA
WARRIOR GODDESS, June 2 - 4, San Diego, CA
ACHIEVE ANNUAL CONFERENCE, June 13- 15, Denver, CO
She will also be interviewed by 50+ podcast hosts and bloggers who will promote POTENTIALLY HUMAN (as well as allow giveaway of book to few select listeners). Press release and media kit will be submitted to HARO (Help A Reporter Out) --- press kit and release are COMPLETE and ready for submission.
POTENTIALLY HUMAN Prologue has been distinguishably selected and recognized by A Room of Her Own (AROHO) for first feature in the WAVES Anthology, premiering with the print publication of A Confluence of Voices, inspired by Virginia Woolf and featuring Maxine Hong Kingston alongside the voices of hundreds more modern-day creative women.
Jessica will be featured in One Click Lindsay's Blog Article "57 Great Resources for Entrepreneurs and Startups". Lindsay's blog for small business owners & entrepreneurs gets 10,000+ visitors per month and has been seen on FOX, ABC, NBC, Huffington Post, and CBS.
Jessica has been selected by American Dream Network TV to share her entrepreneurial story, real estate endeavors, and her dream of helping millions of people through her book, POTENTIALLY HUMAN on national television. The American Dream now has unprecedented reach. Between preferred cable affiliates like CBS & partner stations in New York, Miami and Orlando and streaming channels such as Livestream, Amazon, Apple TV, and the AD app; the American Dream collectively shows to more than 8 Million Viewers nationwide every week. American Dream has matched Jessica with top expert, Mauri Tamborra (top 1% of realtors in the United States), who has partnered with Jessica to list her investment property in Denver, CO, with the intention of marketing and funding her book tour and global vision.
Competition
1. Becoming Supernatural: How Common People Are Doing the Uncommon
By: Dr. Joe Dispenza
The author of the New York Times best seller You Are the Placebo as well as Breaking the Habit of Being Yourself and Evolve Your Brain draws on research conducted at his advanced workshops since 2012 to explore how common people are doing the uncommon to transform themselves and their lives. Becoming Supernatural marries the some of the most profound scientific information with ancient wisdom to show how people like you and me can experience a more mystical life.

2. Grit: The Power of Passion and Perseverance

In this instant New York Times bestseller, pioneering psychologist Angela Duckworth shows anyone striving to succeed—be it parents, students, educators, athletes, or business people—that the secret to outstanding achievement is not talent but a special blend of passion and persistence she calls "grit."
3. Mindset The New Psychology of Success
After decades of research, world-renowned Stanford University psychologist Carol S. Dweck, Ph.D., discovered a simple but groundbreaking idea: the power of mindset. In this brilliant book, she shows how success in school, work, sports, the arts, and almost every area of human endeavor can be dramatically influenced by how we think about our talents and abilities. People with a fixed mindset—those who believe that abilities are fixed—are less likely to flourish than those with a growth mindset—those who believe that abilities can be developed. Mindset reveals how great parents, teachers, managers, and athletes can put this idea to use to foster outstanding accomplishment.
4. Presence: Bringing Your Boldest Self to Your Biggest Challenges
by Amy Cuddy
"The research I've been doing for years now joins a large body of inquiry into a quality I call presence. Presence stems from believing in and trusting yourself—your real, honest feelings, values, and abilities. That's important, because if you don't trust yourself, how can others trust you? Whether we are talking in front of two people or five thousand, interviewing for a job, negotiating for a raise, or pitching a business idea to potential investors, speaking up for ourselves or speaking up for someone else, we all face daunting moments that must be met with poise if we want to feel good about ourselves and make progress in our lives. Presence gives us the power to rise to these moments." —Amy Cuddy (from, "Presence")
5. You Are A Badass: How to Stop Doubting Your Greatness and Start Living an Awesome Life
by Jen Sincero
With over 2 million copies in print, Jen Sincero's You are a Badass has inspired even the snarkiest of skeptics--encouraging them to embrace their awesomeness, give fear the heave-ho, and start kicking some serious ass. Now it's dressed up in a deluxe hardcover edition, with a new foreword by the author. But it's the same "classic" book that helps you create a life you love via hilariously inspiring stories, sage advice, easy exercises, and the occasional swear word.
6. Girl, Wash Your Face: Stop Believing the Lies About Who You Are so You Can Become Who You Were Meant to Be
Now, in this challenging and inspiring new book, Rachel exposes the twenty lies and misconceptions that too often hold us back from living joyfully and productively, lies we've told ourselves so often we don't even hear them anymore.
With painful honesty and fearless humor, Rachel unpacks and examines the falsehoods that once left her feeling overwhelmed and unworthy, and reveals the specific practical strategies that helped her move past them. In the process, she encourages, entertains, and even kicks a little butt, all to convince you to do whatever it takes to get real and become the joyous, confident woman you were meant to be.
With unflinching faith and rock-hard tenacity, Girl, Wash Your Face shows you how to live with passion and hustle--and how to give yourself grace without giving up.
7. Can't Hurt Me: Master Your Mind and Defy the Odds
For David Goggins, childhood was a nightmare - poverty, prejudice, and physical abuse colored his days and haunted his nights. But through self-discipline, mental toughness, and hard work, Goggins transformed himself from a depressed, overweight young man with no future into a U.S. Armed Forces icon and one of the world's top endurance athletes. The only man in history to complete elite training as a Navy SEAL, Army Ranger, and Air Force Tactical Air Controller, he went on to set records in numerous endurance events, inspiring Outside magazine to name him The Fittest (Real) Man in America.

8. Make Your Bed: Little Things That Can Change Your Life...And Maybe The World
If you want to change the world, start off by making your bed.On May 17, 2014, Admiral William H. McRaven addressed the graduating class of the University of Texas at Austin on their Commencement day. Taking inspiration from the university's slogan, "What starts here changes the world," he shared the ten principles he learned during Navy Seal training that helped him overcome challenges not only in his training and long Naval career, but also throughout his life; and he explained how anyone can use these basic lessons to change themselves-and the world-for the better.