Me
53 year old divorced white male. 5'10", 210 lbs. Probably a 6 flat 40 yard dash, hobbling on bad knees. When discussing my "do" I call 'em "my hairs". My mug just took a beating; my ten week old Lab
ambushed me, sent me face-first into the concrete ramp outside my home. The black eye is gone. The scar over my right brow ain't going anywhere.

Status: Undrafted free agent.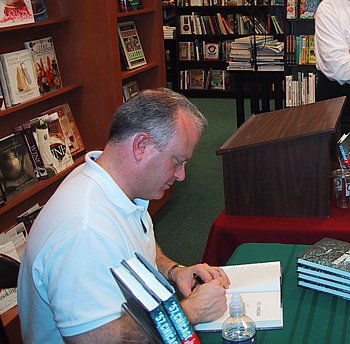 Timeline
Read on for the story and not necessarily the accuracy.
1998: Four years divorced. Struggling as a commercial real estate broker, closer to dead broke than flush. One arrow in my quiver- the life-long belief (instilled by great parents) that I could write. A story had been percolating (instilled by my bookies) about a bookie, fight promoter and boxer – think the guys sitting ringside during the fight scenes in Raging Bull. I wanted to put a bookie through hell –back drop a real city, street life. I spent nights and weekends at the Harold Washington Library, researching the year 1957.
That year, the University of Kansas and Wilt Chamberlain famously lost the NCAA basketball championship to North Carolina. The game went triple overtime. It was perfect. Research sent me a doozy –the semi-final game that same year between Michigan State and North Carolina ALSO went triple overtime. I chose the latter game. It provided the plot twist that sent my bookie to his bank to get funds, which suddenly became "unavailable".
Irony: I found the real-life murder of a Chicago banker. Body found face down on the concrete. Inside his wallet: A receipt tying mobster Sam Giancana to a loan for a brothel and a slip of paper carrying the banker's credo. The credo: "A man with a financial surplus can control circumstances…but a man without a surplus is controlled by them." Perfect. That's the theme of the book.
Winter, 1999: I finish the novel, title it '57, Chicago, send it to a buddy that is speculating time as a screenwriter in Hollywood. He calls, says he loves the book, asks if I mind if he takes it to a young movie producer he met at Starbucks. I say, sure, why not? He takes it to Starbucks. The movie producer calls. He says he loves the book, asks if I will give him a free option and promises he can sell it to Miramax Films. I say, sure, why not?
And that's exactly what happens. Miramax options the movie rights. Their subsidiary, Talk Miramax Books strikes a two book deal with me. I get a Hollywood agent. The experience is great –good fodder for stories. The following aren't complaints –sour grapes make bad wine.

Highlights/lowlights:

My agent emails me, tells me she's going to "leak today". I write back that I am, too, but am not going to brag about it.
Variety prints the story. The headline starts: "Tyro scribe John Monroe…" Who the hell is John Monroe?
I fly to New York to meet with the people from Talk Miramax Books. I check into the hotel and the desk clerk tells me they haven't paid for the room. This, my friends, is a precursor.
I meet the staff. Great people. The woman in charge of marketing tells me she's going on maternity leave.
I ask to meet the sales people. They say, "No, it doesn't work that way."

Spring, 2000: Galleys come out. There's a reference on the back cover to a character named Eddie "The Lip". There's no one named Eddie in my book.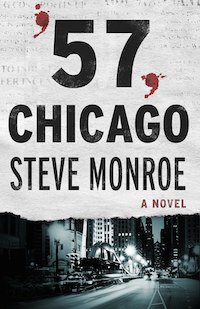 Summer , 2000: The book is released. Reviews trickle in. The New York Times, USA Today, Chicago Sun-Times… Solid, mostly positive reviews. Some raves, including one from a writer in Ottawa who says something akin to, "I have been there –this is accurate stuff."

I visit the Borders on Michigan Avenue, meet the manager. There's a display of my books at the front desk –all '57, Chicago by Steve Monroe. This is a moment. I go back to Borders the following Monday, the books are gone. The manager says they sold out. I ask her if they're going to fill another display when the next shipment comes in. She says, "No, it doesn't work that way." That's it. No more books are coming in, even though they sold out over the weekend. Customers can order copies.

I check Amazon frequently. Sales tick upward after great reviews. Sales taper off, quickly.
Book rights are sold to publishers in Germany and Japan. My parents visit my brother in Tokyo. My mother calls me from a convenience store. "There's a display of your books." This is a moment. The title there reads, "The Rules of Rising Fast." I like it. The German title is, "Knockout." It's okay.

A screenwriter is hired to write the screenplay for '57, Chicago. He politely asks me some questions but has his own riff. Among my answers, "The cop in the wheelchair is based on a couple of real people. He's the book's only hero. I didn't want him to be 'Ironside'."

The screenplay: The first iteration is okay. I ask him to change the names of some characters since they don't resemble the people in my book. I ask him why he's taken the cop out of the wheelchair. He says, "I didn't want him to be 'Ironside'."

The producer takes the script to Miramax. They tell him to change it all back to mirror the novel.
I finish my next book, '46, Chicago. It's a mystery, set in Chicago in 1946 and again, it's fact-based fiction. Real-life: Policy racketeer Ed Jones has made millions by running the illegal lottery in the African American community. He does time, shares a cell with Sam Giancana. He tells Sam that the pennies, nickels and dimes add up to millions. Mistake. Jones is kidnapped, held for ransom.
My fictional twist –dirty cop Gus Carson is hired by a wealthy politician to find Jones.
I meet the staff again at Talk Miramax Books. Great people. The woman in charge of marketing tells me she's going on maternity leave.
Summer, 2002: Reviews come in. This time the majority are raves. The Kansas City Star gives multiple kudos. The book rights are sold to a publisher in Italy. Book sales are okay. The publisher rounds up unsold hardbacks, break the spines, turns 'em into paperbacks. Sales taper off.
Mike Thomas of the Chicago Sun-Times dubs me "Mr. Happy Go-Lucky Chicago" in a story that runs the entire back page of a section of the newspaper. There's a picture of me hoisting a Bud Light. This is a moment.

At some juncture: Miramax gets the second screenplay of '57, Chicago. They put the project into turnaround. No takers. I get the rights back. Just as well. It's a Chicago story.

I write a funnier, less violent book titled, "So Smooth." It's the story of a bookie's agent that lives in downtown Chicago, thinks he's scamming the world. There are multiple twists. My agent loves it.
There is no more Talk Miramax Books so he hunts for a new publisher. Publishers "love it". No one buys it.

I write the sequel to '46, Chicago. It's the best book I've written. My agent loves it. Publishers "love it". No one buys it.

I write Pursuit. It's a story whose genesis came as I read about the Family Secrets trial in Chicago. The F.B.I. had pulled back surveillance on some mobsters known as the "Chicago Outfit" prior to picking them up to indict them. They found one guy in a small town in Kentucky, paying cash for rent.
I thought about how creepy it would be if you lived in that small town, asked some old man at the diner each morning to pass the sugar, unaware that he was a heinous murderer. Then, I wondered what would happen if that character never left Chicago. Instead, he stayed, murdered someone in the suburbs and wove his way downtown to do something. I interviewed detectives. I saw a sign. It read, "He escapes, who is not pursued." Sophocles.
Pursuit
I partner with Open Road to sell it online as an eBook and print on demand. I don't have to hear, "I'm going on maternity leave." I don't have to hear, "That's not the way it works." That's how we ended up here. I hope you buy the book. I hope you enjoy it. I hope that's the way it works.