What would happen, if a single human, had the power of the universe in the palm of their hands - especially a 10 year old girl.
Manuscript
| | |
| --- | --- |
| | Fantasy Dystopian Dark Fantasy Adventure |
| | 87,000 words |
| | 100% complete |
| | Connecticut, United States |
| | 0 publishers interested |
Synopsis
WOULD YOU RAISE HELL, FOR THE ONE YOU LOVE?
Everything was lost. Gasping hard, Ethan wiped the sweat from his forehead with his sleeve. Resting his back against the wall, he collapsed to the floor. That one night repeating over and over again. There was nothing left in him. No reason to move... As the search team gradually closed in on him, he held his hands high above his head and stopped running.
Ethan McCall is a lieutenant for the Apex Innovative Manufacturing Corporation's private forces. But when a routine military deployment turns into an all-out fight for survival, Ethan must confront his stormy past and fill in the holes of his repressed memory. Exiled from his home for a crime he did not commit, Ethan travels with a restless mind in the hopes of starting over.
Learning new truths about his past, Ethan returns to his old life in an attempt to settle the score. But when he arrives back to the providence of New Gate, he gets more than what he bargained for when he meets a ten-year-old girl named Seraphina - the daughter of the woman he swore to protect.
Harnessing the power of an ancient relic, Seraphina must reach her full potential before an archaic powerhouse known as the Protogenoi awaken and continue their war that could destroy the universe forever...
Only one thing stands, in both of their ways... they must first learn to trust each other.
---------------------------------------------------------------------------------------------
Instafreebie downloads: Over 500 claims
Colby R.'s response: "This sounds BOSS as fuck. I'm putting it in the Military Sci-fi category. Thanks for your submission!"

Outline
Prologue: Neoma - (formerly known as Gaia) returns home to the castle of Azure, after being banished from the kingdom for treason and adultery. Once home, she soon learns that everything has changed for the worst since her father - (Kaos) has stepped down as ruler and the new king - (Uranus) has other plans for her and her human family.
Lost In The Abyss: Apex Alpha Team 6 is deploying into a routine mission to scout for clean water. Lt. Ethan McCall and Captain Hunter Belmont have a few choice words after discovering bodies have been missing back home and this new location could give a clue as to the fate of those that are missing.
Return To Chaos: After a brush with death and the loss of some, the rest of Alpha Team 6 returns back to the Providence State of New Gate after hearing information that the Apex Innovative Manufacturing Headquarters is under attack by a rebel terrorist group called 'Chaos'.
Damaged: After a horrific accident, Ethan is still alive ten years later and is left to pick up the pieces. After finding hope in the simplicity of farm life, Ethan gets drag back into his old life when a familiar face, threatens the lives of those he cares for.
Huntsmen: Force to infiltrate himself into the belly of New Gate, Ethan must acquire a relic in exchange for the lives of those he loves... but is the risk worth the trouble?
Awakening: After acquiring the Occulus orb, Leonidas Megalos must access ancient knowledge to tap into the potential power of the orb. Finding his search futile, he resorts to the next best thing... an old lady named (Hecatan) who created it.
When One Door Closes: After the start of a bad reunion, Ethan finds himself locked in a vault with his adopted brother Hunter (now President Belmont) and Hunter's daughter - Seraphina.
Wrecked: Showing signs of paranoia, President Belmont secures his daughter, Sera, in a high level isolation room. Meanwhile a plan to secure more land and resource go awry when an unfathomable catastrophe occurs that changes the pull of power. Somewhere else in the world, Ethan escapes getting sent to a volcanic prison and learns new information from an unexpected source.

New World Order: The Titans are free and they want the Occulus. Dr. Edward Belmont and Hunter have a discussion on the importance of legacy.

Egress: Leo finds himself in a new location of the world called Shangri La. After learning the origin of the location, realizes that he has demons inside of him that even he can't understand... questions himself as being a savior when Hecatan gives him the stakes.
Quid Pro Quo: Returning to New Gate for answers again, Ethan is force to make a moral decision in the face of a social injustice. Hunter and Dr. Belmont meet Ethan for an unexpected reunion resulting in the lost of a life.
Arbitration: Getting their hands on the Occulus, Hunter and Dr. Belmont relinquish it to the Titans in exchange for a life... they receive a life... but not the one they ask for.
Freed: After being in a perpetual state of hallucinations, Neoma finally is freed from her physical, mental, and spiritual prison from an unexpected ally.
A Debt Owed: After saving Ethan's life, Leo forces Ethan to pay back his debt by entertaining him and the rest of his Chaos gang members in the fighting pits. Hunter and his new associate track down Ethan for the Ultimate Showdown!
UnEarth: Learning the existence of two loves he thought were once lost, Ethan must navigate his emotion and learn the true nature of his past. His calling awaits!
Birthright: After receiving a false relic, Chronos, the new titan king decides to take a more hands on approach when it to getting what he wants.
Soldier: Escaping the devastation of New Gate, Sera and a new young friend, journey out into the world in hopes of finding answers. A random truck stops and Sera must tap into her strength and learn the meaning of becoming a soldier.
Soul Reaper: With Leo's absence, Hecatan must rely on new allies... unfortunately for her, they help she needs wants her dead.

Counterpart: Regaining a new perspective on life, Ethan reunites with Sera and a mutual friend... All hell breaks loose when a squad of Apex soldier surround their location and Dr. Belmont appears, in rare form, to tell Ethan the real reason why he HATES him so much.
Signify: After a night of fighting, Chronos has finally obtained the real Occulus and has Sera. His plan...? To send out a beam summoning a primordial creature from another universe to come and destroy this one.

Pendulum: Ethan wakes up after being unconscious all night and is surprise to see some unexpected faces are teaming up as allies. He must make a decision... Save Sera or search for her friend, an 8 year-old boy named Damien.
Into The Bog: The team splits up, Erebus and Osira go after Leo and Neoma. An ambush occurs.
Shroud: Chronos uses the Occulus to tap into the mind of his subject Osira to gain information about the origin of who she really is and what's her connection to the child Seraphina.
A Fate Worst Than Death: Teaming up with Hecatan's companion, Ethan is sent to the Northern part of the world to look for Sera and the Titans. Unfortunately, fate has other plans for him and the dog.

Shangri La: Using her wit and abilities, Hecatan makes a daring escape with Erebus and Leo from a horde of ravenous demons. Making their way back to Shangri La, they find the origin of the the creatures maybe more terrifying, than what they were ready for.
The Summit: Reconnecting at the Northern Crater, Hecatan, Erebus and Leo are force to deal with the aftermath of what's left. Triggering surveillance from a nearby radio transmitter, the group gets surrounded by Apex Soldiers.
Oracle: Learning about the location of an underground substation, the group finds comfort in the knowledge that Apex is under new order and is taking a turn in a new direction. Meanwhile, Leo and the dog exchange words and only one will make it out in one piece.

Vanguard: Angela (once Osira) reconnects with her mom, (Reinstated - President Hera Mason). A new threat looms in the sky. After a line has been cross, Apex and the group take the fight to the Titans.
Zenith: The Final Showdown between Titans and the human race. Desires begin to unravel.
Quantum: After making the ultimate sacrifice, Sera becomes one with the orb. Faced with looming threats all around her, she unleashes the full power of the Occulus.

Epilogue: An unexpected ally escapes the conflict but instead finds a new threat. Saved by a phantom menace, he must now repay his debt by coming to the aide of his rescuer's apprentice.
Audience
Men and women, ages 13-35+
The age breakdown of viewers: 26.14% in the 13-18+ age group, 44.14% in the 18-35+ age group and 29.72% in the 36+ age group.
- Facebook Analytics -
The keys words for campaign have been: magic, occult, redemption, Titans, Mythology, Coming of Age and gritty violence.
Readers of alternate world fantasy subgenres are curious, and sometimes attached to a certain culture, mythology or point in history. Ranging generally from young adult to middle-aged, they tend to be modern and tech-savvy.
The writing style and plot are accessible to a Young Adult audience.
Author
ANDRE ELLISON is an American author from the state of Connecticut. He often indulges in his love of watching Superhero movies and reading stories about Greek mythology. He frequently escapes the real world and travels to another dimension in hopes of finding inspiration for his dystopian writings.
His influences include his three children, Zaniya, Samira, and Ceasar and his beautiful wife, Yaritza. He has a degree in digital media, a dog named Gizmo and a collection of high
school love letters written to his wife kept safe inside an old school trapper keeper.
Raising Sera - Lineage is his first published book. Currently found on Amazon.
Promotion
Audience and marketing
Generally speaking, Andre would like to be able to release regular YouTube blog videos and Medium blog written articles, mostly talking about the writing process and probably offering up editorial pieces on topics that are relevant to The Sera Saga.

Focusing my marketing to finding groups interested in my particular flavor, whether they are typically fantasy readers or not. Someone fascinated about Greek mythology, for example, would likely be interested in the ten-year Titan war.

These groups can be found on Facebook, Twitter, Pinterest, and blog sites such as Tumblr. Taken notes of the tags they use, I could involve myself into conversations – and share the novel.
Competition
People who liked these books might also like "Raising Sera"

Percy Jackson and the Olympians,
The Summoner Series: Novice,
The Androma Series: Zenith,
Throne of Glass Series,
The Dark Tower Series: Steven King,
Sample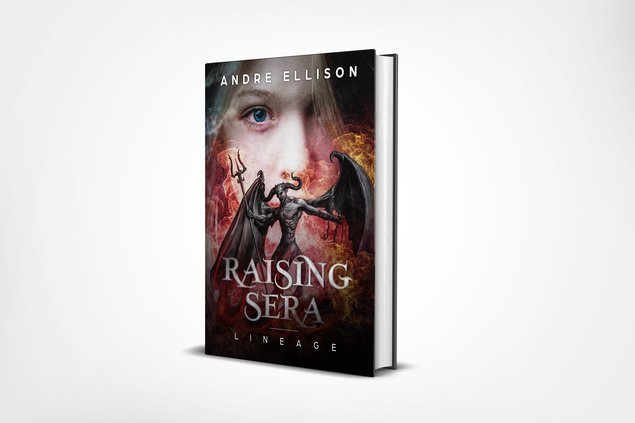 Lost in the Abyss
Deployment
"Today's the day," a familiar voice cried out behind Ethan. As he sat on a bench in the locker room, a plastic vial filled with
pills hovered in front of his face.
"You can thank me later. Carpe Diem!" the voiced continued.
Looking down at his wrist monitor, Ethan read: 17:45-military time. As he stood up, he turned around and faced Private Gabriel Gonzalez.
"Seize the day, huh?"
Dropping the vial into Ethan's hand, Private Gabriel smirked.
"Yeah, but keep leaving your medication around everywhere, and today gonna be the day I find you slumped down somewhere dead."
Ethan held the vial above his head. He gave the container a little shake. "I still don't know what's inside these things."
"Don't think too much of it," Gabe suggested, walking over to his locker. "I'm sure the President has much better things to worry about than detailing
specifics on Apex consignments. If I were you, I wouldn't want to know where my sausage came from anyways."
Ethan grinned as Gabriel passed him an unlabeled bottle of water.
"You're kidding, right?"
"All I'm saying is treat it like sausage, don't treat it like sausage... I don't care. Just take the damn pills... before I lose my freaking mind."
Ethan snatched the bottle of water from Gabriel's hand and placed it on the bench. "Crazy vato! What the deal with you and these food metaphors... sounds like the misses isn't feeding you at home."
As Ethan opened his lockers, he quickly glanced at a picture of himself as a child with his mom and dad. He tore the photo off the door and place it in his back pocket. Glancing at
a tiny mirror, he inserted his wireless earbuds.
In his four years on the Apex Task Force, twenty-three-year-old, Lt. Ethan McCall started each mission with the same routine. After setting his wrist monitor to alarm every twelve
hours, he would pay respect to his parents and then prepare for his operation briefing. As he prepared his load-out by his locker, he would always make it a point to prepare his gear in front of a photograph of her.
Old, severely faded, and at places creased around the edges, it was the only memory he had left to remind him she did exist. Among its flaws, Ethan saw it as perfection. Ambered in hair, curvy in figure, the woman in the photo laid arched back across his old motorcycle.
Angela, He thought. Today will be the day.
Peeling the photo off and turning it over, he read the back: Thanks for the ride, Grim!
He endured this mental exercise the past four years, ever since she disappeared. It gave him a purpose for each mission. To him, success wasn't just completing the assignment,
it was completing the job and bringing everyone home. He knew, someday, he would find her. Holding on to this routine made him feel close to her or at least until it was time for him to put her away.
Captain Hunter Belmont entered the Personnel Compartment Quarters aboard the Apex Carrier Delta. Ethan adjusted his ear-buds then sets the volume on high. He put the picture of Angela
in his back pocket.
"Alright fellas, you all heard the broadcast. We've been greenlit!" Hunter exclaimed as he stood in the center of the room.
Ethan continued to rummage through his locker until the locker door next to him slammed shut. Punching Ethan on his shoulder, Private Gabriel signaled him towards Hunter. Ethan pulled
out his earbuds. Loud music saturated the room. Hunter shook his head as the music played.
"Change the frequency on that thing," he directed Ethan. "Act like you wanna be here."
Turning the headset off, Ethan held the earpiece in his hand.
"Listen up, mutts!" Our orders are clear. We're descending the Abyss... It's a simple job. We find the new water source, test it out and mark its location."
Using his hand, Hunter brushed the back of his short hair.
"As we all know, there have been reports of young boys missing in Central District. HQ has received a tip that they might be located somewhere out in this area. If we find these
boys, we secure them, take 'em back to HQ, then let brass handle the rest."
"You mean process them right? Like us," Gabe heckled, turning his back on Hunter and preparing his gear. "Not everyone was born into the high life of Advent City."
The rest of the team returned to their lockers in agreement. Ethan continued to look forward at Hunter. Hunter stared back.
"You with me, brother?"
Ethan said nothing. He put his ear-buds back in his ear and loaded his gun. He cocked the chamber then placed the pistol in his locker. Hunter walked up to him.
"Well, I guess my lieutenant is not communicating today!"
Looking in Ethan's locker, Hunter smiled as he glared inside. "So tell me, brother... where is it? You got it hiding in the gun box, maybe?"
Ethan slammed his locker door shut. "You got something you want to say to me?"
"Whoa, whoa, whoa!" Gabe interrupted, as he forced himself between the both of them.
Hunter threw up his hands as he walked out the personnel quarters. Ethan began to follow. Grabbing Ethan, Gabe held him back. "He's an ass man. Don't get all butt-hurt
about stuff... Besides, let's be real... she would have fallen for this guy right here, anyways. Come on... just look at me!"
Ethan remained silent. He walked past Gabe and went back to his locker. Picking up his assault rifle, he holstered his pistol. Gabe put his hand on Ethan's shoulder.
"I don't need your assistant, private."
Gabe shook his head.
"No problem, LT... just helping a friend. Too bad he's just another angry black man."
Ethan's muscles tensed up as he changed his shirt.
"Is this going to be your thing?" Gabe sneered.
"You keep pushing it and I'll show you an angry black man for real."
"My ass you will! Hunter got you beat in that department a thousand to one! Those blues eyes of yours ain't intimidating shit!"
Ethan stopped as he stared at Gabe. Simultaneously, they broke out laughing.
"Uh, huh... see what I mean." Gabe continued.
Ethan smacked him in the back of the head.
"Go on, go... Get outta here."
Ethan covered his mouth as he cleared his throat. Gabe looked at his wrist monitor as he started to walk away.
"Just a heads up too..." Gabe uttered. "there's no such thing as a little guy. We all need someone to watch our backs out there." He pointed down at his watch.
"Time for viejo to take his meds!"
Suddenly, an alarm rang off on Ethan's wrist monitor. Checking his watch, he reached into his chest pocket and popped two pills in his mouth. Putting the medication back in his
pocket, he reset the timer on his watch for 12 more hours. Looking around, he changed the frequency on his ear-buds: [Radio chatter. Landing confirmed.]
Hunter walked into the room and approached Ethan. Signaling the rest of the guys to prepare for exfiltration, he directed them to leave.
"Listen here McCall, I need you to stay focus out there. I don't want any of your shit today."
Pulling away from Hunter, Ethan stepped back.
"If you think for one second I'm not aware of your thing with Angela..." Clearing his throat, he resumed. "Better yet, my wife... let me correct you on that. The
last time I saw her was right after you two were out here, doing who knows what, while I had my back turned."
Ethan didn't flinch.
"You remember that day, don't cha, brother?" Hunter continued. "Now... after all this time, here we are again."
Patting Ethan's chest pocket that held his medication, Hunter swung his shotgun over his shoulder. Ethan brushed his hand away. "Get out my face, Hunter."
They stood in gridlock.
"It's been four years," Ethan protested. "The Abyss doesn't change anything. Angela's gone." Ethan gripped his fist tight. "We're doing this
the right way... with everyone going home."
Hunter put his shotgun on Ethan's chest next to his medication. "You've been listening to my communications, haven't you? That's a direct violation of your superior
officer."
"Don't give me that shit, Hunter!" Ethan injected. "Our main objective isn't searching for those boys. We've been tipped about their possible whereabouts
for weeks. The only reason we're out here is for that water and so your dear old dad can look like another hero."
"Fall in line, Ethan," Hunter demanded. "The fact that you're adopted makes this even easier. I will cut you down. As your Captain, I give you the orders."
Hunter headed towards the doorway. "Since there's nothing else to say... do your job like a good dog and locate that water. You're familiar with the area, right? So go
figure it out."
Hunter left the PCQ as he proceeded to rendezvous with the group. Ethan picked up his last bit of gear and followed him.
Alpha Team Six exited the carrier and headed towards the edge of a huge canyon. As the sun beamed down on the barren wasteland surrounding them, the group began to set up their gear
for repelling. The transport took off.
Ethan looked around the canyon. He realized it's been years since he last been there. His eyes stopped short of a few yards ahead of him.
What a waste, he thought. Nothing grew from those seeds.
Ethan stood in silence for a moment.
"Snap out of it, McCall... you're up!" Hunter bellowed.
Seeds
While riding his motorcycle through the dusty desert, Ethan looked through his dark shades into the bike's side view mirror. He glanced at Angela as she sat behind him. Looking
at their reflection together, he didn't stare long. Angela wrapped her arms around Ethan's waist as the air whipped around her face. The wind blew briskly, as strains of hair obscured it. She smiled as the sunlight
beamed off her designer shades. She looked back at Ethan in the side view mirror. Ethan's mind wondered. He questioned his actions spending the day with her. She was his brother's wife, but he couldn't shake the
feeling that she was in need. Being married into the Belmont family was inherited with secrets. Angela's pain-staking marriage to Hunter was no exception.
Ethan skidded his bike as the road ended. His massive chrome chopper came to a stop a few yards away from a massive canyon. Ethan took his shades off. As they both got off the
bike, Ethan pointed towards a location a few yards ahead of them. They continued to walk the edge of the canyon,
"Over there," Ethan uttered. "You wanted to see how the flower is grown, right? Well, over there is a good spot to put these in."
He pulled out a sack full of seeds from his coat pocket.
"How long does it take for them to grow?" Angela asked.
"A few months, maybe? It all depends on how much sun they get. We won't go too far down, or else they won't get any light. They'll survive here even without much
water. This place here is good enough."
Ethan reached out to Angela's hand and put the sack of seeds in it. Trying to hold his hand, she smiled. Releasing himself from her, Ethan pulled back his hand and continued
to walk further along the canyon. Angela scurried to catch up to him as she followed him deeper into the Abyss.
Shadows from the Past
Ethan repelled into the chasm. Joining the others, he went into tactical formation. Hunter tapped Ethan on the shoulder and directed him towards the front as point man.
"Heads up boys, anything can be around these corners. Don't wanna stick our noses into shit we can't sniff."
The team checked their communications and turned the safety off on their weapons.
"We're the ones with the guns, Capt!" insisted Gabe, "Ain't much to sniff when you can just blow it away like a running nose, ain't I'm right fellas?"
Ethan smirked.
"Yeah, you right," Hunter agreed as he gripped his shotgun. "But speak out of line like that again, and that smart mouth of yours will have to find a new face."
Gabe looked at Ethan. Ethan shrugged. Clutching the barrel on his gun, Gabriel straightened himself up.
Hunter circled his hands, signaling the team to advance.
"Jameson, check your monitor. Look for any heat signatures or movement in the area."
Jameson checked his gear. A bright yellow light emulated from his tracking device.
"Nothing to report, Hunter."
"Maybe we should split into two groups," Ethan suggested, "...we could cover more ground."
Hunter stopped the group as he approached Ethan. He turned off his headset and signaled the team to advance forward.
"I must be a mumbling fucktard! Did you not understand me earlier, McCall?"
"So that's it!" Ethan replied, "Not a single compliance"
"We're here-"
"...with a direct order from-"
"...for the water Ethan-"
"...headquarters!"
"...and nothing else," Hunter argued.
The two of them stared at each other.
"There's no one here, McCall. Just look at this place. Even if we found those boys would you really want them back at New Gate? The Central District is already filled with
enough people and problems. Finding a few missing kids isn't going to make a difference."
Hunter walked back to the group. He turned on his headset.
"It would only drain the Districts already limited resources, and we'll be right back out here looking for more water. The last thing we need is more recruits for Chaos,"
he added turning towards Ethan.
Ethan checked his wrist monitor. One of the gauges were set to alarm in 9 hours. He regrouped with the others as they walked further into the chasm. After walking a few hundred yards
in the cavern, Jameson's monitor flashed red.
"Yo... Hunter, check this out!" Jameson said. "Liquid gold!"
Jameson walked over to a grotto which pooled into a reservoir. He cupped his hand in the water and took a swig. Gabe shook his head.
"You're a brave man, Jameson! You'll never know who or what could of wash their ass in that."
Jameson poured the water on top of his head.
"Hey man... that just means more for me."
"I'm saying, You never saw the Survivor Man?" Gabe continued.
Jameson looked at the other guys. "You mean the fool who travels to the Bog with a camera crew."
"Yeah, he never drinks the water."
"He can't. Besides, it's easy when you're not the one carrying the 80-pound bag of equipment. My prays goes out to the camera man who has to record that crap,"
Jameson uttered as he climbed out the reservoir.
"Isn't the Bog suppose to be off-limits to civilians, something about sacred land?" Hunter asked.
"I guess, I'm not exactly sure," Gabe replied. "When I lived in the district, people would say all sorts of things. Mythos. Fairytales. Kid's stories. Most of
it was to keep the little brats in line, but other stuff, man... if it were true... we would be in some cosmic shit!"
"Chaos members believe in all that cosmic weird shit."
Gabe looked at Jameson. "Yeah, I know." Gabe paused as he glanced at Hunter. "Funny you, asking about it. You plan on making a trip out there or something?"
Hunter put his shotgun on his shoulder. "I don't know, yet. Sounds like a good place to hide a body." Jameson and Gabe looked at each other as he walked away.
Jameson twisted his shirt dry. As he unpacked his equipment, his wrist monitor flickered. Smacking the device with his palm, it came back on.
Marco glanced in Ethan's direction. "Lieutenant, you're real quiet over there. You found something?"
Marco walked towards Ethan. A white flower, with a red colored trim around its petals, was in Ethan's hand.
"What in the world is that?" Marco asked.
"Besides the obvious... I more curious as to how it got here," Ethan replied.
"That flower... it looks like an Oblivious. That species is rare. The only difference is that flower has red trimmed along it's edge. Most flowers I came across
had petals that were just white."
Ethan nodded his head.
"I'm impressed!" Ethan confessed. "Didn't take you for the nursery type."
"Apex chose us all for a reason, right."
Bending down, Marco inspected the water. "Looks like the water checks out. It's good enough to produce with."
Ethan looked into the reservoir as well. The cavern was dark besides the flickering of electronics and spotlights. Even though the water appeared clear on the surface, Ethan adjusted
his eye as to what could lie beneath. He noticed more of the same flowers under the water. He stood up and put the Oblivious in his shirt pocket.
"I'm thinking more or less we should be alert... don't want to get too worked up yet," Ethan confirmed. He pointed to a trail of blood just beneath the water's
surface. "Someone has been here."
Everybody raised their weapon as a cough was heard. Shining their flashlights at the location of the sound, a shadowy figure ran away.
"Hold up!" Hunter exclaimed.
The team pursued a short distance through the cavern until finally a small boy was cornered.
Ethan immediately dropped his weapon.
"Wait! Whoa... don't shoot!" Ethan directed as he signaled the alpha team to fall back. "It's ok son... your safe now. What is your name?"
The boy whispered incoherently as he twitched in response. Hunter shined his light on the boy while the rest of the team beamed their flashlights at the surrounding area. Huge statues
of archaic warriors lined the cavern walls like ancient carvings. Hunter approached the boy.
"I don't have time for this. Answer the damn question," he demanded.
Hunter put his shotgun in the boy's mouth. Out of the shadows of the cavern emerged a hooded man and a small group of boys.
"Release him," the man demanded.
Alpha team circled together as they aimed their weapons at the hooded man. More boys emerged from the shadows, circling the Alpha team. The hooded man walked closer to Hunter and the
captured boy.
Hunter shoved the gun further down the kid's mouth. "Either you have a death wish or you're just really stupid. Either way, it doesn't matter."
Approaching Hunter, the man placed his hand on the shotgun's barrel. Hunter looked at the guy underneath his hood. Taking a deep breath, Hunter gasped as he saw the man's eyes
removed.
"What the fuck are you?"
"Everything, I will tell you. What you need to know, will be revealed. But first..." The man paused. "The boy must not be harmed."
Ethan lowered the barrel of Hunter's shotgun. The Captain eyed his lieutenant.
"My name is no longer important," he continued. "...and neither is the boy's. To know us is to know the Awoken."
Ethan looked around the cavern. All the boys appeared to be young in age to late adolescent.
"Hey, you all... listen up! We're bringing you home, NOW! You will return to Central District where you'll be processed accordingly-"
"Processed huh? You mean that Apex militia crap." interrupted the man.
The man directed the group's attention to all the boys in the cave. "Look around you... what do you see?"
"Just a bunch of dumb kids," Gabe answered.
"Exactly." the man stated. "Congratulations... you soldiers beat the system. You were the most intelligent, the most resourceful... hell, maybe even the most brute in
your district. But ask yourselves, at what price did you pay to be free from such poverty?"
The man opened his arms, as the young boy returned to him.
"These boys are missing, period," Ethan urged. "They have families. They belong to New Gate. Stand down, they're coming with us."
"Then take them. I promise they are free to go willingly," the man assured.
Without moving or blinking, the boys remained still. Parting through the Alpha Team, the hooded man walked past them as he headed towards the reservoir.
"As an Awoken, I remember the planet when it was still called Gaia. It was the age of the Protogenoi. It was a simpler time... before the spirit mother gave her life, just so
she could save ours,"
"What's a Gaia?" Gabe interrupted.
The man feverishly picked up some dirt. "Gaia surrounds you, you idiot. This is Gaia." He held the dirt high above his head. "This planet was hers and hers alone to rule...
but now she's dead. It was the Great War that took her away. But at last, a new moon has arrived and life will soon be spoken back into her existence.
"What are you rambling about... New Moon?" Ethan asked.
"She has many names," the hooded man explained.
Hunter picked up his shotgun. "This is insane. You are all ordered to stand down."
The hooded man gestured his hand to one of the boys. A young kid nodded his head in response.
"None of us is going anywhere. I must ensure the terrors are well fed and satisfied." Putting his hand deep into the reservoir pool, he pulled up a young woman.
"Angela?" Ethan muttered as the man laid the girl down on the ground beside him.
Hunter grabbed the nearest boy to him.
"The hell is going on? How did you find my wife?"
Picking a flower from underneath the water, a small boy immediately gave it to the hooded man. Pulling back his overcoat, the man unsheathed a blade from his right thigh. He grabbed
Angela's arm and swiped the knife across her wrist. Blood poured down her hand as it trickled on the white flower's petals.
"Animabus mortuorum, novasque vitas," whispered the man.
Shooting the hooded man with his shotgun repeatedly, Hunter fire at the man as he fell back into the water behind him.
"Hunter, don't!" Ethan shouted. "You'll hit Angela."
Ethan ran over to Angela's side. He checked her neck for vitals. Although she was unconscious, she produced a pulse. He compressed her chest and blew air into her lungs.
"Stay with me, Angela."
The rest of the squad had their guns trained on the surrounding kids. Hunter marched up to Ethan. Picking him up, Hunter punched him in the face.
"This is on you, McCall! Dammit... she would have never been down here-"
Getting to his feet, Ethan tackled Hunter.
"Fuck you! She reached out to me... all I did was help her!" Ethan disputed.
Swinging a punch at Hunter, Ethan missed. Hunter put Ethan into an arm lock and swept his feet from underneath him. Both men struggled on the ground until finally, Jameson fired his
sidearm.
"Break it up!" he yelled.
"Yo, Capt...," interrupted Gabe. That guy... he's gone."
"Right here," declared the hooded man.
Deep within the crowd of boys, the hooded man emerged carrying the body of a dead child.
"Thank you," the man continued. "now two souls have been given up for offering. The spirit mother, Gaia, never unpays a debt."
"That girl is not yours to negotiate with, asshole!" Gabe replied holding his gun up.
"I am immortal. How dare you insult me with threats of harm."
Hunter cleared the chamber of his shotgun, "I don't care what you think you are-"
Ethan reached for Hunter's gun. The two of them scrambled to their feet. Pulling a grenade from his belt, Hunter tossed it at the crowd and the hooded man. Leaping high in the
air, Ethan deflected the device sending it crashing into the reservoir. As the water exploded throughout the cavern, Alpha Team Six huddled up as the children began to scramble. Tremors in the cave forced ceiling rocks
to fall.
"What did you do?" shrieked the hooded man.
"Tell us what's going on?" Ethan demanded.
"She's angry!" the hooded man resumed.
Gabe put Angela's arm around his neck then picked her up. "Get over here, quick, Ethan!"
"She must not leave!" demanded the man. "They haven't begun there feeding."
Peering out the shadows, deep within the water, emerged a fleet of dark shadowy creatures. Unloading their ordinance sporadically throughout the cavern, Alpha Team Six held there position
as a horde of demon spawn swirled overhead. Ethan looked down at his wrist monitor. Six hours remained on his timer. He grabbed Angela with Gabe and together they started running out of the grotto.
"How long 'til we're topside," he demanded.
"Four klicks," Jameson responded.
"We need to get as close to the LZ as possible."
Screams from the boys echoed throughout the corridors of the cavern as they scattered about in the cave. As the dark figures savagely attacked them, they dispelled a mist that dissipated
in the nose and mouth of the young boys, gaining them possession. Attacking one another, the group of the infected started to multiply.
"Ethan..." Gabe cried out. "Marco's down!"
Gabe dropped Angela's arm and left her with Ethan.
Marco continued to fire his sidearm as a group of kids swarmed over him. Gabe fired a burst of rounds as he frantically reached through the horde. Stretching his hand out, Gabe struggled
as he pulled at Marco. Savagely biting and ripping his flesh, the horde tore through Marco's uniform. Looking at Marco, Gabe noticed his face turned gray and his eyes were black. Reaching for Gabe's hand, Marco brought
it to his mouth and bit him. Falling back, Gabe cried out and was immediately devoured by the horde.
"Don't stop moving, McCall!" Hunter demanded.
Catching up to Jameson, Butch continued to fire his weapon. As the horde closed in on them, Butch pulled out a grenade and threw it. Rocks crumbled from the explosion as the horde
fell back.
"GO!" Jameson yelled. "I'll cover you!"
Butch continued to run, catching up to Ethan and Hunter.
Hunter looked over his shoulder. "You've ever been to the Bog, Butch"
"What?" he replied.
Dropping to the ground, Butch held his knee from the shotgun blast from Hunter. Jameson immediately turned towards them. Running towards the exit, he passed Butch, leaving him to be
devoured by the possessed horde. Gabe leaped on the ceiling and gave chase. Ethan, Hunter, and Jameson continued down the cavern.
"So that's your plan! Kill us all!" Ethan sneered.
"Be grateful you're carrying Angela."
Hunter tapped on his headset but was unable to send a communication to his pilot.
"Jameson, you called that bird in yet?" he demanded.
Plugging in the coordinates on his wrist monitor, Jameson sent a beacon towards the Apex Carrier Delta.
Ethan staggered as Angela planted her feet.
"Let me die, Ethan," she moaned.
"Hold on, sweetie, we're not far now!"
Descending down into the chasm, the Apex Carrier Delta thundered in the canyon. Two massive turbines propelled the airspace up as it hovered in front of the alpha team.
As Gabe continued his pursuit, Marco joined him. Racing upside down, the two of them leaped towards the transport. Hunter shot Marco in the face, exploding his head. Gabe landed on
Jameson, knocking him down. As they both struggled to wrestle the other, the horde behind them continued to advance.
"Hunter, we're going for him!" Ethan directed. Placing Angela down, he fired his repelling line at Gabe's leg.
Hunter stopped running.
"Stop being stupid, McCall!"
Struggling with Gabe as he repelled his line, Ethan dragged Gabe towards him. Jameson leaped to his feet and continued to run. As the hovercraft landed. One of the crew members helped
Hunter retrieve Angela and escort her in the airship.
"Captain Belmont, I've received communications from Apex Control. There's been an explosion at the executive building, sir. President Mason is under attack."
Hunter tapped the young soldier on the shoulder.
"Sonny... bring me back there now!"
The soldier looked at Angela.
"Is that the President's daughter, sir?"
"Yes! Now let's move," Hunter commanded.
Jumping on board the rear hatch, Ethan continued to drag Gabe.
"I sincerely apologize friend."
Ethan disengaged his repel as he lined up a shot to Gabe's face. As the aircraft ascended, Ethan fired his sidearm, missing the shot. Ethan looked up and noticed Jameson as he
waved his arms tirelessly. Tapping his earpiece, Ethan connected to the pilot.
"Do not ascend.. repeat, do not ascend!" Ethan commanded, continuing to shoot at the horde. "Jameson is out there. Provide cover fire."
Grabbing the pilot's control, Hunter pulled up on the handle, gaining the plane altitude.
Leaping in the air, Jameson grabbed onto the boarding dock. Ethan reached out his hand as he tried to pull him up. Hanging in the air as the horde accumulated beneath him, Jameson
reached for Ethan.
Running with the horde, Gabe's body suddenly fell to the ground and was trampled by the horde. As the dark mist left his body, it flew towards Jameson. The dark mist entered
his nose as he looked at the horde below.
"Look at me," Ethan directed as he continued to reach his hand out. "Jameson... look at me."
Leaving the cockpit, Hunter returned to the rear hatch. As Jameson looked up and leaped upon Ethan, Hunter shot him in the head, leaving him to fall down into the chasm below.
The demon in Jameson's body left as the ex-soldier plummeted to the cavern floor.
"Happy, McCall... your cover fire."
Getting back in the cockpit with the pilot, Hunter directed the aircraft to ascend. While the crew continued to hover, the horde climbed the walls surrounding the canyon.
"Fire," Hunter directed.
Unleashing a barrage of missiles at the horde, the walls of the Abyss caved in.