You already have the smarts to accomplish your goals. This book will teach you how to move beyond your natural intellect and remove roadblocks to allow your brilliance shine.
| | |
| --- | --- |
| | Self-Help Entrepreneurship |
| | Sunnyvale, California |
| | 55,000 words |
| | 100% complete |
| | 16 publishers interested |
Synopsis
"Rajesh has brought insights both playful and practical to the very real challenges we all face in the creating great work. His thoughts are clear and kind."
-Tom Chi, founding team member of Google X

"Being smart won't save you from the frustration of getting stuck , but this book will."
–Dan Waldschmidt is the best-selling author of EDGY Conversations: How Ordinary People Achieve Outrageous Success
"Setty is a serial entrepreneur and has keen observation. Read this book to gain deep insights into what is holding you back."
–Srikumar Rao (web) is a TED speaker, Professor and author of "Happiness at Work: Be Resilient, Motivated and Successful – No Matter What"
Overview
"How does one become a butterfly? You must want to fly so much that you are willing to give up being a caterpillar." - Trina Paulus

Being smart is what got you to where you are now. But now that you are here, being a smart person, you are not satisfied at simply getting by – you want to move beyond. You want to fully express your brilliance and have the positive impact on your world that you know you are capable of having. You want the success that should come with being smart. So, let's use your smartness to get you unstuck and successful.
Smart, But Stuck is for those who know they can make a positive impact, but feel… somehow stuck in fulfilling what they want to accomplish. People get stuck for many reasons and you can claim that you have a unique "stuck" situation that nobody else in the world has, and I would agree. There is no other "you" so your situation HAS to be unique. However, there are patterns that repeat, over and over again.
In the book, Rajesh Setty will pursue these problem patterns, the underlying reasons why those patterns repeat, and then teach readers how to escape the traps. You didn't get stuck suddenly; you got stuck gradually. The day you finally feel the frustration of being stuck is just a culmination of all the small acts from the previous days, months, or years. Gradually... then suddenly, is the phenomenon that will explain a lot of the mess you are in today.
Just as getting stuck is gradual, this book illustrates that success happens along a similar path. This book is not the "trendy"/quick fix answer to getting un-stuck, but then again trendy and quick fix generally don't produce lasting change. The gradual way may be the road less traveled, but it will make the journey and the end results all the more rewarding.
What you will find in this book is field-tested advice on how to get unstuck. It was discovered by working with several smart and super smart individuals who at one time felt stuck – just like you. People who needed to move beyond their natural intellect, get their hands dirty, and remove or use the roadblocks to create a place where their brilliance is allowed to shine and make a positive impact on the world.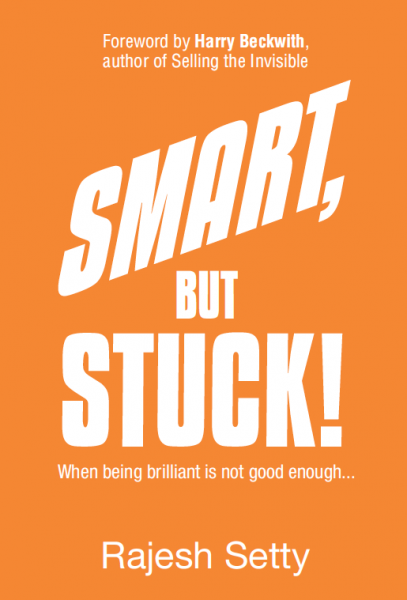 The following visual explains the focus of the book: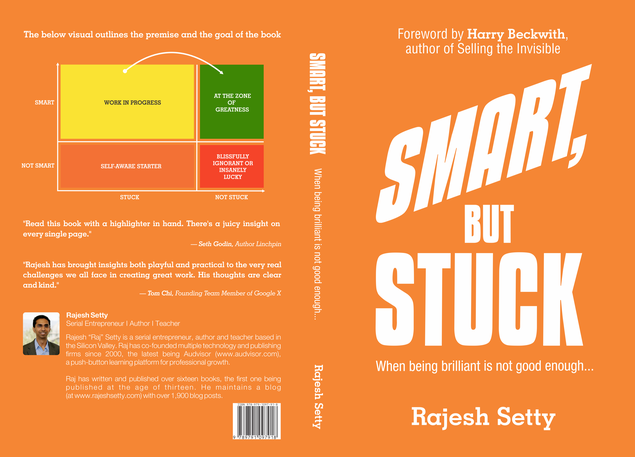 Audience
There's an interesting aspect to the feeling of being stuck. Many people who report that they're feeling overwhelmed, confused or stuck in a rut are—in many cases—quite talented, intelligent and ambitious. In fact, various brilliant people found themselves stuck in life, ranging from Albert Einstein to Walt Disney. These prominent examples show us that people who are feeling stuck in life still have the potential to accomplish a great deal in life IF they are able to overcome what is holding them back.
A study done by Wrangler concluded that 81 percent of Americans feel they are creatures of habit, and 51 percent said their routine could use a shakeup. Another recent study found 69 percent of British people feel trapped in the same old routine and over 40 percent are unhappy with their lives. Commissioned by blu eCigs, the study revealed that despite 69 per cent saying they are stuck in a rut, the majority don't make changes to their lives as they struggle to know where to start.
As entrepreneurs who are responsible for our own work flow and process, it is important for us to be particularly resourceful when it comes to getting UNSTUCK, but sometimes it's just not that easy.
According to Kato, 15 percent of new business ideas are abandoned after four years and another 15 percent are successful four years after conception. That leaves 70 percent of entrepreneurs stuck in between, waiting for the pendulum to swing toward success, or failure.

There following segments of people will benefit most from the concepts outlined in Smart, But Stuck:
--Entrepreneurs | They can apply the principles to their product offerings to identify new possibilities (eg: product extensions, new market segments, competitive differentiation, etc.)
--Small Business Owners | Small business owners will benefit from learning to do more with limited resources.
--Business Leaders to Program Managers | These professionals will benefit from identifying new possibilities for projects they lead - in the process taking their own careers to the next level.
--Consultants | Consultants can use the practices to help their clients identify new possibilities. As a side effect, they can expand their own consulting engagements with those clients.
"When ever I feel like I'm stuck in a rut, I do two things. First, I think about all the things about my company that I'm grateful for: my team, the flexibility, the constant learning, the experiences I've had (and I have a note on my iPhone that I keep adding to in case I'm having a hard time thinking of things). Second, I ask myself what else I'd rather be doing. Even on my worst day at UniversityParent, there's not another idea I'd rather be working on. Once I remember that, it's easy to pull myself out of a rut."
– Sarah Schupp, CEO & Founder of UniversityParent.com
"Whenever I'm in a rut, I change my work environment. I switch from my desktop computer to my laptop, and sometimes I take it to the park so I can get out of the house. I find the change to be refreshing and it usually gets me back on track."
– Andrew Schrage, Co-Owner of Money Crashers Personal Finance
"They say that a change is as good as a rest, I have been a digital nomad since 2005, and when I am feeling stuck, I tend to seek out new impressions, this could be changing location, changing workspace, changing country… Whichever I feel is most beneficial at the time. If you stay stuck in one place physically, then maybe your mind is stuck in one place psychologically. Change your surrounding, look at something new, and your mind can follow with new thoughts."
– Michelle Dale, CEO of Virtual Miss Friday
Author
Rajesh Setty is a serial entrepreneur, author and speaker based in Silicon Valley. He has co-founded multiple technology and publishing firms the latest being Audvisor, a push-button learning and communication platform for enterprises. Rajesh has written and published sixteen books with his first book published at the age of thirteen. He maintains a blog with over 1,950 blog posts. He is an award-winning teacher at the Founder Institute and a member of the Band of Angels. More about him at www.rajeshsetty.com/about/
"Rajesh is an engaging and thoughtful Mentor in the Founder Institute, and his talks are widely respected by founders around the world." – Adeo Ressi, Founder of The Founders Institute

On Growing and Changing Your World One Thank You at a Time [At Afest]:
Know your G.Q: The New Success Metric (at Afest)
Promotion
LinkedIn followers--4,249 followers.
Apart from maintaining his own blog at www.rajeshsetty.com, You can also find him on Rajesh also writes on Medium and Huffington Post.
You can also find him on Facebook, Twitter, Instagram and Quora,

Rajesh is an international speaker and investor with an impressive network of influencers and corporate endorsers.
Rajesh is an award-winning teacher at the Founder Institute since 2010.
Competition
The Obstacle Is the Way: The Timeless Art of Turning Trials into Triumph
by Ryan Holiday (Author)
Publisher: Portfolio; 1 edition (May 1, 2014)
The book draws its inspiration from stoicism, the ancient Greek philosophy of enduring pain or adversity with perseverance and resilience. Stoics focus on the things they can control, let go of everything else, and turn every new obstacle into an opportunity to get better, stronger, tougher. Ryan Holiday shows us how some of the most successful people in history—from John D. Rockefeller to Amelia Earhart to Ulysses S. Grant to Steve Jobs—have applied stoicism to overcome difficult or even impossible situations. Their embrace of these principles ultimately mattered more than their natural intelligence, talents, or luck.If you're feeling frustrated, demoralized, or stuck in a rut, this book can help you turn your problems into your biggest advantages. And along the way it will inspire you with dozens of true stories of the greats from every age and era.
Rising Strong: How the Ability to Reset Transforms the Way We Live, Love, Parent, and Lead
by Brené Brown (Author)
Publisher: Spiegel & Grau; Reprint edition (August 25, 2015)
It is the rise from falling that Brown takes as her subject in Rising Strong. As a grounded theory researcher, Brown has listened as a range of people—from leaders in Fortune 500 companies and the military to artists, couples in long-term relationships, teachers, and parents—shared their stories of being brave, falling, and getting back up. She asked herself, What do these people with strong and loving relationships, leaders nurturing creativity, artists pushing innovation, and clergy walking with people through faith and mystery have in common? The answer was clear: They recognize the power of emotion and they're not afraid to lean in to discomfort.
What Got You Here Won't Get You There: How Successful People Become Even More Successful
by Marshall Goldsmith (Author)
Publisher: Hachette Books; Revised ed. edition (January 9, 2007)
The corporate world is filled with executives, men and women who have worked hard for years to reach the upper levels of management. They're intelligent, skilled, and even charismatic. But only a handful of them will ever reach the pinnacle -- and as executive coach Marshall Goldsmith shows in this book, subtle nuances make all the difference. These are small "transactional flaws" performed by one person against another (as simple as not saying thank you enough), which lead to negative perceptions that can hold any executive back. Using Goldsmith's straightforward, jargon-free advice, it's amazingly easy behavior to change. Executives who hire Goldsmith for one-on-one coaching pay $250,000 for the privilege. With this book, his help is available for 1/10,000th of the price.
Big Magic: Creative Living Beyond Fear
by Elizabeth Gilbert (Author)
Publisher: Riverhead Books (September 22, 2015)
What leads to the willingness to take chances, live life to the fullest, and act on risky ideas? Glibert shows us how to tackle what we most love, and how to face down what we most fear. She discusses the attitudes, approaches, and habits we need in order to live our most creative lives. Balancing between soulful spirituality and cheerful pragmatism, Gilbert encourages us to uncover the "strange jewels" that are hidden within each of us.

Rework
by Jason Fried David Heinemeier Hansson (Author)
Publisher: Currency; 1 edition (March 2, 2010)
Rework shows you a better, faster, easier way to succeed in business; why plans are actually harmful, why you don't need outside investors, and why you're better off ignoring the competition. The truth is, you need less than you think. You don't need to be a workaholic. You don't need to staff up. You don't need to waste time on paperwork or meetings. You don't even need an office. Those are all just excuses. What you really need to do is stop talking and start working. This book shows you the way. You'll learn how to be more productive, how to get exposure without breaking the bank, and tons more counterintuitive ideas that will inspire and provoke you.

The Power of Habit: Why We Do What We Do in Life and Business
by Charles Duhigg (Author)
Publisher: Random House Trade Paperbacks (January 7, 2014)
Charles Duhigg shares scientific discoveries that explain why habits exist and how they can be changed. Distilling vast amounts of information into engrossing narratives that take us from the boardrooms of Procter & Gamble to sidelines of the NFL to the front lines of the civil rights movement, Duhigg presents a whole new understanding of human nature and its potential. At its core, The Power of Habit contains an exhilarating argument: The key to exercising regularly, losing weight, being more productive, and achieving success is understanding how habits work.
Sample
Gradually...then suddenly
"The time to repair the roof is when the sun is shining"
- John F. Kennedy
In the book The Sun Also Rises, Hemingway paints a scenario where one of the key characters, Mike Campbell, is asked, "How did you go bankrupt?" His response is "Gradually ... then suddenly." This scenario is applicable to probably all our lives—you don't fail suddenly; you fail gradually through a series of small failures everyday. The day you fail is just a culmination of all the small failures you have had.
"Gradually ... then suddenly" is the phenomenon that will explain a lot of mess we are in today. We are trying to find instant solutions to problems that we have created over years.
If you are a knowledge worker, there is a big dilemma today. Imagine you are engaged in a craft that can be "well-defined." Chances are that sooner than later your job will be automated, packaged and/or outsourced.
Hard work and commitment are good, but not good enough.
Why?
Because technology really makes it easy for commodity skills to be leveraged from a remote location without a large overhead. An overseas worker may match you on your commodity skills, but you can't work for the same wages.
Having had the privilege of working with very smart people for close to three decades, I see this all the time.
Smart people get stuck all the time.
What about the "not so smart" people?
[ Note: First of all, there is no need to worry about this case, because you are not one of them ]
Don't they also get stuck?
Yes, of course.
They do get stuck but they don't see it that way. Most of them explain it as they being "victims of circumstances". Yes, those circumstances that are beyond their control and hence they can't do anything to change them. In other words, many are happily "choosing" to continue to be stuck.
Smart or not smart, continuing to be stuck is a real problem.
And that is precisely what will stop them from being successful.
Next time when you get stuck, ask yourself these two questions:


Where were you "going" when you got stuck?


Assuming that this was the best path among available options, if you did reach the goal, would your "capacity" to make meaningful contributions to the world significantly increase?


If you answered "Yes" to the second question, then you are getting stuck for a good reason. It is happening because you are navigating the edges of your comfort zone.
Nobody is an expert at the edges of their comfort zone.
On the other hand, if you are not "stuck" for the right reasons for a long time, you should be scared because clearly - you have been habituating at the dead center of your comfort zone - happily cruising along to mediocrity.
As you can see, the people who are thinking they are never stuck are the ones who may be in the "Gradually.. then Suddenly" trap.
In summary, getting stuck for the right reason is a good thing. It is your path to growth and ultimately to achieve success. You grow by getting stuck for the right reasons, getting unstuck and move on to the next adventure until you are stuck again and repeat the cycle of growth
The opposite is also true. If you answered "No" to the second question above, that means even if you reached your goal, you would be running around in circles. Getting "stuck" there in pursuit of those goals is NOT a good thing. It will surely make you tired but it won't get you to any kind of success.
Seven Kinds of Getting Stuck (Including one that's good)
Let's ask the question again - "getting stuck" a bad thing?
Not always.
In fact, it's good to be getting stuck in the right way.
It is part of the growth.
Here are seven ways that you (or your employees) may get stuck. The first six kinds of getting stuck need to be fixed. The last kind of getting stuck is something that needs to be encouraged.


Stuck outside the field


You are stuck outside the playing field because something else (your own agenda) is holding you back. You are torn between your agenda and the agenda of the person who is paying you. When taken to an extreme, your "stuckness" is costing the company (if you are working for one) twice - first, because they are not getting the value for their money and second, it simply introduces an opportunity cost that can build up.
Example: Five years ago, you wanted to start a business. Your goal has not changed. You still want to start that new business. Ten years from now? Who knows - you may still be sticking to your goal without making any REAL progress. Meanwhile, your job performance at work is suffering because you are torn between the "present you have lost interest" and the "future to which you are not fully committed"


Stuck at the door


You are at the door busy fiddling with the door. You know that the field is inside and you have to open the door to reach the field. In other words, you have starting trouble. You talk about getting in there and playing hard but you are making the required effort to start.
Example: You hired a consultant who came and recommended a few changes to fine-tune the business. You had to do some homework before you embarked on the new journey. You are halfway through that homework and you get busy with other things. You don't start that new journey because your homework is not complete. You can't complete the homework because you are busy doing what you were doing. You are basically stuck at the door.
3. Stuck at the center: You are somewhere at the center and you have been there quite some time. You think center is safe and comfortable. Leaving the center means taking risk and you don't like that. While that is a safe bet in the short-term, it backfires in the long run simply because the entire landscape changes every few years and what is at the center today may be no longer on the map.
Example: Things are going very well in your business. The trends are not. If you change what you are doing now, there is a dip in the revenue but you would have averted a long-term threat. Plus, you don't want to admit it - it's a lot of hard work to change. You think about the change almost everyday and continue what you are doing. One day...
4. Stuck in a fight: For whatever reason, you think that for you to win, others have to lose - this means you have to get stuck in a bloody fight every now and then. This is a case where the company loses twice - your productivity and the productivity of the person that you engaged in a fight.
Example: You are writing a book and you decide to get post an excerpt from a chapter on your blog. You get a comment that you don't like and you start engaging with the person who made the comment to prove that you are right. Soon you are focused on the fight and you have forgotten about the book.


Stuck in the weeds: You are on the path to an edge but you got stuck in the weeds - those totally unrelated and unnecessary details. Sometimes it gets worse. You don't even acknowledge that you are stuck in the weeds.


Example: You start some research work on a new business opportunity. That leads to a survey and one of the questions in the survey is related to competition. That leads to further analysis and deep dive into all of your competitors and their business. You get fascinated and worried both at the same time. You start following up on everything and anything that your competitors do. In the process, you start running behind on your own business. That leads to your competition running even further ahead of you. This leads again working hard to find out what else they are doing. You know where we are going with this...


Stuck at the Wrong Edges: Now you are away from the center and outside of your comfort zone. You are stuck because you are in the unfamiliar territory and you have to stretch yourself to get comfortable in the new territory. However, it's not of much use as you are stuck in the "wrong" edges. Even when you get out of your "stuck" state the company does not benefit much because you are in the wrong place.


Example: A wrong edge is just that - anything that you are doing new but is not leading you to a better place. It may be a wrong habit that you are acquiring or it may be a wrong networking group that you are getting introduced or it may simply be something you are super passionate about coming at the expense of risking what you are building already. The timing may just be off.


Stuck at the Right Edges: This is golden. You are away from the center. You have taken the risk and you are willing to be uncomfortable. You probably know that you don't have much competence here but you are willing to do whatever it is to acquire that competence and skills AND grow. This is where growth happens. You go to the edge and stretch. You tumble and fall but when you get up and go again, you are better than before.


Example: Your business is growing and your competitors are embracing social media in a big way. You are an introvert and you have trouble participating in social media of any kind. You are stuck. You are not going to give up. You get a LOT of help from friends and experts and FINALLY after a few months you are comfortable using social media. Your business continues to thrive. More importantly, you have grown by leaps and bounds.
The point is every time you stuck and get unstuck in the right edges, your growth accelerates.
But before you start your "getting unstuck" journey, you should ensure that you won't fall into the "quick-fix" trap.
Smart special: The "Quick-Fix" Trap
I can safely assume that either you are "smart, but stuck" or someone close to you - a loved one, a friend or a co-worker is "smart, but stuck."
Note that I didn't say you were just stuck, I said you were "smart, but stuck." The smart part is very important. Being smart and knowing the reason for "why you were stuck", I would be surprised if you would not be tempted to get "unstuck" as quickly as possible. Like right now!!!
I would love to give pep talk to encourage you to go and get unstuck right away. Unfortunately, I know that getting "unstuck" is not that simple. A problem that has been created over 10+ years cannot be solved in a few weeks or even a few months. Trying to get an "instant" solution is a recipe for disaster.
The "Quick-Fix" trap is also a specialty for smart people. The "not so smart" people don't think they can fix their problems quickly and they look for help and probably get those problems fixed. It is the smart people who are looking to slice and dice the problem instantly and probably get a solution right away.
I know that you are not one of those smart people who are looking at an instant solution. If you were, you would simply be looking for some "top ten" tips on a blog or a website rather than picking up the book.
Now that you have picked up the book, I urge you to go all the way. Take a few extra minutes to complete the Impact Challenges (explained in the next section) and make a real difference in your life or in the life of someone you care.
The Impact Challenge
"Nothing in this world can take the place of persistence. Talent will not; nothing is more common than unsuccessful people with talent. Genius will not; unrewarded genius is almost a proverb. Education will not; the world is full of educated derelicts. Persistence and determination alone are omnipotent."
- Calvin Coolidge
Todd Sattersten, who I am blessed to have as a friend and advisor said it brilliantly (in the Introduction of their book "The 100 Best Business Books of All Time") - "Business books can change you, if you let them."
This book is no different. It took me a few years to research for the book and one more year to write, re-write and re-re-write and then another nine months to get it published.
Everyone has a choice on how they spend their time. You have chosen to spend anywhere between 10-15 hours of your precious time with me as we go through the journey together. It means a lot to me. I am delighted. I am honored. I am humbled. I understand the enormous responsibility that is placed on me to deliver the goods.
I knew that this was a challenge going into it. I took that seriously. And the result is in your hands. But, I know that the job is still incomplete.
You still have to read the book, right?
Yes, that's right but that's just not it. There's more.
You can read this book like fiction but I know that you want more out of it than the satisfaction of checking off a book on your list. You want to make a difference in yourself and then you want to make a difference in this world. You will agree with me that this can't happen within the context of simply reading the book. The rubber meets the road when you apply one or more of your learnings on the field.
Honestly, it is more fun to practice on the field than simply digging in the book.
Think about it:
Do you prefer to stop at reading about swimming? Or, actually swim?
Do you prefer to stop at reading about sky diving? Or, actually sky dive?
Do you prefer to stop at reading about a movie? Or, actually see that movie?
It is clear that knowing has a value but using what you get to know has a far higher value. With that in mind, I have a few 'Impact Challenges' sprinkled all over the book. You will be tempted to skip them and move on because you are in the flow of the book. I am not suggesting that you stop everything and jump on the challenges. Make a note somewhere, dog-ear that challenge page or simply add a talk in your "To Do" list. Use whatever system you want - but make it a point to revisit the challenges and complete them - as many as you can.
If you want to go one step further, share your new experiences wherever you are comfortable sharing - may be on your blog or any social media outlet or if you are the introvert types, you can just record it in your personal diary.