Synopsis
Startup studios create valuable startups with more speed and agility than traditional venture models. Studios are a pioneering approach for creating scalable, successful entities with the ability to scale and innovate rapidly.
The smartest entrepreneurs and innovators are always looking for new ways to turn their ideas into booming business. They want to lower the risks and the costs and use disruptive processes to improve the odds of success. For them, the startup studio approach might be one of the best, if not the best ways.
Attila's book is a comprehensive and profound look into the strategic nature of studios and entrepreneurship, and a great resource for those looking to learn more and start their own studio.

The first version of the book is already published and received great feedback. It is available in English and Russian, and the Japanese, Portuguese and Hungarian translations are in progress. This campaign aims to make the second edition a reality, and get it into the hands of even more entrepreneurs, innovators and investors.

The Concept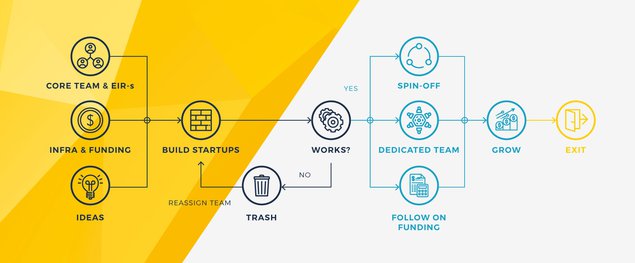 Startup studios are organizations that build multiple startups from internal resources, one after another. These organization are also called venture builder, startup factories, foundries. The main operating principles of startup studios:

· Take a core team & entrepreneurs in residence;
· Add shared infrastructure & in-house funding;
· Generate ideas internally, focusing on a specific area;
· Build multiple startups in parallel, with shared resources;
· If an idea doesn't work, reassign the team to a new one;
· What works you spin it off and get follow on funding;
· Grow. Exit. Repeat.
The Benefit

Startup studios offer a risk-free and cost efficient environment for experimentation and venture building.
· Impact of failure is greatly reduced;
· Faster start & shorter startup build time;
· Ideal to boost underdeveloped ecosystems;
· Ideal for people who want to build many companies;
· Easier start for entrepreneurs, better terms for investors;
· Works everywhere, not only in developed startup hubs.
Startup studios are on the rise, attracting more and more talend and capital

· Since 2008, studio companies have raised more than $5B;
· Nr of startup studios tripled since 2016 from 51 to 150+
· Funding into studio companies increases 48% each year;
· Companies built in studios exit on average 3 years after launch.
· The largest exit is worth $1 billion – Unilever bought Dollar Shave Club, a Science-Inc. Company;
· Studios and their portfolio companies together employ more than 50,000 people worldwide;
· There is a wide range of models and verticals represented.
Outline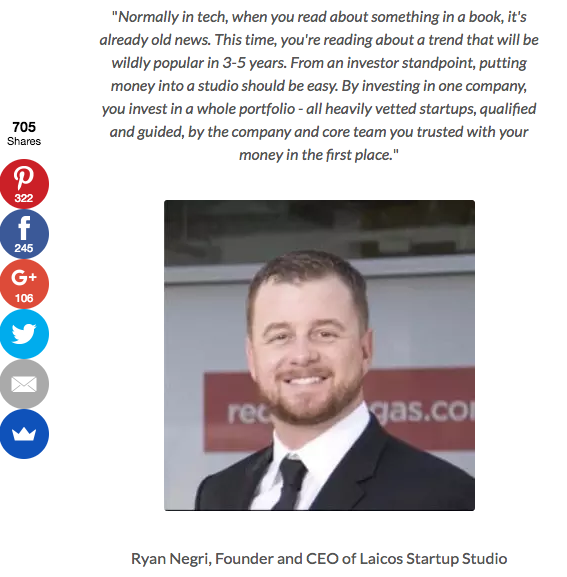 To make the startup studio model more transparent, the first version of the book shows you different case studies, studio stories and a collection of best practices, organized into the following chapters:
1. Startup studio basics is a primer on what startup studios are. We will look at the definition, core components, the business logic and execution basics of such organizations.
2. Emerging from Beta is about NYC-based Betaworks and the story of one of their recent success companies, Dexter. This chapter will show you how one of the most successful startup studios does it.
3. Ahead of time is about a Tampa, Florida-based startup studio called Laicos. The founder, Ryan Negri shares his experiences about building a studio in an environment that's not ready for a studio, and why and how they transformed themselves.
4. Building a 100% co-owned venture builder from scratch shows you how Budapest-based Lab.Coop was created from the ashes of a closed down startup. They built a 100% co-owned venture builder, and they share how they did it.
5. In Building startups from megatrends the Helsinki-based venture builder Midealab will show you what they do to identify so called mega-trends and how they generate ideas that have global potential.
6. Culture is a verb is written by the Amsterdam-based studio Backspace, about how they built their venture builder, especially focusing on the culture part.
7. In Game Plan, eFounders, one of the most successful European startup studios share some of their operational guidelines, ranging from ideation to portfolio management.
8. Stretching our Limits is about how we are pushing the limits of the startup studio model with Drukka, our Budapest-based startup studio.
9. Corporate startup studios will show you the challenges of corporate innovation and how the startup studio model might solve this.
10. Startup studio strategies, written by French startup studio adVentures raises some of the high-level questions you need to decide on, before building your own studio.
11. Innovation conveyors is a bird's eye view on where the startup studio model fits into the history of entrepreneurship.
12. Startup studios 2.0 is a theoretical chapter about the studio model, created by a group of MBA students of American University. It analyzes the model in the context of historical entrepreneurial models.
The second version which you are buying into, will feature more exciting examples from across the Globe, worksheets and templates to build and grow a studio. You will read about startup studios from a variety of countries and industries so you can find the one that most inspires you.
Audience
The main goal of the Startup Studio Playbook is to make startup studios more transparent, and make it easier to create new studios. And you will easily find how you could benefit from this model.
Entrepreneurs who are preparing to launch their next venture will learn how the startup studio model lowers the risk and impact of failure. Build your startup in an easy and safe way.
Corporate innovators will get to know a new method for boosting their company's innovation output.
Startup studios will get a benchmark on other studios, finding ways to improve their own strategy and execution.
Investors will get a high-level understanding of how startup studio can provide a stable deal-flow.
Decision makers will discover how they can support the startup studio concept and increase the startup output on an ecosystem level.
Universities will gain understanding of how they can work together with studios to bring more of their research closer to the market.
Startup Studios are also becoming a real alternative for young graduates and first-time entrepreneurs. Nowadays young people don't necessarily want to work for large international corporations. Millennials from top school now more than ever want to work for startups and work on exciting new ideas. However, the traditional way of building a startup carries a lot of risk and can be a slow process - to find cofounders, raise initial money… In a studio however, even inexperienced, but talented and driven young entrepreneurs can almost instantly get the resources they need to build a company, and experience the whole startup lifecycle.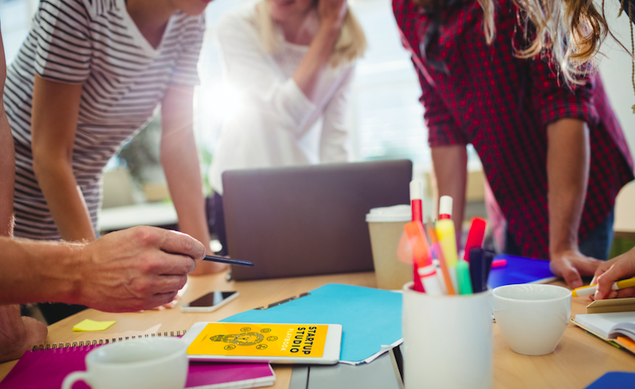 In a studio where everything is provided you can truly focus on what matters most - customers and product, core features, retention, onboarding process, and growth.

Promotion
The book offers valuable knowledge to entrepreneurs, innovators and investors from a wide variety of industries and geographical locations. This presents a huge opportunity to spread the startup studio knowledge.
Collaboration. The 30-day Publishizer campaign will engage the amazing community of startup studios and network of Attila - thousands of email addresses and outreach on social media.
Website and Content Marketing: Currently the main distribution channel is the startupstudioplaybook.com site and it's blog. Because of the precise targeting, on average 18% of visitors to the sales page decide to buy the book.

Startup Studio Mentors: The next step is to create a vibrant community of entrepreneurs and mentors who have the motivation and ability to take charge of the startup studio trend and act as mentors, advisors in their own startup ecosystem. For them, the Startup Studio Playbook will be the basis of their new expertise.

Startup and Innovation Events: Attila is a regular speaker on startup and innovation events, and will use these opportunities to talk about startup studios. This is a great way to meet entrepreneurs in person, listen to their stories, answering their questions and selling the book.
Cooperation with educational organizations: There is tremendous opportunity in bringing the book into universities and large startup education organizations, to share this knowledge with the next generation of entrepreneurs. Attila is already giving guest lectures and well renowned universities in Budapest.
Book stores: By getting the Startup Studio Playbook into bookstores (offline and online), we can reach more people who will be able to use this knowledge to their own benefit.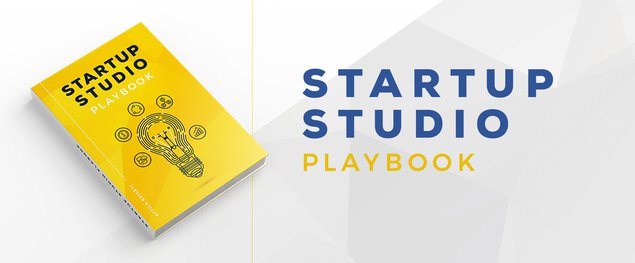 How can I contribute to the campaign?

- Select the perk that is the best for you and support the campaign by pre-ordering the second edition.
- Recommend the book to your friends who are dealing with startup or innovation projects within large companies.
- Share the campaign page on your social media channels.
- Get in touch with Attila and ask your questions, tell your opinion about how you are using the studio approach for your own benefit.
Competition
The Startup Studio Playbook is the first and only professional, comprehensive book on startup studios, containing case studies, stories, best practices and trend analysis.
The book and movement that serves as role model is The Lean Startup by Eric Ries. Eric and his book changed the way entrepreneurs and companies build their products and services. Thanks to the Lean Startup approach we are able to build better products in less time with less cost. This method is the cornerstone in most studios.

And while the Lean Startup is a great methodology for product building, the studio approach gives a new way to build the platform in which entrepreneurs will use this and other methodologies.
One of the greatest honours of writing and publishing the first edition was to receive the Foreword from no other than Mike Jones! As founder and leader of the legendary startup studio Science-Inc, Mike is one of the thought leaders of the startup studio space.
Foreword - by Michael Jones, CEO of Science-Inc.

The technology studio is a playbook that aims to create valuable startups with more speed and agility than traditional venture models. Studios are the auxiliary structure for creating scalable, successful entities with the ability to scale and innovate rapidly.
Los Angeles is an uncommon tech town, a place where I drive past three movie studios to get to work. Being in Southern California gives me a unique outlook on startup creation, as it does for studios located in other parts of the world like New York, Berlin, and the UK. The idea of our startup studio is ternary; to originate ideas and concepts for startups; to invest and advise; and to acquire properties and redistribute resources and scale them. In the past we've worked at the active intersection of content and commerce, social systems and marketplaces. Just this year alone, this thesis as a blend of art and science generated three exits for Science Inc. -- Dollar Shave Club, HelloSociety and FameBit. Other studios like Expa and Betaworks too did tremendous, well-regarded work.
The definition of studio – a structure where artists, operators and producers work - is much more potent when applied to innovation. The future for tech studios is exciting and sure to be impressive. Our responsibility is to identify trends and provide people the tools and space to create world-changing technology. The future is mobile, and its time to expand the studio model thesis to other areas of growth.
What we need to do now is grow vehicles and help the next generation of entrepreneurs beyond just providing capital. The studio's mission is to provide team support, engineers, marketing encouragement, a fertile environment and become the experts in understanding how to leverage data and insights to move quickly, learn from failure, and iterate for value.
Attila's book is a comprehensive and profound look into the strategic nature of studios and entrepreneurship, and a great resource for those looking to learn more. I'm excited to see what the future holds as we all continue to push tech talent forward. We're all here to create and support brands that inspire. So successful venture builders, entrepreneurs, and readers of this book, I urge you to continue looking at things a little bit differently. Let's continue transforming.
- Michael Jones
Science Inc.
--------------------------------------------------
The emergence of Startup-as-a-Service
The Model T assembly line transformed car manufacturing. Software-as-a-Service revolutionized corporate IT. Now corporate startup studios and Startup-as-a-Service is emerging and changing corporate innovation.
Large and medium companies all around the globe try to step up their innovation game. If you were the leader of such a company, how would you do it? What would you do to capture and retain top talent? How would you build new products and business models to keep your company ahead of competitors?
Corporations struggle with keeping their products, services and business models up to date. Whereas startups are eating the world. Tech savvy Millennials are hacking together products in hackathons. They are leaving behind their 9-to-5 jobs to work on risky but high-potential ideas.
Is the solution for large companies to become like a startup? We've seen examples where a large company restructured itself from the ground, to give more room for innovation. Corporations are acquiring, investing in, or incubating startups in ever increasing numbers. Their challenges are serious. And they are willing to try out several methods for boosting their innovation game
Broken record
The conventional corporate innovation process can easily be seen as broken. Most large enterprises can't compete with startups when it comes to speed and efficiency of innovation. Many of them try to adopt startup techniques and you can hear them chanting lean and design thinking. But often it's not the methodologies that fail. It's the corporate environment that doesn't allow disruptive ideas to flourish.
Current corporate organization structures and innovation strategies can not keep up with the rapid innovation pace. In more and more markets you can easily find new, small and agile players. They are outcompeting the large but slow corporate incumbents. Look at the state of fintech, IoT, the buzzing around Industrial Internet and Industry 4.0. Do you see how fast moving startups endanger large companies?
In a corporation it's very hard to create meaningful innovation with sufficient speed. One reason is that big corporations are typically not good in adapting to new circumstances and changing themselves. They are rather big machines optimized for the efficient execution of processes and satisfying quarterly shareholder expectations. And this comes with rules and regulations that make it hard to innovate in a true startup spirit.
What do you need to if you want to create disruptive innovation, fast? For starters, you need flexibility, attitude for experimentation and an environment that supports all this. Within a startup you can easily create these condition. But in a corporation it's a different story.
A startup is created to break things that can be done better. In contrast, a large company is optimized for stable operations, fulfilling shareholder expectations mentioned earlier. And the same factors that allow them to run an efficient operation, might suffocate their innovation attempts. Startups can follow the "move fast and break things" mantra. But in a corporation a failed project often means a setback in your career. And by following strict corporate policies and culture, you will have a hard time coming up and implementing disruptive ideas.
Looking for a way out
Especially in today's fast paced environment, R&D units often can't keep up with the speed of exponential technologies. Things like Artificial Intelligence, nanotechnology, 3D printing… The venture capital funded startups simply outrun them.
The future of corporate innovation demands a direct connection to the startups and startup ecosystems. Large companies must find a way to work with these garage companies. If they fail in this, they risk to lose their business models and market share at a painfully fast pace.
One solution is to simply eat small fish. Lots of them. You can find plenty of enterprises who have an insatiable hunger for fast moving startups. And they are willing to open their buckets to soothe this hunger. This is all good, until we look at the long term success ratio of these acquisitions. More and more people realize, that large corporations are often unable to properly integrate the acquired companies into their organization. This means that most of the huge amount they spend on acquisitions goes to waste.
Some enterprises try to resolve these internal conflicts with so called Corporate Innovation Centers. They create a new division within the company, often placed into a separate building, where their employees can work on innovation projects. Driving through global innovation hubs like the Bay Area you can find a lot of them.
These centers are also good for keeping close ties between the company and the startups and universities in that region. This helps the corporation to look for new talent, get a feeling for technology trends, look out for new competitors. And such innovation centers also serve as prestige symbols and outposts that help to build up a strong presence in a market.
This is all nice and shiny, but unfortunately it doesn't always solve the innovation challenge. Even in these corporate innovation centers, there is no escape from the ordinary corporate culture and policies, regulations. And just by putting employees into a different organization unit and building, doesn't mean that they will suddenly have that kind of entrepreneurial and hacker attitude that's needed for disruptive innovation.
Another solution involves traditional corporate venture capital, investing into startups. How well this works depends on the charter and the structure of the corporate venture capital arm and also on the maturity and acquisition readiness of the startups. Does it have to make money the same way the rest of the VC industry does? Is that the main goal? Cisco for example has been very successful in taking important areas of innovation, funding and staffing them and doing spin-offs and acquisitions. But this only works if the corporate VC and it's portfolio of startups have well thought-out synergies with the rest of the parent company. The bottleneck here is, that most startups created the old way are not built in a way that make them ideal acquisition targets.
And lately in some markets, like fintech you can see big financial institutions teaming up with global accelerators to start thematic accelerator batches. For example Techstars is doing this with Barclays. And now they even started a program together with the world's largest brewery to accelerate startups that want to improve the beverage consumption experience. It is increasingly easier to see how the sharp border between corporate and startup world is slowly dissolving. Just beware of the same old burden that large companies can bring to the table: culture, attitude, rigid structures.
Then there is open innovation. It is a method in which corporations use both inflows and outflows of knowledge. Meaning that they can take ideas and market channels from the inside and the outside. The core belief of this method is that we live in a world of distributed knowledge, and market players can't rely only on their internal R&D capabilities. Instead of being a lone wolf, they should acquire patents. And if the company innovates something not tied to their core business, they should take it outside the company through spin-offs, joint ventures, licensing. On the up side, this methodology can reduce the cost of R&D and improves the company's innovation potential. The challenge is to properly integrate outside ideas and also to safeguard the company's core competencies despite increasing complexity. And of course you still have the burden of the corporate culture, which might limit employees' mindset and options.
Modeling Hollywood might be the way out
The so called startup studio model might be the answer to most of these challenges. This is very similar to how movie studios in Hollywood are producing multiple movies at the same time, involving internal and external resources in the process. In the Hollywood studio system the production and distribution of movies is done by large movie studios on their own filmmaking lots with creative personnel under often long-term contract. In this model — characterized by strong vertical integration — the major control of distributors remains in the hands of the studios.
And this might be also the best way out for large companies. To set up their own startup studio in a separate organization and leveraging control using their equity.
Peter Drucker in his 1985 book "Innovation and Entrepreneurship" already dedicated a chapter to large companies that employed this model, like Procter & Gamble, 3M and Johnson & Johnson. Whenever these companies started a new product line, they did it in a separate company. They appointed a project manager who was responsible for the entire operation — from research to sales. This model isn't new to the corporate world, it just didn't spread until now. As the number of startup studios is rapidly growing worldwide, it's easier and easier to imagine how this model might solve the innovation challenge for corporations.
Imagine that you run a large enterprise, you have a big market share, a wide presence, expertise and financial resources on your hand. Then you create an entirely new entity as a startup studio. You let some of your employees join this company. The hackers, troublemakers, the ones who don't want to see the box. And you also bring in talent from outside, for example entrepreneurs. All this without forcing them into the often innovation-killing constraints of the parent company.
And you let them come up with dozens, hundreds of ideas and build startups. You can let them create their own culture — with a future acquisition in mind — , and you can let go of daily control. Eventually some of the startups produced by this new "company within the company" will succeed, and then your parent company will be able to easily integrate them into the main organization.
Another reason to create a separate studio is to deal with regulatory challenges. If the enterprise conducts risky experiments in the studio, then even a total failure won't harm them. So they'll be able to protect their reputation.
It makes a lot of sense for large companies to build and invest in their own studios. They have the money, the industry knowledge and the network to support the startups. And the money they need to setup a startup studio might be minimal compared to the internal cost of (very slow) innovation.
This is what AXA is doing. They announced in 2015 that they are creating their own startup studio in France, and they dedicate 100 million EUR to this new endeavour. Kamet, as they call this new entity, is operating independently from the parent company. Their crew is a mix of employees, entrepreneurs, fintech and insurance-tech experts. They will build many startups, and the ones the parent company thinks is a good fit, they will acquire.
In early 2016 Jaguar Land Rover also announced the creation of InMotion, a separate company builder in charge of building mobility apps and services. The new studio is like an autonomous company within the company, tasked with creating and spinning out startups.
So they basically outsource innovation. And once a new idea proves itself in the form of a working startup, and they can be certain that they solved all the main risks associated with it, they acquire the startup. This protects the main brand. Even if something goes wrong, the startup is separated by multiple degrees from the parent company, so they could easily let go of it . On the other hand, the corporate startup studio can provide a venture building platform that produces startups that are ready for acquisition and cultural, technological and business integration.
Another benefit of a corporate studio is the chance to retain talent. Google just recently created an in-house incubator called Area 120 with a dedicated space in San Francisco. It's purpose is to give opportunity to Google employees to build their companies as part of the Google empire. Equally important, Area 120 will also ensure that the Internet giant will not miss the next big idea just because one of their employees left and built it as an independent startup. The co-workers will be able to join Area 120 for several months with a business idea, and they will get funding from the company. Combine this with the flexibility of the Alphabet structure and the traditional VC arm (Google Ventures, Google Capital), and you can easily see how this results in a giant startup factory.
And if a large company doesn't have such deep entrepreneurial culture and isn't certain of how to make all this happen, they can more easily partner with an already functioning startup studio, and make an innovation outsourcing deal, in which the corporation provides the financials, industry expertise and network, and the studio gives all the know-how of building startups.
Even if you are a large company born out of a startup, you might find benefits in teaming up with a studio. A recent example which excites me is the new Betaworks fund in which Twitter is investing $10 million. The two company has already strong ties. Betaworks invested in two companies (TweetDeck and Summize) that Twitter acquired. So Betaworks is a great supplier for Twitter to build their "ecosystem". Based on this trusting and mutually beneficial relationship, probably this new fund will focus on startups that are close to where Twitter is. For Twitter this means a great deal-flow of startups to potentially acquire and for Betaworks, this is a great new exit channel. Within such an outsourced startup building deal, the corporation sets the direction of innovation, provides market access, some entrepreneurial talent and the funding. And the studio will do the legwork for them, coming up with ideas, prototyping, validating, building.
A corporate-sponsored thematic studio can then provide the owners with the agility of startups, while shielding their core corporate culture from the startup mindset and vice versa. I don't know too many large corporations that honestly want all their employees to suddenly think like startup cofounders. For many employees it would be liberation, but for the company this would likely add to the attrition rate — a metric that management hates to see increase.
Complex recipe and a large bill
Of course, success has it's price. Especially during laying the foundations. To kickstart a studio and reach an ideal scale of operations, the founders need to provide many resources. This about financials, team composition, defining procedures, metrics…
You need a founding team that has ties to the parent company, but is able to operate independently with own rules and culture. And you need to have a team that has all the competencies to build startups in your chosen industry.
With studios, planning ahead goes a long way. What kind of methods and procedures the studio will use in experimenting with new concepts is a key ingredient. You will almost certainly rely on Lean Startup, Design Thinking and agile development methodologies.
You need an organization structure that provides independence during the exploration phases and one that also ensures that the startups produced are ready for a smooth acquisition — integration into the parent company.
Compensation and encouraging failure is a tough point. You need to pay the members of the studio well if you want to keep them. Equity is also an option, but as you want to produce startups for acquisition purposes, you want to keep a large equity share for the studio — to ensure a satisfying ROI. Also, compensation has to embrace failure, at least not discourage it. This is needed to make sure that people in the studio, especially the less entrepreneurial ones have enough motivation and safety to start experimenting.
But, even with all the pieces figured out, the high entry costs often holds back companies from starting their own corporate startup studio. Similarly to how in the old days companies had to spend a fortune on IT infrastructure to have their systems up and running. But then came the cloud, and on top of the cloud the Software-as-a-Service model. And suddenly companies of all size could easily set up and start the business apps they needed, for penny.
Startup as a Service
And doing the same with corporate innovation and startup building could easily be the best answer for corporate innovation. Imagine that you have a startup studio (or startup factory, foundry, venture builder — you name it) that has already established a strong base infrastructure and resource pool. Every competency included — technology, design, marketing, sales, legal, portfolio management. Every process included — ideation, business model generation, prioritization, validation, growth, investor and spin-off management…
Such a studio can easily become a Startup-as-a-Service provider for large companies. The corporation sets the direction in which they want to have their own startups. They give market access, industry expertise and funding. The SaaS provider gives everything else, and they build up as many startups as the client wants.
This model has the same benefits as a corporate startup studio — compartmentalizing risks, appealing to creative talent, protecting the corporate culture and brand. And it has a much lower price tag. Startup-as-a-Service enables companies to request end-to-end creation of startups or even startup portfolios.
Examples
Although this model is relatively new, we're fortunate to already have some inspiring examples.
Exit3x is a Berlin-based venture development team that adds startup DNA to corporate venturing programs. Led by Kevin Dykes, they join forces with corporate innovation groups and other corporate startup studios to create new ventures and attack new markets together.
Drukka is a Budapest based startup factory that builds their own startup portfolio (12–15 / year) and teaming up with large local companies to "take ideas to seed-ready company within 3–6 months from 10–20k EUR".
Aimforthemoon is an Amsterdam-based startup studio creating joint ventures with corporates from scratch. Since 2012 they have built up a large community of entrepreneurs that they connect to corporates and their innovation challenges.
Prehype is a group of entrepreneurs founded by Danish entrepreneur Henrik Werdelin, who help established companies and VCs facilitate spin-outs, incubation and venture partnerships.
Mint Digital has presence in the UK and US. They run hackathons and use crowdfunding campaigns to test ideas. All this to facilitate venture development and digital transformation for their corporate clients.
A chance for the provinces
So far we discussed the benefits from the corporates' point of view. Now let's look at the opportunity that corporate startup studios and Startup-as-a-Service provide to developing startup ecosystems.
Remember, we mentioned earlier the potential role of Corporate Innovation Centers. The main limitation is, that usually these centers are part prestige projects. So the companies will deploy them to strategic locations, well developed ecosystems.In contrast, a corporate startup studio might easily cost less — with a more focused scope — and it can be easier set up in locations that are important for the company, but have not that high prestige value. Creating a studio in a low-cost region that has highly skilled talent is a win-win-win deal. The parent company gains the potential to create many innovative startups for the fraction of the cost that prestige locations would cost.
And if you have a Startup-as-a-Service provider, then that one can serve more than one corporations in that region. For the local ecosystem, this studio would be an inspiration, a guiding light that can produce companies that will count as local success. And for the people such an entity would mean more opportunities and the chance to learn how to build startups in an easier way.Startup gigafactories are the future
You will see more and more stories and inspiring examples emerge about this new "entrepreneurship technology". What Elon Musk does to solar and space (among others: scaling up production to cut unit cost) are startup studio operators do to startup-building.By far the biggest barrier we have to face is mindset. Traditional investors, corporations and even entrepreneurs are largely unaware of the rapidly evolving startup studio model and the opportunities we can build around them — like Startup-as-a-Service.
Therefore the best thing we can do to facilitate these changes is to share our experiences and best practices. Join us in this quest!