Who is this book for
This book is aimed at individuals who have very little time to handle their own private investment operation, but don't want to rely on professional help or pay for expensive academic courses. It is specifically aimed at individual investors and entrepreneurs, who have day jobs and businesses to take care of, and don't want to spend hours in front of their computer screens chasing investment ideas. It is also for all individuals who are willing to break with the norms of today's investor culture, blindly following financial academia and investor celebrities.
From the back cover
Are you ready to set yourself free? The 80/20 Investor, harnessing the power of the 80/20 principle, simplifies investing. In no time, you will learn where to look for "no-brainer" opportunities, learn how to finance your investment opportunities and minimize risks.
This book allows you enter the seemingly intimidating world of investing, with constructive tips from some of those who have changed the game, including the Rothschilds, Hetty Green, J. Paul Getty, Henry Singleton, and others. Only with financial freedom can you live the life you want to lead. Let The 80/20 Investor show you the way.


Testimonials
"Just as the internet has democratized work, it has also democratized investing. We are raised to believing that investing intelligently is complex and difficult, something best left to professionals. In the 80/20 investor, David shows that for those who take the 80/20 approach, investing is now easier, more fun and more profitable than ever." -- Taylor Pearson, author of The End of Jobs
"Investing can be a confusing and risky business. Right from Chapter 1 David lays down easy to understand, highly actionable advice, tactics and strategies that cut through the noise and help simplify otherwise complex and confusing investment decisions." --Brendan Tully, Principal Consultant - The Search Engine Shop
"David breaks down what some people spend their lifetime learning about investing into succinct chapters--how to cut out the B.S. of investing. Most of us are busy with our professions and building our careers but want to tap into the financial markets, and I'm confident that after they read this book they'll be well-equipped to be ahead of the pack!" -- Mike Michelini host at Global From Asia
"The 80/20 Investor helps entrepreneurs become better investors in their own enterprises. Japanese investors and entrepreneurs will surely find this book valuable." -- Tatsuro Tsushima, Managing Director of INDEE Japan and co-supervisor of The First Mile
Why you should read this book
Most people dream of financial freedom, but don't know how to achieve it. In particular, investing is a vital component of any path to financial independence, but only a very few actually do understand and practice it successfully. The rest have no or little education and pass on all financial responsibilities to their financial advisors, bankers, and other professionals. They often fall prey to vested interest with mediocre or even terrible results.
The subprime crises of the previous decade has highlighted that every consumer should be aware of how the financial industry actually functions, and how their financial incentives are structured. I myself have worked for more than 15 years in the financial industry, as banker, analyst, portfolio manager and product marketer. I have seen the internal workings of the finance industry and their incentive structures. In all honesty, success in this field is defined such that it makes it impossible for most professionals to work solely in the best interest of their customers.

What is necessary is a rudimentary education in investing for the average consumer, based on some simple, time-tested principles. This book, harnessing the power of the '80/20 principle' and other effective models, simplifies the whole investment process, and makes investing approachable for ;the average consumer.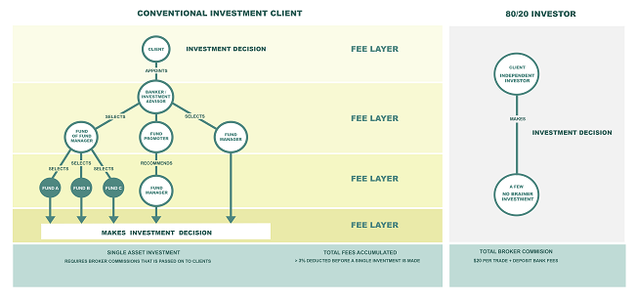 Chapter outline
In this book, I will start by discussing two simple assumptions.
1) Saving and investing is the key to financial freedom -- it is the 80/20 way!
2) Saving and investing itself is simple if we apply the 80/20 principle.
I will discuss the need for and advantages of a rudimentary investment education, and why we need to make decisions independently of professional advisers.
Following these discussions, the book is divided into three sections, which outline a 3-step process to becoming an 80/20 Investor.
Step 1. Set your investment destination
Step 2. Identify the steps necessary to reach that destination
Step 3. Take action

By studying past and present 80/20 Investors and by comparing them with professional investment managers today, we will be able to set our destination.
Once our destination is set, we will identify the tasks necessary to reach our goals.
The final step is to execute the action points set down from step 2. In the section on this step, I will give advice and tips to individual investors on how they can take action the easiest way possible.

I will discuss the topic of investors psychology and its influence on our decision making. I will also recommend techniques on how to better control and reduce the interference of emotions when making buying or selling decisions.

Finally, I will explain why the 80/20 principle of investing really works, and why it is possible to get competitive returns with a fraction of the work done by professionals.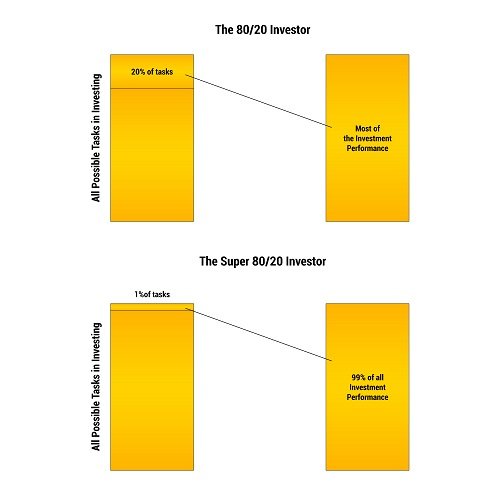 About the author
David Schneider trained as banker in Germany and has studied financial services in London and Tokyo. He has worked in investment banking and asset management for over fifteen years in Düsseldorf, London, Tokyo and Singapore. He has co-founded two hedge funds. Since 2011, he has managed his own financial resources and has become a location-independent entrepreneur and writer. His mission is simple: to use the 80/20 principle to educate people on how to handle their own financial affairs in the fields of saving, investing, and risk management.
Marketing and promotion
I am the founder of nomdaicinvestor.com and a senior contributor at honestnomads.com. I have a launch team and I have and will contact influencers with a large following in their respective communities of digital nomads and location independent entrepreneurs.
I will actively promote the book among digital nomads and location independent entrepreneurs.
How the funds will be used
The funds from this campaign will be used for funding the next book project - The 80/20 investor for advanced students. The book will cover more technical topics and professional interviews. I want it to be a high quality investment book.
Table of Contents
Introduction: A pig farmer's approach to investing
Chapter 1: Why you should read this book.
Chapter 2: The 80/20 Way. Theory behind the 80/20 Principle.
Chapter 3: How to apply the 80/20 principle to investing. Introducing the three steps to apply the 80/20 principle to investing.
Chapter 4: Understanding the principles of Money, Investing and Risk.

Chapter 5: A short history of investing and some notable investors:
The Rothschild Family - A banking dynasty
Hetty Green - The witch of Wall Street
J. Paul Getty - The playboy and the oilman
Henry Singleton - The US condor
Warren Buffett and Charlie Munger - The odd couple
Chapter 6: Modern Day Investing. Portfolio Theory and Modern Risk Management.
Chapter 7: Time to make a decision. Set your goal and decide to become an 80/20 Investo
Chapter 8: Set a Primary Cash Flow. Learn about cash management and savings with specific action points.
Chapter 9: The mechanics of smart decisions. Make better decisions by using checklists and other mental models.
Chapter 10: Where to look & what to buy. Invest in yourself and maintain a circle of competence.
Chapter 11:The Magic Categories. Four more areas to search for investment ideas that can represent no-brainers.
Chapter 12: Effortless Portfolio Management. Simple portfolio management to reduce risk and to give you a simple overview.
Chapter 13: Investor's Psychology.Be aware of your emotions and control them - follow the action summary.
Chapter 14: Why it works. There are three fundamental reason why 80/20 investing works and has worked since the early pioneer investors such as the Rothschilds.
Chapter 15: Are you an 80/20 Investor yet?
Afterword
Appendix I
Frequently Asked Questions (FAQ)
Appendix II Summary & Case Studies
The 80/20 Investment Approach Summary
CASE STUDY I: Mr. Standingback's Apple Adventure
CASE STUDY II: Just keep on investing
CASE STUDY III: The NIKKEI 225 Challenge
CASE STUDY IV: Executing the 80/20 investment approach
Acknowledgements
Bibliography
About the Author