UPDATE! THE ABSOLUTE NOVELS have been in the making for more than five years, and releasing them means so much more than fulfilling my dream of being a published author. To my amazement, my funding goal on Publishizer was reached and actually surpassed by nearly $700. Now I'm hoping to increase my original goal up to $3000 before my campaign ends on March 17th, the day before my book will be published. I'm so glad for early reactions and excitement in the custom packages I've created! Here's a bit more about me and why I'm devoted to making my books a success.
---
In 2009, I was a student at the University of Southern Denmark, working toward my Master's degree in American Studies. I had just had a baby the year before, so it was a busy time. In the middle of motherhood and scholarly pursuits, I found myself needing a private space, and was thrilled when I discovered Twilight fanfiction and a world filled with wonderful stories and people. Unexpectedly, I found myself inspired to write, and with the encouragement and support of my online community, I wrote a story about a lonely college professor who starts an affair with his free-spirited student, and finds himself irrevocably changed.

Meanwhile, my life took a lot of unexpected turns. In 2012, my daughter, who is now six, received two diagnoses: Infantile Autism and a severe mental disability. My son, who was one year old at the time, showed no signs of disability until six months later, when he suddenly lost his speech and became withdrawn. Later that year, he received the same diagnosis as his sister. We were devastated, naturally, but after a brief period of shock and sadness, we started to rearrange our lives to best suit the needs of our children.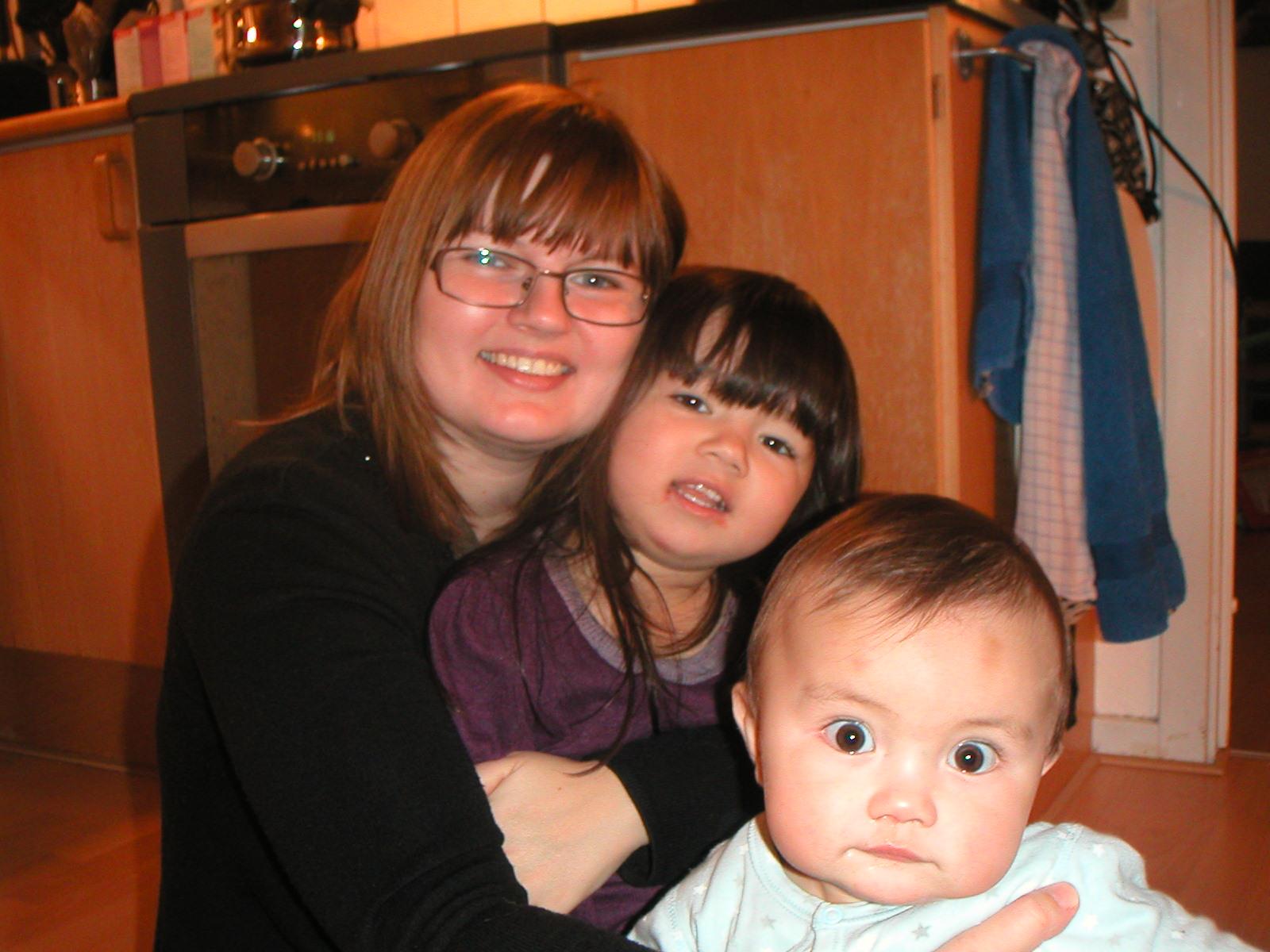 As a result, my university studies became very delayed, and I am only just now writing my Master's thesis. I began working part time as an English teacher to help make ends meet, which they don't always, unfortunately.
Writing fanfiction became more than a hobby for me after our lives changed so drastically. It became a way of escaping into a different world, at least for a little while. I never dreamed that it would become an opportunity for a new career.
I was approached by Full Fathom Five Digital early in 2014, after an editor read my fanfiction online and saw potential in it. I was very flattered, but I also knew that the story needed a lot of work before it could be deemed worthy of publication. After talking it over with my husband, we decided it was something I needed to pursue, even though it meant that I had to spend a lot of time working on the story. Publishing this book could open up new opportunities for our family.
In the course of my research about Autism, I came upon a therapy form called ABA, which has shown great results when applied to children. Unfortunately, that form of therapy is relatively unknown in my country, and both the state and the municipality refuse to pay for it. We are now in our second year of battle to get our children the care they need. My daughter has received a similar therapy in her daycare and has improved immensely over the past years, now speaking in full sentences. But my son, who is almost four, has only recently spoken his first word, and is still very withdrawn.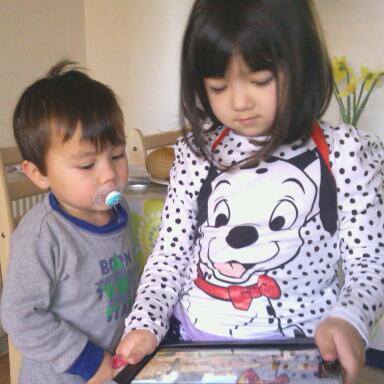 The state would prefer that our children simply go though the motions of being sent to a special school and then live in institutions for the rest of their lives. This is unacceptable to my husband and me. Therefore, we are now paying for home-based therapy—as much as we can afford. Unfortunately, we need more. The goal is to hire a full-time ABA instructor to work with our children and teach us how to help them thrive.
Taking care of my children and giving them the therapy they need is costly. Being able to work from home as a full-time writer would transform our lives in more ways than one. The success of this book is crucial to my continued pursuit of a writing career. I would be able to work around the schedule of my children, giving them days off from daycare when they need it, and focus more on their therapy. Once my daughter starts school this fall, she will no longer receive therapy during the day, and so it's crucial to her progress that we are able to hire professional instructors to work with her after school and on weekends, and to start working with our son, as well.
So why preorder The Absolute Novels here, rather than simply buying them once they become available?
Well, you get more here! I had thought of simply starting a funding campaign to ask for your help supporting my career so that I can provide for my children, but I realized that instead I'm able to offer something to my readers in return—not only my endless gratitude, but all of the personalized options you can choose here when preordering my books.
Publishing this series is a step toward my dream of being a writer, but more than that, every bit of support it receives is a step toward my dream of giving my children the life they deserve.
Thank you for your support over the years. I cannot wait to share this journey with all of you!
Love,
SJ Hooks
The Absolute Novels contain mature content and sexual themes. Reader discretion is advised!
The Absolute Novels will be published in two pieces: Absolute Beginners on March 18th, and Absolute Lovers on June 24th. The Paperback edition will include both novels and will be available on June 24th as well. All those who preorder will receive Absolute Lovers in advance of the publication date—stay tuned for updates!
For my amazing fans who have preordered Absolute Beginners through separate retailers, all of the below packages are available minus the cost of that preorder. Thanks for your support!
P.S. Visit me online:
Website—Sign up for my mailing list here!
---
An excerpt from ABSOLUTE BEGINNERS...
Glancing at my watch, I breathed a small sigh of relief. My class was about to start and she was blissfully absent. Usually, I didn't approve when my students missed a lecture, but it seemed that a lot had changed since the beginning of the spring semester when she sauntered into my classroom, annoying me at every turn. I looked at my watch again. Time to start.
Then the door swung open, and my good mood dissipated.
Of course she wouldn't miss a class. She never has.
She danced into the room as she always did, wearing ridiculously large headphones, bopping her head to the beat. Did she even notice the stares she received? Did she care? Probably not, given her choice of outfit—if one could even call it that. The combat boots on her feet were unpolished and worn, her black pantyhose was riddled with holes, her skirt was far too short, and if that wasn't bad enough, she had cut up the neckline of her long-sleeved shirt, making it fall off her naked shoulder. My eyes lingered there, noting the lack of bra strap.
The jocks in the back noticed, too, their eyes following her as her movements made it obvious that she definitely wasn't wearing anything underneath the tight-fitting shirt. Lifting my gaze to her face, I met her eyes for a second. She flashed me a grin, winking. Suddenly, I felt as though my bowtie was too tight around my neck and I had to fight the urge to tug at it.
As she breezed past my desk, I pretended to glance at my watch. It was too much to take in when she was that close—those red lips and all that smudgy black stuff she wore on her eyes. It was like looking at a deranged version of a mime.
I didn't understand why she chose to present herself like that, when she was otherwise reasonably pretty. She had a nice figure, large blue eyes, and long, shiny reddish-brown hair. But she never wore it down. Today, it looked like she had twirled large sections of it with an electric mixer and then pinned them up.
Her appearance wasn't the only thing that bothered me. The girl seemed to have no appreciation for the fact that I was her professor, or for the decorum with which she was expected to act around me. She often addressed me as "Stephen," even though I corrected her each time it happened. I wasn't "Stephen" when I was teaching a class and I expected my students to address me as either "Professor Worthington" or "Sir." Needless to say, my expectations were not met where this bothersome young woman was concerned. Today was hardly the first time she had winked at me, and I had no idea how to react when it happened. She was entirely unpredictable and it made me nervous. She never hesitated to interrupt me during class if she was of a different opinion.
And when is she not of a different opinion?
I had never met a more infuriatingly opinionated and stubborn girl in all my life. I was looking forward to the end of the semester, after which I'd never have to see her again. She was smart—I couldn't deny it —and I was certain that she'd pass my class with flying colors.
She took a seat at the front of the class, like always, and I watched as she placed her bag on the floor. The movement made the already loose neckline of her shirt slide further down her shoulder, revealing more of her pale skin. That bothered me even more than the constant interruptions and inappropriate behavior. Why couldn't she just dress nicely? She would be such a pretty young lady if she wore a decent-length skirt and perhaps a silk blouse. But, apparently, she was adamant in her desire to look like a trashy urchin, thus effectively spoiling my good mood. I liked order and predictability, neither of which I was able to enjoy with her in my classroom.
She was even appropriately named "Wilde."
Ms. Wilde had become a constant source of annoyance in my otherwise pleasant Tuesday/Friday teaching schedule, and I couldn't wait to be rid of her.
I cleared my throat to let my students know that I was beginning the class, and for once they settled down quickly. I knew the reason for this unusual occurrence without having to ask: today we were discussing the novel Lolita by Vladimir Nabokov. The risqué plot of a grown man who falls in love and has a sexual relationship with a twelve-year-old girl rendered the novel a perennial class favorite. It was still banned in many places, and nothing made my literature students feel more like adults than reading "forbidden" books. As the class started, I was surprised to see that for once, Ms. Wilde was not participating. She was writing her notes quietly with a small smile on her face.
As the discussion continued, a student in the back suggested that the main character, Humbert, was mentally ill and not in control of his own actions, and he should be allowed a little clemency.
"But you can't actually defend him," a girl whose name I couldn't remember argued. "He's a complete pervert and he corrupts the girl!"
"Actually, I think it's the other way around," Ms. Wilde said, without looking up from her notes.
"What?" the girl asked. "Are you serious?"
"As a heart attack," Ms. Wilde answered. "I'm fairly certain that Lolita is the one who corrupts Humbert. She seduces him and he loves it. What guy wouldn't?"
"But she's just a kid!" the other girl insisted.
"She is, but she's well aware of what she's doing when she seduces him. She's had sex before, and afterward he is basically eating out of the palm of her hand. I'm not saying that what he did wasn't wrong, but you have to remember that he sees her as a young woman, and he himself only possesses the emotional maturity of a twelve-year-old."
The girl had no retort and looked down.
"That's a good point," I admitted.
Although Ms. Wilde's speaking out of turn bothered me, she always made excellent contributions to the class discussions. Usually, I would have enjoyed having such an active student in my class to liven up the debates. There was just something about her, something that I couldn't put my finger on. She rubbed me the wrong way, for some reason.
"So, why do you think that the author chose to write about such a controversial topic?" I asked the class.
A few people started to raise their hands but gave up the second Ms. Wilde started speaking without being called on. Again. I gritted my teeth. The girl was undoubtedly intelligent, but why couldn't she just play by the rules like everyone else?
God, she is so infuriating.
"Ms. Wilde!"
She stopped talking and looked at me. Sadly, she didn't look intimidated at all and merely gave me a curious glance.
"Yes, Stephen?" she asked sweetly.
"Professor Worthington," I corrected.
Thank God the semester is over soon.
She just smiled at me.
"You will wait your turn to speak or you can leave my classroom," I said, silently daring her to continue her rant.
She motioned for me to continue and leaned back in her seat with an amused expression on her face. I asked the other students for their opinions and received a few uninspired responses about taboos. One of the other girls even started to argue that the author was the real pervert. I sighed and reluctantly called on the bothersome Ms. Wilde, who grinned and leaned forward.
"I think that Nabokov is using the main characters as symbols."
I had a pretty good idea of where she was going with this, and she was absolutely spot on, as always. It would have been so much easier if I could have just dismissed her as both silly-looking and silly, but she wasn't. She was smart, and I had no choice but to keep calling on her.
"How so?" I asked, giving her a nod.
"Humbert is older and sophisticated, but emotionally stunted. He likes serious literature and classical music. He represents Europe. Lolita is young, fun-loving, and naïve. She likes Coca-Cola, rock music, and glossy magazines. She's obviously supposed to be the author's interpretation of the US, which isn't particularly flattering." She hesitated and smiled to herself. "But I could be wrong. Maybe Nabokov's motives were much simpler. Maybe it just came to him in a dream one night." She looked up at me with her lopsided grin and added, "After all, don't all older men dream of sleeping with a younger woman?"
She winked again. I may have been inexperienced when it came to the opposite sex, but it didn't take a genius to figure out that Ms. Wilde was teasing me. The tip of her tongue peeked out between her lips.
"Class dismissed," I said, clenching my jaw.