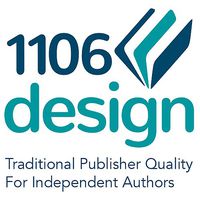 1106 Design, LLC
1106 Design provides book design, production, and publishing services for independent authors seeking all the quality of traditional publishing without forfeiting their rights and royalties. 1106 Design offers traditional publisher quality with one-stop, end-to-end services from copyediting to worldwide distribution. We operate just like a publisher with one difference: YOU maintain complete control of your book, your schedule, and, most importantly, your payments.

In our model, distribution accounts are set up in your name. When a book is sold, the retailer takes a cut, the printing cost is deducted, and the balance is deposited directly into your bank account, never ours first. In most cases, you'll make several more dollars for each book sold, plus you'll keep complete control of your book, your revenue stream, and your book files.

I invite you to browse our services, design samples, no-surprises pricing, outstanding customer reviews, and educational articles at https://1106design.com.

We'll customize a package to suit your exact needs at affordable prices that range from $4,000 to $10,000, depending on the services ordered, the word count, and the content.
Service publisher
Children Fiction, Christian Fiction, Commercial Fiction, Contemporary Fiction, Historical Fiction, Literary Essay, Literary Fiction, Mind & Body, Mystery, Thriller, Horror & Suspense, Mythology & Folk Tales, Poetry, Science Fiction & Fantasy, Women's Fiction, YA Fiction, Biography & Memoir, Business & Money, Career & Success, Children Non-Fiction, Christian Non-Fiction, Cookbooks, Food & Wine, Communication Skills, Corporate Culture, Current Affairs, Economics, Education, Entrepreneurship & Small Business, Health, Fitness & Dieting, History, Humor & Entertainment, Journalism, Management & Leadership, Marketing & Sales, Mindfulness & Happiness, Money & Investment, Motivation & Inspiration, Nature & Environment, Parenting, Personal Growth & Self-Improvement, Philosophy, Politics & Social Sciences, Popular Science, Productivity & Time Management, Psychology, Reference, Religion & Spirituality, Science, Sex & Relationships, Society & Culture, Sports & Outdoors, Technology & the Future, Travel, YA Non-Fiction, Science Fiction & Humour
Worldwide