Synopsis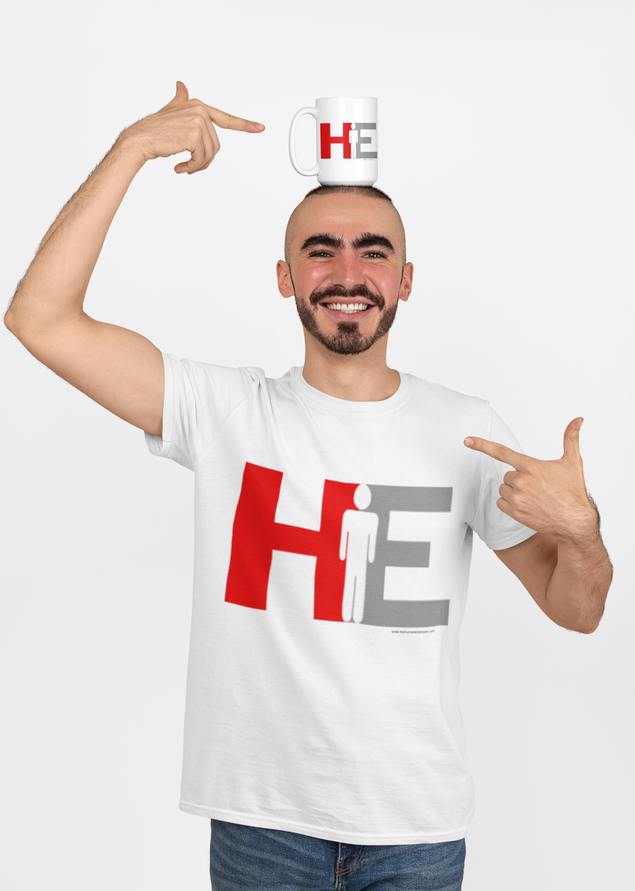 This self-help book is for leaders, managers, entrepreneurs, and individuals who desire to improve their leadership skills. The effective management of the human employee is our homage to the past. A time when corporations treated their employees like family.

Welcome to the Human Employee (HE)!
I am going to re-familiarize the reader with how to relate and communicate with their employees on a humanistic level. In doing so, they will create a productive thriving work environment that leads to a successful business.
What will be required from the reader?
• An open mind
• A lot of soul searching
• An a commitment to changing
What will be accomplished?
The "Effective Management of the Human Employee" will take the reader's management and social skills to the next level. A must in today's "gimme gimme, me first" generation. We believe that there is an ever-increasing need for corporations to return to a humane way of managing. If their business or office is suffering from bad morale, employee distrust, low productivity, internal conflict, or high turnovers this eye-opening book is the solution.

As this book guides them step-by-step, they'll learn how to approach everyday complex situations with ease and grace.

Some of what they'll discover is how to:
Redirect and eliminate conflicts.
Renew trust.
Lower employee turnover.
Increase productivity.
Develop a stronger management style.
Gain respect and admiration.
Build a dynamic and creative office culture.
Improved moral values such as; integrity, honesty, fairness, accountability, and authenticity.
Learn to become a coach and mentor to their employees.
Our Approach

Throughout the journey of writing this book, we have learned that humans are unique individuals worthy of a second look. Our needs are different. Our desires are different. The way we sleep, rise, comb our hair, and eat is all different and so is the way we manage. So, why is it that some leaders rise to greatest while others fail miserably?
An even better question is what makes a person so charismatic that millions would follow them to the end? We believe it all comes down to their management style. And in this book, we divide those styles into two categories, management hell and management heaven. This breakdown shows us why one person can command so much respect while others can't lead their way out of a paper bag.
That answer is revealed once they begin their journey of self-discovery. And with that knowledge they will be able to build up, instruct, gather, create, persuade, and develop other great leaders, growing beyond their imagined expectations and beliefs.
Check out our bonuses!
Outline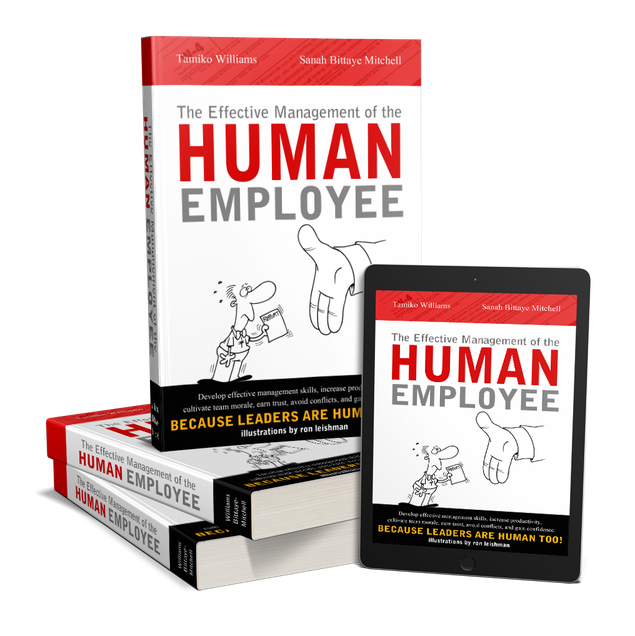 Outline


Chapter 1: The Human Employee
Chapter one dives into the many characteristics that make up the HE (Human Employee).

Chapter 2: Management from Hell
In this chapter, we'll focus on what poor leadership looks like. We also examine what causes high turnovers and disengagement in many companies.

Chapter 3: Management from Heaven
Through lessons and stories, the reader will learn what really makes a good leader. They will receive the tools needed to improve such as these five foundational elements; honesty, respect, integrity, honor, and responsiveness.

Chapter 4: Six Tricks to Mastering One's Self
Before you can become a great leader you must learn to master yourself. So, we offer six tricks to mastering one's self along with inspirational stories and assignments.

Chapter 5: P.U.R.E. S.E.L.F.
The term PURE SELF is an acronym for Purpose, Understanding, Resolve, Encouragement, Space, Efficiency, Leadership, and Faith.

Chapter 6: Let's Get Naked
Let's get naked is our fun and exciting way of stripping our old self away to make room for the new you. They will evaluate the "person in the mirror" to discover what they were doing wrong. Once stripped, we'll begin the rebuilding process with our "Rocking the self-improvement boat" training.
Chapter 7: Building a Better You
We will take everything we've learned in chapter 6 and put it into action.
The plan will show them how to;

Push past their fears.
Move beyond their comfort zone.
Write affirmations to stay motivated.
Find a strong mentor or coach.
Develop a new management style.
Chapter 8: Refining the Atmosphere
This chapter is all about building a better work culture based on their newly learned skills and values. How they can tweak some things to encourage a creative and stress-free environment.
Chapter 9: Setting the Stage
Setting the stage is the methodologies behind finding the right HE for the right job. A unique style of interviewing and screening to find that right employee.

Chapter 10: Grasping the Fundamentals
After we've set the stage for the human employee we'll discover how to provide them with the right tools and training. How to set them up for success from the very start.

Several case studies including, such as "The Chick-fil-a Affect." A look into what makes the service and staff of this franchise far superior to other fast-food restaurants.
Audience
Our Audience
This book is for industry leaders, business and corporate managers, individuals, and entrepreneurs.
Corporations are struggling more than ever trying to find and keep good leaders. The days of having a loyally committed employee has been replaced by start-up minded millennials. Whose idea of a steady job means they been there for at least a year. Even more so, millennials now make up over a third the market workforce. This has caused a change in the leadership arena.
Corporations are pressed to find good leaders, especially with Baby boomers leaving the workforce and retiring. This has left many corporations with the new generation to serve as industry and corporate leaders. The only problem is many millennials are more suited to the entrepreneurial lifestyle and find it difficult to stay rooted in a 9 to 5 job. As a matter of fact, "the Millennial Economy National Survey found that Millennials have a strong desire to venture on the entrepreneurial path, but that 42 percent of them state that their biggest obstacle is lack of money." So, loyalty to one company is more of a dirty word than a philosophy.
As should below in the graphs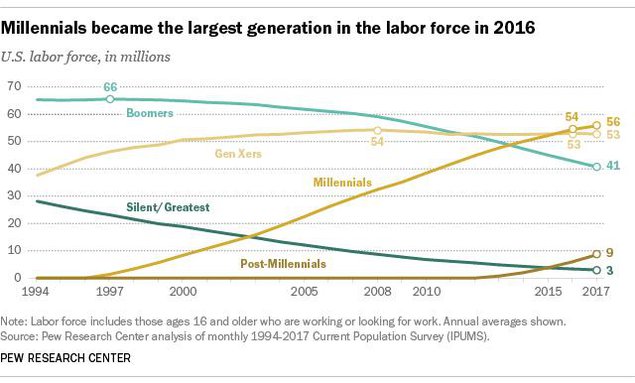 More Statistics
· 77% of organizations report they're currently experiencing a leadership gap.
· US Companies spent $160 billion on employee training and education.
· 89% of executives surveyed believe strengthening organizational leadership is a top priority.
· 63% of Millennials said their leadership skills were not being fully developed.
Statistical resources provided by February 8, 2018 | Ashley Ansari - https://blog.inspiresoftware.com/7-statistics-leadership-development

"So, what do companies do? They invest huge amounts of money in leadership development. Classes, seminars, workshops, lectures. All told, 83% of organizations say that it is important to develop leaders at all levels.
However, only 5% of companies have fully implemented leadership development at every level, and a quarter of businesses say that less than 10% of their critical leadership positions have ready and willing successors. Indeed, 84% of businesses expect to encounter a leadership shortfall within the next five years."
Resource by Joy Ruhmann - http://levelupleadership.com/effective-leadership-an-exploration-of-the-statistics/
What's the answer? The Effective Management of the Human Employee. This book engages millennials to think more like leaders. It helps them identify with the humans they will be managing in a way that's never been done before.
Corporate training will no longer be a mundane boring training session. That is given by a dulled face person with no connection to their audience. Our book breathes new life back into leadership training. We incorporate tips, strategies, humor, tough soul searching, moral development and restructuring of the mind set.
When readers pick up our book they will be engaged on every level. All while rebuilding and strengthening new core beliefs and values with calls to action.
Promotion
Our Current and Future Book Marketing Plans
Our Website
Our website https://thehumanemployee.com/
Online Social Media Marketing Campaigns
The Human Employee Group Fan Page https://www.facebook.com/groups/humanemployeefan/
The Human Employee Facebook page https://www.facebook.com/HEBusinesscoach
Twitter page https://twitter.com/HumanEmployee
A Instagram page https://www.instagram.com/theh...
A LinkedIn page to connect with business professionals and industry leaders. https://www.linkedin.com/compa...

We're creating a YouTube channel for our HE book trailers, video marketing, and training e-courses. https://www.youtube.com/channe...

We're creating a free book give-away contest for our fans and website visitors using video ads & creative landing pages.
Paid campaigns on social media.

Sponsors
Sponsoring through the below companies https://www.averettetech.com/ and https://trinigam.com/
Email campaign
BookBud.com and Amazon select to begin taking per-orders.
Offline Marketing
Hosting a book launch party of up to 100 invited guest.
Holding book readings at
Colleges
Nearby universities
Locally owned bookstores
Corporate events
Libraries
Business Partners Store Fronts
Donating our book to
Libraries
Colleges
Corporations
Contacting local newspapers and radio host for interviews.

Reaching out to Podcast host for interviews and shut outs.

We will be hosting a leadership work shop for aspiring entrepreneurs, business leaders, and industrious teens.

Competition
Leaders eat last: Why some teams pull together and others don't May 23, 2017 by Simon Sinek
Publisher: Portfolio

Simon uses examples from both the military and corporations to show how we are responsible for the people we manage. He speaks about the good and bad circles of safety that help or hurt employees. In the EMOHE we talk about safety in the regards of being honest and intentional in what you do. When employees know what to expect from you there is no fear.

Serve to Lead: 21st Century Leaders Manual Second Edition
by Jame Strock May 10, 2018

Publisher: CreateSpace Independent Publishing Platform
A 352 page manual for leaders, entrepreneurs, managers, and CEOs. James offers "extensive interviews, business case studies, psychological research, biography, history and literature." Its well written and filled with great advice for new and experienced leaders. The EMOHE offers much of the same but on a more personal human level. Our book is not intimidating at all. Its an easy to follow self-help guide for busy people who want answers fast.

Small Acts of Leadership: 12 Intentional Behaviors That Lead to Big Impact Hardcover – December 19, 2016 by G. Shawn Hunter
Publisher: Routledge;
Shawn has an insightful book that offers advice given by both celebrities and corporate leaders. It is easy to read but more on the academic side. Whereas the EMOHE is more user friendly and interactive. We use a mix of humor, personal experiences, assignments, activities, interviews, and case studies that appeal to everyone.

Bring Your Human to Work: 10 Surefire Ways to Design a Workplace That Is Good for People, Great for Business, and Just Might Change the World 1st Edition, Kindle Edition
by Erica Keswin
Publisher: McGraw-Hill Education Sept 28, 2018
"She distills the key practices of the most human companies into advice that any business leader can use to build a "human workplace." The lessons in Bring Your Human to Work foster fairness, devotion and joy in the workplace." Tamiko believes in the principles of her book. The EMOHE takes it a step further with personal stories, self reflection, a look at human characteristics and screening techniques.
Humble Leadership: The Power of Relationships, Openness, and Trust Kindle Edition
by Edgar H. Schein
Published by Berrett-Koehler Publishers Aug 14, 2018
The humble Leadership focuses on building trust through open communication and asking. His book deals with things on the level of "complexities of interpersonal, group and intergroup relationships." The EMOHE approaches this topic but focuses more on the manager himself. Our method is more like a workshop in a book. The rewards is a change in the overall values of the person and office culture.