Hello Friends,
I have some new updates and continued thanks for all of you From this sun filled day in Toronto.
First: if you were unable to join the interview live, here is the link for the replay. I had a great time chatting it up with Sandy Weiner from Last First Date Radio.
Second: This Thursday February 21st I have been invited to be the Keynote Speaker at The Muskoka Authors Association.
I am sharing my journey through this platform Publishizer with the Association and hoping other Authors will be inspired by my personal experience. I will make sure that it will be fun and informative as always!
If you think you may want to come and check out the evening, meet other Authors or just hear what I am talking about you can get the info here!
Third: Book Reading and Intimate Conversation Night. Wednesday Feb 27th. 6-8pm.
If you don't want to make the drive this Thursday, you can join me for an intimate book reading and sharing of my journey to publishing The Eight Sacred Responsibilities. From 6-8pm at Caffeine Cafe. Caffeine is a local cafe with great food and a great vibe, come get comfy with me and let's read and talk about all things interesting and sacred. ( and funny, I have a funny story or two that will only be told on this evening and all of you will be sworn to secrecy!) NEXT Wednesday February 27th. 6-8pm. If you have a book idea or a book written or partially written I will also be sharing exactly how I got my book written and published and will help any of you who are looking to do the same.
No need to register just show up and snuggle in, and if you like, make it a dinner out night, the Caffe makes all kinds of great food. Soups, sandwiches, salads, good coffee, amazing hot chocolate and baked goodies.
Forth: Something interesting I think I'm on to about Amazon. Now I might be wrong, yet I think I am right but I want to test it out with all of you. I think that a books position on the Amazon book list is based on how many people click on it and poke around in the book, like click on the arrow that says Look Inside. So if you are looking for something to do, can you test it out for me? Here is the link, and I am going to take note of the books ratings position and see if it changes as we have our group click around on the book. I'll keep you posted! Share with friends ( of course to read the free 20 pages on Amazon but to see if I am right on this) FUN! click the book cover and have a wee snoop on Amazon. :)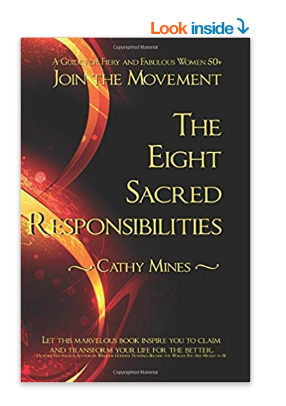 And finally...
My thanks and gratitude to all of you for your support, your respect, your friendship and your trust in me. I think about it regularly that you all supported my campaign from the start, supported my need to write a book, and supported me and my ever expanding heart that beats to be in service to like hearted people everywhere.
Stay Wild Dear Ones!
love,
Cathy