Cain and Abel series - An epic fantasy from Ice Age to Modern Day, filled with Dragons, Werewolves, Mermaid and magics. There will be a total of five books.
Cain and Abel #1 - Genesis
WAR: The last of the ice dragons, Amos, will do anything for revenge. Even freeze the world.

EDEN: Eve, last of the fire dragons, is determined to save two human boys and find her homeland.
BLOOD: Cain and Abel survive, but at great cost. They are no longer human. They are . . . vampires.
---
Cain and Abel #2 - Exodus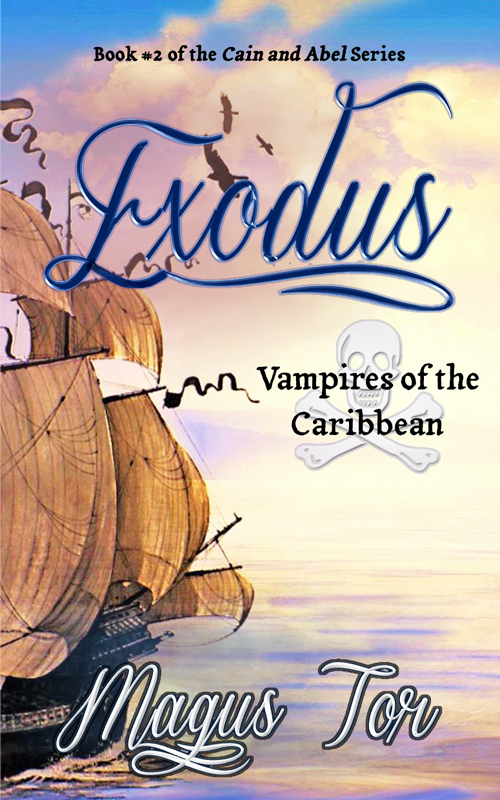 RUM: Yo ho ho, vampires don't like rum but pirates do. How about vampirates.

AHOY: The dragons are all gone, but there's plenty of adventures left on the high sea for our doughty vamps!
WATER: Many vampire legends claim vampires can't cross running water except in coffins. The legends lie.
---
Cain and Abel #3 - The Lamentations of Ruth

WEREWOLF: The first of her kind . . . and a pirate on the high seas.
SMOKE DRAGON: Just because she's a myth doesn't mean she's not real.
VAMPIRES: Cain and Abel, once brothers, now mortal enemies.
---
Reviews for previous books:
"As I stated in my review for book 1, the idea of Cain and Abel being vampires (well Cain anyway) is not a new one but I don't think it has ever been done quite like this before. Having now read book 2 I think I can say quite categorically this is the case."
"This book is really, really fun. You have fights between dragon and vampire, dragon and dragon, vampire and vampire, vampire and human, human and human. There are some really creative parallels between the book's mythology and biblical history, while still being entirely fresh and original. The writing is engaging, the characters compelling, and the action thrilling. Tor takes the ridiculousness of the premise and makes it work wonders."
"Words can't really being how much I loved this book. It has all the right components of a magnificent story - action, romance, suspense, fantasy, and a stomach-curling ending, leaving you wanting for more. Magus Tor created a new world where the characters are not only spell-blinding but also heart-warming and blood-chilling. A world of enchanting creatures that you can get yourself lost into.Genesis (Cain & Abel book 1) is a highly recommended story for all fantasy/paranormal/fiction lovers. Two thumbs up!"

"Wow, this is an impressive fiction about something that I really like reading about. i love dragons, and from the moment i started to read this, I fell for the story. it has action, romance, and even some paranormal and thriller elements. Overall a great book, and I can't wait for the next one."



---
Continue the Journey with Ruth's point of view as she search for her love in the Wild West. Read the sample chapters for a taste of what is to come.
Thank you for your support. I hope you can help to share this story even if you decided not to pre-order.