This book is a guide for anyone who has dreamed of being an entrepreneur and wants to take complete control of their lives while making a difference in the world.
| | |
| --- | --- |
| | Business Personal Development |
| | Stafford, Texas |
| | 50,000 words |
| | 100% complete |
| | 6 publishers interested |
Synopsis
"90% of startups fail."
"Entrepreneurship is dead."
"Capitalism is on its way out."
You've probably heard at least one of these lines hundreds of times. You've heard them from friends, family, and more worryingly, from credible sources. It's no wonder most of us are afraid to enter the world of business. Here's the good news: they're all lies.
Entrepreneurship and the startup game are both alive and well.
Don't believe the naysayers. They're just fed up with the changing landscape, and reluctant to play catch up. You've probably met people like that. Chances are, they're even in your family.
Naysayers have one thing in common: they've all been burned. Multiple times. Their mission in life is to save everyone else from the same heartache. But entrepreneurship isn't a guarantee of regret and a plundered bank account! Here's the truth:
· You can become an entrepreneur.
· You can build a business that will create positive change in the world around you.
· You can support your family and loved ones.
What's the catch?
It's going to take hard work and the right strategies. It's also
going to take time. A lot of it. Lucky for you, I have
proven and tested methods that will get you over the hump.
In The New Face of Entrepreneurship, I teach you the tools of the new trade. I've spent years trying and testing so that you don't have to. In this book, I'll share everything I know while holding nothing back.
You can live your dream; you just need a mental shift. Because the truth is: There's never been a better time to be an entrepreneur.
Technology and the internet have given us unprecedented information and access to our markets. It's not easy, but it's never been more attainable. The future is pregnant with possibilities for those of us who are courageous enough to become entrepreneurs.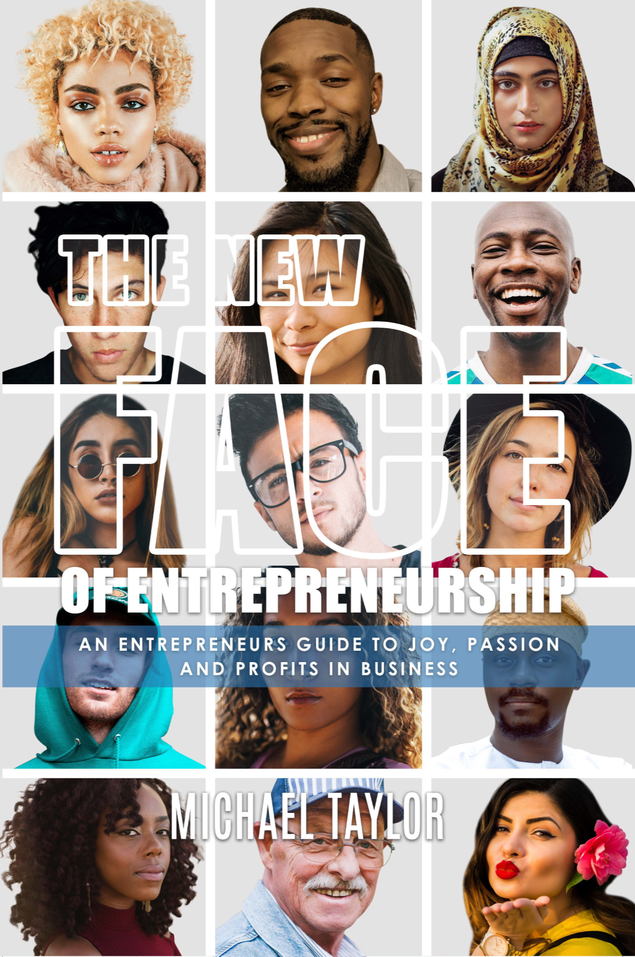 Outline
Table of Contents
Forward: Brandon Peele - author of Planet On Purpose
Introduction
Acknowledgements
Chapter 1. What Is An Entrepreneur?
*Redefining what it means to be an entrepreneur and explain how social entrepreneurs are changing the world for the better
Chapter 2. Do You Have What It Takes To Be An Entrepreneur?
*Entrepreneurs are the Soul of their business. This chapter explains how to identify if you have what it takes to run a business.
Chapter 3. Compassionate Capitalism
*Contrary to media generated stereotypes most entrepreneurs aren't greedy and selfish. This chapter explains how capitalism can be a force for good and provide financial freedom.
Chapter 4. Trust Your Inner Wisdom
*An integral part of being an entrepreneur is learning to trust their intuition. This chapter provides insights on listening to the still small voice in your heart and in your head.
Chapter 5. The Glue That Holds Your Company Together
*The key to a successful company are relationships. This chapter explains how to create a corporate culture of inclusiveness and diversity.
Chapter 6. It's Not About The Money
*Entrepreneurship is a form of creativity and self expression. This chapter explains why entrepreneurs should focus on fulfillment not fame.
Chapter 7. It's All About The Money
*Profitability is the lifeblood of a company. This chapter breaks down the importance of funding, cash flow and profits.
Chapter 8. There Is No Such Thing As Failure
*Failure is a part of success. This chapter explains how to deal with perceived failure and how to bounce back from any adversity.
Chapter 9. Moonshots & MTP's

*It's important for entrepreneurs to identify their big dreams and goals and this chapter shares the keys to finding your purpose and your passions.
Chapter 10. Side Hustles and the Solopreneur
There are an infinite amount of opportunities available for anyone who wants to become an entrepreneur. In this chapter you will learn how to become an entrepreneur even if you aren't interested in building a company.

Chapter 11.
The Power of Coaching
*Having a mentor or a coach is essential to success as an
entrepreneur. This chapter breaks down the different types of coaches and explains why every entrepreneur should have a coach or coaches.
Chapter 12. Be In Service
*The premise of this book is that every social challenge facing our world provides an entrepreneur with an opportunity to build a business that solves that particular challenge. Each entrepreneur also has an obligation to give back to his/her community in some way and this chapter shares ways an entrepreneur can give back and make positive contributions to their communities while making a profit.
Resources Page
Audience
The primary focus of the book will be the millennial market because I believe they are generally more optimistic and open to change and will be the next wave of successful world changing entrepreneurs.
Here are a few statistics pulled from Publishizer:
Millennials are the nation's largest living generation, ages 18-34 in 2015, now at 75.4 million. Which means the global population is poised to reshape the economy. Their unique experiences and ways of thinking and living will change the ways we do business for decades to come.
46% of the Millennial generation are interested in starting a business.
40% believe they are capable having a global impact for change in some way.
7.7 is the avg. number of companies started each versus three to four for previous generations.
The second target market will be the other side of the age spectrum. Here are some stats to support the idea that entrepreneurs over 50 could translate into a huge market for my book. Since I'm part of the over 50 crowd I believe there will be a lot of appeal for this particular group.
This is from AARP Magazine:
The number of entrepreneurs over age 50 is surging in the United States, having increased by 50 percent since 2007, according to a new research report by benefit outsourcing supplier Paychex.
The report, based on payroll data from a group of Paychex startup clients, along with survey responses from more than 500 business owners, indicates that 3 in 10 entrepreneurs are 50-plus today, compared to 2 in 10 in 2007. The manufacturing industry has the highest percentage of business owners 50 and older, the survey states.
Lastly, as a man of color I believe there is an untapped market for books that target minority groups. Although I believe entrepreneurship transcends ethnicity and my book isn't targeted to a specific racial group, I believe my book will be especially appealing to minorities who are interested in starting a business. Especially men of color who are faced with so much negativity through the media.
According to www.incfile.com:
Minority-owned business growth is on the rise, along with the growing diversity of America's overall population. According to the same SBA report mentioned above, in 2012 there were 8 million minority-owned businesses in America, creating 7.2 million jobs and generating $1.38 trillion in revenue.
From 2007-2012, the minority-owned business sector saw a net increase of 2 million new businesses created, while non-minority-owned businesses saw a net decrease of 1 million businesses. This means that during the five years surrounding the Great Recession (the most recent period with updated statistics available), minority-owned business growth was a significant source of energy in the U.S. economy. The total share of minority-owned businesses increased from 22 percent to 29 percent during those five years.
Author
Coach Michael Taylor is a motivational speaker, entrepreneur, author, and a radio show host who helps people around the world attain more success in the midst of great challenges. He is equipped with sound consulting principles and well-validated techniques which produces amazing results.
Born in the inner city projects of Corpus Christi, Texas to a single mother of six children, Michael learned to be strong as he rose above every circumstance and became a successful mid-level manager of a multi-million-dollar company at the young age of twenty-two. At the age of twenty nine his American dream turned into the American nightmare as he was faced with divorce, bankruptcy, and foreclosure. It was then that he committed to rebuilding his life and he learned to use every adversity as stepping stones to live the life of his dreams. His zeal to rebuild his life led him on an amazing journey of transformation in which he discovered his true authentic self and purpose in life.
For over 25 years, Michael has dedicated his life to helping others attain their full potential. He is an exemplary teacher who uses his life experiences to groom people, helping them achieve complete happiness and satisfaction in their careers, businesses, and personal lives.
Michael Taylor is the President and CEO of Creation Publishing Group LLC. He chose writing and motivational speaking as a platform to express himself because these are the areas that inspire him the most in life. Seeking to impact his passion to many, Michael has written a number of inspiring books which focus primarily on the changing roles of masculinity. The award-winning motivational speaker was featured in the bestselling book, Motivational Speakers America with two of the most recognized speakers in the world, Les Brown & Brian Tracy. He is sought after by both individuals and organizations for his expertise and aptness to project change into the lives of people.
He has been a featured writer for the HuffPost online magazine and is a contributing writer for The Good Men Project. He has won numerous awards for his dynamic speaking style and his online podcast has been downloaded more than 65,000 times from 7 different countries.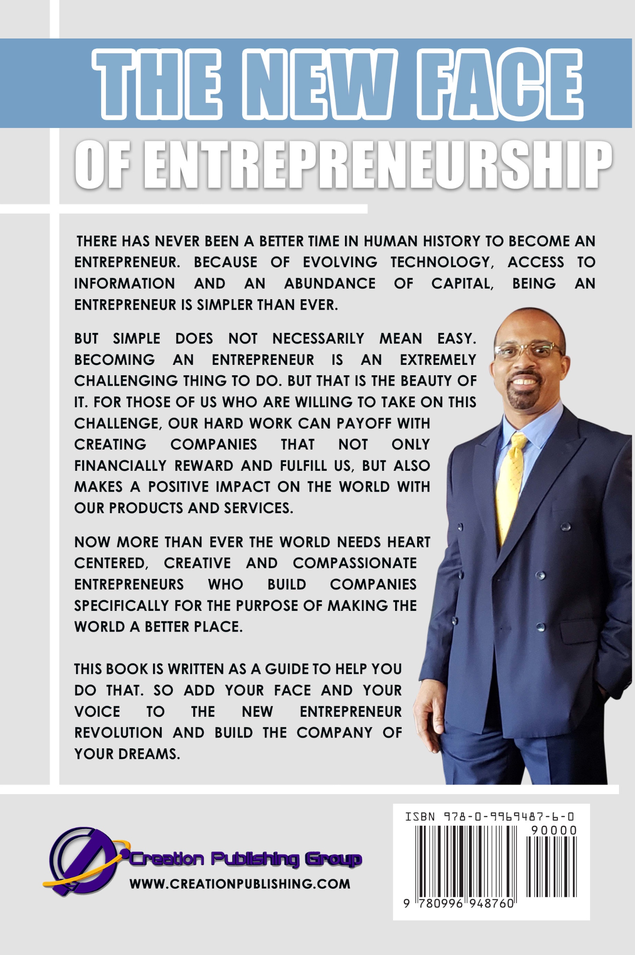 Promotion
I currently have 2500 people on my email list with approximately 20% who are raving fans. I have approximately 1000 Facebook followers and approximately 250 Twitter followers. I understand the importance of social media and I have committed to building my list to a minimum of 10,000 fans within the next year. To do this I am launching a new podcast specifically for the book titled: Joy, Passion & Profit. You can find it on Spreaker at https://www.spreaker.com/show/...
On the podcast I will be interviewing entrepreneurs and sharing tips and strategies to empower entrepreneurs to build companies that change the world.
I'm also launching a Facebook page and private Facebook group for entrepreneurs. https://www.facebook.com/JOYPA...
I will be setting up a YouTube channel to funnel all of my videos and podcast to. Starting in January I will commit to doing 3 inspiring videos a week of short motivational content and I am committed to doing 1 interview a week with an entrepreneur to build my podcast following.
I have a commitment from the University of Texas in Austin to give a presentation about diversity in October and it will give me an opportunity to gain some exposure about the book. I'm also working with the United Way in Houston Texas to provide a series of talks based on a previous book I've written but I will also be able to showcase this new book.
Here are a few 5 Star reviews from previous books I've written:
Review Rating: 5 stars!
Reviewed By Romuald Dzemo
Book title: Adversity Is Your Greatest Ally - How To Use Life Challenges As Stepping Stones To Live The Life Of Your Dreams
Published 2015
"It is common knowledge that the antidote can be found in the wound itself, but allowing that knowledge to penetrate the human heart and influence our attitude towards setbacks and adversity is the greatest challenge. Adversity Is Your Greatest Ally by Michael Wayne Taylor is a pearl for readers seeking words that are uplifting and encouraging. The author's voice comes across as compassionate as he shares his triumphs over the devastating blows life has dealt him. Drawing insight from his personal experiences, he immediately connects with readers as a man who has had his own share of troubles and who learned not just to stand up after every fall but to pick up something from the ground where he'd fallen.
Michael Wayne Taylor's language is very accessible. He uses day-to-day examples that readers will easily identify with, but even more interesting are the insights and powerful words he shares with readers, ushering them onto the path towards self-discovery, self-acceptance, and self-awareness. In a brilliant style, the author articulates on themes that are intimate to the human soul, such as the power of purpose, inner freedom, the necessity to accept discomfort as an essential element in the growth process. Anyone who reads Adversity Is Your Greatest Ally will feel empowered to answer their calling with courage, creativity, and generosity. In the heart of this book is the beautiful message that we are greater than our past, greater than our feelings and suggested thoughts, greater than our fears. In a sense, Michael Wayne Taylor uncovers the secret that we can triumph over any form of setback or adversity. This is a book I will recommend to anyone who wants to take themselves seriously."
Review Rating: 5 stars!
Reviewed By Gisela Dixon
Book Title: Shattering Black Male Stereotypes - Eradicating The 10 Most Destructive Media Generated Illusions About Black Men
Published 2017
"Shattering Black Male Stereotypes: Eradicating The 10 Most Destructive Media Generated Illusions About Black Men by Michael Taylor is a wonderful book on the current existing stereotypes about African-Americans in the USA. Shattering Black Male Stereotypes is succinct and to-the-point, and starts off with a brief background of Michael's childhood, family, and background. As a child from a poor family and raised by a single mother, he certainly met the stereotype of blacks in this country. However, he was able to overcome adversity and emerge as a strong, successful, and decent human being in spite of these stereotypes. The book then deals with the top 10 myths about black men in this country, including things like they are lazy, they are not patriotic, they are not good fathers, and even that they are not as intelligent, among others! Michael systematically deals with each stereotype and shreds it apart while providing guidance on how to create better awareness of these issues and, ultimately, better ourselves.
I loved reading Shattering Black Male Stereotypes. This is a powerful book that directly attacks the unfair and racist stereotypes and biases that are all too prevalent in today's society. Michael writes in a thoughtful and detailed manner about these existing stereotypes and how they tend to affect people of all races and their outlook on life from a young age. He also provides lists of questions and exercises throughout the book for the reader to contemplate. I especially liked the topic of how to become a good father to your child and what it means in the wider context. Michael's lucid, engaging, insightful style makes this an excellent read."
Review rating: 5 Stars
Reviewed by: Marta Tandori
Book title: Lessons From A Gathering of Men - How Men's Work Is Redefining Masculinity And Improving Men's Lives
Published 2016
"Well written, humble and insightful, Lessons From a Gathering of Men provides open and honest dialogue about society's antiquated attitudes about men, and how these antiquated attitudes make for some very unhappy and dissatisfied males who feel they are locked into the role that society has cast for them. Taylor's book rips through the facade and gets to the heart of the matter, which is that guys have feelings too, that it isn't all about sex 24/7 nor is it all about the fancy toys or the sports car in the driveway. It's about men learning to get in touch with themselves by stepping outside the box society has imposed upon them. Whether the book will influence the average male to change remains to be seen. However, from a woman's perspective, Taylor's book tells it like it is, both emotionally and spiritually, and provides a welcome wake up call to a whole lot of men who are dissatisfied with their lives!"

Competition
Crushing It!: How Great Entrepreneurs Build Their Business and Influence - and How You Can, Too
By: Gary Vanerchuk
Publisher: HarperBusiness (January 30, 2018)
Sharing stories from successful entrepreneurs Gary inspires up and coming entrepreneurs to learn from people who have succeeded in the business world.
What makes my book different is how I use science and philosophy to challenge the readers to look deep within their own hearts and minds to discover what might be holding them back and I use my personal experience to inspire them to move forward with their companies.
Tools of Titans
By: Tim Ferris
Publisher: Houghton Mifflin Harcourt; Tim Ferriss, (December 6, 2016)
Tim interviews some of the most successful entrepreneurs around the globe and ask them what specific things they do to insure their success.
My approach is similar, however, I take a more spiritual and metaphysical approach to entrepreneurship and encourage readers to understand Universal laws and principles that can insure their success.

The Charge - Activating the 10 Human Drives That Make You Feel Alive
By: Brendon Burchard
Publisher: Free Press (May 15, 2012)
Brendon is one of the worlds leading experts on human performance. His book is inspirational and filled with tips and strategies for success.
What sets my book apart from his is my own story of overcoming being a high school dropout, divorce, bankruptcy, foreclosure and depression to become an entrepreneur. My personal experiences and lessons provide readers with a unique look into the mind and heart of an entrepreneur and how he overcame seemingly insurmountable odds to succeed.
Bold: How To Go Big, Create Wealth and Impact the World
By: Peter Diamandis & Steven Kotler
Publisher: Simon & Schuster (February 23, 2016)
This book has had a large impact on my worldview and my life. I even acknowledge Peter Diamandis in my book. His optimism and scientifically based data is educational and inspirational. His content is more intellectual where my book is more emotional, spiritual and psychological. Our philosophy and messages are the same but our deliveries are completely different. We both take different roads to get readers to the same place.
Unlimited Wealth - The Theory and Practice of Economic Alchemy
By: Paul Zane Pilzer
Publisher: Crown (December 9, 1990)
This is a practical and educational book on our economic system which explains how human ingenuity can create unlimited wealth regardless of politics or the government. My book shares insights on this same principle from a spiritual and Universal law perspective. I combine the economic and scientific theories with a heart centered approach to build a business.
Sample
Introduction
Contrary to negative mainstream media I believe there has never been a better time to be alive on the planet than right now. The future is filled with infinite possibilities for anyone who is willing to put forth the effort and create the life of their dreams.
For some people their dream is entrepreneurship, and this book is written specifically for them. Although there are hundreds of books written each year about starting and running a business, this book is a little different. The content of this book does not focus on the mechanics of starting and running a business. The intention is to focus on the Soul of the business, which resides in the heart of the entrepreneur.
Without question it is important to understand the mechanics of building and running a business. An entrepreneur must learn how to create a business plan, understand marketing and bookkeeping. They must know how to hire the right team and execute strategic plans to insure their success. These are just a few of the "mechanics" of running a business and although they are extremely important, they pale in comparison to the importance of understanding the Soul of the business.
I currently believe that entrepreneurship is actually evolving.
Capitalism as we know it is changing and for those of us who awaken to these changes we lay the foundation to create joy, passion and profits in business. But instead of making profits our primary goal, entrepreneurs of tomorrow will make solving societal ills the primary focus and the reason for starting entrepreneurial ventures.
In some ways, entrepreneurship then becomes a spiritual practice. The entrepreneur uses his/her enterprise as a means of self- expression and the business becomes an outlet for their creativity and their passions. They are driven by a need to fully express who they are through their businesses and they share their unique gifts and talents with the world through a particular product or service.
They see each social ill as a challenge that propels them to create solutions to the multiplicity of challenges facing our world and they recognize that their products and services are part of the solution to those challenges.
It's been said that the easiest way to become a billionaire is to
figure out a way to help a billion people. The New Face of
Entrepreneurship is being driven by this idea. People who deeply care about the future and want to do their part in making the future better than the past drive it. It is driven by a deep urge to help heal the planet based on the idea there is only one race, which is the human race.
I happen to be an irrepressible optimist with a passion for the
impossible because I truly believe that an entrepreneur can resolve every social ill facing our world today. There is no obstacle or challenge that cannot be overcome by an entrepreneur with vision, persistence and perseverance. But most importantly it takes a deep passion and desire to want to make a difference in the world and I believe that can only come from the Soul of an entrepreneur.
I'm reminded of a quote by the late anthropologist, Margaret Meade"
"Never doubt that a small group of thoughtful, committed citizens can change the world; indeed, it's the only thing that ever has."
This quote speaks directly to my belief that entrepreneurs can and will change the world.
So you may be asking yourself who is Michael Taylor and why does he have the audacity to believe he can change the world? Simply put, I believe I can change the world because I believe every human being has a divine purpose and changing the world is a part of my purpose. As mentioned, I'm optimistic because I believe entrepreneurs hold the keys to the success of the world by creating solutions to the multiplicity of challenges we are faced with.
I do not claim to be an expert or know it all, I have no college
credentials or special training. I'm not a multi-millionaire (not yet any way) with access to influencers or politicians. I do not have huge amounts of followers on social media nor do I have large sums of money at my disposal.
What I do have is unwavering faith in my ability to create whatever my heart desires and my desire is to build companies that change the world. I also believe in the power of the human spirit and what is possible when human beings get committed to changing the world for the better. I recognize that I definitely cannot do this alone so I am enrolling people like you into my vision of a world that works for everyone and I'm asking you to join me in my quest. The only requirement is for you to be open-minded and open hearted enough to believe that we can change the world together. So in the famous words of Napoleon Hill:
"Whatever the mind can conceive and believe it can achieve."
I can see it, I believe it, and I can achieve it! What about you?
For most of my life I've been called a little crazy because of my
optimism and belief in humanity. For those of you who may still believe I am a little crazy I'd like to share a quote from one of my heroes and mentors, Steve Jobs:
"Here's to the crazy ones, the misfits, the rebels, the
troublemakers, the round pegs in the square holes... the ones who see things differently -- they're not fond of rules and they have no respect for the status quo… You can quote them, disagree with them, glorify or vilify them, but the only thing you can't do is ignore them because they change things... they push the human race forward, and while some may see them as the crazy ones, we see genius, because the ones who are crazy enough to think that they can change the world, are the ones who do."
I proudly embrace the fact that I'm one of the crazy ones!
Welcome to The New Face of Entrepreneurship!
Michael