My book The Property Apprentice - How To Earn while you Learn will be published on 16/1/16 in Singapore with a grand event. You have now the opportunity to pre-order the book at a low cost (ca. 33% off the future retail price). Please make good use of this offer. I have attached the cover with testimonials from very well known people.
You can learn a lot from the book, for which otherwise you might have to pay thousands of dollars to attend an investing course for instead and I am certain you will enjoy reading it. Thank you.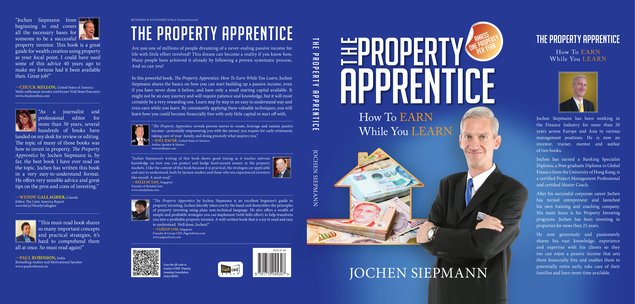 Somehow the upload of the preview chapters did not work here, but you can get a free preview on my personal website at http://jochensiepmann.me/publications/
Are you one of millions of people dreaming of a never-ending passive income for life with little effort involved? This dream can become a reality if you know how and work hard on it. Many people have achieved it already by following a proven systematic process. And so can you!
In his powerful book, The Property Apprentice – How To Earn While You Learn, Jochen shares the basics with you on how you can start building up a passive income even if you have not done it before and have only a small starting capital available. It might not be an easy journey and will require work, patience and knowledge, but it is most certainly a very rewarding one for you. Learn in an easy to understand way and step by step just like an apprentice in an office would.
These valuable techniques you will learn can potentially help you to become financially free. So when is now the best time for you to get started?
The foreword is by Dr. Patrick Liew, a very well known investor, teacher, who has taken 3 companies public and is a big name in the property scene in Singapore.
You can also watch a brief video I made about the book at
For your reference also here are the first 2-3 pages:
Common Misconceptions About Property
Before we even get started, let me share with you two
of the biggest misconceptions that the vast majority of people have about
investing in property:
1. You need to have a lot of money
2. It's risky
There are many more, but in my journey of more than two decades in property investing, those are the two misconceptions I am hearing all the time. And most likely you have thought about these terms too.
Unfortunately for most people, they hear those misconceptions and don't move any further in property investing. But what if there was somebody who could help them to dispel those misconceptions, show them how to invest in property with little or even no money down, and explain how to manage the risk and have a long-term profitable investment?
That's precisely why I wrote this book and why I am offering property investing training and mentorship. Because, if you know how to do it properly, investing in properties is actually easy. You might possibly need to change your mindset and overcome your fears about a few things that you currently believe, and that's the more difficult part. But, more about that later.
Please read this book at least twice and highlight important sections. I'd like you to come to one of my seminars, too. It is very important to have the right knowledge and mindset in order to succeed. This book answers some important questions, but you will need to keep learning.
Did you know that about 80% – yes, that's a whopping 80% – of wealthy people in this world have acquired their wealth through property in one way or another, be it development, flipping, investing, or simply the family home that has quadrupled in value over the years? Wouldn't you like to be part of that group?