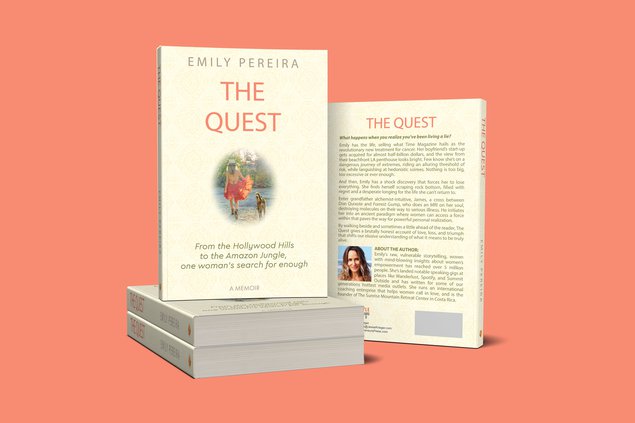 Hello my lovely Quester!
The countdown is on! The Quest will be arriving in your hot little hands very soon.

Some exciting updates!

1. My publisher just showed me the cover! Do you love it like I do?

2. The Quest just hit its VERY first Amazon bestseller list and.... it's not even out yet!!!
3. Due to mail voting potentially delaying the results of the election, the launch date has been pushed to Nov 17th (not so exciting!) but I'm working my magic to get it to you before that.
---

Becuase COVID has grounded my big book launch party and tour, I've created a super inspiring 7-Day virtual event in its place! And if I do say so myself, I think I very much turned lemons into the most delicious, refreshing pitcher of hand-squeezed lemonade.

And the best part... it starts tomorrow, October 15th!


This event is a deep dive into all things Love + Relationship, featuring 40+ therapists, love coaches, tantra gurus, manifestation experts, and conscious couples who have spent their lives learning how to peel back the patterns and layers that lead you into extraordinary love.
For the first time ever, you can curl up with your favorite warm cuppa deliciousness and drop in to hear real, raw, and inspiring stories about how to find and thrive in love with thought leaders like Kimberley Snyder, Melissa Ambrosini, Terri Cole, Alexi Panos + Preston Smiles, Mel Wells, Layla Martin + Andrew Simpson, Christine Hassler and Stef Sifandos, Joanne Encarnacion, and many many more.

If 2020 has shown us anything it's the value of truly aligned, loving partnership.


Whether you're feeling lost on your quest for love, or seemingly stuck on a hamster wheel of disappointing connections, or are simply wanting to create deeper intimacy with your beloved, The Quest for Love has got you covered.

This summit explores themes like:
Why are some women wildly magnetic?
How to create cosmic connection?
What inspires committed devotion?
What keeps things spicy in a long-term partnership?
And so, SO much more …

You can reserve your complimentary seat here.
There's also a private Facebook group where you'll get to mingle with the presenters and fellow love questers and receive high value resources and gifts to accelerate your journey to heart-thumping-passionate-I-got-your-back-no-matter-what-kinda LOVE!
Grab your spot here
and cozy in for the richest FREE event of the fall. I can't wait to share this powerful journey with you!
Love,
Emily