-- --
As I woke up on the first morning of my entrepreneurial adventure, one thing stood between success and me...
I'd spent weeks planning for this big day, built a business plan, and had a giant to-do list awaiting me. I'd thought of everything, but I didn't anticipate this particular roadblock.
Would you like to know what it was?
It was ME.
I laid in bed staring at the ceiling, unable to move or get up. All I wanted to do was bundle my head in the pillow and quit before I began.
"You can't do this," I whispered. "You're not good enough. Go back to the comfortable job where they tell you what to do each day. It's easy. Easy is good!"
I felt worthless. This wasn't how I planned to spend my first day as a free man... a self-made man... a writer and entrepreneur who took life into his own hands.
But the thing is... The Successful Mistake was borne out of this horrendous morning because the only thing I could bring myself to do was email friends who had been there before; those who already owned a business.
After a few days of coffee chats and Skype calls, I'd heard numerous stories and reassurances, but I noticed everyone shared tales about mistakes... failure... and when things went wrong. They weren't embarrassed or ashamed, rather proud of how they overcome them and built success on the back of them.
It was at this point I knew I had to write The Successful Mistake, although I couldn't predict the journey it would take me on.
I've since interviewed 163 Successful & Inspiring Business Owners of differing size, fame, and type. I've written the book and am currently editing it. It launches in May 2016, and I cannot wait to share it with you, let alone the numerous resources that accompany it.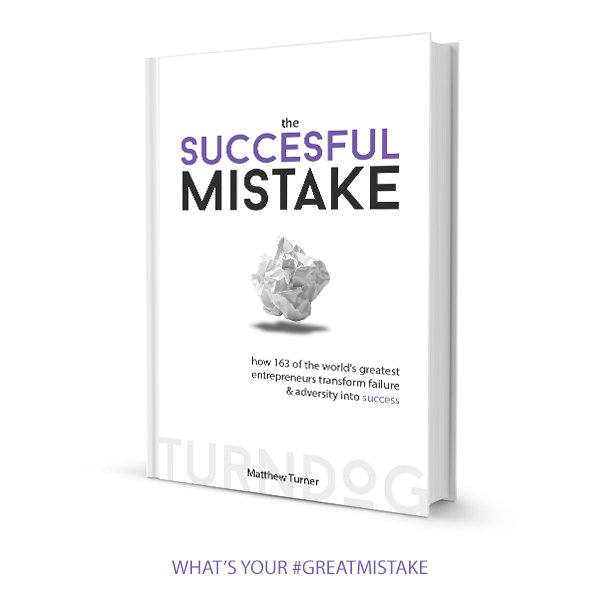 Huge plans are already in motion, and it all begins here with this Pre-Order Campaign.
It's a chance for someone like you to save a lot of money and join a community of like-minded go-getters determined to make 2016 your year. But why the hell should you care?
You already have a bunch of books on your nightstand.
You're already part of an array of Facebook Groups and Email Lists.
You have so much to do and so little time to do it in, so why would you spend more of your precious minutes and money on me... this book... this journey...?
Because this isn't just a book, it's a movement designed to help you tackle your fear of mistakes & failure, because like me, you may be your biggest obstacle preventing you from moving forward.
And this has to stop!
I'm ready, and I believe you are too, to transform how we approach and overcome those goddam obstacles.
This book is for the new entrepreneur full of determination and ideas, but lacking experience.
It's for established business people still figuring out the path they're supposed to be on.
It's for writers and artists and bloggers and podcasters, all of whom craft greatness, but struggle to share it with the right people and build their tribe.
It's for the person who knows there's more to come, but appreciates something currently stands in their way.
If you're reading this and you're comfortable and know 100% what you're striding towards (what success means to you; what freedom means to you; what happiness means to you), and have no worries in the world (or have enough money to pay other people to worry about them for you) This Book Is Not For You.
But if you happen to beat yourself up, worry about making mistakes or failing, and remain unsure as to what your real purpose is, This Book Is For You!!
The book plays a huge role, but it isn't the only character along this epic adventure. You can discover all the ins and outs below, and I encourage you do so in order to see if this and everything that accompanies it is a good fit for you.
We're building this for a special type of someone, and if you aren't one of them, it's totally fine.
But I believe this will change the lives of many, and those special people who Pre-Order their goodies now get an absolute steal!
Seriously, the prices are about to shoot up soon. DON'T DELAY!
---
SO... WHO IS THIS BOOK IS FOR?
.
EARLY STAGE BUSINESS OWNERS
WRITERS, BLOGGERS & PODCASTERS
BUSINESS & ENTERPRISE STUDENTS
+ ANYONE WHO WISHES TO BUILD A CAREER & LIFE AROUND THEIR OWN FREEDOM, IDEAS & HAPPINESS
---
AND... WHY SHOULD YOU READ THIS?
Why the hell should you read this book? After all, you already have a bunch on your nightstand and not enough time to read them.
Well, The Successful Mistake is more than a book; it's a movement.
This isn't about some quick win, rather redefining how you approach adversity and failure. The advice and findings from within this book, from the mouth's of the world's finest.
Why should you read The Successful Mistake? Try these on for size
1: Features real stories & advice from 163 successful business minds
.
2: Written to help you spot your mistakes before they happen
.
3: Shows you what the world's finest minds do when they face adversity
.
4: Guides you along the golden process of what to do when you fail
.
5: Shows you how to turn even your biggest mistake into a huge success
.
6: Delivers actionable tasks & steps to help you along each step
.
7: Helps you see what you're currently doing wrong
.
8: AND then shows you how to fix this with real-world examples
.
9: Invites you into a community of like-minded go-getters like YOU
.
10: Because although this is a book, it goes far beyond the paper & pages
.
Above all, this book has a point and purpose designed to help you better yourself, appreciate what success means to you, and give you the tools you need to transform your mistakes & failure into your best idea yet.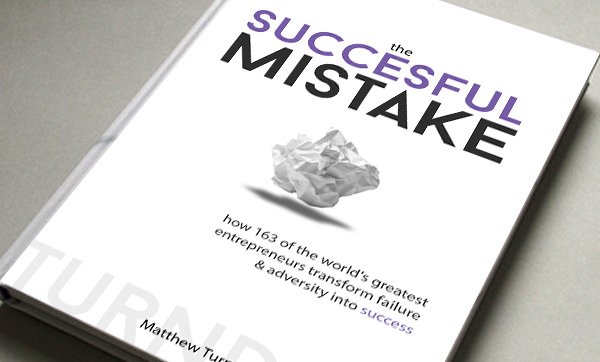 ---
163 INSPIRING ENTREPRENEURS SHARE THIER BIGGEST MISTAKES & HOW THEY TRANSFORM THEM INTO SUCCESS:
When I say to people I spent the first two-and-a-half years of my entrepreneurial life interviewing 163 successful entrepreneurs and learning about how they transformed their mistakes into success, their eyes widen and their jaw drops.
As you can imagine, it's been a wonderful experience. It's almost impossible to meet and speak to so many inspirational folk and not learn a thing or two.
But as good as it's been to meet these individuals, it's their lessons and wisdom that matter above anything and everything. The Successful Mistake isn't about cramming as many stories within a bunch of pages, nor is it about showcasing an impressive list of names.
It's about unearthing what makes successful people successful, and how they approach, manage, and overcome their failings. Which is why we'll focus on what's in the book next, because it's this content that truly matters.
But before we do, allow me to introduce you to a few friends of mine. Soon, you'll get to know this bunch rather well . . .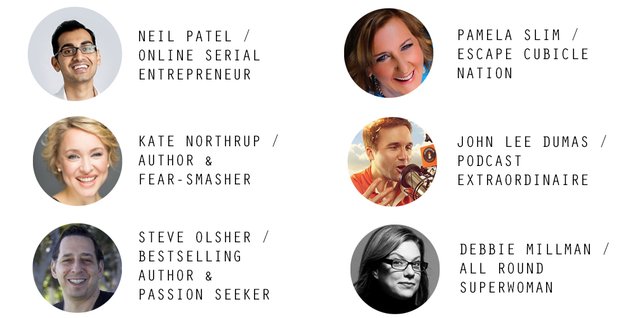 And here's all the other cool people you're about to befriend: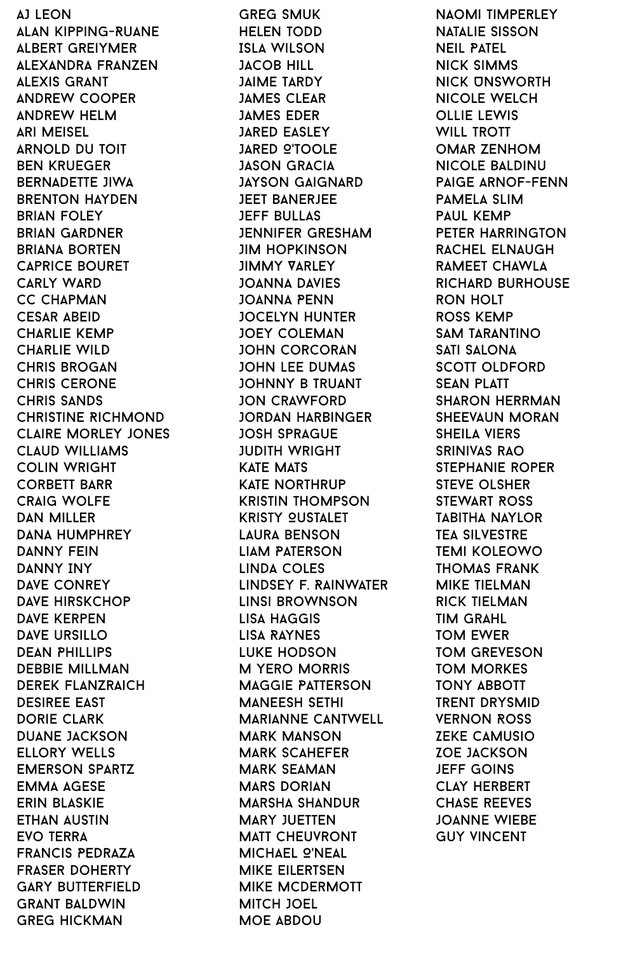 ---
WHAT'S IN THE BOOK + WHAT ELSE IS INCLUDED IN THESE EXCLUSIVE PACKAGES:
Like I say, it's what's within the book that matters (and all the various goodies that accompany it). This isn't some bid to share as many names or stories as possible, so let's overview what you can expect to get from The Successful Mistake.
The book itself is split into Seven Stages - which I've based around the seven stages of change:
STAGE 1 = SHOCK (attributes of a mistake + the warning signs)
STAGE 2 = PAIN (7 types of pain you go through after a mistake + HOW to get through these)
STAGE 3 = BARGAINING (blaming others and yourself + why you cannot do this)
STAGE 4 = DEPRESSION (hitting rock bottom + how this is often the start of something great)
STAGE 5 = THE TIPPING POINT (rising from the ashes + beginning your transformation)
STAGE 6 = RECONSTRUCTION (new ideas and models + how to grow the right way)
STAGE 7 =ACCEPTANCE (new appreciation & hindsight + achieving YOUR success)
But let me say this real quick... this book IS NOT a huge collection of case studies/stories.
Some people say to me, "But Turndog, won't a huge list of 163 case studies be hard to read - let alone boring."
You're damn right it would!!
I'm all about narrative and storytelling, and to give you an idea of those I look up to, I take a lot of inspiration from the likes of James Altucher, Malc Gladwell, and Chris Guillebeau.
These seven stages take you on a journey from the inception of a mistake/failure, all the way until you transform it into your best idea yet. I quote and reference certain entrepreneurs throughout the entire book, but THIS IS NOT a collection of interviews & transcripts.
That would make the shittiest book ever!
Okay... good... I'm glad we got that sorted :)
So, what else accompanies The Successful Mistake?
We're working on some amazing ideas that will not only inspire you to approach your mistakes and adversity in a positive light, but give you ACTIONABLE resources to DO IT.
If you'd like to learn more about what this includes, Click Here >>
---
THE REWARDS:
I suppose this is what this Pre-Order Campaign boils down to: a selection of awesome rewards you can get your hands on before everyone else, and at a steal of a price.
When coming up with these rewards I had a million ideas swarming my mind, but we decided to keep things simple and ensure each reward focusses on:
PROVIDING YOU INCREDIBLE VALUE & ADVANCED ACCESS
GETTING PHYSICAL COPIES INTO YOUR HANDS
GIVING YOU THE MEANS TO GIFT BOOKS TO THOSE YOU KNOW
I'm passionate about all three of these, but it's the first and last that excites me the most.
You see, providing you incredible value is what this is all about. I believe in transparency and involving people in a process, and this Pre-Order Campaign allows this. Here's our opportunity to connect and work with one another so we don't just mutually benefit, but WIN IN A BIG WAY!!
Me and the rest of Team Turndog get a bunch of early adopters eager to be part of the process, and you receive a host of valuable content and goodies before everyone else... in an exclusive and intimate fashion... and a price that's simply ridiculous.
Whereas point number 3... well, I explain why gifting books to those you know is important in the video below, and after you watch it I sense you'll be on my side (although I warn you, it may ruffle a few feathers).
Would you like a detailed breakdown of each Reward/Package? Click Here
---
WHAT HAPPENS NEXT:
Now you know why I wrote this book and who it's for, what appears in it, and how you can grab an exclusive piece of the pie at a price that makes you want to sing, there's only one last thing to do:
And assuming you do this, you may like to know what happens afterward....
December - February = Editing The Book
March = Formatting + Design + Writing/Crafting The 'Extra' Content
April = Post Early Reader Copies (Including Yours) + Start Launch Build Up
May = Launch The Book
June - Onwards = Change The World One Day At A Time . . .
Of course, this only skims the surface as to what lies ahead, but I'll reserve the finer details for those who decide to Pre-Order and become part of this writing & publishing adventure.
That is, after all, what this Pre-Order Campaign is all about ;)
But I suppose the biggie to know is that we plan to launch in May 2016, and I see no reason whatsoever why this won't happen. As I write this, the book is pretty much written. Editing is already underway. The various worksheets are on my to-do list (much of the content already created, requiring a little organisation and attention).
Outreach and marketing has begun (several months ago, in fact), and the launch sequence is happening as we speak.
In other words, this book is coming soon. This entire Successful Movement is already underway.
163 inspiring and successful entrepreneurs are part of it, and I invite you to join the party well before the masses. If you don't think this book is a good fit for you, fine. Please share it with someone who you think might like it, and who you believe will find great value in what we're doing.
But if you've read this far there's a good chance you're the perfect person for The Successful Mistake. Be part of it. Be part of an ever-growing community of like-minded individuals.
Be part of something special, and kick off your 2016 in style.
Thanks for reading. You're a lovely person and don't let anyone say different.
Much love from Yorkshire,
Matthew Turner - Author of The Successful Mistake
- - - - - - - -
Tweet About This Campaign
Share This Campaign on Facebook
Write About it on Linkedin
And If You Would Like To Interview / Feature Me, Reach Out @ matt@turndog.co