How one woman used the power of her brain, and other methods to heal herself from a traumatic brain injury and transform her life into one of success and mindfulness.
| | |
| --- | --- |
| | Memoirs Self help |
| | Michigan, United States |
| | 60,000 words |
| | 100% complete |
| | 6 publishers interested |
Synopsis
There is always a way." This is the inspirational story of a woman who, despite growing up in an abusive home and suffering a life-threatening illness, used the power of the mind-body connection, therapeutic yoga, meditation, and breath work to heal herself and transform her life into one of success and mindfulness. Lynette Fioroni, certified yoga therapist, yoga teacher, and holistic health advisor, shares a journey of determination and courage as she chronicles her self-directed path to health and happiness. There is Always a Way provides readers first-hand insight into the process of self-healing with instruction on four essential health practices: breathing, stillness, meditation, and visualization. Along with personal anecdotes and wisdom from lessons she learned along the way, Fioroni shares tried and tested resources that will support and encourage anyone looking to take control of their own wellness and discover a life they truly love.


From the outside looking in, Fioroni grew up in a traditional, all-American family. Her father, a distinguished pilot, flew across the globe as she and her five sisters and one brother lived out their childhood on farms in Virginia and Michigan. With her father's extended absences required for work, however, her mother was left to care for the six children with little mental and physical support. Witnessing her mother falling into a deep depression, often going days in bed, Fioroni and her siblings shouldered their own development with little encouragement or structure from their parents. Determined to seek life's adult opportunities, she focused on her education and worked her way through college, graduating from a top institution.

Leaving her childhood fears behind, Fioroni embarked into the male-dominated financial sales industry. By age 30, she was heading some of the top accounts in the Detroit area and finding her stride. Sales provided the structure and feeling of self-control she yearned for growing up. However, in her personal life she struggled deeply with discovery of self-worth under the weight of her past. She remained laser focused on her career and closed off from letting anyone get too close. That was until she met her now-husband at a work event. With admiration for his openness to contemporary ideas and spiritual avenues, they began to build a life together.

As their careers were budding and they started raising a family of their own, both of their parents fell ill to difficult, life-ending diseases. Suddenly, Fioroni's caregiving responsibilities were extended as she worked to be a "super mom" for both her children and their grandparents. Playing this dual-parenting role, while trying to maintain her successful career, was a challenge—one many women face during the critical transition periods in life. And just when she thought everything was holding together…the unthinkable happened.

While getting ready for bed one evening, Fioroni collapsed to the floor with excruciating pain in her head. After being rushed to the hospital, she was diagnosed with a cerebral hemorrhage. Temporarily unable to move, think, or function on her own and stuck in unbearable pain, she spent two weeks in intensive care in the hospital under constant surveillance by her medical providers. Although gaining consciousness, she was unable to see and struggled to walk on her own. She was told she may never gain those basic functions again and was sent home with a grocery list of medications.

It would have been easy to pop the pills and accept this diagnosis of a half-life. It would have been easy to believe that her chances of recovery were, in fact, slim. But with the same dogged determination she had as a child, Fioroni refused to settle for her doctor's pessimistic outlook. It was then she decided to control her own health journey with whatever means, medically conventional or not, it took. Upon returning home, her husband immediately started playing a few old meditation tapes and she began to focus on healing—even though they had been told repeatedly that the brain cannot heal from such an injury. With small steps like forcing herself to walk, sit in a car, and wean off the medication, her vision started to return. She listened to and read everything she could about self-healing, meditation, and visualization. Soon after, she learned to control her thoughts and rely on her own internal power to reduce anxiety. Fighting for it every inch of the way, her physical and mental health began to return.

At the recommendation of her neurologist, Fioroni continued her self-healing journey with the study of yoga. It was through her learning and practice of yoga that she began to tackle a challenge she's struggled to overcome throughout the recuperation process—stilling her mind. Stillness and quiet, she discovered, was essential to healing and opened her to opportunities to improve the life and person she was prior to injury. This critical step transformed her journey from one singularly focused on recovery to an expansive and exciting new chapter of her life. Fioroni persistently pursued yoga as a certified teacher and entered a rigorous, three-year program to train with some of the best medical professionals in the country on the healing benefits of the practice. Now, as a registered yoga teacher practicing yoga therapy, she has devoted her life to helping others realize the power of self-agency and self-love in pursuit of a healthy and contented life.

All of us experience challenges, medical or otherwise, that test our spirit and focus on our own well-being. What motivates one patient to be determined to heal, while another simply accepts a difficult and depressing diagnosis? Lynette Fioroni is one of many who have brutally faced such challenges head on. Her story, and years of training and research outlined in this book, provide compelling evidence and inspiration for those in need of a jump start into unleashing their own potential to direct the future of their healing and happiness. No matter your struggle, no matter your prior-beliefs, no matter your resources, "There's Always a Way.
Outline
There's Always a Way describes in three sections exactly how one midwestern woman went from being a career over-achieving mother and Financial Advisor to being completely helpless, bedridden and blind. There's Always a Way describes in detail how the author healed herself; the book then goes on to give the reader techniques used in the healing process.
Audience
Anyone looking for optimum health, at any time in their life, and open to alternative healing methods.
Author
LYNETTE FIORONI grew up in a small midwestern town with strict fundamentalist parents. Constantly told that she would never amount to anything, she fought her way out of her oppressive family environment by always believing in herself and graduated from the University of Michigan in the music and fine arts program.

She was happily married with three children and a growing, successful career as a financial advisor when suddenly her career was cut short after she suffered a nearly fatal cerebral hemorrhage. Told that would never see again, never drive, and never resume her normal life, she was discharged from the hospital and sent home.

With the help of a supportive husband, loving children, and friends, she overcame that illness, battling back by healing herself on her own terms, using the techniques outlined in There's Always a Way. She describes how she used breathing for calmness, retraining her brain to recover her sight, and yoga for regaining balance and physical stability. Some of these are ancient, time-honored techniques, simply used in a new way.

She went on to become a certified yoga instructor and subsequently graduated from the nationally recognized Beaumont School of Yoga Therapy. She now has her own yoga teaching and healing practice, sharing yoga therapy and the mind-body connection at a major medical institution. She is also a recipient of the Spirited Woman Award. Her life's mission is to help others discover how to overcome their personal obstacles by learning how to heal themselves.
Promotion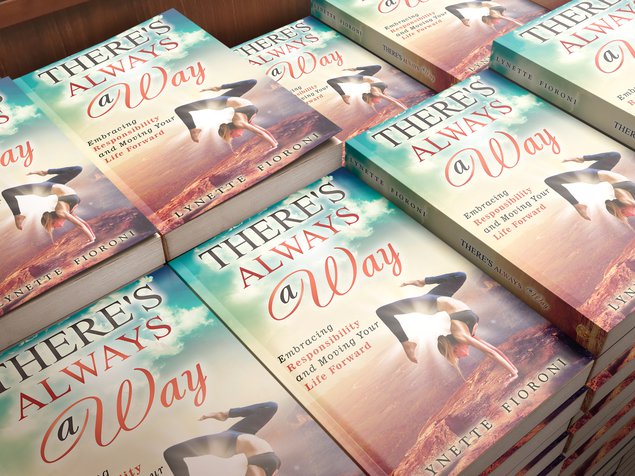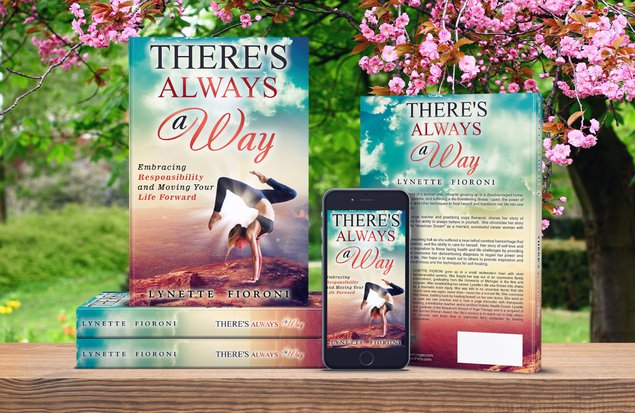 Competition
the new movie now available "HEAL" "There's Always A Way" is a simple story about healing utilizing the power of the brain and similar to many examples in the movie
Joe Dispensa "Evolve Your Brain"©2007 Joe Dispenza, DC (P)2017 Tanto "There's Always A Way" is a very simple example of the power of using your brain
Other comparisons would include many authors listed in HEAL or the SECRET
Sample
INTRODUCTION
Just imagine if you had a sudden illness and you were told in no uncertain terms that you would never see again, never be able to walk without help, certainly never drive, and de nitely never resume a normal life. Imagine how this would impact your life, your family, your future.
That is what happened to me after I suffered a life-threatening cerebral hemorrhage that robbed me of my vision, balance, and ability to care for myself. This is my story.
My name is Lynette Fioroni. I am a trained yoga teacher and yoga therapist and a certi ed holistic health coach. I have experience teaching yoga therapy and mindfulness classes both in a major med- ical institution and in a private studio to group classes and private sessions. My journey to get to this healing place is full of ups and downs and "in-betweens," pitfalls and pratfalls, and lots of detours into self-help journeys. My reason for sharing this story with you is to help you learn that you can learn to believe in yourself; you can learn to feel better, to heal, and to overcome so many physical, men- tal, and emotional things, and maybe you can shorten the journey a little by reading my story.
This is not a traditional self-help book. This is a story about struggle and compromise, about overcoming a seriously disadvan- taged and abusive childhood, about getting knocked down and get- ting back up again, about putting one foot in front of the other over and over again. Most of all, this is a story about believing in yourself for no reason at all other than that you like yourself and you think you deserve better. It's a story about persisting, even when no one else thinks you're worthy. It's a story about trying at all costs, keeping your head up, keeping your self-worth, and keeping your self-identity. It's a story about believing in yourself.
This is a story that might change your life and might change the way you believe in yourself. It's a powerful story of belief. It's my story, and my hope is that when you read it, you'll nd some things that might help you to believe in yourself without having to experi- ence that huge wake up call that sometimes we get in mid life when all is not going the way we want.
This is my story. It begins with my childhood and progresses through my life up to the point where my brain "exploded" and I nally got the message that I needed to change my way of living and of thinking, and get rid of the negative self talk and criticism. My story proceeds to the present day, where I still work each day to love myself and honor myself, to believe in myself and in life itself. I believe we all can heal ourselves. I believe this for me, and I believe it for you. The story chronicles some very simple methods that I follow now to live by and that I followed during my healing process. They worked for me. They still work for me. This is what I teach my students. I share it with you in the hope that it can help you too.
In order to really understand it, we need to start from the very beginning.
CHAPTER THREE
Childhood
In the summer, she would wade in the creek with her sisters. Barefoot on the slippery stones, in only an old, faded, pink bathing suit. The brambles from the blackberries she had foraged for lunch had scratched her delicate white skin. Turning dusty pink and brown from the sun. Some snakes would glide by in the current of the stream, but they were harmless water snakes. Worst of all were the leeches. They were hard to see because the sun dappled the water with shade from the trees and glanced off the top of the ripples with sparkly shininess. She would look down and see a black leech fastened on her skin with a little ooze of blood where it had fastened on to her. Only the biggest sister had enough n- gernails to pinch them off although she had heard you could burn them off. But that would burn the skin. Fingernails worked best, if you could get her to do it. They would spend all the summer days wading in the creek, looking for blackber- ries, and trying not to get leeches on their skin.
In the summer, before we went outside, we did our chores (dust- ing, sweeping, laundry, ironing, and cooking). Then Lynda would lock us out until late in the afternoon. Lynda was under stringent instructions to KEEP US QUIET so Lillian could sleep. What choice did Lynda have but to try to keep us away and keep herself safe? We tried to avoid the "Board of Education" at all costs. Prob- ably the threat was worse than the actual spanking, but we lived in terror of making any noise at all. Mother needed her rest.
In the meantime, we all would amuse ourselves by activities that would never occur today: playing unsupervised in the woods, swim- ming in the ponds, and wading in the creek, looking for treasures often miles and certainly hours from home. We lived in a fantasyland that we made up for each other, with Lynda taking the brunt of the responsibility and pain. The rest of us lived outside: we for- aged for snacks of blackberries and raspberries and the occasional wild strawberry, went to the bathroom outside and used the leaves and moss as toilet paper. We waded in the creek that wound its way through the wetlands in the back of the house down the hill and made fairy rooms out of the moss-laden coves we would find. We lived with bugs and snakes and critters.
I still remember the absolute delight we had upon finding a nest of small grey eld mice babies. We excitedly told each other not to touch them because our human scent would put the mother off. (How did we know this?) We were anciently wise small human children living on our own.
At night, some one of us would pull together a dinner of peanut butter or Velveeta cheese toast, and we would go to bed with tummies growling, amusing each other with shadow puppets and ghost stories.
The father had favorite sayings he would quote to his daughters: "Fatty, fatty, bumblelatty, fell downstairs and killed her daddy." or "Fatty, fatty, two by four, can't get through the bathroom door." Any time they were going somewhere, he would quote those to try to make them feel bad about themselves. The mother would beg for compliments whenever she got dressed for church, but all he would ever say was "pretty, pretty."
No matter how we looked or what we did, Howard made fun of us. He was not able to give a compliment, and as we got older and moved through puberty, he got meaner. He would tell us we were fat and ugly, that we would never amount to anything or, the very worst: "You're just going to grow up and marry a gas station attendant." I was excruciatingly self conscious to the point that I didn't smile in pictures, and not much in life for years. Howard and Lillian had paid for braces for Lynda, but they decided it was just too expensive for everyone else. Years later, Lillian explained it to me by telling me that mothers always loved their first-borns the most.
When she was six, she and her eight-year-old sister were playing outside, watching the little kids. They were four, three, and a toddler. The brother was four. He had been pulling the dog's tail. When he walked by the dog King, the dog turned around and bit the brother on the head. 200 stitches. They had to run to tell the father, who was in the house working while they watched the little kids. The father took the brother to the hospital. The mother was not at home.

By this time, we had moved our large family to a rambling old four-bedroom house that was in constant need of repair. It was even further out in the country on the outskirts of the outskirts of a small town in Michigan. In our family, we all missed a lot of school. If we missed the bus, we simply had no means of transportation. We couldn't get there, and we just spent the time at home. We also lived in fear of being stuck at school overnight if we missed the bus on the way home since no one would come to get us.
Lillian was in such a fog trying to cope with everything, just barely able to get herself together to take care of us kids, and in those early years, every time she would start to get organized, it seems like How- ard would get home from a long trip and she would get pregnant again. After HP was born and she had already been told by doctors not to get pregnant again, she became pregnant with unexpected twins. The twin born second didn't survive; the umbilical cord was wrapped around her neck. Lillian sank even deeper into depression and post-partum blues. The surviving baby, Lilly, was very small. When they came home from the hospital, Lillian collapsed in bed for about ten months and Lynda, eight years old, was given the responsibility of caring for Lilly, who was a premature, delicate baby, up all night every few hours for most of the next year. Lynda took care of her, giving her her daytime and nighttime feedings, staying home from school for months while Lillian lay in bed, depressed and sleep- ing. Where was my father? Where were other responsible adults? My childish mind did not understand the depth and gravity of the situation. I only knew that we were on our own and had to survive no
matter what. Howard was on extended trips for work and simply not available. I have a vague memory of a neighbor or church friend stop- ping in to help, but essentially, we children took care of my mother, the baby, and each other.
In retrospect, I don't really think we were too poor to eat; we just weren't taken care of. Since my mother didn't have a driver's license, there was no real way to stock up on groceries. Milk was delivered, but grocery shopping was a major event and didn't happen often. When Howard was home, he would cook as much as he could before taking off on an airplane trip again. As a corporate pilot he was still almost constantly gone. Before he would leave, he would give Lynda the list of jobs for us to do: mow the lawn, paint the house, take care of Lillian. Didn't he worry about us while he was gone? There was no way to communicate except the telephone, which in those days was on a party line, one black model in the dining room for all to use. How could he possibly have left over and over again without worrying about every single one of us? I'm sure he was driven by the need to make money to pay the bills, or maybe he honestly didn't understand the situation, but we were emotionally and physically starving children. From my adult perspective, we were a huge emotional responsibility at that point, and neither of my parents were equipped to care for us. We were 12, 10, 8, 6, 4 and 2. Heartbreaking.
She watched as the mother carefully painted her own fingernails and toe- nails the new Cutex color "Hot Pink." The mother had matching lipstick and was careful about applying her makeup and dressing in a matching light pink out t with a hat and pink high heeled shoes. The mother's favorite colors were pink and turquoise. The five daughters had never painted their fingers and toes, and they wore each other's hand-me-downs.
Lillian was an exceptional beauty with dark curly hair, green eyes, high cheekbones, and an aristocratic nose. She was also extremely vain and conscious of her appearance. When she was not depressed, drugged or sleeping, she went on diet after diet, trying each new fad that appeared, constantly working on her " figure." She would spend hours painting her nails, dressing, exercising, and working on her appearance. She tried for a while to get her three oldest daughters to look pretty and put together and even forced us to go to the Sears modeling school, but after a few years and so many kids, it just got to be too much for her, although she always took care of her own looks. She was a competent needlewoman, a good seamstress, and we learned from her to sew and make our own clothes. I don't remember her pampering us in the same way that she took care of herself.
Her parents were fighting again. Her father was leaning over into the refrigerator, and her mother opened the top freezer door and left it open so when he stood up he bumped his head on it. Her mother threw her cup of hot tea on him. Then mother packed a bag and went away for two weeks. She begged mother to "please, please, please don't go." Or at least take her too. But her mother said no. And left her and her sisters and her brother. She was eight.
My parents' relationship grew more strained as time went on. Howard was gone for lengthy business trips, and Lillian became increasingly angry and resentful. She wanted to go out when he came home, but he was always too tired. The pressure of having the six children wore on them both day and night. The way that Lillian handled any crisis was to leave. That way she wouldn't have to handle anything.
As an adult now, I can't even imagine her life - trapped in a love- less marriage with six young needy children to care for, really, still just a beautiful child herself. She couldn't cope, and so she went to sleep for years. When she and my dad finally would come together when he was home for a few days between trips, they would fight. There would be a big agonizing blow up, and Lillian would storm out. We little kids would cower in the corner, terri ed that our mother would leave us again. She would charge off in the car for the day, a few days, maybe a week, even a month and once for over a year. Howard would begin calling the hospitals and the police stations to see if she'd been in an accident or if she had been found. We just never knew when she'd blow up. It was like living with a can of gasoline on the hearth by the fire. The fire was pretty, but if it got too hot or too close to the can, there could be an explosion and nothing would be left.
All her life she was allergic. She would sneeze over and over again. Twelve, thirteen times. At night her stomach would cramp up and hurt so bad she would have to tell the mother, who would give her soda crackers to make her stomach stop hurting. "Stop being so sensitive. You are overreacting. Stop this nonsense!!" the mother said. But she could not stop. She would curl herself into a ball and lie in the hallway by the heating vent, eating her soda crackers. Finally the mother took her to a doctor who said she was allergic to soap. But that did not stop the sneezing.
I'm quite certain that I was needy as a child, longing to be loved, and acting out in every way for any kind of attention. Every sin- gle night my stomach would hurt, and Lillian would give me soda crackers to "settle my stomach." I would sit by the heating vent in the hallway in my nightgown and nibble on the crackers until she was lying down, ready for bed; then we would all crowd in with her, hoping for some kind and loving words.
I loved her so. I longed to be like her-beautiful, spirited, and other-worldly, like a nymph or spirit flying in the sky. As I got older, she became more and more abusive to me, especially me because I didn't ever learn to shut up and be a good girl and be quiet. Outrageous things would come out of my mouth closely resembling the truth, and she would literally fly off the handle and chase me around with a broom, beating me with it. Even then I knew that this was wrong, that we all deserved something different and better. I often took the brunt of the beatings because of my rebellious and spunky spirit.
Every summer the whole family took a traveling vacation. At first they stayed at motels. After a while, their parents bought a travel trailer. The mother liked to go to the beach so they went south to the ocean in Virginia. They spent the days in the sun on the water.
She was probably ten years old, and she had spent days without any sun- screen or anything but baby oil. She woke up one day and couldn't see. At all. She had no vision and was scared. The mother thought that she was lying, making it all up for attention. But she was not. She had to walk to the bathroom in the campground, and she had to have the big sister take her there. She could not see anything with her eyes. The sister kept pinching her. "Behave! Everyone is staring at you! Walk straight! Pretend that you are normal!" She could smell the breakfasts cooking in the other trailers. Eventually the vision returned to normal.
Another time when she was about fourteen the travel trip was out west to the Dakotas. The father would drive six or eight hours every day. It was exhausting. The children would be pent up in the station wagon. When they nally found a campground, there was no way to relieve their energy from being cooped up in the car all day. Her father slapped her in the face because she was sassing him.
Every summer we lumped together in a Pontiac station wagon and either traveled around out west visiting Howard's family in Oklahoma or went down south to visit Lillian's relatives.
In Oklahoma, when we first visited, in the 1960s, I stayed with HP at an uncle's house. In fact, it was the original wooden house that my grandpa and grandma had built on the land that they home- steaded during the Oklahoma Sooner Rush. Interesting to think of as an adult. In fact, they still lived in a primitive fashion: they did not have running water in the house yet. We pumped water in the kitchen sink and used the outhouse. I remember being childishly fascinated with this fact; it was so different. I was about seven years old.
My father's family was utterly poor and lived literally from hand to mouth. Howard was the most successful son, the one who moved away and made something of his life. The others had to stay to farm the family land. Howard escaped because of the war.
The family were taciturn and stoic pioneers living off the land, and it seemed that they had long since become mean and stingy because of desperate times and Depression era living. In actuality, they were farmers and hard-working country people living the life they had been dealt. Life was so very hard. When we visited, each kid got passed around and stayed with different relatives. Tossing big rocks into cow pies was a major source of entertainment; I still remember the glee we all felt when we hit a nice juicy one that splatted all over.
Visiting Lillian's family in the south was very different. For one thing, her family was not close and we rarely saw them, even though we were geographically close. For another thing, we always stayed on the beach, either the Chesapeake Bay or Virginia Beach. Lillian, who grew up unable to swim, loved the water, and we would rent a big apartment and just pile in, sleeping wherever we could. The mess that we left behind! Lillian wasn't a cleaner! And in those days we had no fear of too much sun. The big fear was that we would throw up if we went into the water too soon after eating lunch, usually a peanut butter sandwich with an orange Nehi pop. (I remember this so clearly because often I did go in too soon, and up came the Nehi!)
One Michigan summer day they all went exploring to the top of the big hill at the end of the road. If you went to the end of the road, then up the hill and across the meadow, you came to an old rusty fence with a stile, a ladder built into the fence. Near the stile was a tree with a big limb that hung out over the fence. They would climb the tree and pretend to be in a treehouse. It was like a private club, and the best spot was the closest to the trunk of the tree. They were pushing and shoving each other for space. She didn't remember exactly how, but she fell off the branch onto the rocks. She hit her head and landed on her back on the pile of rocks at the base of the stile. It knocked the wind out of her. She thought she broke her back, but her sister said, "No. You wouldn't be able to walk if you broke your back. Now. let's walk home and don't tell. Anyone."
Another summer, we were riding bikes in the street... We had a very large tricycle, and I was standing on it while my sister pushed me, and over it went! I tumbled, falling to the ground and landing on my left arm. In our house you had to be really sick to be taken to the doctor. My arm hurt so much, I cried and cried. Finally, Howard relented and took me to the local emergency room where we had to wait over eight hours to be seen, or get out of there. That is something he constantly reminded me of. Waiting. I learned from this to try never to cause problems or make a scene, no matter how sick you are. My arm was broken and in a cast from shoulder to elbow. The family vacation was coming up on the day I was to have my cast removed, but it was too much trouble to take me in to have it taken off. We proceeded on our vacation to the ocean shore. For three weeks. Not a thing I could do about that itchy, heavy cast that had to be supported by a dirty sling and which kept me from swimming or having much fun. Howard and Lillian told me it was my own fault for breaking my arm.
In spite of all this, there were some fun times and good memories.
Summers were always the best. The sweet sound of the crickets. The frogs and the hot dry strumming of the cicadas. There were bee-hives down by the creek, and fresh honeycomb to chew on. Her father planted a vegetable garden down the hill on the other side of the creek, and when the tomatoes were ripe she would pop one in her mouth, warm, juicy, tangy-like nothing else, a sun warmed ripe tomato.
In the fall, thousands of beautiful brown and yellow dry leaves would fall on the grass, floating down slowly like butterflies, until they reached the ground. It was the children's job to rake up the leaves. They would play and get sidetracked and rake paths and hallways, and make square rooms, and finally they would rake up a huge pile. They would load all the leaves into the old green trailer. It would be someone's lucky job to jump on the pile to make it squash down. It was fun. That was the good job. The smell of the dry leaves and the burning leaf pile on a cool fall day was a good smell.
So, there were many wonderful things that we experienced as children. We grew to love nature: the gardens and outdoors, the open sky, grass, the trees, and the beauty of a crisp fall day. We even loved the winter; we challenged each other sledding down the hill onto the icy pond, and we would ice skate for hours on it. Some- times we were lucky enough that Howard would come down with us and build a re to warm ourselves by ,but usually we were on our own. We were treated to music lessons from a very young age, and my parents sacrificed so that we could each learn an instrument and we grew to love our music. We travelled the entire continental United States on those summer trips: Yellowstone, the Black Hills, the Carlsbad Caverns in New Mexico with stalactites and stalagmites, Niagara Falls, Falling Rocks in Pennsylvania, Nags Head, North Carolina...We visited in the 1960s when there were far fewer tourists and much fresher scenery and air. How beautiful. We learned to play outside and entertain each other. We grew to love reading. These are all things that make up my most cherished memories, and are also my favorite activities to this day.
We also spent a lot of time playing on the swingset. For enter- tainment, my dad had gotten an old school swing and installed it at the bottom of the hill in our yard. The swing had a trapeze, rings, a baby swing, and a at swing. The at swing became a place of fan- tasy for me. I would imagine that I was a beautiful, tall, rich lady with an exciting life in a far far away place. I based my character on all the books that I read, and I read everything I could. Lynda had found her escape in books, too, and I read everything she brought home.
As an adult, I certainly appreciate these things. In fact, music has been one of the great gifts of my life, and listening to a wonderful piece can almost always lift my spirit. I appreciate how hard it must have been to maintain and supervise music lessons for six children. Overall, though, we were neglected children left on our own, strug- gling to understand the neglect and lack of demonstrated caring or love that other kids seemed to enjoy.