We're living through an age of accelerating disruption, and that means organizations of every shape and size are under intense pressure to create value. That's where analytics comes in.
| | |
| --- | --- |
| | Business Analytics |
| | Pittsburgh |
| | 25,500 words |
| | 100% complete |
| | 10 publishers interested |
Synopsis
PRAISE FOR THINK FAST!
"The use of data is defining new business models, disrupting industries and creating valuable experiences for consumers. While the outcomes can be transformative, the journey requires more than technical proficiency. Think Fast! can position your organization's operating model to scale its analytic driven transformation and compete against the next generation of disrupters."
Paul Hlivko
VP & CTO at Wellmark Blue Cross Blue Shield
"This book is the go-to bible in demystifying data analytics. I left reading this book with concrete, distinguishable takeaways in implementing a comprehensive BI environment for my clients' businesses. It is an easy read for even the busiest IT executive."
Robert Stein
Executive Director, Institute for Entrepreneurial Excellence at the University of Pittsburgh
"The technical skills needed to extract actionable insights from massive amounts of data are only one dimension to the analytics puzzle. In an increasingly competitive world where data science and analytics are being utilized across industries and platforms, Steffine re-introduces us to the peripheral skills that set apart the winners from the losers. Buy-in from the line of business, agility in development, making sure you meet the needs of the client (internal or external) are all key components that decide the success of a given analytics project, and this author does a fantastic job of identifying each component in the process. Think Fast! is an essential sidekick for any analytics professional looking to gain an edge above and beyond the tech stack."
Amir Biagi
Director of Data Science, AF Group
"Think Fast! sets early expectations - and more crucially, stays true to them throughout – as an eminently-practical, conventional wisdom-challenging guide through the complexities and ever-shifting landscape of self-service analytics. Greg and his "Perspectives from the Pros" colleagues cut to the core issues and tear down supposed "truisms" found in many other analytics books that simply don't hold up to the realities of modern business. Particularly valuable to data-driven practitioners will be Think Fast's recognition of the people elements of the analytics equation, the oft-unrecognized linkage point between data and execution, as well as its well-integrated advice about the service models that make analytics sustainable and with optimized impact. Throughout the book, the context for analytics execution is never disconnected from the technical details of data science work. Technology receives a balanced treatment, with foundational definitions of key data concepts (including very timely themes of data privacy) reviewed, yet adeptly avoiding the trap of recommending technology that isn't firmly grounded in business purpose and company culture."
Evan Sinar, Ph.D.
Chief Scientist and Vice President, DDI
"Data is one of our most valuable assets, and self-service analytics can quickly get data into the hands of the people that can gain the most value from it. Think Fast! is a quick read that provides a lot of value on all aspects of what is needed for a successful self-service analytics ecosystem. I fully expect I will be referring to it often with my team."
Lisa Gardner
Data Analytics Architect
"In a new data world where even business executives are able to do their own analysis from complex company data, this book provides insight into all aspects of the people, processes, enabling technologies, and data and does so in a meaningful, easy to read format. Business intelligence professionals and partners are encouraged to rely on Think Fast! to help guide them to create higher value-driven programs using self-service analytics."
Alan Aguais
Global Program Manager, eBay, Inc.
"Think Fast! functions as a great self-service analytics primer for anyone — whether you are simply curious, tangentially involved, or responsible for creating and/or executing an enterprise strategy and looking for how to and how not to guidance."
Ian Gordon
Senior Vice President Operations, Regence Insurance Holding Company
"We have entered an era where immediacy is quickly becoming table stakes, technology is re-inventing industries and every company will be judged against the capabilities of all companies. Steffine's Think Fast! is a resource for leaders looking for best practices based on collective experiences and observations as to why organizations will succeed or fail in delivering meaningful insights that drive value and why it matters in this era of disruption."
Laura Gorry
Healthcare Executive, IBM Global Markets
"Think Fast! provides powerful guidelines that help IT eliminate the barriers that often hinder business analysts from achieving real results from data."
Andrew P. Hornyak
Sr. Business Intelligence Developer, University of Pittsburgh
"We all know how important deriving timely and actionable intelligence from data is for the success of any organization. Think Fast! introduces you to a simple but powerful business intelligence tool--self service analytics--that does the job magnificently. The book helps you to think through all the critical nodes in its implementation to ensure its successful adoption at any organization."
Amit Marwah
Finance, Analytics and Risk Management Leader - Technology and Financial Services Industries
"At a time when analytics buzzwords and innovations are utilized regularly without thorough understanding of the concepts, Think Fast! helps leaders decipher the fundamentals of analytics with a simple approach to generating, evaluating, implementing, and maintaining sound strategies and offerings into varied organizations. This book navigates through the essentials to understanding data, provides a simplified mechanism to creating an analytics culture, and shares the principles for integrating analytics processes and tools. Steffine delivers insightful knowledge in an easy to read narrative while the inputs from experienced pros add relevant expertise and useful insights. Now more than ever, leaders need to leverage knowledgeable data and reliable business intelligence to ensure sound decision-making for staying current and successful. An excellent resource to keep on hand, Think Fast! will help any leader be more effective in their analytics endeavors."
Era Prakash
Product Leadership and Strategy Consultant
"Think Fast! presents invaluable insight into delivering effective analytics capability to the end user. I'm using Greg's methods and suggestions on my next BI project."
John Zeiner
Manager Risk Analytics and Payment Innovation, Gateway Health
"Think Fast! is an insightful must-read for any BI Professional trying to define and lead an agile analytics organization. It provides a well-balanced and clear perspective on self-service analytics. This is especially relevant in today's world where the nature and volume of data being produced from various sources can provide fresh insights and value to the organization."
Arun Raju
VP Enterprise Architecture - Global Corporate Platforms, Equifax
"In my experience with the world's leading companies, I've found that the key differentiators for building best-in-class products and services are a commitment to design thinking and an adherence to business intelligence best practices. Greg Steffine delivers a primer on the latter in Think Fast! Powerful, thoughtful and engaging, this edition will hold a place on my office bookshelf for years to come--right next to Hyper!"
Dan Grace
SVP and Director - Innovation Product Management, Bank of America
"More important than ever are fast available insights from firm's data. And fast means users can create results quickly with minimal intervention of the IT department based on a self-service driven approach. This approach allows users to explore data by themselves and create value by analyzing data quickly. Think Fast! delivers an easy to understand approach with different perspectives to help you be successful with self-service analytics. This book guides BI professionals and managers to improve their existing environments to create analytical results fast(er)."
Dr. Tobias S. Witte
President & Founder of Wittbix LLC, Business Intelligence Executive
OVERVIEW
Every organization today is under intense pressure to create value. In fact, the digital revolution is fundamentally changing the world as we know it--from how consumers interact and behave to how business gets done. And it's forcing organizations to transform the way they work. That's why business leaders consistently turn to analytics. They need actionable insight to innovate, differentiate, and compete. But it's no longer enough to simply sell more, spend less, and work smarter. Business has to do it with unprecedented speed and agility. Business leaders need to think fast!
In this sequel to his award-winning book, Hyper: Changing the way you think about, plan, and execute business intelligence for real results, real fast!, Greg teams-up with other experienced pros to deliver an essential, quick-read guide on the most important aspects of people, process, technology, and data you need to think about in order to deliver real value. Packed with pragmatic advice from years of hands-on field work, Think Fast! provides the insight you need to compete and win with self-service analytics.
Outline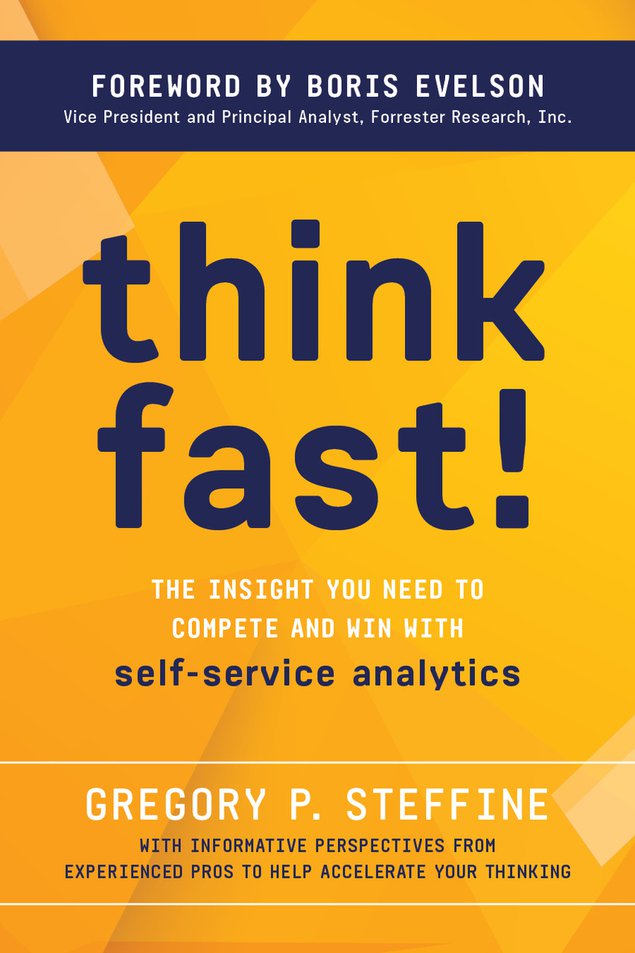 The abstract cover design is intended to reflect the many facets and nuances of self-service analytics that make its design, implementation, and support a challenging proposition for most every organization.
Section I - Understanding Self-Service Analytics
This section provides an overview of analytics, presents a foundational understanding of self-service, and covers its value-creation objective.
INSIGHT 1 - VALUE ATTAINMENT
INSIGHT 2 - AGILE BI
INSIGHT 3 - DEFINING ANALYTICS
INSIGHT 4 - DESCRIBING SELF-SERVICE
Section II - The People Domain
People represent an organization's greatest source of competitive advantage. In Section II, the author covers organizational alignment, the importance of collaboration, and discuss the team make-up you need to be successful with self-service analytics.
INSIGHT 5 - ORGANIZATIONAL ALIGNMENT
INSIGHT 6 - THE ORGANIZATIONAL MODEL
INSIGHT 7 - THE IMPORTANCE OF COLLABORATION
INSIGHT 8 - THE RIGHT TEAM
INSIGHT 9 - THE RIGHT SUPPORT
Section III - The Process Domain
This section focuses on setting priorities, balancing risk and reward, ways to sell your vision, and the importance of controlling the chaos that can often result from self-service.
INSIGHT 10 - SETTING PRIORITIES
INSIGHT 11 - BALANCING RISK AND REWARD
INSIGHT 12 - BUILDING REQUIREMENTS THAT WORK
INSIGHT 13 - EVALUATE AND EVOLVE
INSIGHT 14 - SELL THE VISION
INSIGHT 15 - CONTROL THE CHAOS
Section IV -The Technology Domain
Technology plays an important role in making self-service analytics work. In this section, Greg and his contributors discuss the right architecture, the place for big data, and the crowded and often confusing analytics landscape.
INSIGHT 16 - THE ROLE OF TECHNOLOGY
INSIGHT 17 - THE SELF-SERVICE ARCHITECTURE
INSIGHT 18 - THE PLACE FOR BIG DATA
INSIGHT 19 - THE CONFUSING ANALYTICS LANDSCAPE
Section V - The Data Domain
Self-service analytics would not exist without data. In Section V the author helps you understand some of the important nuances of data including how to prepare it, the science behind it, and critical privacy concerns.
INSIGHT 20 - UNDERSTANDING DATA
INSIGHT 21 - PREPARING DATA
INSIGHT 22 - DATA ON THE EDGE
INSIGHT 23 - UNDERSTANDING DATA SCIENCE
INSIGHT 24 - DATA PRIVACY
Section VI - Closing Thoughts
In Section VI, Greg leaves you with some closing thoughts on effective planning and execution and the importance of a mindset that embraces change.
INSIGHT 25 - PLANNING AND EXECUTION
INSIGHT 26 - CHANGE IS INEVITABLE
Audience
THE MARKET
Global revenue in the business intelligence (BI) and analytics software market is forecast to reach $18.3 billion in 2017, an increase of 7.3 percent from 2016, according to the latest forecast from Gartner, Inc. By the end of 2020, the market is forecast to grow to $22.8 billion.

According to DrivenBI, the Self-Service Analytics Market is expected to reach at market size of USD 10 billion with CAGR of 20% from 2016 to 2022.

According to Zion Market Research, the global business intelligence market accounted for USD 16.33 billion in 2015 and is expected to reach USD 26.50 billion by 2021, growing at a CAGR of around 8.4% between 2016 and 2021.
Organizations are embracing self-service analytics and business intelligence (BI) to bring these capabilities to business users of all levels. This trend is so pronounced that Gartner, Inc. predicts that by 2019, the analytics output of business users with self-service capabilities will surpass that of professional data scientists. "The trend of digitalization is driving demand for analytics across all areas of modern business and government," said Carlie J. Idoine, research director at Gartner. "Rapid advancements in artificial intelligence, Internet of Things and SaaS (cloud) analytics and BI platforms are making it easier and more cost-effective than ever before for nonspecialists to perform effective analysis and better inform their decision making." Gartner's recent survey of more than 3,000 CIOs shows that CIOs ranked analytics and BI as the top differentiating technology for their organizations. It attracts the most new investment and is also considered the most strategic technology area by top-performing CIOs. As a result, data and analytics leaders are increasingly implementing self-service capabilities to create a data-driven culture throughout their organization. This means that business users can more easily learn to use and benefit from effective analytics and BI tools, driving favorable business outcomes in the process.

Bain surveyed executives at over 400 companies ($1 billion and up) to produce its report entitled "The Value of Big Data: How Analytics Differentiates Winners." Bain's research concluded "companies who use analytics the best are 2x more likely to have top quartile financial performance. [However], we found that only 4% of companies are really good at analytics, an elite group that puts into play the right people, tools, data and intentional focus."

MIT surveyed over 3,000 executive managers (around the world and across all sectors) to produce its report entitled "Big Data, Analytics and the Path From Insights to Value." They also surveyed leading researchers. MIT's research concluded that "Top performers view analytics as a differentiator: Top-performing companies are three times more likely than lower performers to be sophisticated users of analytics, and are two times more likely to say that their analytics use is a competitive differentiator."

THE AUDIENCE
Think Fast! is intended for busy business and IT professionals who have responsibility for building and growing a self-service analytics capability, and for those folks responsible for utilizing it to drive more effective decision-making.
According to Dresner Advisory Services' 2017 Wisdom of Crowds® Business Intelligence Market Study, the targeted user community for business intelligence comprises executives, middle managers, line managers, and individual contributors/professionals. This is the same targeted audience for think fast!, and it remains consistent regardless of geography, industry, or company size.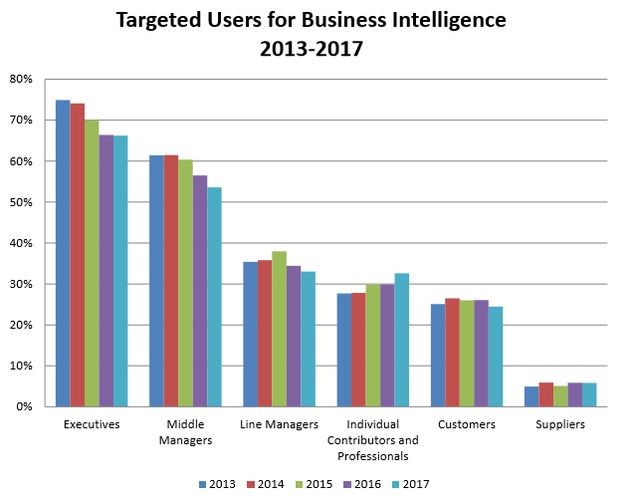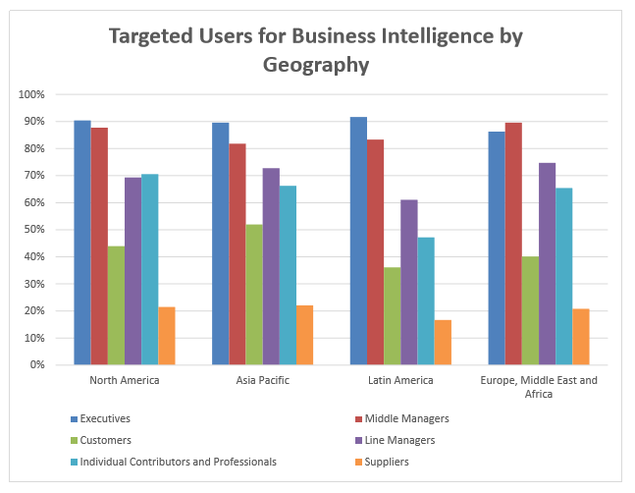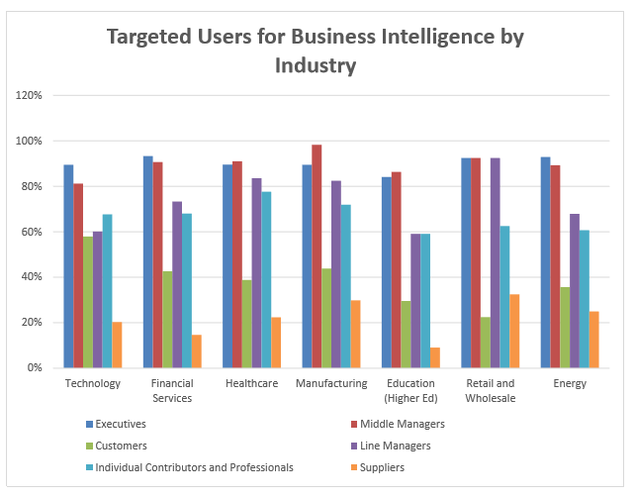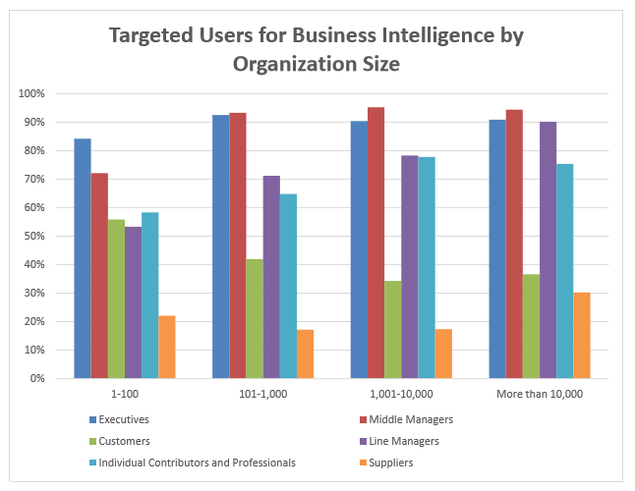 The book's targeted audience reflects a broad cross-section of line of business leaders and their teams--typically from sales, marketing, and finance--who focus on revenue growth, cost reduction, and risk management.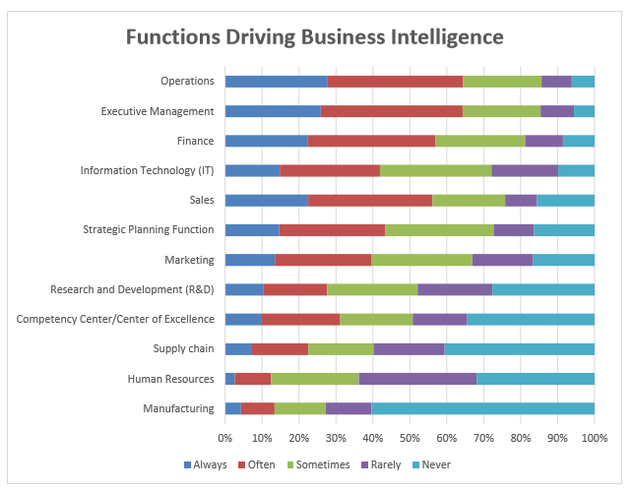 Author
Greg's job is to help business leaders use information to create and maximize value, and that's something he's been doing for more than 25 years now. In fact, it's been his privilege to help some of the most recognizable names in business become smarter, analytics-driven organizations.
Mr. Steffine's career started with one of the region's fastest-growing direct marketing agencies where he cut his teeth on data and the fundamentals of database marketing. He was the business guy who branded and led the first data warehousing initiative for a small package delivery company that would later become FedEx Ground. And he's a former Deloitte manager who has spent more than 15 years in business intelligence and data warehouse consulting.
Today Greg leads the business intelligence and analytics competency center for one of the nation's largest bank-based financial services firms.
He is an award-winning author, the recipient of the Award of Excellence from DataProfit Corporation, a Service Champion Award winner from RPS, Inc., and the recipient of the Director's Recognition Award for his work at the Centers for Disease Control and Prevention.
Promotion
Greg's primary method of promotion is through his LinkedIn network of like-minded practitioners, consultants, analytics vendors, and business professionals. Updates and posts provide routine visibility into his work. As a senior corporate executive, job-related networking opportunities and his personal website (steffine.com) provide additional visibility. Mr. Steffine is considering future webinars and an analytics course to further support the marketing and sale of Think Fast!
Finally, Greg is currently co-authoring an article for expected placement in Harvard Business Review. Other targeted publications include Fast Company, Tech Crunch, and CIO.
Mr. Steffine self-published his previous book, Hyper. Presales through Publishizer and subsequent promotion activities through LinkedIn, Amazon, and others led to the following achievements:
Amazon Hot New Releases In Information Management
2018 Top 30 Best Data Science Books (#24) - Data Science Programs Guide
2016 Elit Gold Award - Best Business Reference Book
#1 Amazon Bestseller - Social Science Methodology (June 2018)
#1 Amazon Bestseller - Library And Information Science (June 2018)
#4 Amazon Bestseller - Organizational Change (February 2017)
#5 Amazon Bestseller - Management Information Systems (June 2018)
#7 Amazon Bestseller - Computer Literacy (June 2018)
#8 Amazon Bestseller - Knowledge Capital (June 2017)
#10 Amazon Bestseller - Information Management (December 2016)
Nominated For 2016 Small Business Book Award
Hyper is also being used in Xavier University's MBA program. Mr. Steffine intends to replicate this success with Think Fast!
Previous speaking engagements include:
Tableau Conference 2017 - Executive Roundtable with Rita Sallam, Gartner
Pittsburgh Data Jam 2017
OPEX Week: Business Transformation World Summit 2017
IBM World of Watson Analytics Sales Academy 2016
Competition
Few books on business intelligence tackle the cultural issues and soft skills required to make analytics a success. This is a primary focus of Mr. Steffine's writing. In addition, his readers are busy--just like Greg is. And, like Mr. Steffine, they don't often have time to pick-up a book and really digest it from front cover to back. So, unlike his competitors, Greg writes with brevity. He packs practical tips and pragmatic advice from years of hands-on field work into a "quick read" format praised by his peers. His objective in all of his work is to "simplify the complex." His style is conversational and his writing "short and to the point"--the kind of book you can finish on a flight from Pittsburgh to Phoenix. These factors differentiate his work from competing books in the marketplace.
Laursen, Gert H. N. and Jesper Thorlund. Business Analytics for Managers: Taking Business Intelligence Beyond Reporting. Wiley and SAS Business Series. Nov. 7 2016.
Sherman, Rick. Business Intelligence Guidebook: From Data Integration to Analytics. Morgan Kaufmann. Nov. 21 2014.
Howson, Cindi. Successful Business Intelligence, Second Edition: Unlock the Value of BI & Big Data. McGraw Hill Education. Nov. 5 2013.
Moss, Larissa and Shaku Atre. Business Intelligence Roadmap: The Complete Project Lifecycle for Decision-Support Applications. Addison-Wesley Professional. Mar. 7 2003.
Boyer, John, Bill Frank, Brian Green and Tracy Harris. Business Intelligence Strategy: A Practical Guide for Achieving BI Excellence. MC Press. Nov. 1 2010.
Maheshwari, Anil. Data Analytics Made Accessible: 2018 Edition Kindle. Amazon Digital Services.
Sample
INSIGHT [2]
AGILE BI
THE POINT: ORGANIZATIONS HAVE TO BE QUICK AND NIMBLE
Our world is obsessed with speed, and every business needs to think and move faster than its competition if it's going to survive. As writer and PR consultant Tom Clive puts it, "Dinosaurs must learn to become pumas."
Now, more than ever, business leaders need access to the right information at the right time in order to act before decision windows close. That's important because, as research by Accenture indicates, organizations with the ability to quickly convert data to information to business value enjoy a significant competitive advantage over those who can't. It's what separates the best from the rest.
Agile BI (agile with a small A) is an approach to analytics that enables organizations to work in quick, iterative cycles to define and deliver a business-aligned analytics capability over time, one incremental step at a time. TechTarget points out that an agile methodology anticipates the need for flexibility and applies important pragmatism to the design and development of analytics solutions. As a solutions delivery leader, I can't stress enough the importance of this statement. In my award-winning book, Hyper, I outline an accelerated approach to the planning and delivery of analytics solutions using an agile mindset.
In its Agile Organization series, McKinsey outlines the five trademarks and 23 practices of an agile organization. "The trademarks," its authors write, "include a network of teams within a people-centered culture that operates in rapid learning and fast decision cycles with are enabled by technology, and a common purpose that co-creates value for all stakeholders." McKinsey's perspective on organizational agility goes well beyond analytics, for sure; however, the trademarks certainly apply to the world of agile BI. Keep them in mind—especially since research by McKinsey shows that agile organizations "achieve greater customer centricity, faster time to market, higher revenue growth, lower costs, and a more engaged workforce" than their non-agile counterparts.
Whether or not you adopt formal agile methodologies, your focus must be on fast, frequent releases of self-service BI capabilities. Think hours and days, not weeks or months. What Klaus Schwab said a number of years ago at the Davos World Economic Forum still holds true today: "We've moved from a world where the big eat the small to a world where the fast eat the slow." The pace of business is only increasing. Your analytics capability—and the mindset you use to implement it—needs to keep up.
PERSPECTIVES FROM THE PROS
Mike Sargo
The business intelligence market has evolved to a point where organizations can now deliver solutions in an agile way, enabling business users to access the data they need when they need it as business needs change. No longer does the business have to rely on IT to manage and respond to report requests. Instead, technology professionals can focus their efforts and expertise on data management and governance. This transformational shift is the key to unlocking the full potential of an agile business intelligence deployment.
Sri Seepana
Agile BI is about being "entrepreneurial." Successful entrepre-neurs focus on the journey, not the destination. BI initiatives are a journey. Unlike technology projects, they have no end date. Instead, they evolve as the business evolves. The entrepreneurial mindset empowers a leader to quickly translate an idea into action, and then learn from the experience and iterate. That's how effective agile BI efforts operate. Fail fast is the entrepreneur's mantra, and so it is with agile BI.
Abhi Sindhwani
In the healthcare industry, any methodology you adopt must keep the patient front and center. Agile, whether formally or informally implemented, provides a valuable framework that enables payers and providers alike to quickly test new ideas without large investments and without affecting care delivery or management. In fact, for years now the healthcare industry has been leveraging business intelligence and analytics to deliver more efficient care, to provide better patient experience, and to reduce the cost and service burden on providers; agile has been an important part of the equation.
THE TAKEAWAY
When you think agile BI, think speed-to-value. After all, agility only matters if it helps your organization to sell more, spend less, or work smarter. Look for ways to move your organization from big idea to actionable insight in a fast, focused manner. Partner with business stakeholders to identify high-value, low-risk opportunities that can help jumpstart your analytics effort. Don't overcomplicate things. Being agile means keeping things simple. Start with data that is readily available and accessible. And when it comes to data quality, don't let perfect be the enemy of good enough.
INSIGHT [5]
ORGANIZATIONAL ALIGNMENT
THE POINT: ALIGNING THE BUSINESS AND IT ORGANIZATIONS IS ONE OF YOUR TOP PRIORITIES
Many companies struggle to transform information into real results. Sure, some still live in what futurist and author Thornton May calls the "analytical dark ages"—where the right information is either limited or missing entirely from the organizations' decision-making processes. In my experience, though, business leaders fail to capitalize on the promise of BI because of conflicting and often divergent perspectives on what business intelligence is and how it works. What we believe influences how we behave, so, in many organizations, erroneous perceptions often lead efforts astray, they can frustrate stakeholders, and they can sap valuable budget dollars. That's why it's important for business and IT to align around fundamentals.
It's important to know that the pressure to create value requires organizations to think differently about analytics if they want to compete and win, and that new way of thinking begins with five basic principles that help to unify stakeholders:
Unifying Principle #1 - Analytics has nothing to do with technology
Analytics is about business, not technology. Sure, technology helps make it work; but the value of any analytics initiative is ultimately driven—not by the sophistication of your visualization tools, the number of models you've deployed, or the power of your servers—but by the insight it provides and the impact it helps create. First establish your vision for analytics, then bring technology into the conversation. A capable hardware and software environment is necessary to compete on analytics. Just don't get enamored with it.
Unifying Principle #2 - Not all data matters
We live in an era of information overload. In fact, our ability to store data has outstripped our ability to use it—evidence that, even in the era of big data, more data doesn't necessarily mean more effective decision-making. Remember what Albert Einstein once said: "Not everything that counts can be counted and not everything that can be counted counts."
Unifying Principle #3 - Self-service analytics is not a project
Self-service analytics is a "business initiative," not a "technology project." Rolling out and supporting the capability is an ongoing effort to improve the organization's decision-making ability and capacity to create value. It evolves as the organization evolves. It has no finish line.
Unifying Principle #4 - Self-service isn't synonymous with "self-sufficient"
Today, many business leaders mistakenly use the idea of "self-service" to distance themselves and their teams from the people and processes that make-up IT's data management capability. These leaders correctly argue for greater speed and agility, but they take on roles and responsibilities without the requisite level of expertise or a critical enterprise perspective. In doing so, they create unacceptable risk and unnecessary cost to the organization.
In order for a firm to become an analytical competitor, the demand for and supply of data and analysis must be in alignment. Business stakeholders drive demand.They require relevant data, meaningful information, and actionable insight that enable more effective operational, tactical, and strategic decision-making. But it's the job of IT—even in a world of self-service—to source it, transform it, ensure its quality, and stage it for fast, easy access and consumption. "Supply and demand" is the place where business and IT meet. Organizations that compete on analytics rely on strong partnerships between business and IT.
Unifying Principle #5 - Attitude is everything
Our attitude doesn't just shape how others see us. It influences our actions. That makes the right attitude a prerequisite for effective collaboration and a must-have for creating the kind of cross-functional alignment you need for analytics success. Make success your passion. Dedicate yourself to exceeding your customers' expectations. Pride yourself on making your colleagues some of the best decision-makers in the world. And remember what Zig Ziglar once said: "Your attitude, not your aptitude, determines your altitude."
Perspectives From The Pros
Mike Sargo
Organizational alignment is perhaps the one area where the majority of organizations consistently struggle. It's about rallying people around a vision to drive value. Those who are successful build a strong partnership between the business and information technology teams so that their respective strategies and priorities are aligned and success can be realized. The key is executive sponsorship combined with cross-functional leadership that is tasked with setting the overall vision for the program and managing its budget, governance, communication, prioritization, and change management.
Abhi Sindhwani
When it comes to implementing a successful analytics program—one that actually moves the needle in business performance—organizational alignment is of the utmost importance. Done right, it helps employees across the company understand their role in supporting the firm's overall strategy; it empowers business analysts to make required decisions; it provides a culture of accountability that incentivizes superior financial performance; and it establishes a culture of risk tolerance and trust. To be successful, though, all parts of the organization have to work in harmony.
The Takeaway
Organizational alignment represents one of the most overlooked aspects of creating a self-service analytics capability that really works. Don't underestimate its significance. Focus on getting business and IT aligned on the fundamentals, then invest the time and energy necessary to build important cross-functional relationships.