Invest $15 so we can get you the best guide to Tokyo ever produced

Tokyo is a truly awesome city but it can be confusing and expensive. So we're writing this guide to make sure you have more fun, better experiences and top notch nosh without overpaying or missing out. The Guide is due for publication in August so preorder your copy now!
Order this guide book and you will more than recoup the money you spend in both saved costs and peace of mind.
What's in The Guide?
It includes heaps of information and hacks for making your trip smooth and saving you money:
Carefully curated listings
Heaps of ideas for Free entertainment
Enjoy the best food without breaking the bank
Seasonal events and activities
Tips for getting around Tokyo
Where to sleep at night that doesn't cost a fortune
Detailed guides for all the key areas
Family Tips
Plus all our super cheapo tips and hacks
Our guide will be available in Epub, Kindle and PDF format so you can read it on your iPad, eReader or mobile device.
Don't visit Tokyo without our ebook guide!
Our guide will be a concentrated and enhanced version of the incredibly popular TokyoCheapo.com which has 150,000 readers every month!
It's our second guide book, our first A Cheapo's Guide To Akihabara has had over 1000 downloads since it launched in January and 40 five star reviews on Amazon!
Amazon review of our first ebook
---
---
Is this guide book for you?
This book is not just for poor people and hobos! We'll be covering a range of options all focused on good quality and good value.
Hotels, festivals, temples, shopping, partying - we've done the hard work so you can relax and enjoy your stay without constantly worrying about your budget
---
---
About Us
TokyoCheapo.com was founded by long term Tokyo residents Greg Lane and Chris Kirkland in April 2012. The reason? We were fed up with the myth of Tokyo being ridiculously expensive when from our experience we knew there were ways to eat, travel, drink and sleep ones way through Tokyo without needing an expat banker salary to keep you afloat.
Amazon review of our first ebook
---
150,000 Monthly Readers
Since starting with a simple blog, the site has grown to nearly 150,000 monthly readers and continues to grow month by month. We have hundreds of blog posts about living and visiting Tokyo, like 3 nights in Tokyo on $100, 9 things you should know about Tsukiji Market and we even have a podcast too.
Support our campaign to help us to finish the guide, plus you'll also be helping us to expand to more cities and countries.
Our articles have been shared amongst many of authorities on Tokyo and Japan including the Japan National Tourism Organisation, The BBC and several popular News organisations.
---
---
---
And Who Are The Cheapos Writing This Guide Book?
Tokyo Cheapo is being penned by the follow scruffy rabble of expert cheapo reprobates:
Chris Kirkland
Being of British roots Chris has a natural instinct for being a complete cheap-arse and spending as little money as possible. Add to this, his favorite chat up line is "Can you buy me a drink" (which has actually worked on a number of occasions) and if that wasn't enough already, he run's another blog called hoboceo.com - a true cheapo! Chris moved to Tokyo 2006, and can usually be found hipster coffee shops around Shibuya, pouring his own milk into his espresso, thus saving about 100yen.
---
Greg Lane
Greg has been pottering around Tokyo for 15 years. In this time he's taught English, started a family, worked as a Salaryman, started a company, wound up a company, been on TV, made lots of websites and started Tokyo Cheapo with Chris. He started writing on a personal blog in 2006 and then conned an English language mag into paying him to write articles. Most of that was rubbish, but it was excellent practice for starting Tokyo Cheapo.



---
Aaron Baggett
Aaron is originally from Arkansas (known for its sax playing Presidents) and he speaks almost entirely in movie quotes. Now that he has graduated from college, he is currently on the run from Bōsōzokus hired by debt collectors. He teaches English these days, so his budget is still roughly 735yen per week.





---
Selena Hoy
Selena is a curious enthusiast. She mends ¥100 socks but loves to eat out. It's rare that she spends more than ¥300 on a dress - she has flea markets and recycle shops to thank for cute shoes.







---
Grigoris Miliaresis
Having fallen in love with Asakusa even before actually seeing it, Grigoris Miliaresis has been roaming its alleys with a camera, a notepad and on a writer's budget (i.e. legally broke) since the summer of 2009 and sharing his notes/pix on his Asakusa Pinterest board and his blog "Nihon Arekore".
---
Tiffany Lim
Tiffany moved to Tokyo from Manila, Philippines in 2013 for grad school. Prior to this move, she was an exchange student in Tokyo from fall 2009 to winter 2010, and she visited Japan a number of times for vacations. Wanting to save money to be able to spend on her interests (e.g. traveling, hobbies) and accumulate savings, she appreciates cheapo life hacks, and is trying to discover more and more of them. For instance, she enjoys cheap but delicious Japanese lunches at the school cafeteria, buys mori-girl clothing on sale at Wonder Rocket, and takes the night bus when visiting Kansai. In between academics and part-time work, Tiffany enjoys reading novels, crafts, and taking pictures of interesting things, places, and events (though she is no photographer). Lately, she's also been trying to maintain a blog called Golden Time Lover. Sometimes, she also enjoys dressing up, as can be seen in this profile picture.
---
Cal
Two years of living in China has skewed Cal's perspective of how much things should cost, but after a couple of years of writing about Tokyo he's found that Japan can be just as inexpensive with the right knowledge.
---
Liz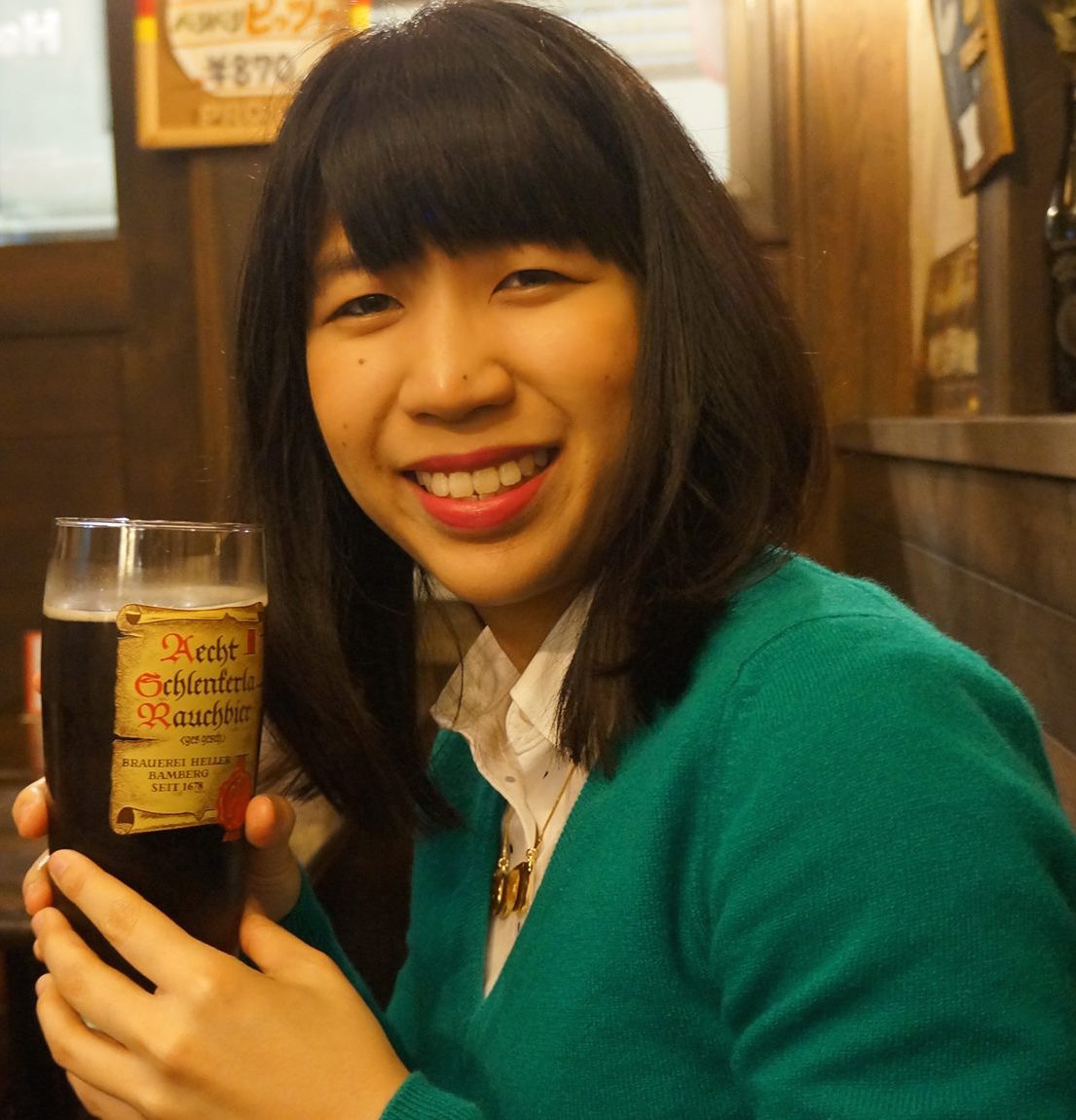 Avid reader. Avid writer. Avid eater. When she's not working or moseying around her apartment, she loves to sample the great food which her home city has to offer. Given her love of dining out and collecting books, she's glad when she can find ways to stretch out her monthly earnings just that extra little bit.

---
About The Rewards

Apart from the guide, we've got some great rewards to choose from. You can learn Japanese, get help with your trip to Tokyo or get help for your business in Japan!
NB: all rewards include the Tokyo Cheapo Ebook except the $5 "support us" reward
$25 - White Rabbit Japanese Kana Cards
Ships in: May
These beautiful and very popular Japanese language flash cards from White Rabbite Press will get you up to speed reading the Japanese "Kana" alphabet in no time. They include helpful visual and verbal cues for remembering each character plus an audio accompaniment for pronunciation.
$27 - Tokyo Real Time Audio Tours
Ships in: May
Also published by White Rabbit Press are the Tokyo Real Time tours. These are expertly put together audio walk through tours, complete with photo booklet and map - a perfect accompaniment to our EBook guide. This bundle includes two of Tokyo's most infamous districts, get a taste of the red lights and dark suits in Kabukicho, and mingle with the maids in geek ground zero Akihabara.
$40 - 80/20 Japanese
Ships in: May
Also funded by publishizer, 80/20 is a super efficient way to learn and become fluent in Japanese. Use this Ebook to get your speaking ability up to scratch before you arrive, plus you've still got our Guide book to fill in the gaps if you haven't completely mastered the language in time.
$75 - $150 - Custom Tokyo Itinerary
Ships in: May (valid for 6 months)
Order a custom itinerary and you can have the cheapos themselves do all the hard work in choosing what you should see in Tokyo. We'll email you a questionnaire to get some preferences and comments, then once we have your answers we'll hand pick an itinerary just for you - and it won't just be limited to items in our guide! We'll deliver you PDF doc with the details of your tour within 14 days of receiving your questionnaire response.NB we are experts on Tokyo, so the itinerary will be limited to the Tokyo area - sorry we can't cover the whole of Japan. You can order your itinerary anytime within 6 months of the campaign - we'll send you a reminder before the end of the 6 month period so you don't forget.
$175 - $2000 - Sponsorship, Up to 1M Impressions
Ships in: May (valid for 6 months)
Tokyo Cheapo has hundreds of thousands of page views every month from people english speaking people in buying and booking mode - this is a great chance your product, brand or service to get in front of them at a discounted rate! We're offering a few special reduced rate advertising bundles.You can learn more about traffic, user demographics and behavior here: http://tokyocheapo.com/advertise/
$250 - Business in Japan Skype Consultation

Ships in: May (valid for 6 months)

Greg and Chris both have a decade of experience doing business in Japan. Their experience includes a wide range of topics including tech start ups, Japanese business culture, talking with government ministries, incorporating, attracting and hiring local staff and visa regulations.