Why This Book?
The greatest invention is the brain because it comes up with creative innovative ideas and ways to transform your performance. In any walk of life each person wants to do well. For example, you want to do well in your job and progress, you want to excel athletically, you want to make good grades, and live a robust life. However, it's the use of performance tools to create a foundation of mental constructs that continually develops and evolves with your background, experiences, perspectives, and most importantly your ability to learn and apply the learning that transforms your performance.
No matter what your situation is: coming from a position of success or from a position of adversity it is possible for you to transform your performance. I've been in both situations and kept learning and applied the learning to get to the next level of success. This book will emphasize advanced performance tools that have been honed to their simplest form for ease of understanding and use. Similar to most performance goals you'll need to learn learning is the catalyst for positive change when you apply it, build trustworthy relationships, engage in amazing experiences, and create engaging experiences for others to transform your performance to realize who you are becoming.
I've used these performance tools to transform clients and my performance and progress towards who I am becoming: from being an electronics/engineering analyst, automation and controls engineer, consultant, entrepreneur/owner, public speaker, professional speaker, author, coach/advisor, actor, adjunct professor, and share my expertise as a performance and entrepreneurial leadership speaker (expert) and author.
Who are you becoming? Apply these performance tools to live your great dreams, vision, goals, and mission to live a robust life.
Table of Contents
Chapter 1: Let's Start With Your Great Dreams Without Constraints and Vision
Chapter 2: Identify Goals and Your Business and Community Mission
Chapter 3: Thrive Using the High Performance Pyramid Thinking Tool (7 Step Process) To Transform Your Performance
Chapter 4: Identify Performance Shifts In Your Business and Life
Chapter 5: Tools To Build Trustworthy Relationships
Chapter 6: Resolving Conflict With Leadership Mood Chairs

Chapter 7: Four Secrets To Success
Chapter 8: Performance Success or Failure Relies On One Word
Chapter 9: Who Are You Becoming?
About Author, Raj Gavurla
Raj Gavurla came to America when he was four and a half with his mom and sister on a flight from Hyderabad, India to New York City. The first words he heard in America were dad saying, "Raju I bought candy!" Dad had a Hershey's bar. A Hershey's bar is still his favorite; however, he likes it with almonds. The next day they drove to Greenville, SC.
Always strong in family, friends, work, community, and faith he has had success and adversity and responded with great dreams, self-empowerment, and entrepreneurial vigor.
Whether it's developing and growing your business or winning a championship, Raj Gavurla transforms your performance to make progress. His expertise, experience, stories, (motivational, educational, inspirational, humorous), and examples stimulate organizations to raise the bar to live a robust life and set personal best records.
Why I am writing this book:
Reference:

Raise The Bar to Live A Robust Life and Set Personal Best Records

Trade, business, community, and healthcare associations, corporations, schools, sports teams, and government use his services and products. He applies his practical leading edge performance research and process, High Performance Pyramid (Winning Mental Pyramid), towards your organization's success. In addition to speaking, he coaches and advises entrepreneurs, small business owners, professionals, and is a volunteer NAMI Hall of Fame mental health facilitator. He has worked for Fortune 500 companies, mid-size, and small businesses.

Raj is the author of Winning at Entrepreneurship, Entrepreneurial Thinking Tools manual, and Your Raise The Bar Primer: Mental Performance Tools workbook, is interviewed by the media, and has written expert articles.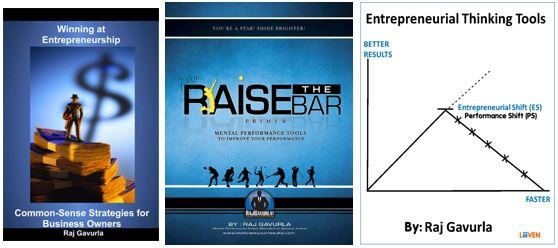 Raj is involved in leadership, education, and healthcare initiatives. He has worked as a business consultant, engineer, model, actor, is pursuing his Masters in Human Resource Development (emphasis in Performance), and has a Bachelor of Science in Electrical Engineering from Clemson University and is an adjunct professor.

Raj brings life to business and shows it's a small world!
Competing With Other Titles
My book has six years of original practical performance research and process, High Performance Pyramid (Winning Mental Pyramid), I've been using to transform clients performance and create performance shifts in performance, life, and entrepreneurial leadership. It has been applied to a diverse group of clients ranging from business organizations to community organizations to sports teams, and education. Additionally, it's full of personal stories told by someone who speaks professionally to create the multi-modal learning you apply to transform your performance.
Audience
This book is for anyone who wants to become more and is looking to get to the next level of performance (setting personal best records) and beyond by applying performance tools making it easier to transform your performance and live a robust life. It doesn't matter if you are very successful or in the hospital just trying to survive, this book will transform your life to give you success and hope.
Marketing and Promotion
Currently, I'm a national speaker and author who has had inquiries to speak abroad. My website, http://www.motivateyourresults.com and blog has visitors from all over the world, am listed with several bureaus, and am interviewed by the media. I'm also active on social media platforms: Facebook, LinkedIn, Twitter, and Google+.
THE PLAN
I'm happy writing this book, but a brilliant book needs resources to come into the market. So by raising $10,000 through this pre-order campaign, I will raise the money to push the book over the finish line and into your hands. I aim to have this book out by late 2017 and with your help that will be possible. Corporate and bulk orders are welcome. Contact Raj at raj@rajgavurla.com to enquire.
HOW (funds will be used)
The funds from this campaign will be used for professional editing, design, and for the first print run. 100 copies will be donated to four separate charities to help those in need.
WHEN
The 35,000 word manuscript is being written. After the crowdfunding campaign, the plan is:
Editing: The book will be edited in late 2017
Publication: The book is expected to be printed and delivered by early 2018 depending on where you live. Just in time for summer reading for those in the Northern Hemisphere or a cozy winter read in the Southern Hemisphere!
My plan is to attract a publisher based on this campaign. If 500 copies are pre-ordered, there is a greater chance a quality publisher may be interested in distributing this book. Your support can definitely make a difference, and I am very grateful for your consideration.
HOLIDAY GIFT
If you ordered multiple copies and would like to gift one to a friend, a gift with your name card below can be sent (digital or print) in time for the holidays (a great last minute gift idea!).