Why This Book and Why Now?
Vegan living is 'hot' right now. In just the past 12 months veganism has regularly hit the headlines – in a positive way.

With vegan food being served at the BAFTA Awards in the UK, a vegan cheese company getting a deal on the popular US TV show Shark Tank to Bill Gates investing in a company providing vegan alternatives to meat and Beyonce's plant-based food delivery service, the vegan lifestyle is starting to shed its image of bland, drab and unhealthy.

As an ethical vegan since 1996 and a longtime animal rights advocate, my mission is Vegan World Domination where animals are no longer exploited, abused, commodified or killed for human consumption. Ethical businesses play a key role in moving closer to this ideal.
I want to be able to walk down high streets, go into shopping malls or the airport and for every business to be run on vegan principles – which includes treating people fairly and being as environmentally sustainable as possible.

For me, the question was: How could I, with my skills as a journalist, content creator and curator, interviewer and media coach/trainer launch my own business to help vegan business owners and entrepreneurs to start and grow their operations?

I knew there were a ton of general business books out there, many of them excellent for any small-business owner starting up. But there was nothing specifically for the owners of vegan-run businesses. While many of the challenges, advice, and strategies apply to any business, running an animal-free operation brings its own set of extra, specific challenges.

So, I wrote this book because I wanted to read it. And I figured others would find it useful too. I wanted to find out from vegan business owners and entrepreneurs themselves what their secrets of success were. How did they cope with the challenges of running an ethical business? What did they learn? How did they grow?

Thus began this book project. I conducted extensive, indepth interviews with more than 60 owners of vegan-run businesses in the US, Canada, UK, and Australia, along with vegan marketing, PR, and business growth professionals. Some are larger operations with high numbers of staff, while others are small businesses.

Among the interviewees whose insights are woven throughout the book are:

· Seth Tibbott, Tofurky
· Adrian Ling, Plamil Foods
· Joy Pierson and Bart Potenza, Candle Cafe, Candle Cafe West and Candle 79
· Tim Barford, Yaoh and VegFestUK
· T.K. Pillan, Veggie Grill
· Jane Velez-Mitchell, broadcast and multi-media journalist, JaneUnchained.com
· Victoria Moran, author and director of Main Street Vegan Academy
· Kezia Jauron, Evolotus PR
· JL Fields, vegan lifestyle coach and author
· Sharon Gannon, Jivamukti Yoga
· Karin Ridgers, Mad Promotions and VeggieVision TV
· Stephanie Redcross, Vegan Mainstream
· Jessica Bailey, The Cruelty Free Shop
· David Benzaquen, PlantBased Solutions
· Sugandh G. Agrawal, GUNAS
· Lee Coates, Ethical Investors and Cruelty Free Super
· Elizabeth Olsen, Olsenhaus
· Leigh-Chantelle, Viva La Vegan!
· Renia Pruchnicki, Truth Belts
· Ella Nemcova, The Regal Vegan
· Wally Fry, Fry's International
And many more.

Wherever you are on your journey – perhaps you have an idea to start a business, are in the early stages of development, or are in the throes of expanding your empire – you'll be educated and inspired by this book, which is, as far as I'm aware, the first book to focus specifically on vegan-run businesses, the particular challenges they face, and how they deal with them to succeed and grow.
Advance Praise for the Book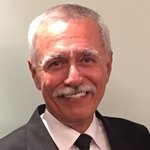 "A timely addition to the reading list of every vegan entrepreneur." – Philip Wollen, former VP, Citibank and philanthropist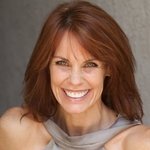 "What a fantastic, practical and inspirational book. Everyone who's interested in running an ethical business should read it. Actually, Vegan Ventures is a great resource for any new business owner, vegan or not, but it is certainly a must-have for vegan entrepreneurs." – Alexandra Paul, actor, director, writer, activist and athlete


"I'm a big believer in businesses with a mission other than profit – we need more people running more businesses in this way, where the key outcomes are environmental and social. Encouraging other entrepreneurs to adopt this business model is a key part of that – Katrina's book does this brilliantly." – Dale Vince, founder of Ecotricity & chairman of Forest Rangers Football Club (UK)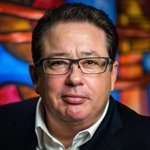 "There is so much to love and admire about Katrina Fox's book Vegan Ventures that it really is hard to limit it to a few words. Her passion for veganism, ethics and business have collided and I think mankind is the winner. I always admire a writer who is prepared to stand by their beliefs, and Katrina most certainly does this. Vegan Ventures is a book that a lot of people are going to be talking about, challenging, and raving about – and the world needs more books that do exactly this." – Andrew Griffiths, bestselling author, presenter, INC columnist and CBS small business commentator
What You'll Learn
Featuring insights and advice from over 60 vegan business owners, entrepreneurs, marketing, PR and business growth professionals, among the numerous nuggets of wisdom in Vegan Ventures, you'll learn:

· How to figure out the purpose of your business and why it's so important
· How your mindset can sabotage your business success and what to do to ensure that
doesn't happen
· How to get regular, positive media coverage for your products or services, no matter what your PR budget is
· Common branding mistakes and how to avoid them
· Social media 'Do's' and 'Don'ts'
· How much you should use the word 'vegan' in your branding or marketing
Table of Contents
CHAPTER 1: DEFINE YOUR PURPOSE
What is Your "Why"?
Ego vs. Higher Ideals

CHAPTER 2: MINDSET
Beliefs
Money Mindset
Entrepreneur Mindset
Qualities Needed to Run a Business
Confidence Mindset
Overwhelm and Time Management
Breaking Old Habits and the Six Human Needs

CHAPTER 3: SET UP, STRUCTURE, SYSTEMS
The Importance of Market Research
Have a Business Plan
How Big and/or Fast Do You Want to Grow?
Do You Want to Work on or in Your Business?
Manufacturer or Marketer?
Money, Money, Money!
Structure
Location
Systems and Tools

CHAPTER 4: RELATIONSHIPS
Relationship with Yourself
Relationship with Family
Relationship with Staff
Relationship with Consultants and Other Professionals
Relationship with Customers
Relationship with Suppliers, Wholesalers, Retailers, Manufacturers
Relationship with Collaborators and Competitors
Relationship with Adversaries

CHAPTER 5: BRANDING
Branding Mistakes
Personal Brand vs. Business Brand
How to Hire a Branding Consultant

CHAPTER 6: MARKETING
The Importance of Marketing
Market to the Right People
What is Your Unique Selling Proposition (USP)?
Market to More Than One Group of People
Storytelling and Emotions
Diversify Your Marketing Strategies
Allocate a Marketing Budget
Working with Marketing Professionals
Test and Measure

CHAPTER 7: SHOULD YOU USE THE 'V' WORD IN YOUR BRANDING AND MARKETING?
Those Who Say "Yes" to using the word 'vegan'
Those Who Say "No" to using the word 'vegan'

CHAPTER 8: SOCIAL MEDIA MARKETING
What Type of Content to Post
Build Your Tribe
Can You Make Money on Facebook or Other Social Media?
Plan Your Content
Pay to Play
Should You Buy Fans or Followers?
Tips on Hiring Social Media Professionals
Test and Measure

CHAPTER 9: PR AND MEDIA
Importance of Media
What is the Media?
Become the Media
How to Get Media Coverage
Respond to Journalists' Callouts
PR FIRMS
When to hire a PR firm
What to consider when hiring a PR firm
Expectations and guarantees
PR mistakes
Create a Media Room and Online Media Kit
What About Paid Ads?

CHAPTER 10: OTHER WAYS TO MARKET YOUR BUSINESS
Take a Booth or Stall at a Festival, Expo or Other Event
Word-of-Mouth
Free Stuff
Speaking, Presenting, and Training
Books
Email Marketing
Branded Products
Google and Other Search Engines
Team Up With a Non-Profit (or Start Your Own)
Apps

AFTERWORD: LESSONS LEARNED
The Publishing Process
The book – all 68,000 words of it – is written and has been professionally edited. Here's a picture of the manuscript!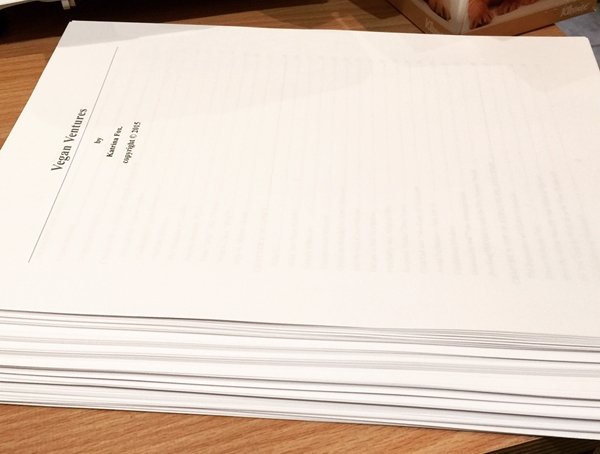 It's currently being typeset and will then need proofreading. The book is being published in paperback and ebook by Vegan Business Media and will be available through Amazon and other online bookstores. Physical bookstores will be able to order the book through Ingram, a huge global wholesaler.

Books will be shipped late September/October.

Funds earned through this 30-day pre-orders campaign will go towards printing and promotion costs.

Thank you for your support! :)
About Me

I write, edit and publish material that challenges the status quo, stimulates thinking and inspires positive change for people, animals and the planet. I also teach others – social change advocates and ethical leaders – to get free publicity through media coverage.

Over the past 17 years I've worked on staff as a senior reporter, features writer, sub-editor and editor, and as a freelancer on a broad range of print and online media in the UK, US and Australia.

My work has appeared in consumer titles including The Sydney Morning Herald, The Age, the ABC's The Drum, and News Limited's The Punch, among many, many others. I've also written for specialist and niche publications in HR, social housing, building and construction, property, interior design, urban regeneration, unions and advertising and media.
In 2014 I won the Voiceless: The Animal Protection Institute's media prize in print/online journalism for my article Speciesism: The Final Frontier for the ABC's The Drum website.

I founded The Scavenger, an online alternative media magazine for social change makers in 2009. I'm associate editor of Ethical Futures: Conversations That Matter – a multi-media digital magazine for senior executives and the founder and editor of VeganBusinessMedia.com.

I was born in the east end of London (UK) and moved to Sydney, Australia in 2001 with my wife and two cats. I don't do beige and have a penchant for glitter and disco.